Whether you love to hate them or hate to love them, it is undeniable that the Kardashian/Jenner family is one of the most controversial yet fashionable groups out there. From their choice of shoes and makeup to the popularity of their shapewear, anything they wear instantly becomes a hot-selling item. Despite their fame and influence, this American family has also experienced some fashion missteps along the way. In this article, we will explore some of their fashion moments that, ironically, only endear them to us further.
Mustard Anyone?
Upon our initial inspection of this ensemble, we were astonished. Has someone doused Kim with a full bottle of mustard? Is she using an oversized candy wrapper as a shield? Is she playfully impersonating Colonel Mustard from the board game Clue?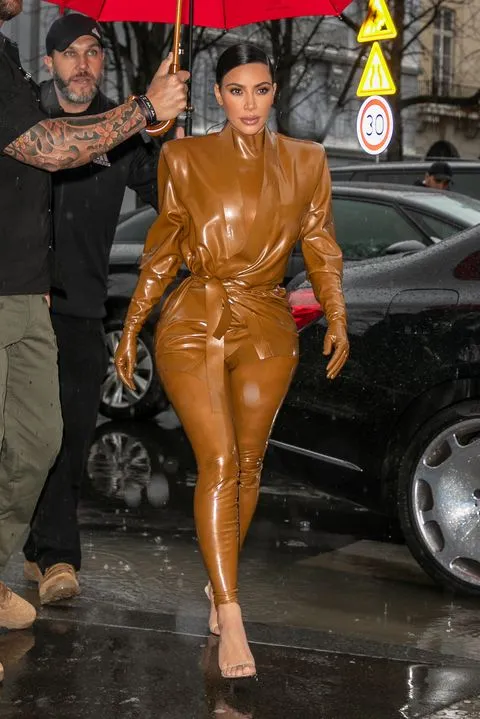 What we can gather is that the attire in the picture is undeniably flashy and unpleasant. When looking at it, all we hear is the constant sound of squeaking.
Kourtney's Toes
If there's one thing we've taken away from observing the Kardashian/Jenner family, it's their undeniable affinity for transparent footwear. However, it's difficult to gauge how comfortable these shoes are for their toes, as Kourtney's feet seem to be desperate for some breathing space, as seen in this picture.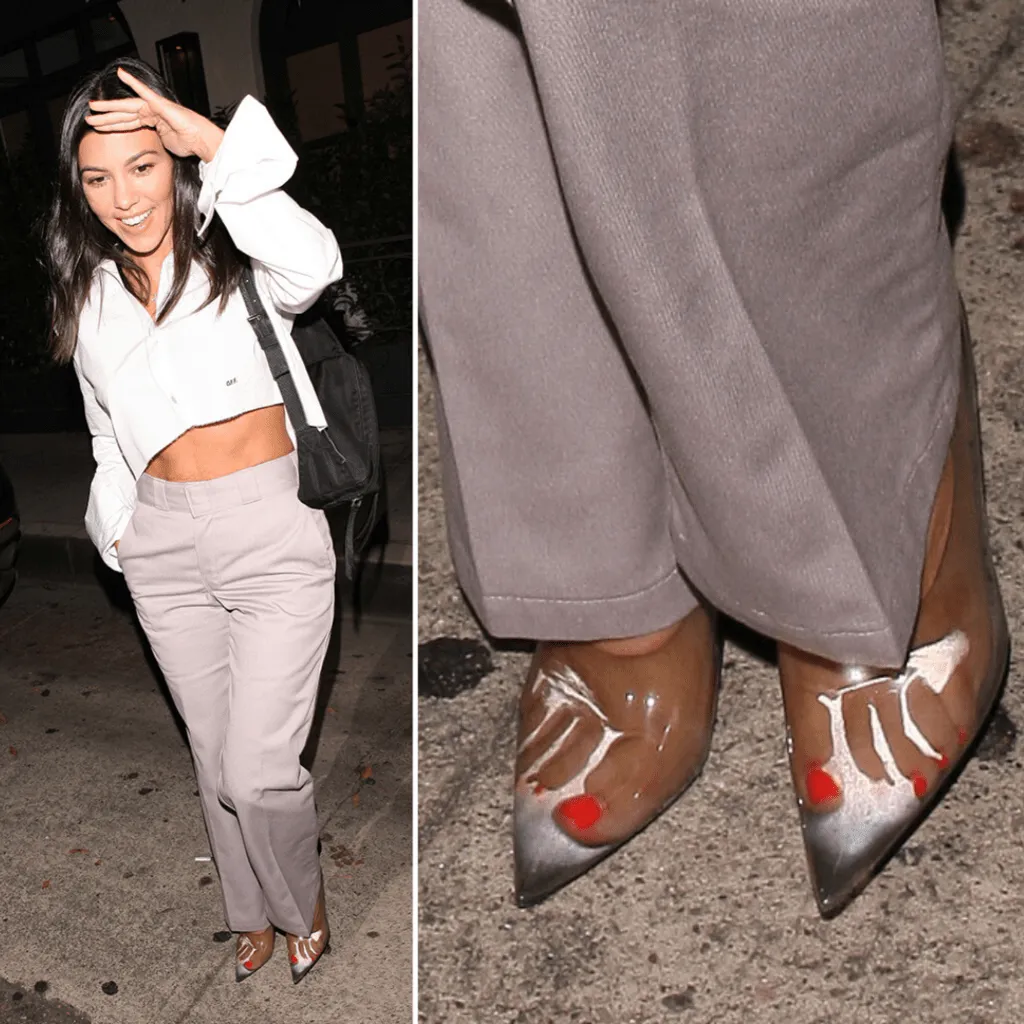 It's unfortunate that her appearance is marred by sweaty toes; otherwise, her outfit is fabulous.
What's With The Hat?
Kendall, a prominent high fashion model, is known for showcasing extraordinary garments on the runway and donning behind-the-scenes attire that surpasses our wildest imaginations. However, it seems that nobody mentioned to her that the 90's hip hop style didn't particularly suit her.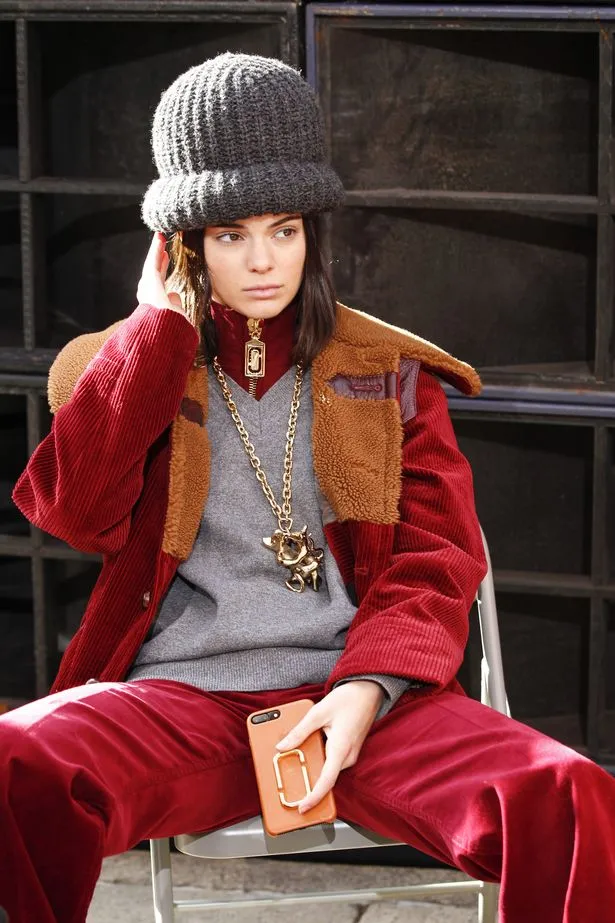 Kendall's outfit choices, such as the massive beanie and oversized faux golden jewelry around her neck, make a bold statement. However, some may argue that her look is more comical than fashionable. If we ever host a high-end rapper-themed Halloween party, we already have the perfect ensemble ready.
What is This, Kim?
This ensemble has left us completely stunned because we are uncertain of its nature. Is it a dress or a combination of cycle shorts with a coordinated top? Or could it possibly be a scuba diving costume mistakenly paraded on the runway for overzealous fashion enthusiasts?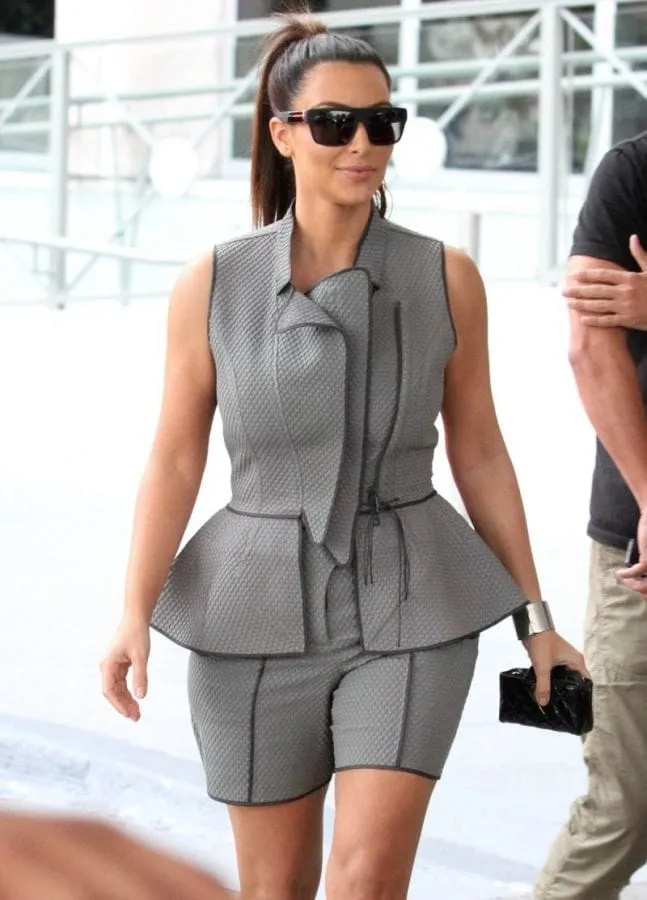 Regardless, this is undoubtedly one of Kim's least flattering outfits. It is unflattering and downright hideous. We're not sure if we can overlook this fashion choice, Kim.
Denim Overload
Denim has a timeless appeal, exuding an effortlessly cool vibe. Whether it's torn, stonewashed, or bleached, denim will never go out of fashion. However, one surefire way to spoil your denim look is by excessively layering it in your entire outfit, including the belt.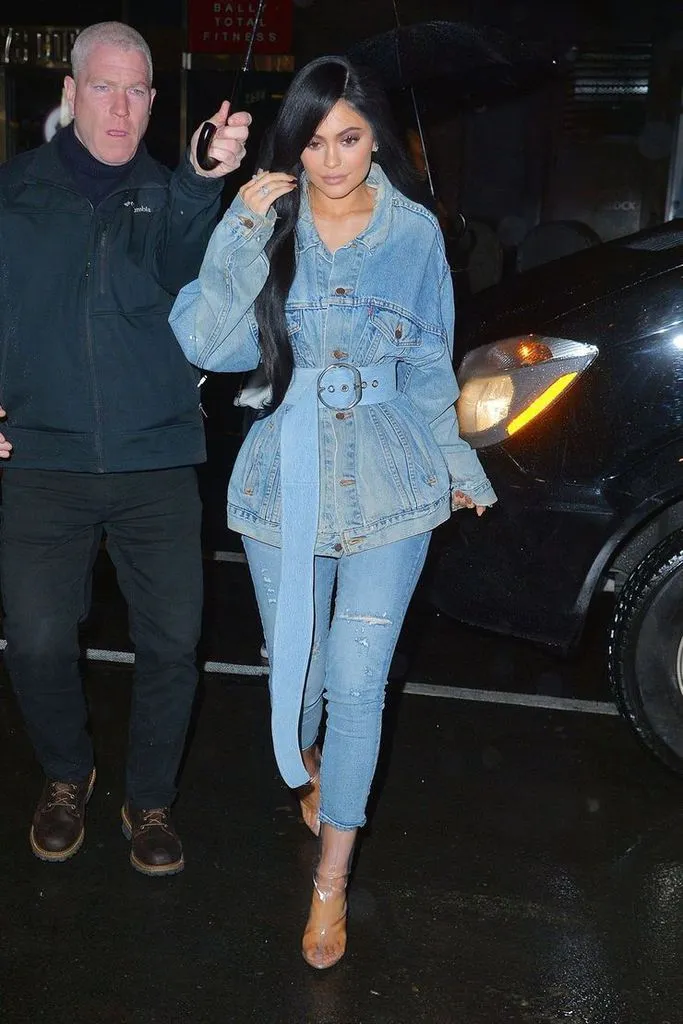 Kylie, perhaps consider trying a different material next time for a change.
Kardashian-Doll
We are unsure about the desired aesthetic that Kim was aiming for with this ensemble. It is possible that she was trying to emulate a real-life Barbie doll who has just been taken out of the packaging. However, the decision to wear the same peach color from top to bottom may not be the most flattering choice.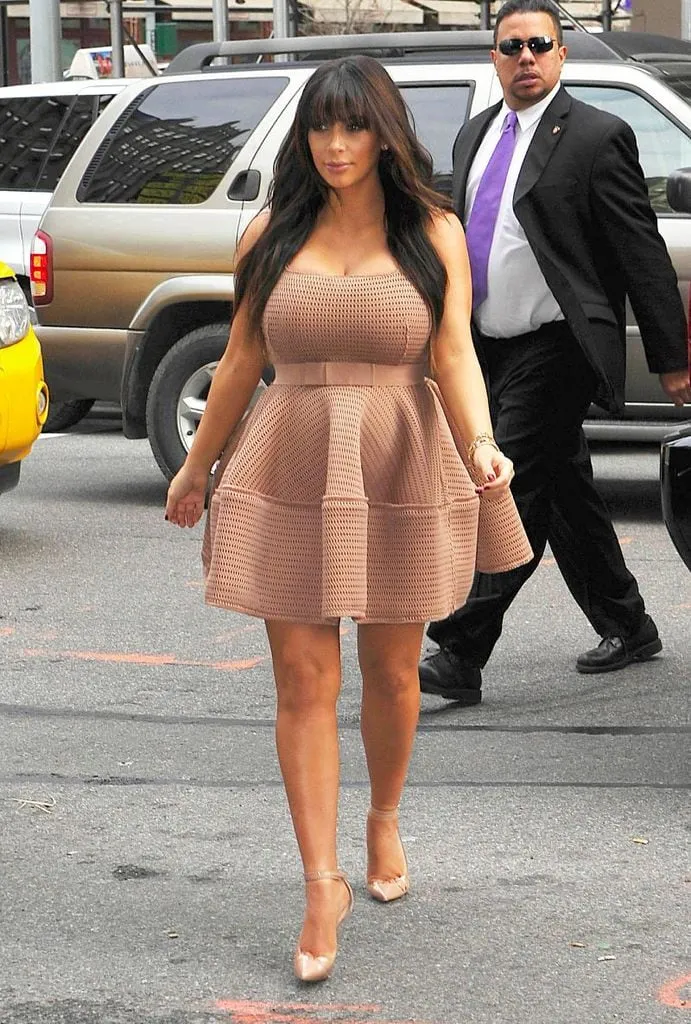 It's not the most flattering shape either and once again, the statement belt in that same peach color isn't the best choice, Kim.
Mop Dress
Kim is wearing another outfit entirely in grey, but this time she has chosen to don a mop as a fashion statement, perhaps in case she needs to tidy up. Her jacket is adorned with numerous lengthy tassels, giving the impression that she could also serve as a makeshift car wash.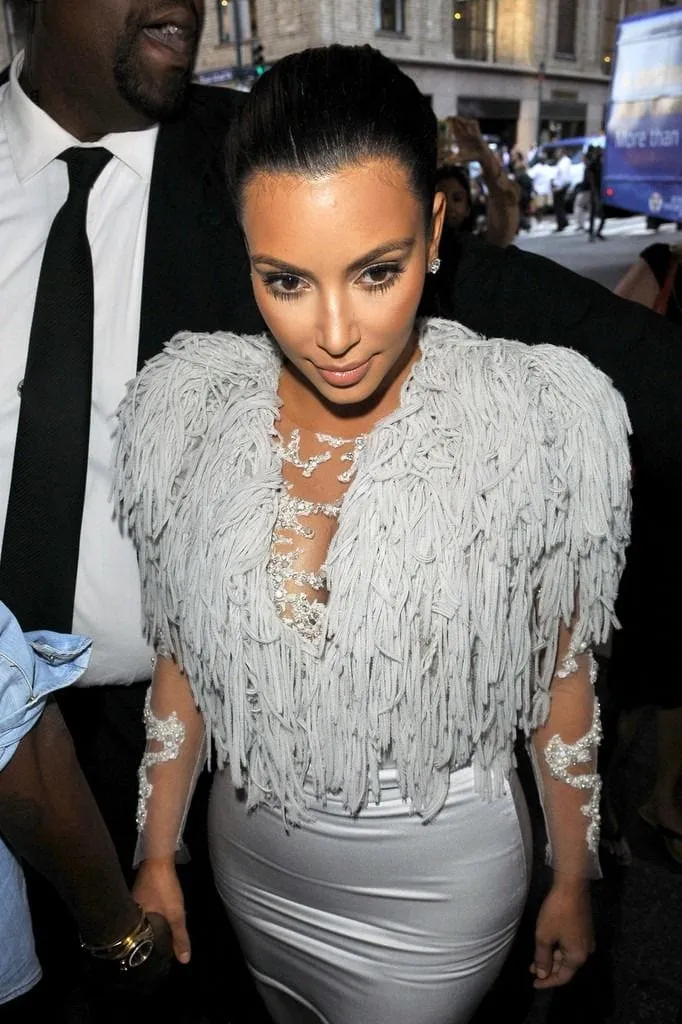 It's uncertain, but we simply hope she had chosen not to wear it. Perhaps Kanye could have offered assistance, or maybe it was his suggestion?
Leggings Alive
We don't intend to criticize or judge those who wear leggings. Leggings are known for being practical, comfortable, and able to camouflage certain imperfections. However, there is one occasion where we choose not to wear them, and that is when attending red carpet events.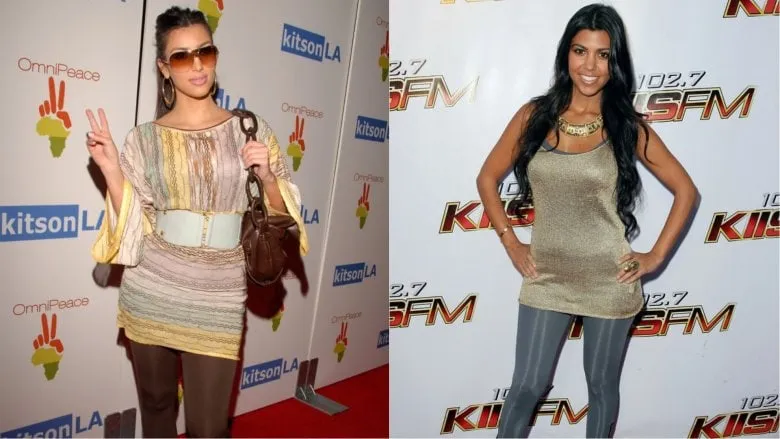 Not only is Kim's brown color just extremely off-putting but Kourtney got caught up in the action also and produced the shiniest pair of leggings since 1980's aerobics videos. Readers beware! Leggings are not always the solution unless it's a grocery store pick up or an emergency Starbucks run.
Get Me Outta Here!
It has been well documented that Kim Kardashian had very difficult pregnancies that really put her life at risk. And it's totally understandable that she wanted to look as glamorous as always during her pregnancy.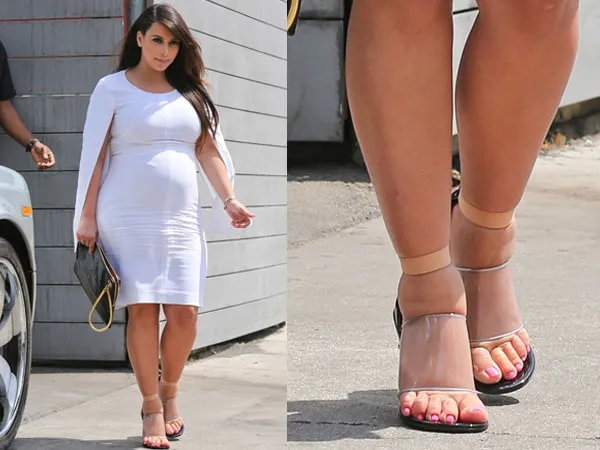 But stuffing your toes into these tiny plastic shoes look more painful than glamorous. Poor feet—they look like they need a holiday away from the rest of her body.
Kourtney's Suit
In another floral picnic suit, the oldest Kardashian (and usually the most sensible) has opted for a cut off jacket and what seems to be a pink cauliflower or flamingo image on the rest of her suit.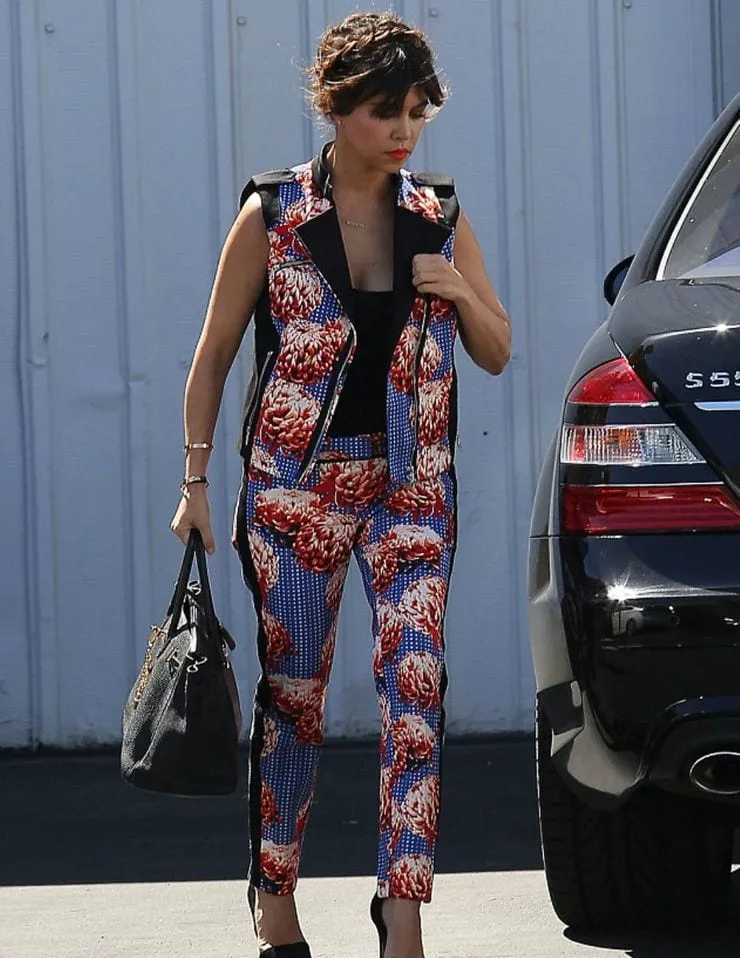 Personally, I would have changed before leaving the house. It's good to know that even an older sister can make mistakes.
Wax Museum
It's been said that Kim's husband Kanye West has been dressing Kim for years and advising her to take her style to the very next level. Maybe, in this case, hey took it too far. Not only do both stars look like wax dolls from a museum, but they also seem to be wearing costumes from a Michael Jackson concert in the '90s.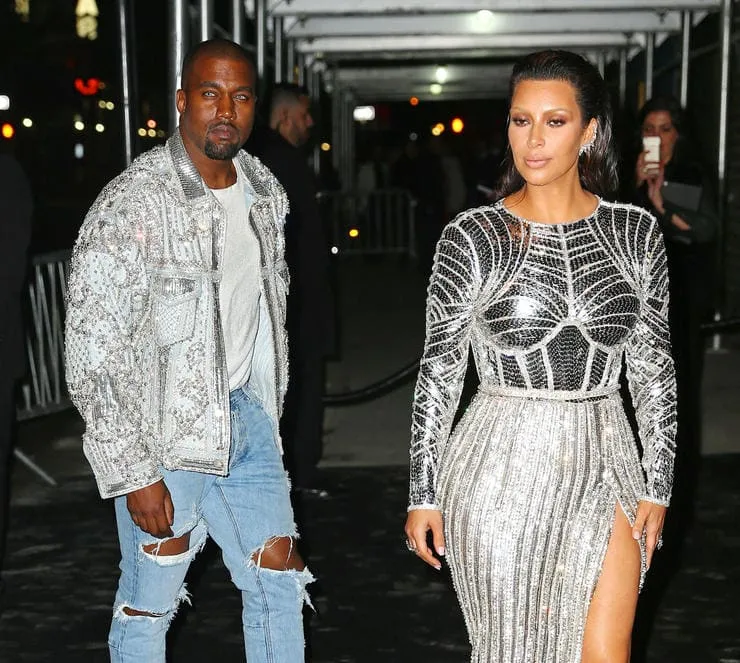 Kanye, you almost always get it right, but on this shiny, and I mean very shiny occasion, you got it very wrong.
Did You Lose Your Trousers?
We've all been there, right? You're in a rush, need to leave the house, underwear is on, super on point Adidas jacket is on, makeup is flawless and then bang! You've put a lingerie dress on top of your jacket instead of your trousers.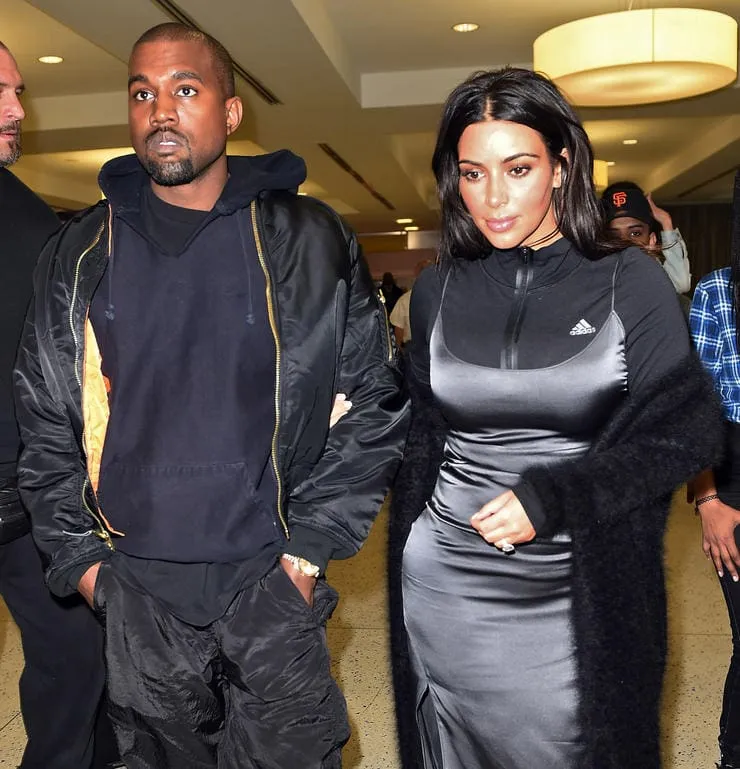 Like I said it happens to the best of us. Kanye knows more about sportswear than anyone. What was he thinking?
Velour Me Up!
Is that a sofa or a warm winter couch throw that our dearest Khloe is wearing? Velour tracksuits might have been kinda in, unfortunately, during the Juicy Couture days but what was our favorite Kardashian sister thinking?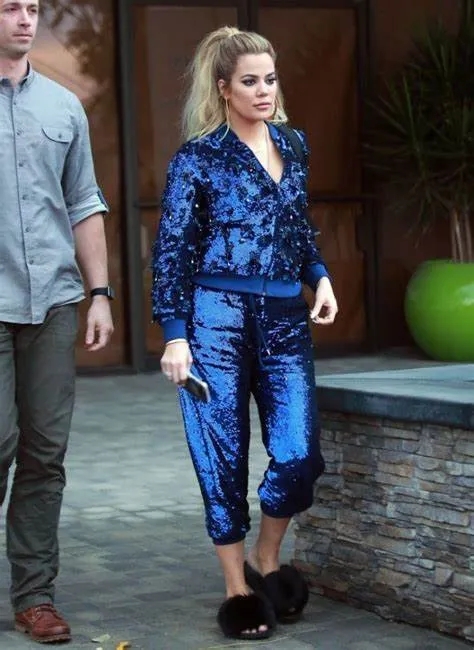 We're surprised she didn't stick to everything with the amount of static she must be holding on that thing. To put the cherry on the cake, she decided to pair it all up with some furry sandals. Go hard or go home we say!
Trash Bag
Does anybody know why supermodel sister Kendall Jenner decided that wearing a trash bag to go out would look good? Not only is she wearing what seems to be a yellow trash bag, but it looks like someone has decided to shred it at the bottom just to give it that fashion edge.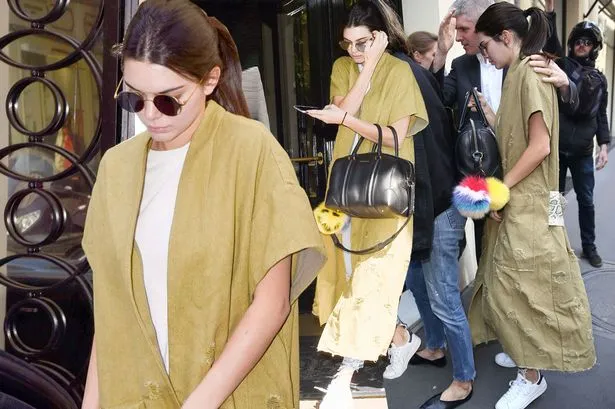 At least she's carrying those furry keyrings with her bag so they can distract us from everything else.
Pink Shell
Again, we absolutely adore Khloe, but back in the day before her complete lifestyle change, Khloe wasn't always the best at making her fashion decisions.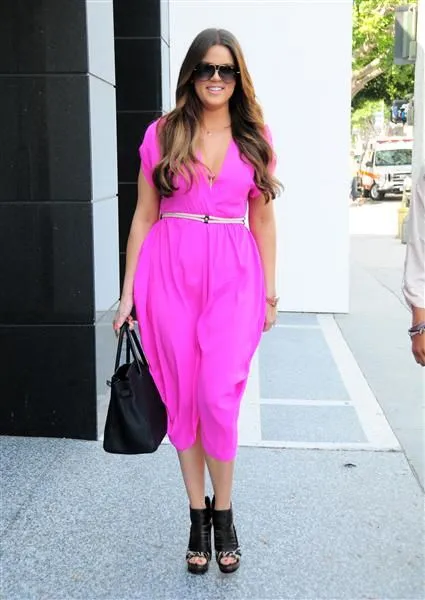 This very unflattering jumpsuit not only accentuates her hips but the flamingo pink is just all shades of vulgar. And to top it all off, is that leopard print we see on the shoes?
The Statement Belt
There was a time before neon coats and high ponytails that Kim used a big statement belt to make just that—a statement. In these pictures, not only are the belts pretty ghastly, but the one on the right seems to be trying to whip off.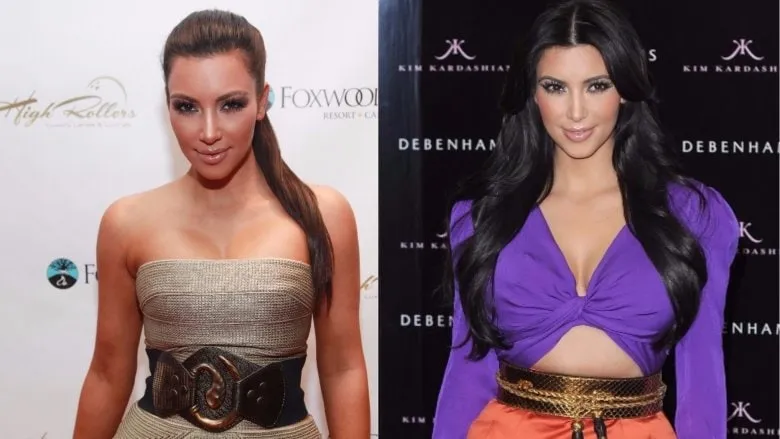 Not to mention the awful color choice of a purple shirt, pink skirt, and gold belt tying it all together. Thankfully, Kim seems to have left these belt days behind her.
See-Through Shaping
What is it with this family and flashing their underwear? Kris's dress is quite nice, the only thing is that unfortunately she didn't take into account that due to her celebrity status she would have a gazillion paparazzi lightbulbs flashing on her.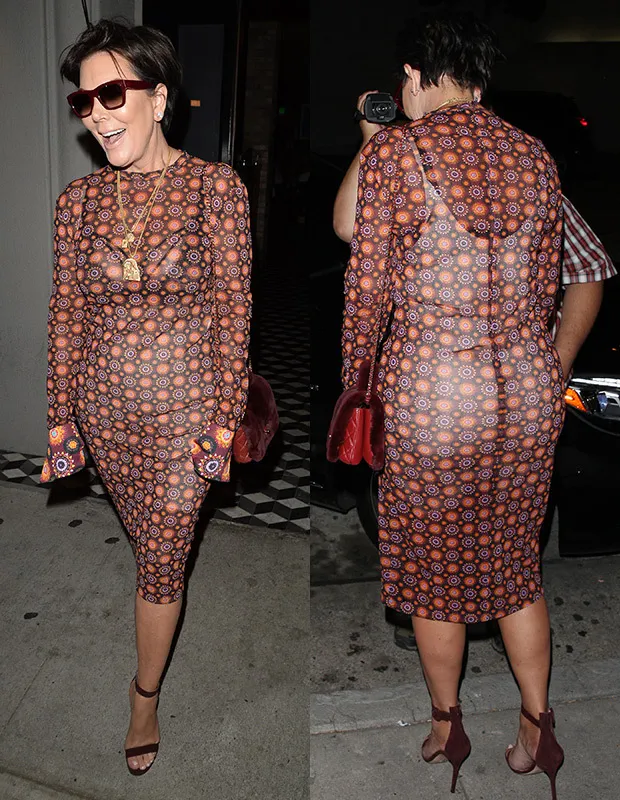 A word to the wise. Never wear shapewear with a sheer dress if you might be pictured by the paparazzi.
Princess Leia In Sandals
There's a lot going on in this photo and the majority isn't right. First of all, what inspired Kylie to do her hair like Princess Leia from Star Wars? Then there are the high-waisted shorts with the white sweater wrapped around her waist.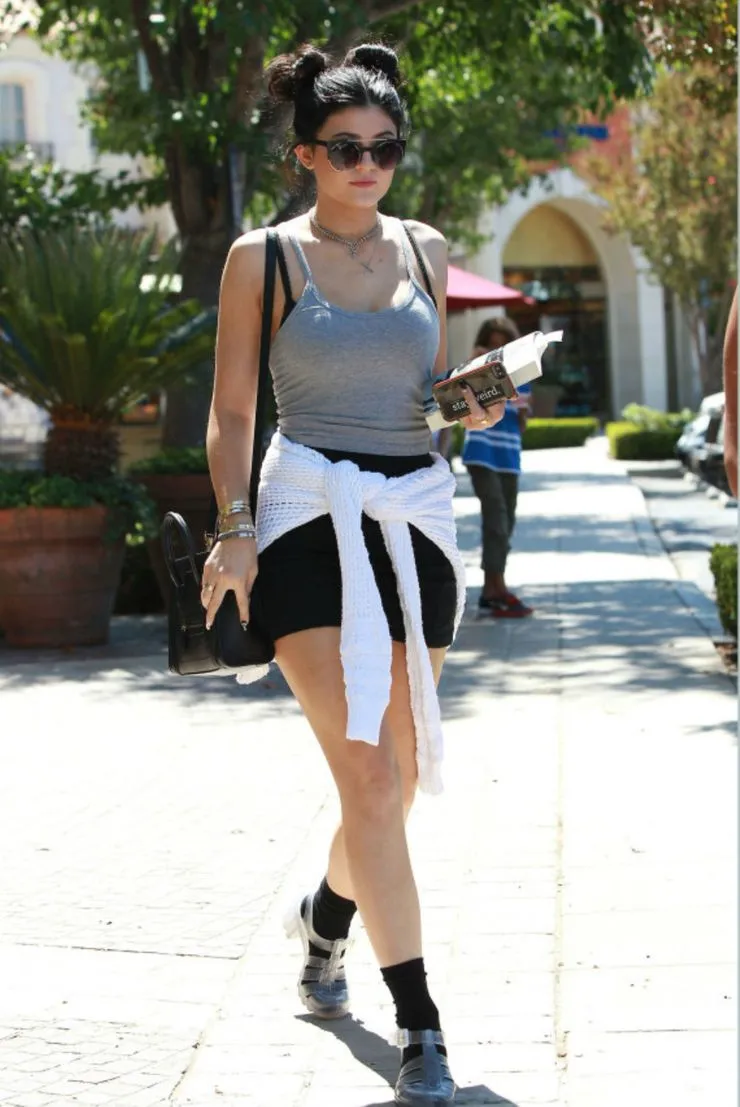 And last but not least, she's wearing socks with jelly sandals. Look at it and weep. We expect more than this from you, Kylie!
Holier Than Thou
The great thing is that Kim has managed to remember to put on her pants this time. The only problem is that she might have a small moth infestation in her closet as they seem to have eaten straight through the jean leaving her with huge holes all through her pants.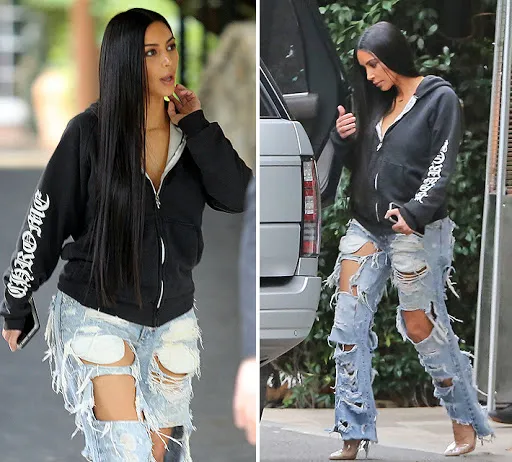 Great sweatshirt and shoes just shame about those overdone rips. Ripped jeans can look great just remember where to stop.
Feathers
Why did Kourtney decide it would be a good idea to slaughter a bird and wear its black feathers on the red carpet? Why has she teamed it with this lacy blue top when neither complements each other at all. Kourtney, you are usually the sane one!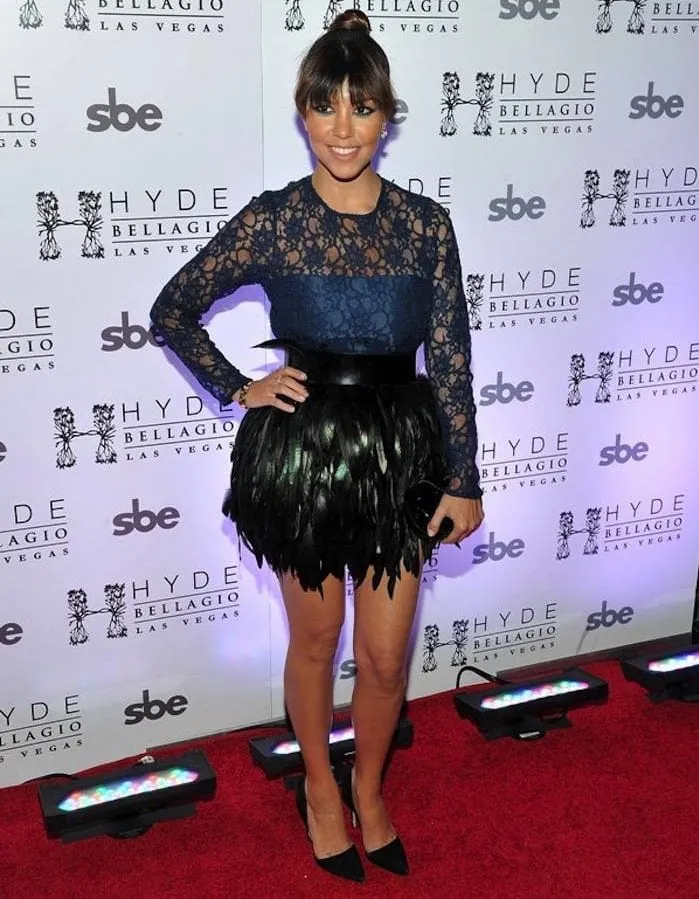 Kourtney should make a note to herself and keep away from feathers as she's clearly allergic.
No Kris No
Why has momager Kris Jenner decided that she would like to go out and be photographed in a dress that seems to be made of Italian carpet fabric? The colors don't match and the patterns are so disorientating that it makes you want to close your eyes before you get a migraine.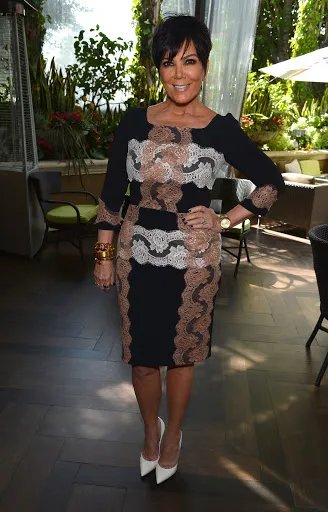 If you have managed to survive the migraine good for you. We've still got more Kardashian/Jenner fashion fails coming up though.
Picnic Table Pyjamas
Why has Kourtney decided to leave her house wearing her PJs and why do they look like a picnic blanket. The color and pattern are awful and completely do not compliment her. We know she means business, though, as she's rolled up her pants and she's wearing some killer heels and a great bag.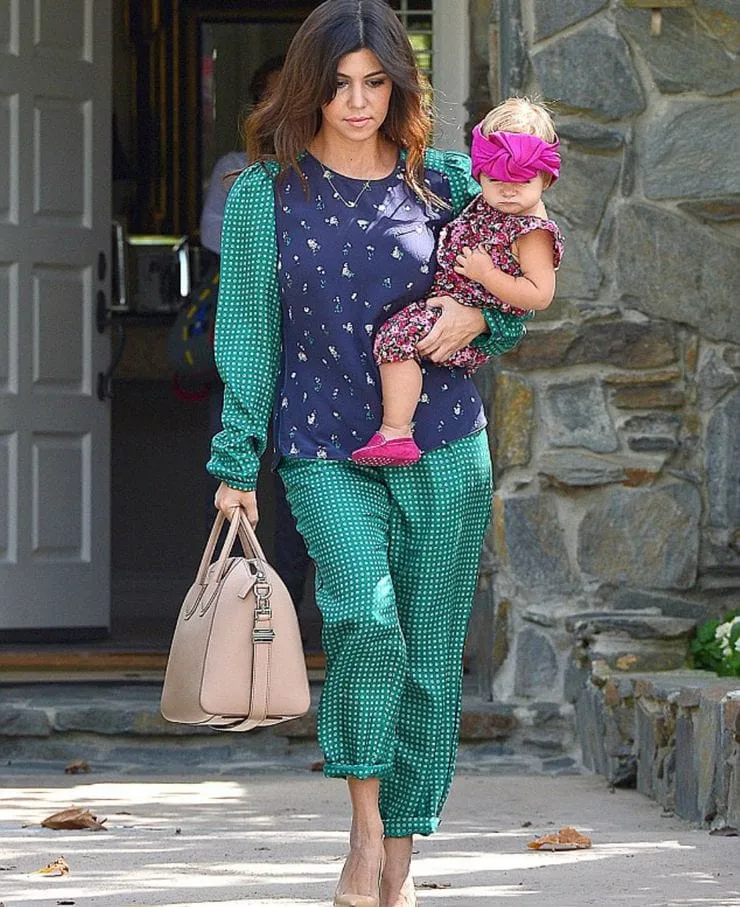 If only she could have gotten her kid's clothes to match with hers in classic Kardashian/Jenner style, it might have given the outfit a better angle.
Underwear As Outerwear
Now, to be fair, underwear as outwear can look great when executed correctly. Trying a nightgown over jeans worked for many people in the early 2000's and continues to look great in 2020 if done well.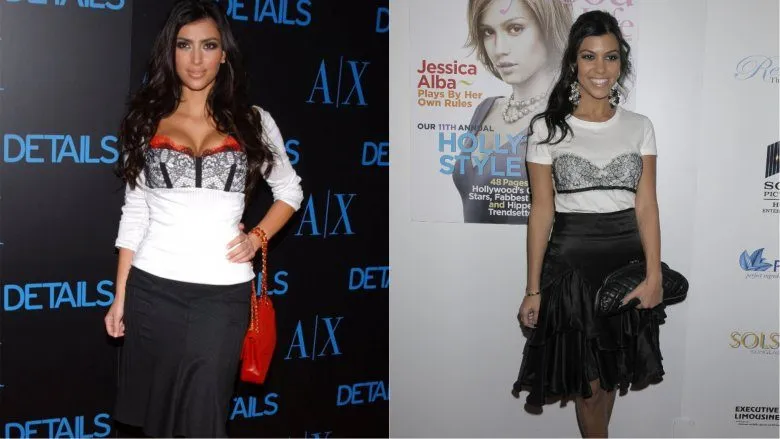 When it just looks like you've worn all the bras you had in your lingerie drawer over each other, or clearly just forgot that a bra goes underneath your shirt not over, is when you're in trouble. Black skirts and white tees? Try again, ladies!
Those Boots Were Made For Squeaking
Another picture, another Kim Kardashian-West plastic shoe fail. This time all her toes seem to fit well in the boot. The only problem is they look like the ugliest knee high boots we have ever seen in our lives.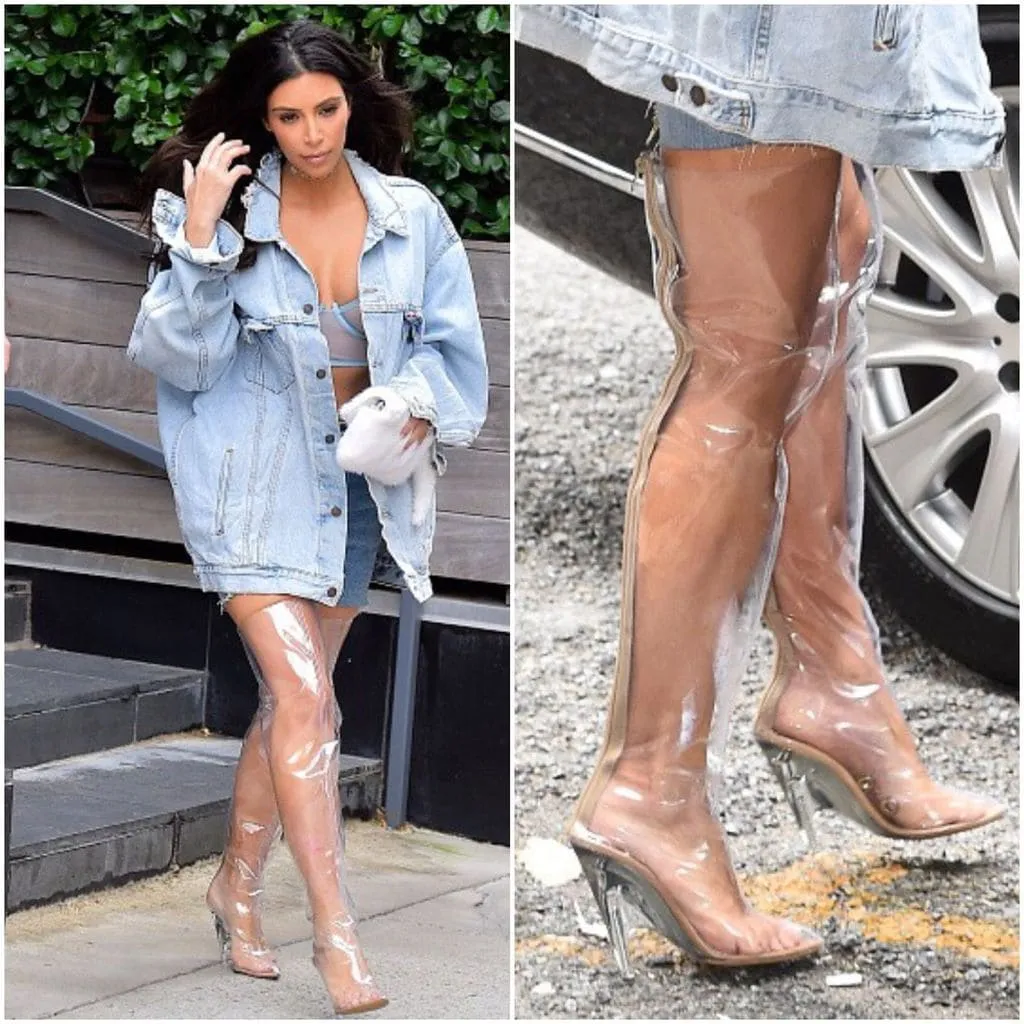 Kim stop wearing plastic shoes! We can tell you one thing for sure, we feel like these boots might be one use only.
No To Cycle Shorts
Cycle shorts should never be worn out in public unless at the gym. This is clearly advice Kim Kardashian has been out of the loop from as she is seen here emerging from a building as if she is about to star in a video for a '90s rapper.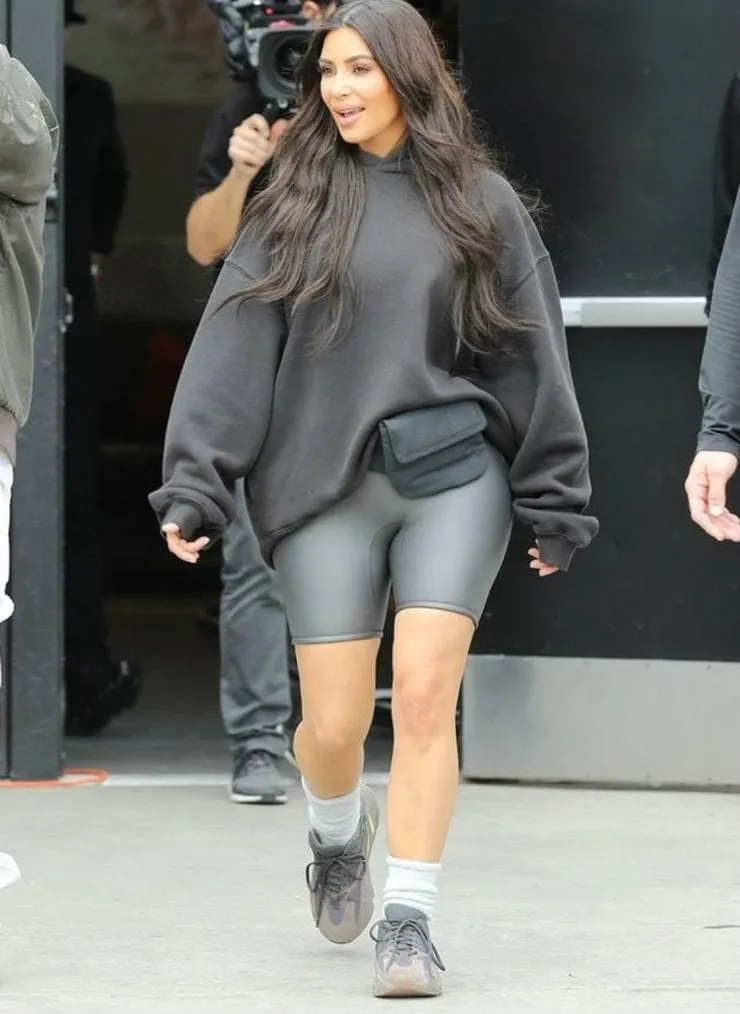 They may have tried to come back into fashion but there are some things that have to stay hidden away in the back vault of time.
Met Gala 2013
In one of the most infamous Met Gala pictures of recent times, Kim Kardashian-West decided to come dressed in this classic floral number. Heavily pregnant at the time, she paired her top to floor floral gown with matching floral gloves that produced the very floral effect.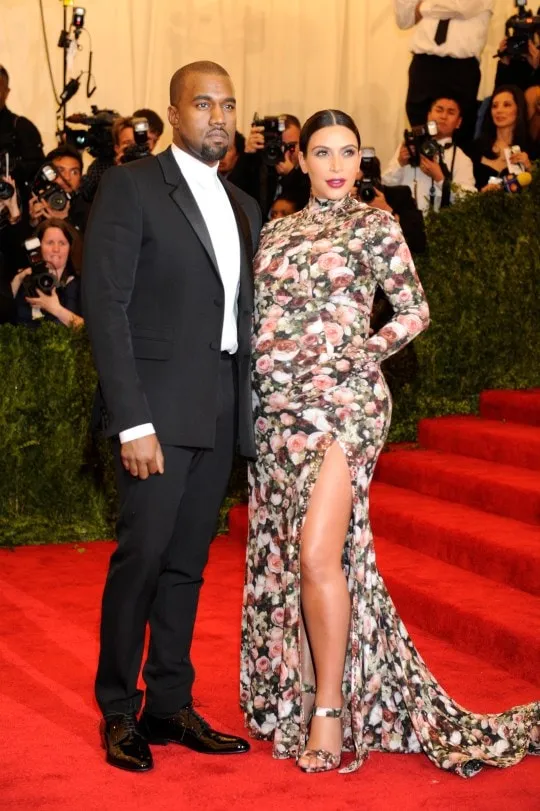 She looks like she wanted to be the stand-in double for Mrs. Doubtfire, as this dress reminds us so much of one of the costumes from the famous film. This look has to be one of Kim's biggest ever fails and she was absolutely pulled to pieces by the press. Sometimes simpler can be cuter.
My Face
The Kardashian/Jenner clan seems to have a dash of narcissism stored up for special occasions. Following her sister Kim's footsteps, Kylie has taken a photo of her wearing a t-shirt with, you've guessed it, a picture of herself. Love yourself much?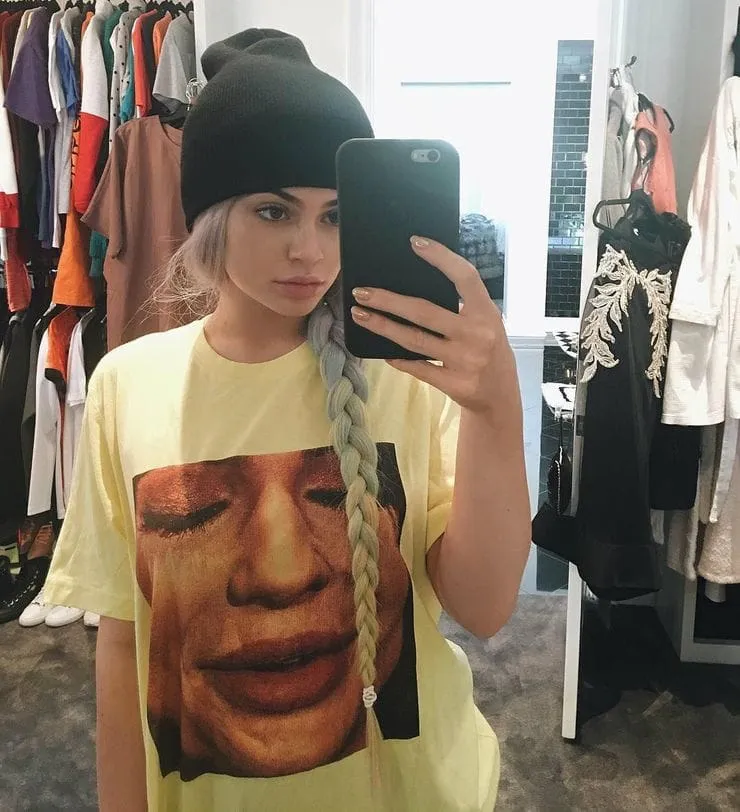 We love you Kylie, but don't love yourself too much so there's something left over for us.
Mellow Yellow
We say that, but there's nothing mellow about this outfit. Kris has opted for a Kardashian/Jenner favorite of completely plastering her body in a particularly vulgar fabric, a distinctly awful shade, and overdone fabric. And if you look close enough, you might notice a photoshop fail.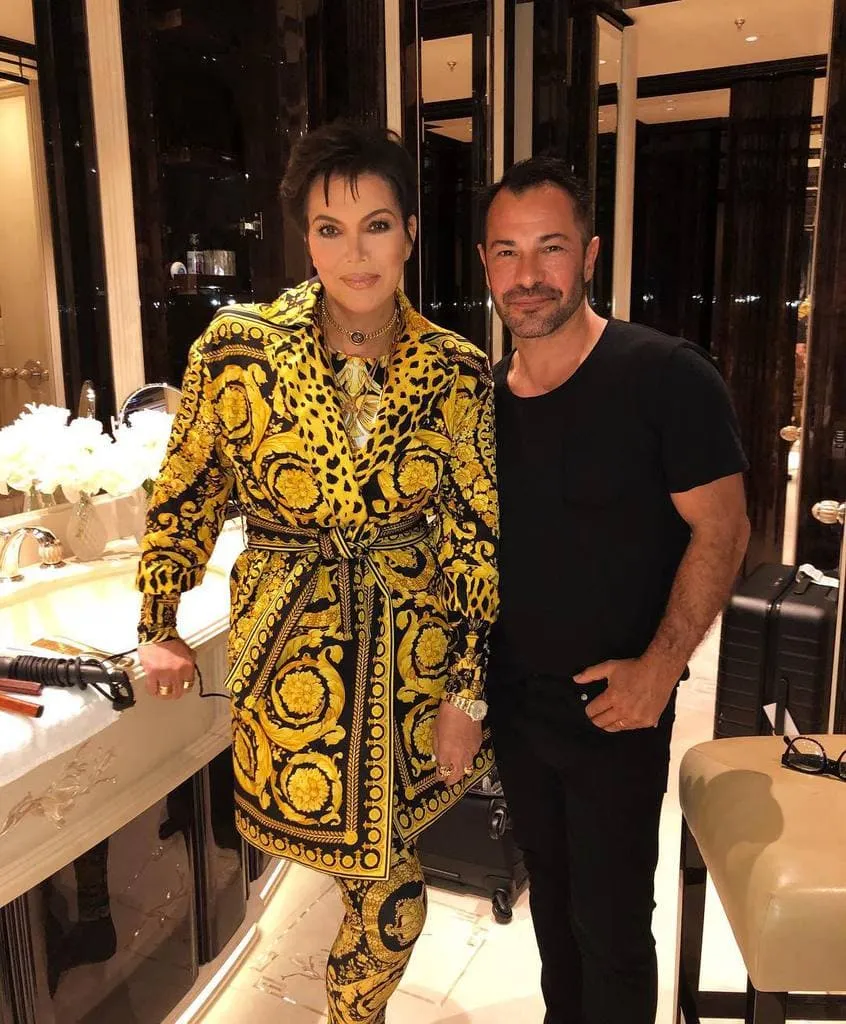 Did you spot it? Kris Jenner seems to be missing a leg.
Turquoise Dress
Kim's early fashion days were frequently marred with questionable outfits. She often opted for large hoop earrings and a dress over pant combo. Why would you choose such a terrible turquoise color, and over leggings!?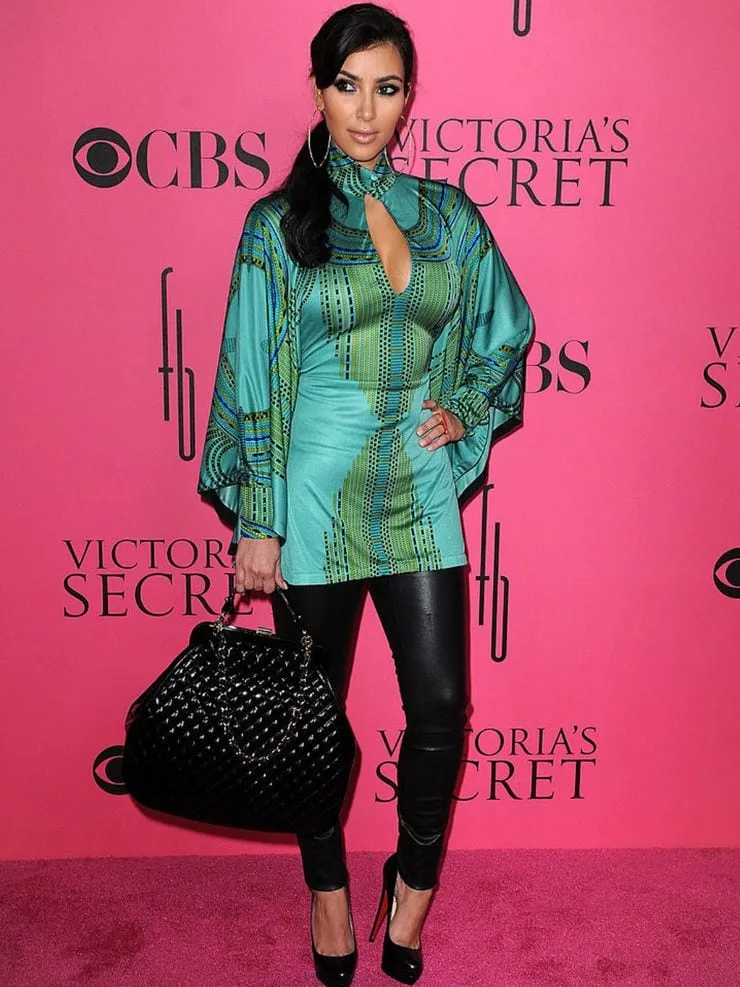 Not one of your early best Kim. At least she has the big bag to balance it all out.
Skirt Alert
KKW is known for her famous behind, so you would think that she might double-check it before leaving the house. She must have clearly forgotten to do that in this case as her belt looks like it's choking her waist and her shapewear is completely uneven.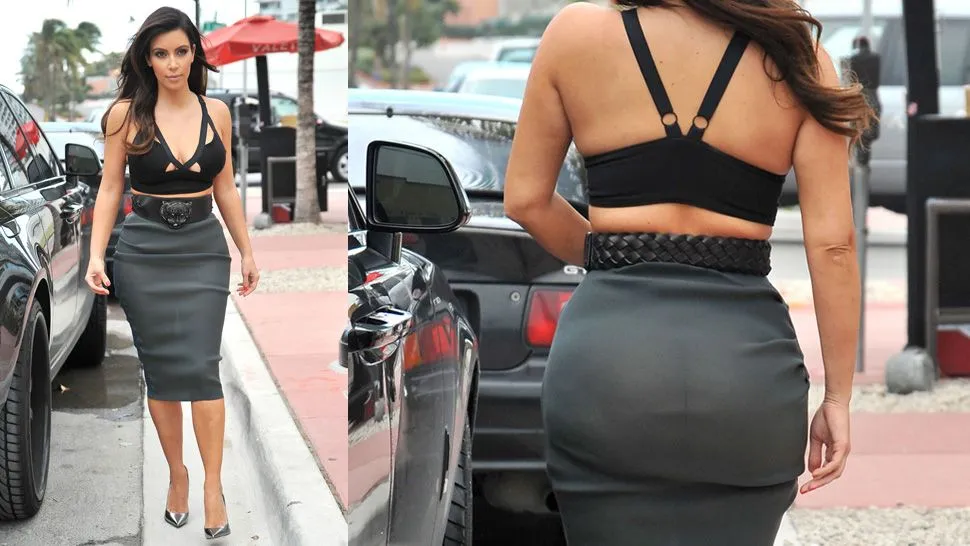 Wish somebody would have told her!
Kylie Why
Now, if we were invited to the Grammys we would certainly be happy to show up looking as glamorous as possible. We wonder what was going on in Kylie's mind when she chose to go ahead with wearing this ghastly powder pink weird suit with matching gloves that look like she's just about to wash the dishes.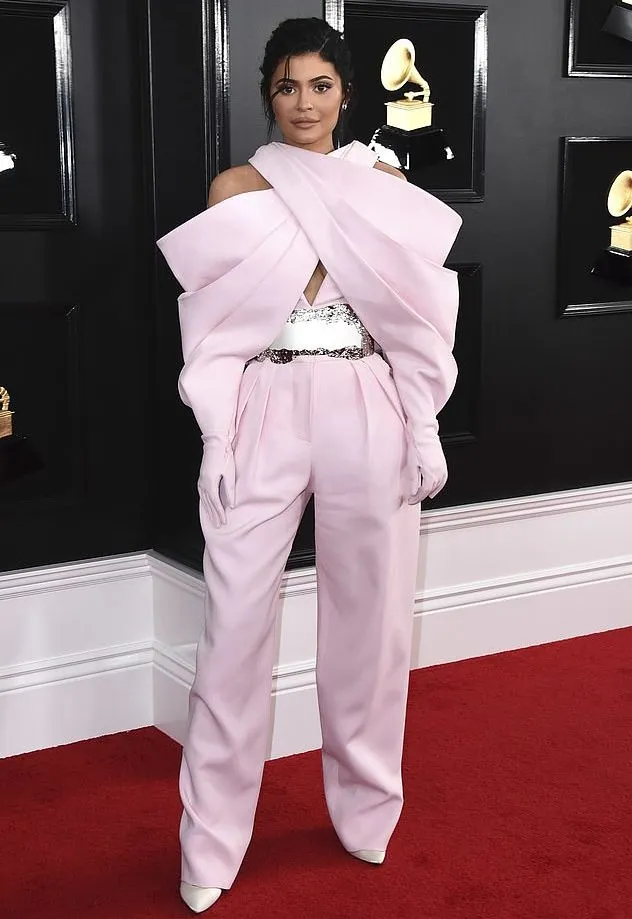 Well, I guess it's memorable, but is it for the right reasons?
See Through Much
The Kardashian sisters seem to not have gotten the memo when referring to what is acceptable and what is not acceptable on the red carpet. See-through blouses with your bra showing and light green shorts that make you look like you're going to the beach are definitely not what we call red carpet ready, even if it is hot in the Hollywood Hills.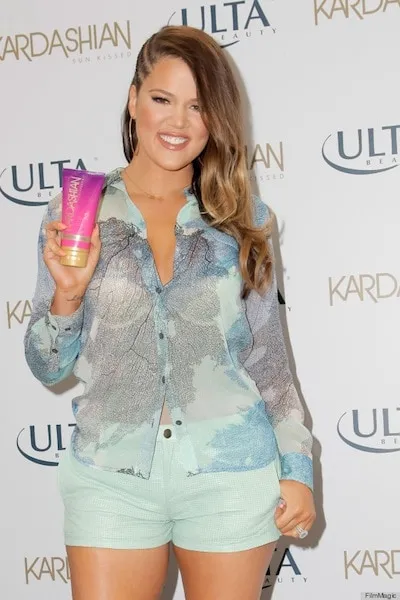 And those side braids? Nope, nope, nope…
Leopard Print
Time and time again Kris Jenner likes to really make a bold statement, favoring top to tail same fabric with matching accessories. This time she's gone for the Lion King look with leopard print dress, coat, clutch and wait for it matching heels.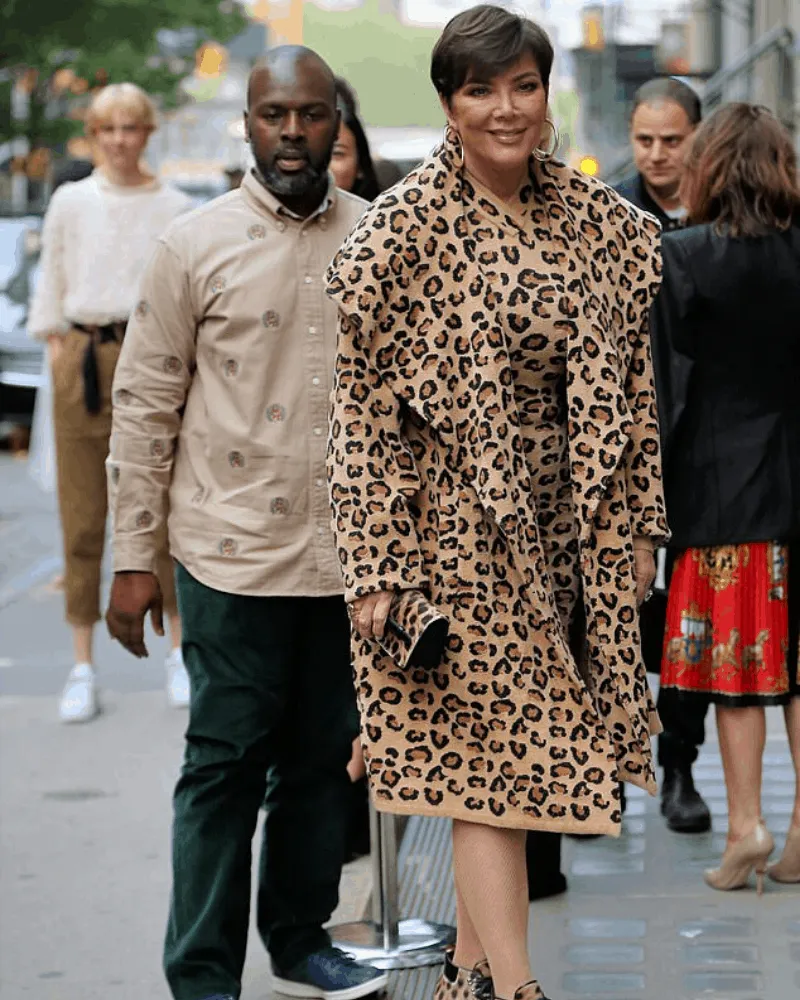 It even looks likes Kris's boyfriend Cory has tried to match with her. In any case, it's all just too much.
Cheap Look
This look was taken obviously long before Kim Kardashian became Kim Kardashian West as she looks like she's just had time to grab some last-minute items from her local Goodwill. Black cycle pants, off the shoulder pink sweater, gold heels, and not too mention the world's most awful costume jewelry. Did this whole look cost her anything under a dollar?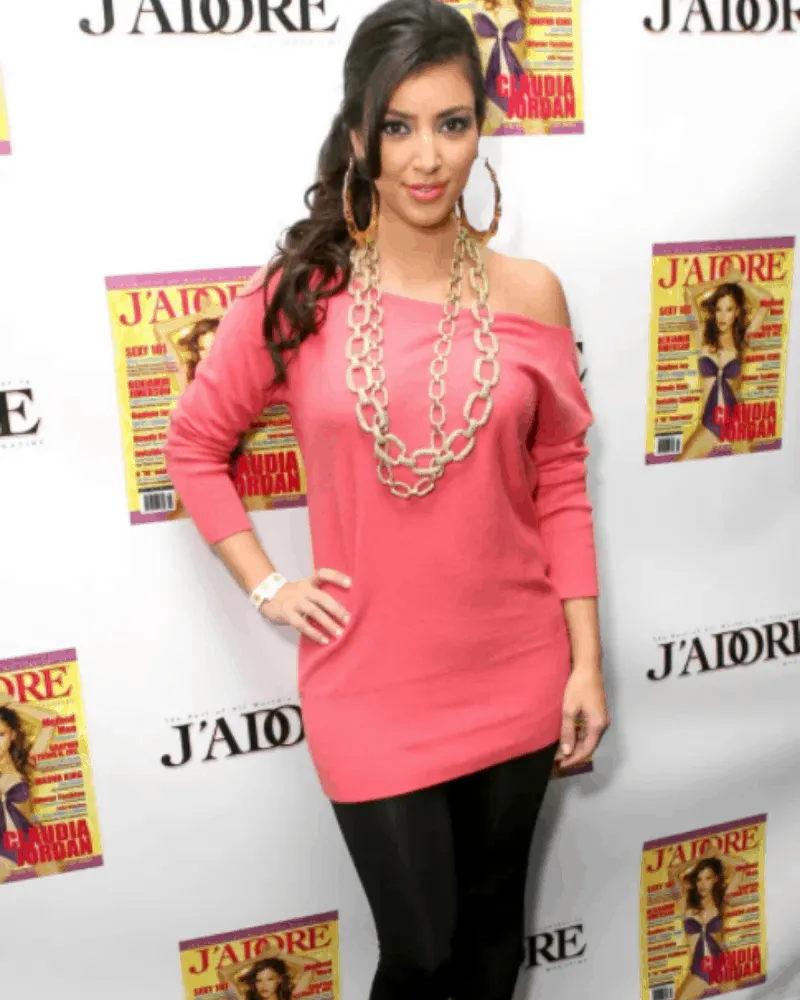 We could say that Kim was young and naïve to her new super fame, but considering she was a stylist before breaking out as a reality star, we can't seem to be able to forgive her for this one.
Mismatch
Kim's pose is great here! She looks like she's just come out of one of her husband's rap videos. The hair is fantastic and the sunglasses look great. It's a shame she decided to wear a garbage bag in the form of a jacket. Her snakeskin pants don't match at all with her shirt either.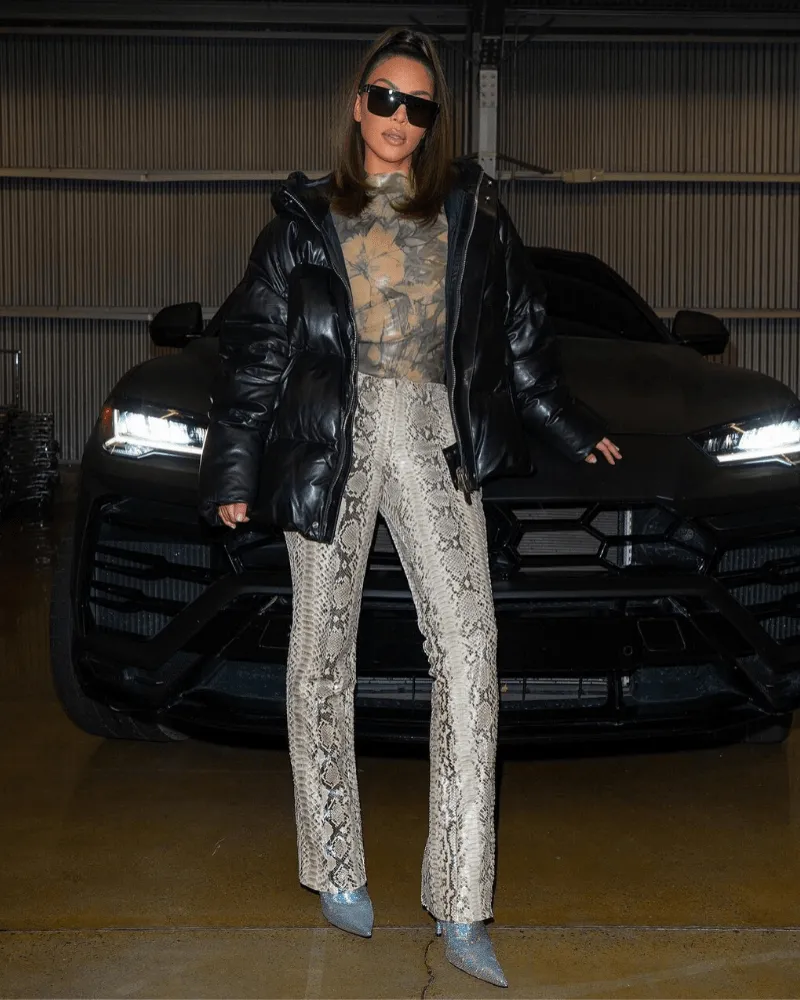 The pose and attitude are great, just a shame about the total mismatched wardrobe.
Another Day, Another Catsuit
Our youngest Jenner must be following her mother Kris's fashion advice as she brings us a completely and utterly revolting leopard catsuit. And what makes a leopard catsuit even more hideous? Neon green, that's what!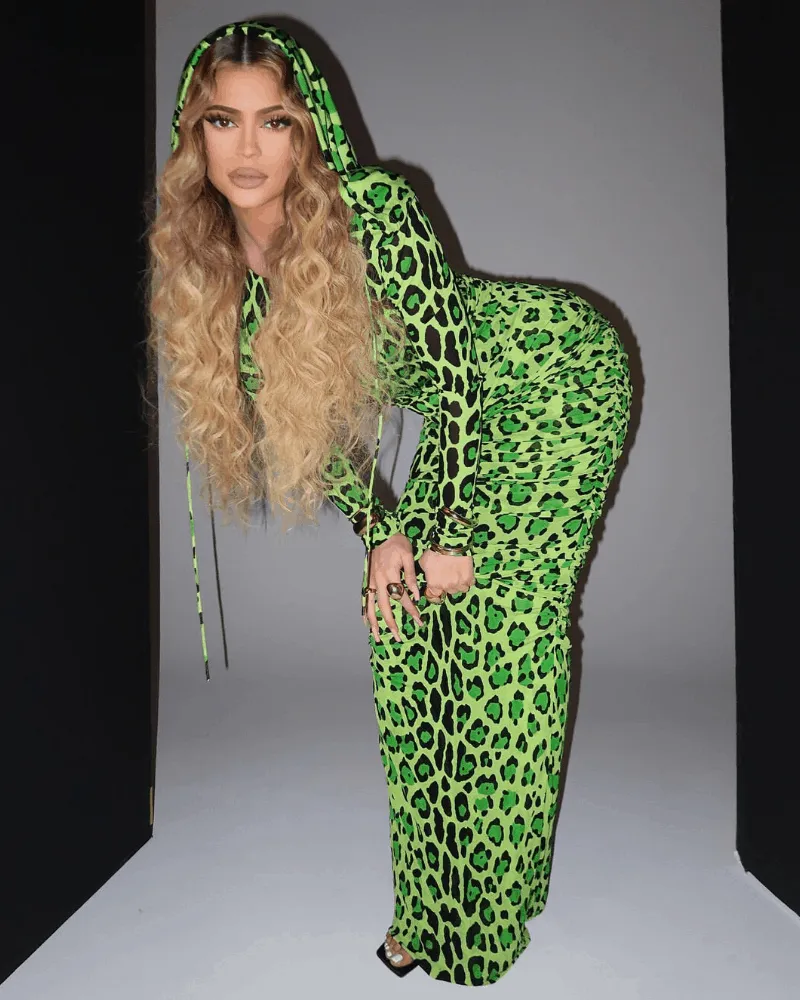 It's a good thing Kylie specializes in makeup because this tacky outfit is not helping her case at all.
No Fringe Benefits
Fringe benefits refer to the advantages you usually get from your employer. Usually, these advantages make you want to stick with your company as it makes it all worthwhile. In the case of Kim's fringe skirt and jacket, it seems they are giving us no advantage but to look away.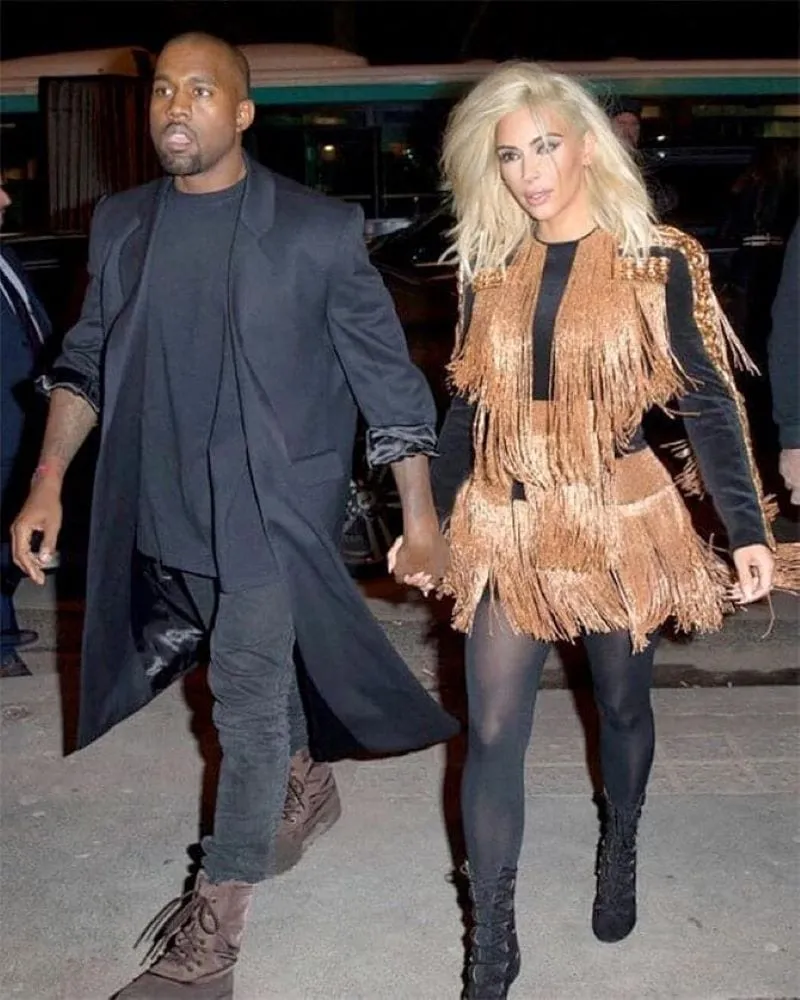 Kanye has done his best to match his black ensemble to her black pants and boots, but other than that the whole thing is a sham.
Kris At The 2019 Met Ball
Wait, who is that? This picture made our heads turn twice as we didn't know which Kardashian or Jenner was under this outfit. Well, it's everyone's favorite momager again—Kris Jenner! Her 2019 appearance at the Met Gala Ball really stood out with the super platinum blonde wig and the over-the-top fur coat. The theme of the ball that year was 'camp' but still.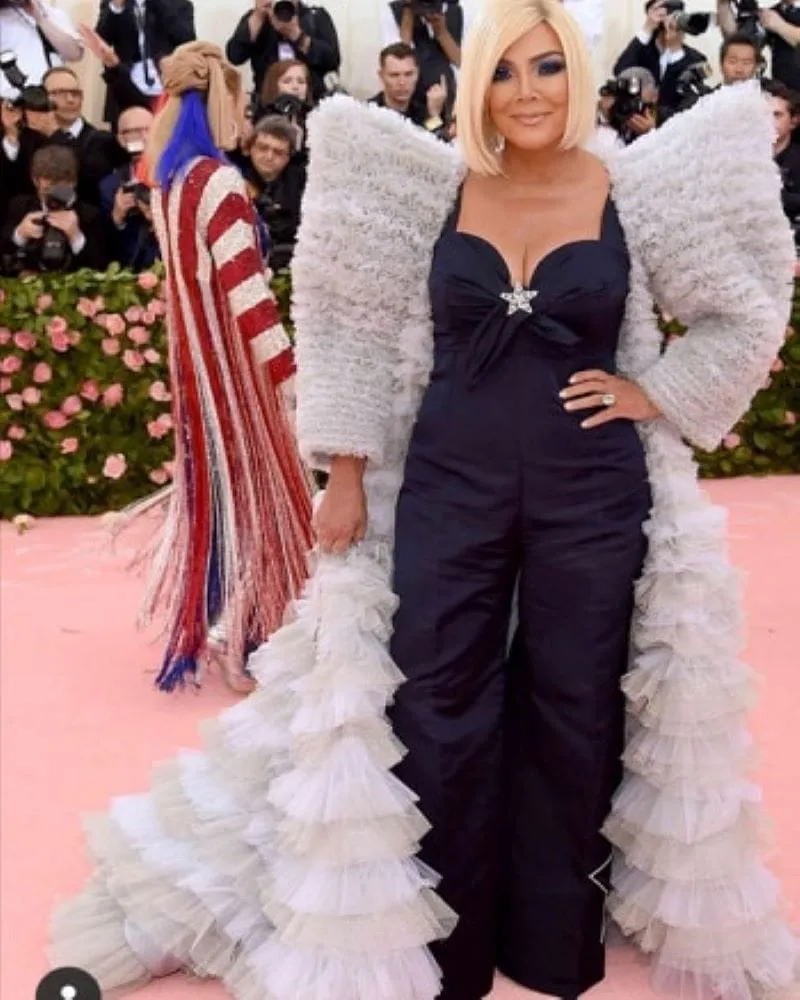 Apparently Kris Jenner says that she used to dress like this in the '80s all the time. Maybe forget that look in the past then. No need for this flashback.
Slippers
Now we've tried, but we just can't figure out where on Earth Kim is when this photo is taken. She must be on vacation and her security has just dropped her off at the store because we can't imagine why anyone would leave the house wearing what seems to be their household slippers.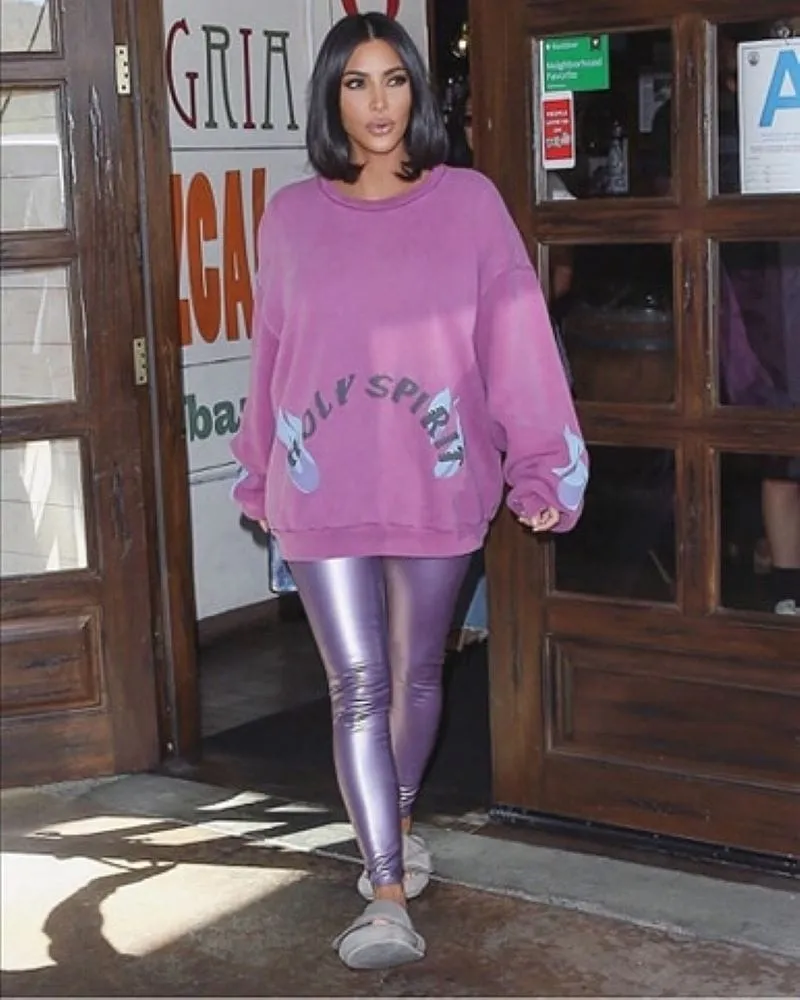 Besides the slipper fail, the florescent leggings and plain weird sweater seriously don't add anything except make her look like she's wearing a strange carnival item.
Silver Hole Dress
We sure know by now after going through this list that Kim really likes holes in her dress. She's also partial to a see-through garment if possible. Here she has opted for both. A see-through dress embellished from top to bottom with what seems to look like silver-rimmed holes.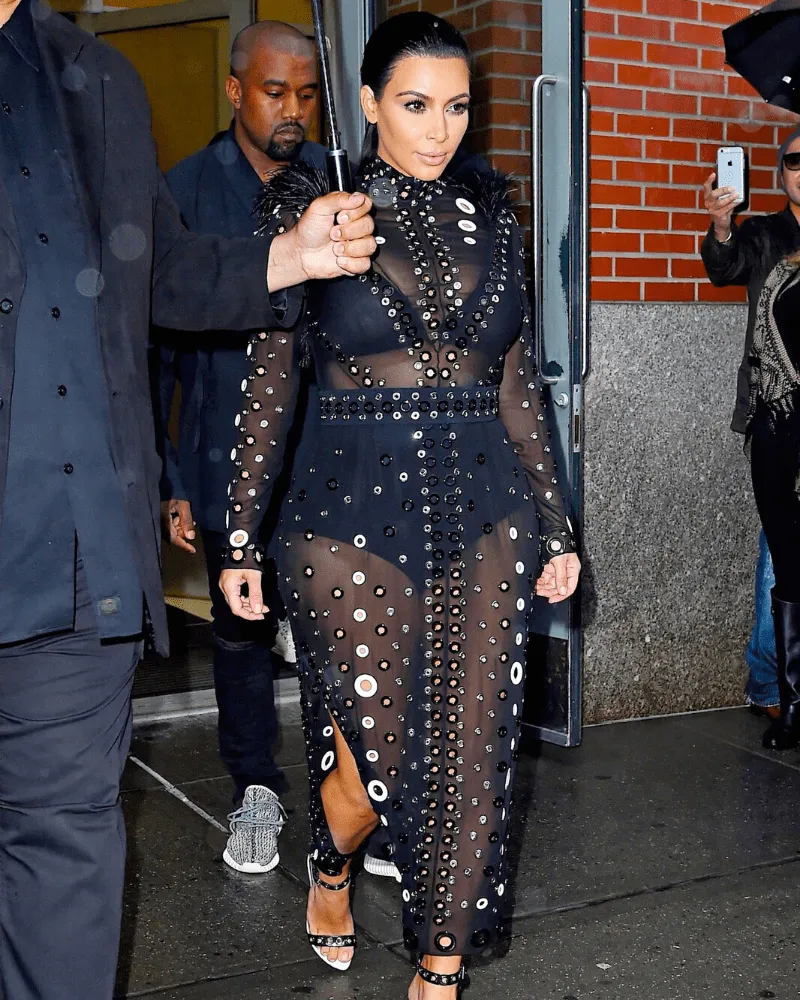 We can completely understand why Kanye is lurking in the background of this photo. We wouldn't want to be associated with this dress either.
Office Kim
Another flashback to the initial outings of Kim Kardashian after the huge success of her family's reality show Keeping Up With The Kardashians. In this picture, Kim has decided to dress as if she is interning at a law office.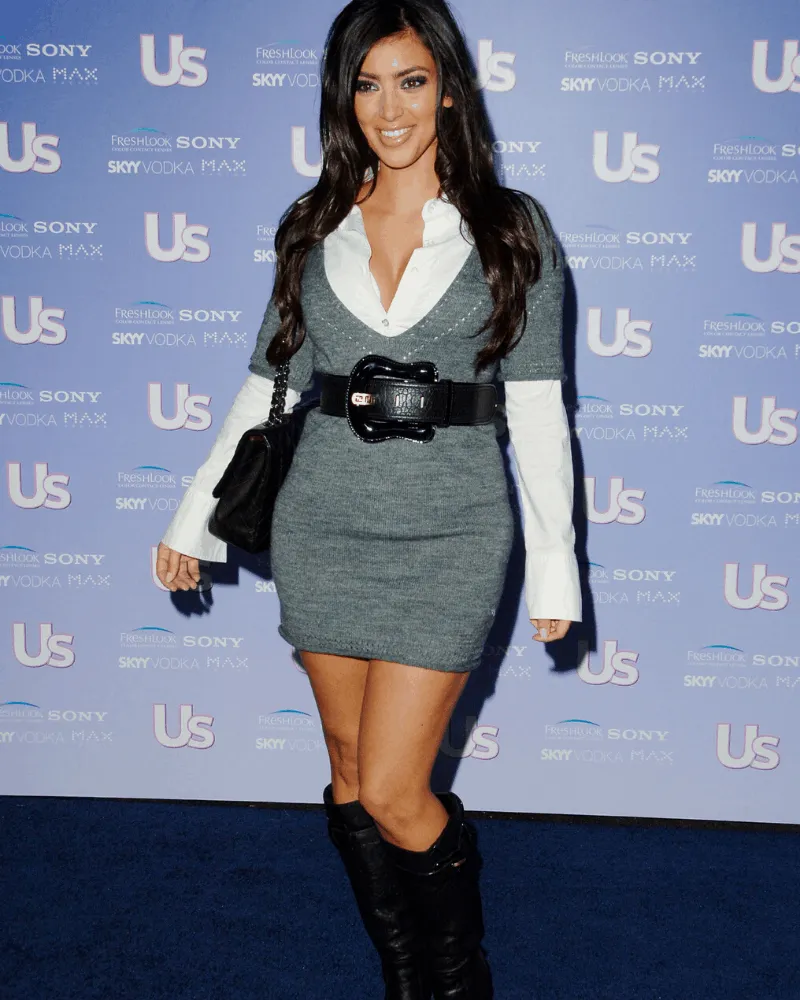 Nothing says office job more than an oversized sweater with a white shirt coming out underneath. Don't forget the oversized belt and thick chunky boots! A true staple of the early Kim Kardashian fashion fail wardrobe.
Skeleton Khloe
As a mega-celebrity and business owner, it is completely understandable that Khloe would want to be comfortable while traveling. A lot of people opt for leggings or sweats. But a skeleton onesie when you know you're going to be photographed within an inch of your life? Think again Khlo!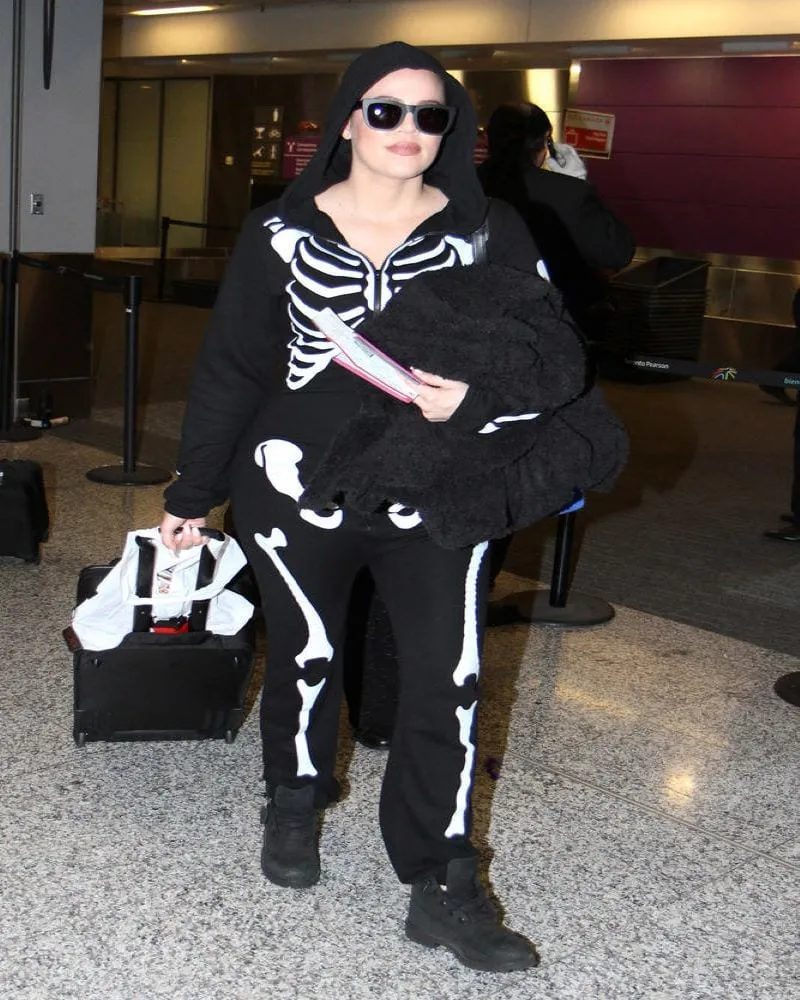 It looks like Khloe might be getting in her Halloween costume in early this year.
On A Mission
Kim has gone back to her favorite silver cycling short look here but this time accessorized with beige thigh-high boots and a fanny pack across her chest. Sure, it's great to be hands-free but this does look a bit futuristic, especially with the non-complimentary makeup.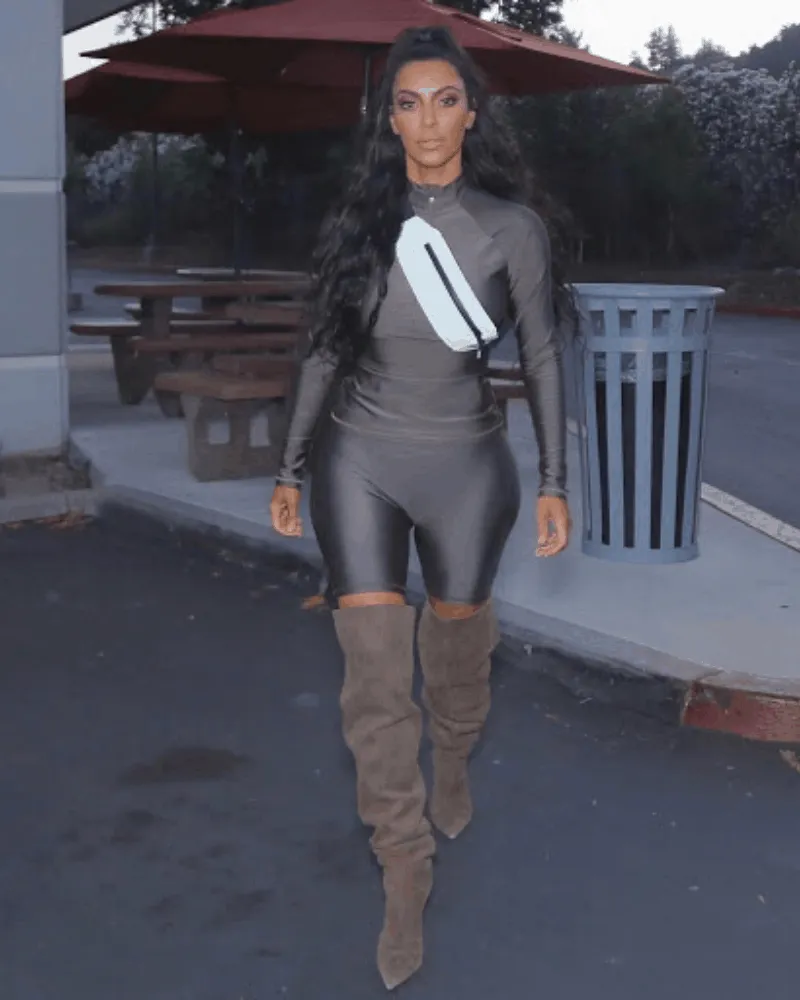 Kim is showing off her husband's newest Yeezy collection—but in the middle of Calabasas California? This is just a big no no.
Fur-ocious
Kim is a huge fan of fur and it totally makes sense that she would go overboard once again with a furry coat. This might not be one of her worst fur disasters and at least she's wrapped herself in it instead of having it fall off her shoulders, which usually defeats the purpose of a coat.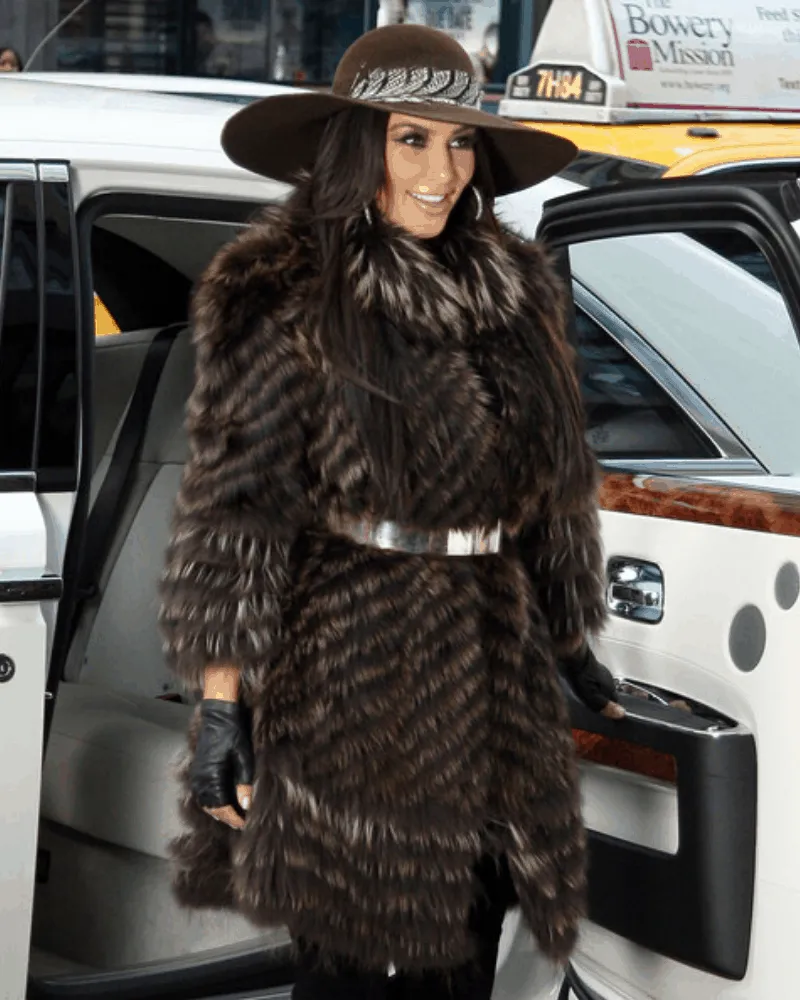 Let's just hope that the fur on this coat was as fake as it looks.
Peplum Alert
Kim wasn't known for having great maternity style and here's another example of how she didn't choose the most flattering styles to suit her during that time. Not only are the patterned pants reminiscent of bad flowery wallpaper, but the peplum she has around her waist also does absolutely nothing but enhance her curves.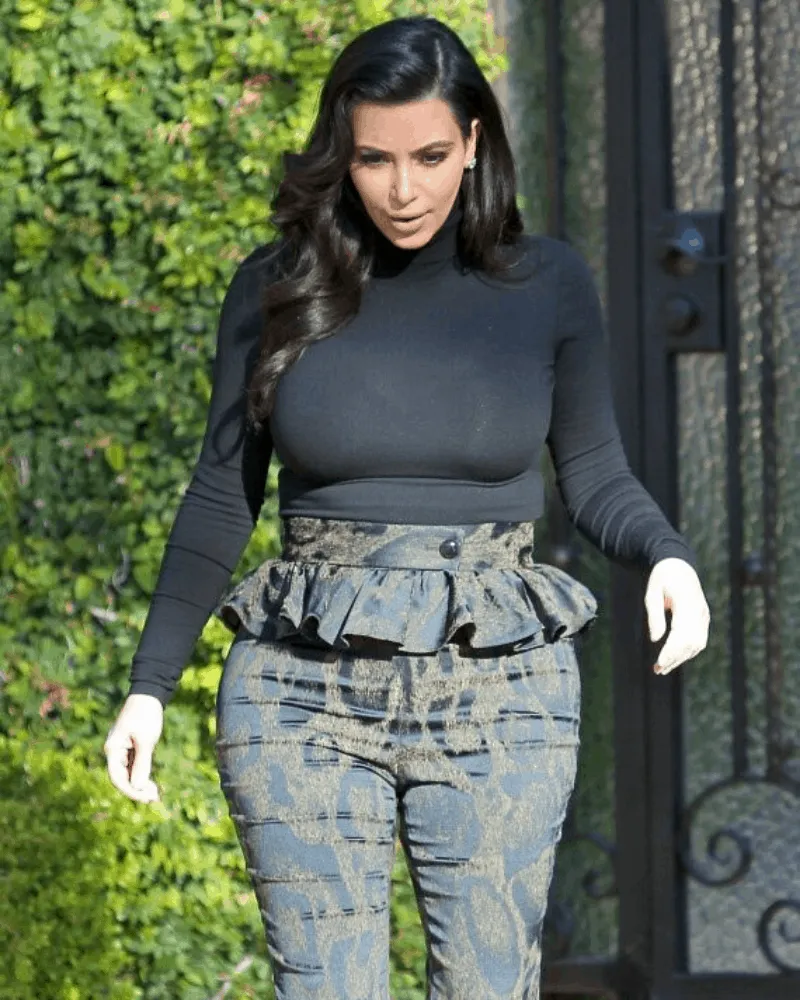 Kim now has a full family of four kids and says that she doesn't want anymore, but you never know. In any case, we'll always have Kim's great maternity fails to remember.
Grey Kendall
Our favorite supermodel hits a new fail and this time she's decided to put a pair of heels on and leave the house in what looks to be black and white stripy sweats. Oh and don't forget the essential accessory, an ice cream.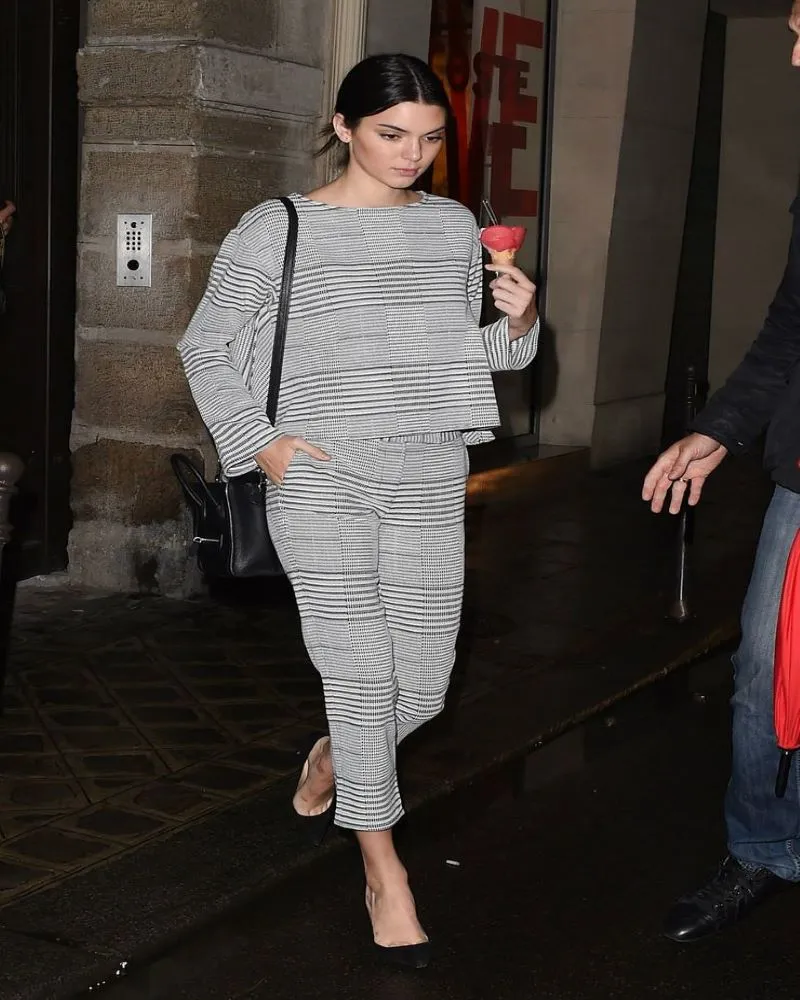 Some people love wearing sweats outside the house and the look can definitely work sometimes, but in this case, it looks like Kendall was going for something else entirely.
Is That A Cape?
There is a possibility that our favorite fashionista, who despite this list is a real trendsetter and fashion icon, has decided to turn herself into a modern superhero. How else could she explain this green jacket that seems to look like a cape?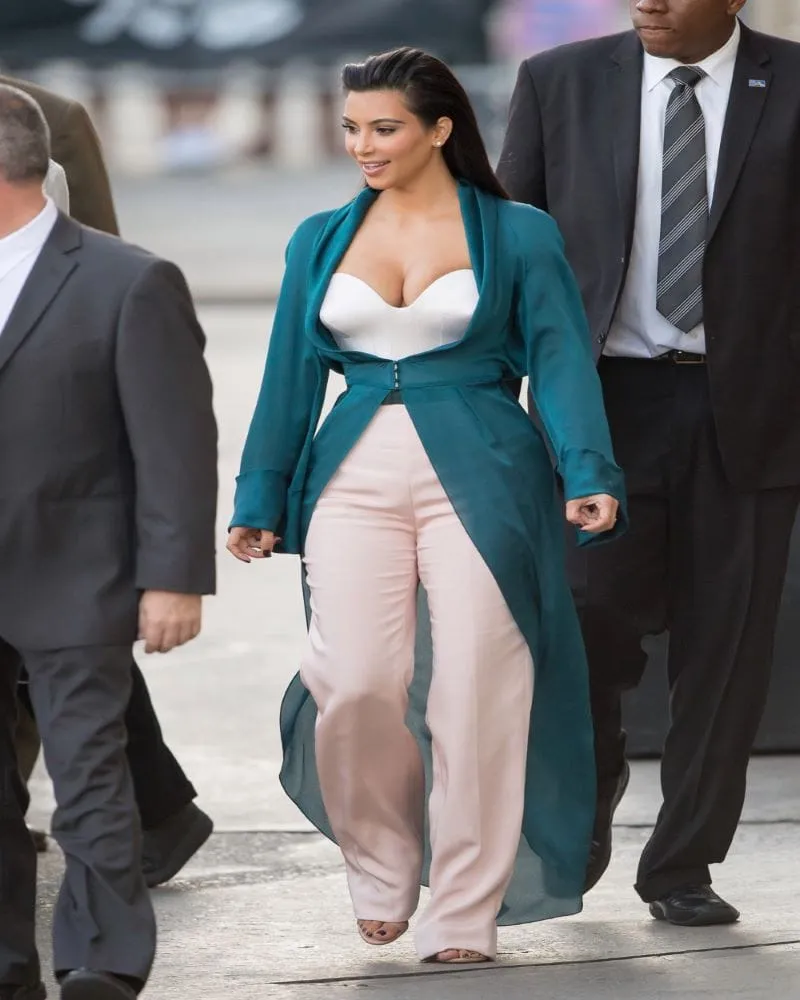 Businesswoman, fashion icon, and possible future attorney, Kim has proven that she can do it all. Superhero however? We think the talent might run dry there.
True Blue
Powder blue is a hard color to pull off. Romper suits are hard to pull off. Romper suits with lots of unnecessary pockets are even harder to pull off.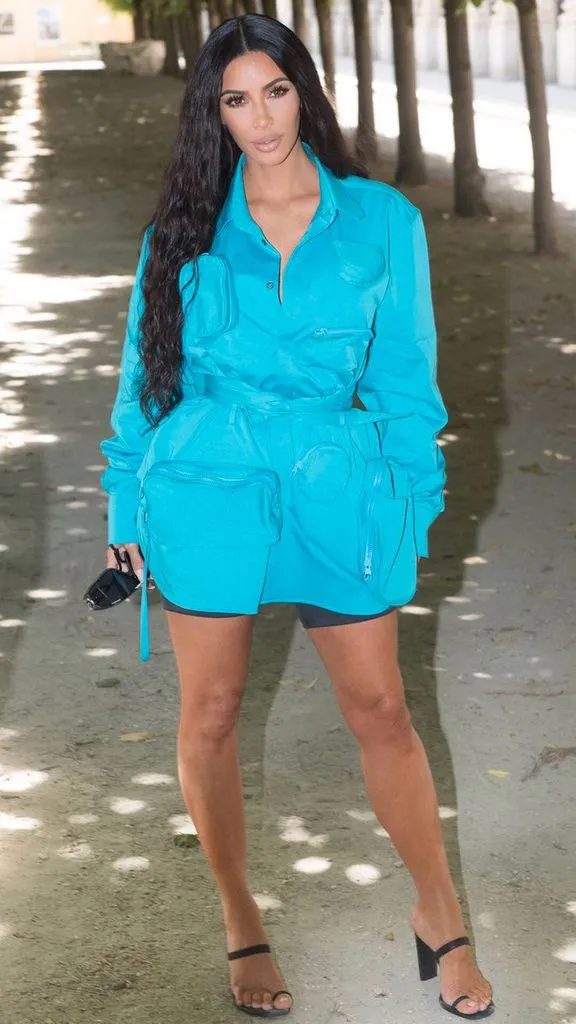 So what do you do if you're Kim Kardashian West? You wear all three at once. The only upsides are that you don't really need a bag for anything.
Cage Dress
Of all the strange things KKW has put on this seems to be pushing the boundaries. She is literally wearing shapewear underneath what seems to be a bondage mesh cage dress on top.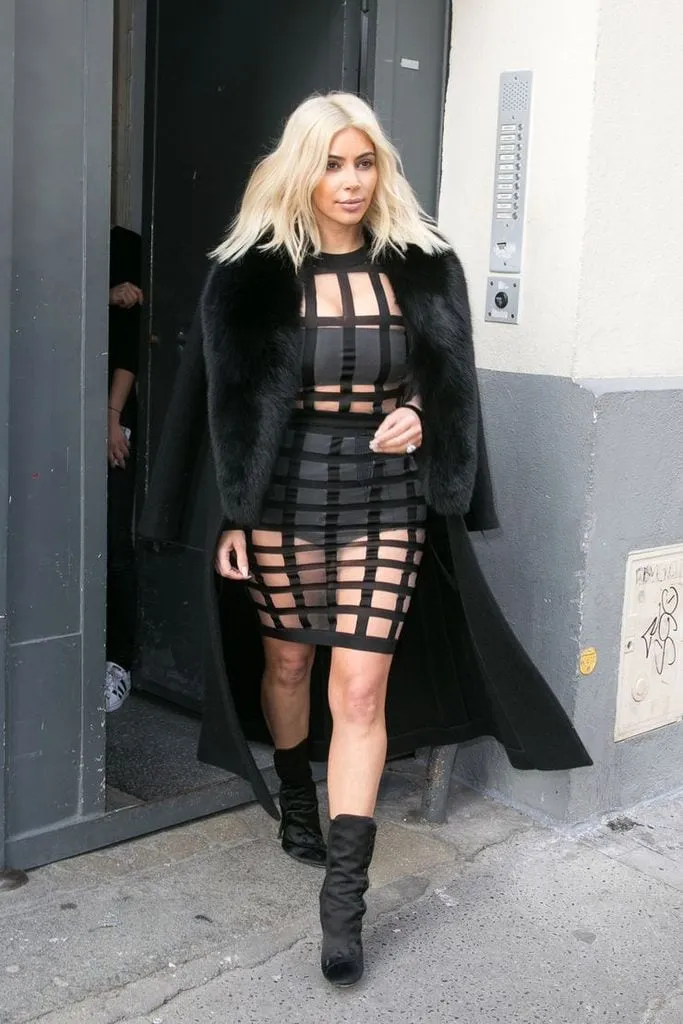 She has done the classic coat cape, so if she freezes she'll still look cool. Don't get too cold Kim! Not in the name of fashion.
Is it Hot or Cold?
Kendal Jenner, the responsible supermodel with usually the least gaffs has once again surprised us with this strange ensemble. Half beachwear, half yeti costume, we're not sure where she's going or what the weather is like wherever she is.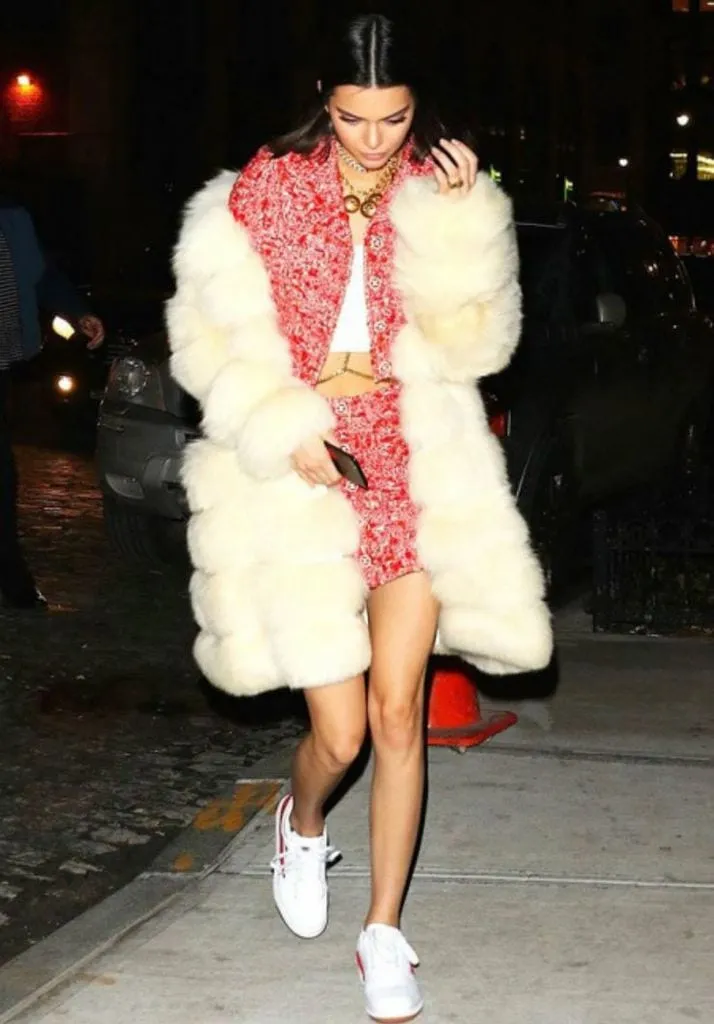 If you're going to wear a patterned blazer and matching shorts, then go for it. Her white sneakers look great. But adding the huge furry coat seems like a mistake.
Fishnet
The Kardashians are brave and fearless in their family life, love life, and fashion, and that's something that has to be celebrated and respected. There are some times, though, that the boundaries of fashion-forward thinking must not be crossed.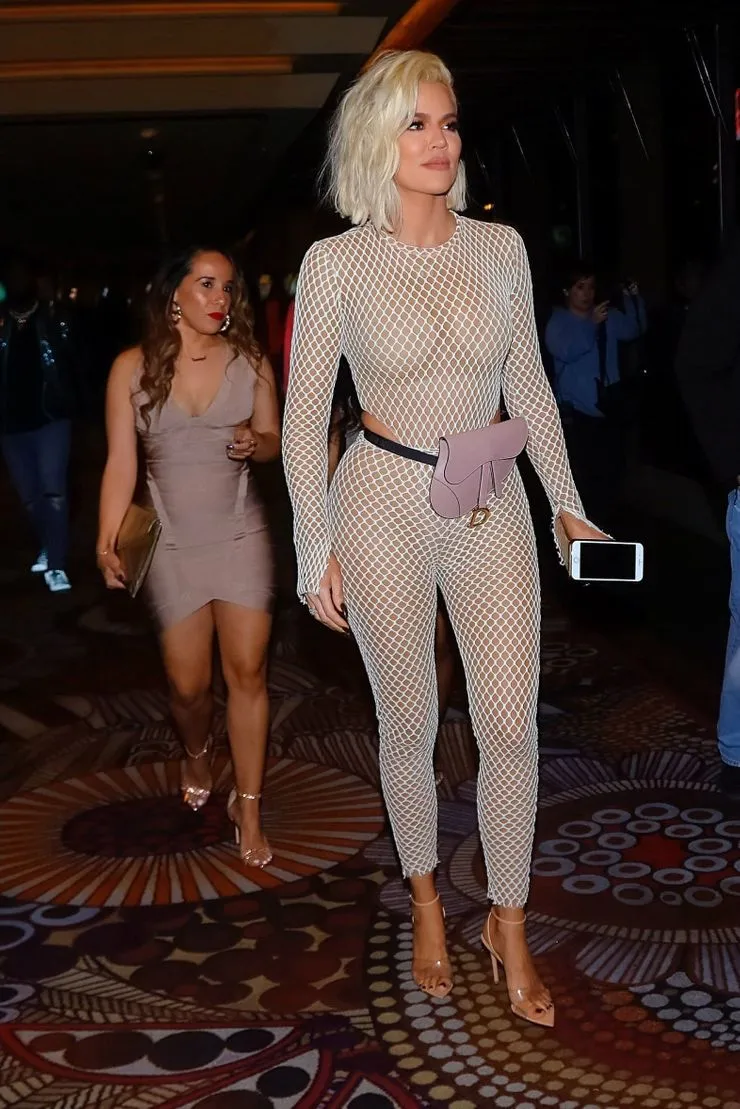 Like wearing a fishnet jumpsuit that looks like you might be completely naked underneath. For example. It kinda looks like one of those protective liners that you get at the airport to protect your bottle purchases from breaking. But if that's the look you're going for then why not.
Skintight Mess
Another skintight suit another fail for Mrs. Kardashian West. Head to toe beige bodysuit with a large fur coat is not the average fashion trend in the cities of Los Angeles and New York, where our fashionista hangs out.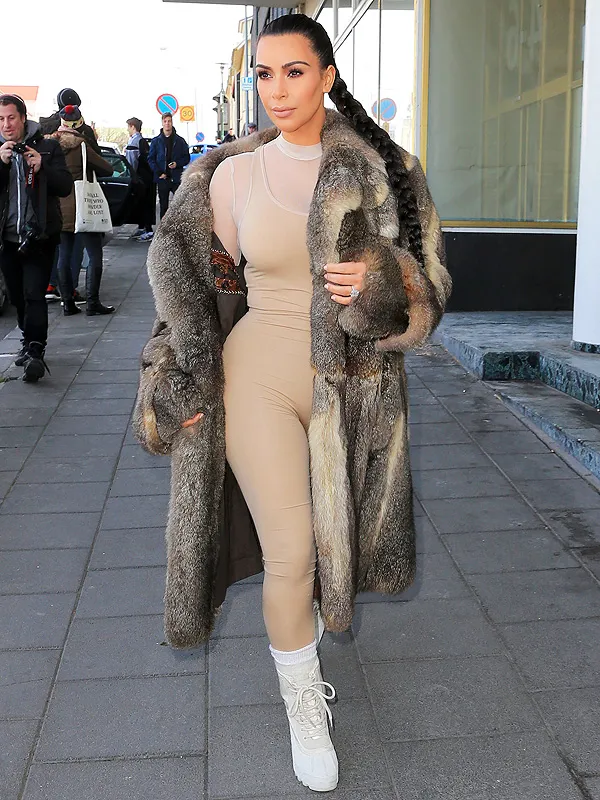 At least she's remembered all her underwear this time. Not practical and not cute.
Self-Portrait
Love yourself much? Why carry a mirror around with you at all when you can just walk around with a huge picture of yourself on your jacket? Kim Kardashian-West is absolutely beautiful but in case you've forgotten she just wants to remind you.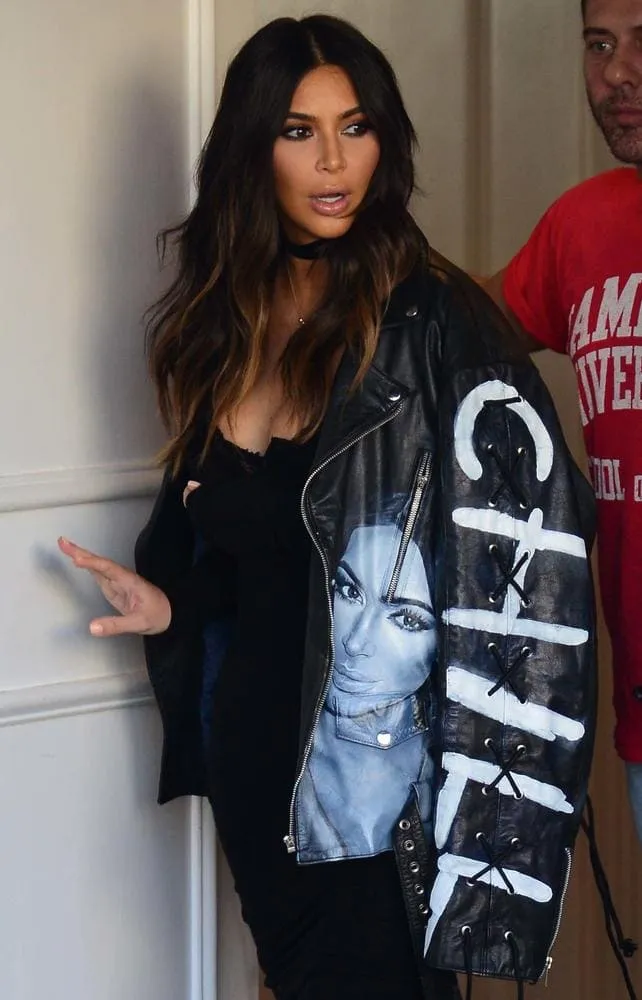 Maybe Kim should take a piece of advice from her own jacket and just CHILL!