Discover these incredible ideas to transform your bathroom into a stunning space that will leave you in awe.
Despite the challenges of finding the perfect design, color scheme, and layout, small bathrooms can still be attractive. You don't have to relocate to a bigger house to achieve the luxurious bathroom you desire. All it takes are innovative bathroom ideas that maximize the available space. In this article, we will explore practical recommendations to transform your bathroom into a stunning and upscale oasis in just a few minutes. These suggestions involve simple enhancements, accessories, and DIY projects. Continue reading to learn more!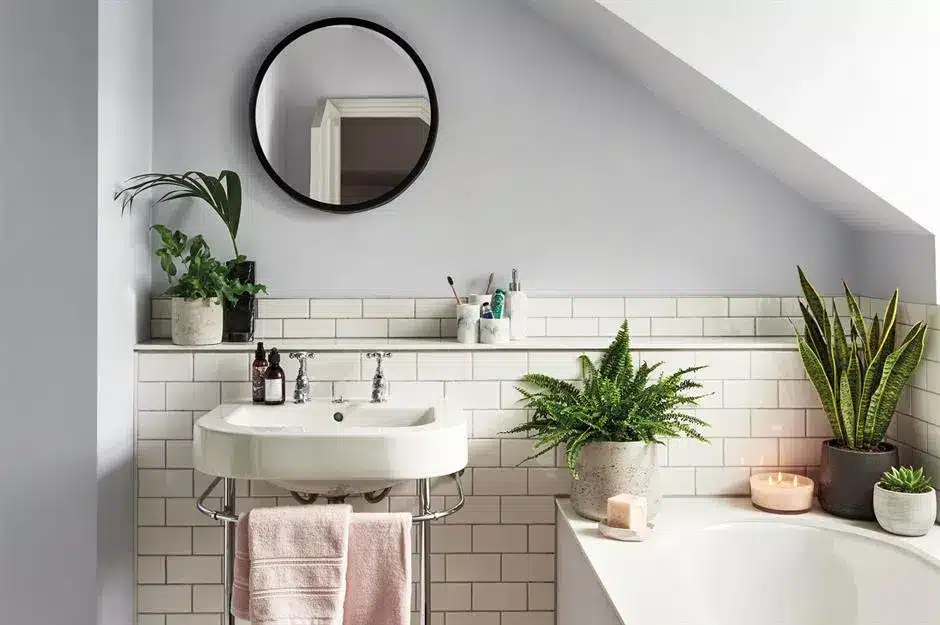 Discover a collection of captivating Facts About Bathroom Remodeling that will empower you to transform your compact bathroom into a masterpiece. These insights demonstrate that innovative design elements can thrive in even the tiniest of spaces.
1. Avoid Clutter: The Lesser The Better
A cluttered bathroom can quickly diminish the aesthetic appeal of a beautiful space and hinder relaxation. However, there are easy solutions to this problem. Simplifying your bathroom by reducing the number of items makes organizing and maintaining it much easier. Consider using chic storage containers like wicker baskets to discreetly store toiletries and other essentials.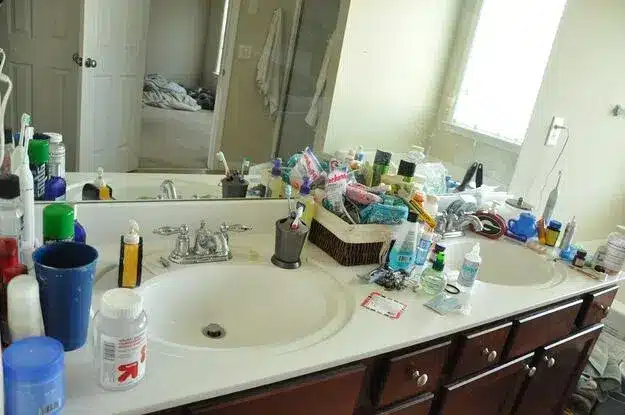 Organize similar items, like soaps, conditioners, dental supplies, nail care products, and cosmetics, in one place on the floor. Dispose of any trash as you go, including sunscreen, lotions, expired toiletries, sticky nail polishes, and any other items that don't look or smell new, even cosmetics.
Having sufficient storage space in your bathroom is a great idea. A clutter-free surface will instantly enhance the overall ambiance of the space, and incorporating storage will contribute to the overall feel of the bathroom.
2. Add Lighting
When it comes to bathroom lighting, many people think about task lighting, mood lighting, and statement lighting. Simple changes such as using dimmer switches, spotlights, and statement light fixtures can have a big impact on your bathroom makeover. Enhancing the lighting not only beautifies the space but also adds a touch of luxury and promotes relaxation in your small bathroom.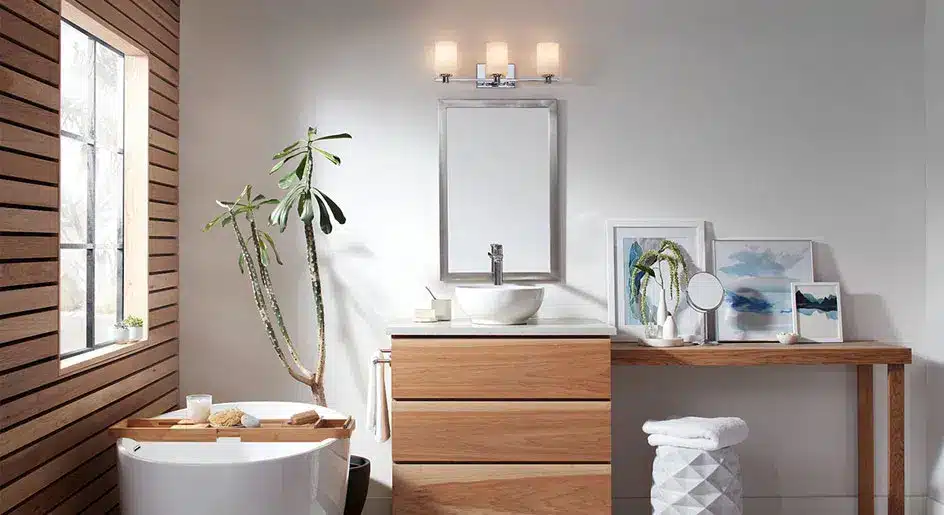 Furthermore, embrace the remarkable attributes of natural light found in nature. Incorporate uncovered windows and glass shower doors, and if feasible, consider installing skylights or floor-to-ceiling windows to allow the seamless flow of light into and throughout your compact bathroom.
3. Choose A Paint Color That Enhances Lighting
If you're unable to enhance the natural lighting in your bathroom, consider using high gloss paint to create a reflective effect. The choice of interior paint color can greatly impact the overall ambiance of the bathroom. For a more luxurious feel, opt for a fresh coat of paint in a calming neutral shade. Whites, creams, and grays are among the top choices for achieving this desired effect.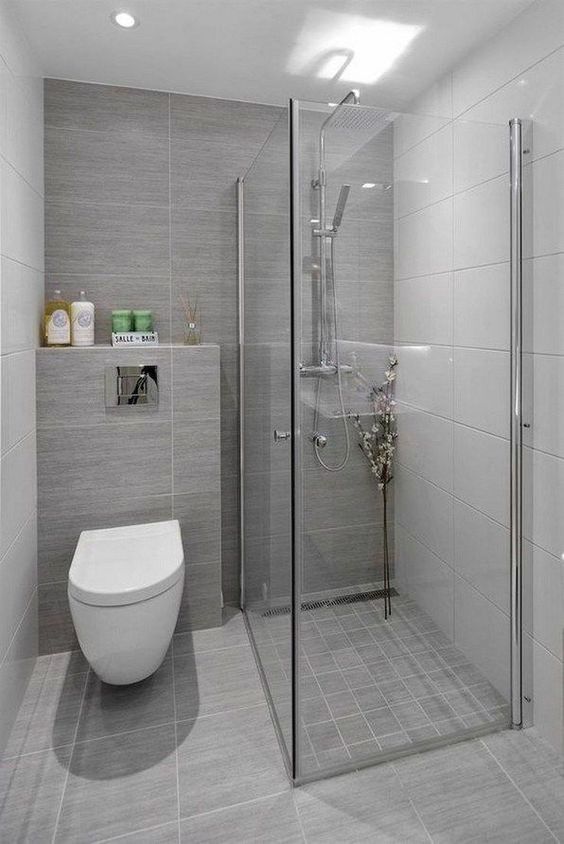 If you find a bright white too harsh, consider a creamy white with a warm buttery undertone. Another option is cerulean blue, which resembles the beautiful water at a tropical beach and is both bright and calming, making it perfect for a family bathroom.
4. Use White for Elegant Simplicity
The bathroom is made more stylish and minimalist with the use of white worktops and cabinetry. White is a great choice for small bathrooms as it reflects light and makes the space appear larger. To further enhance the spacious effect, white is used on all surfaces except for the wooden vanity. Additionally, a large mirror and shower door contribute to creating this illusion.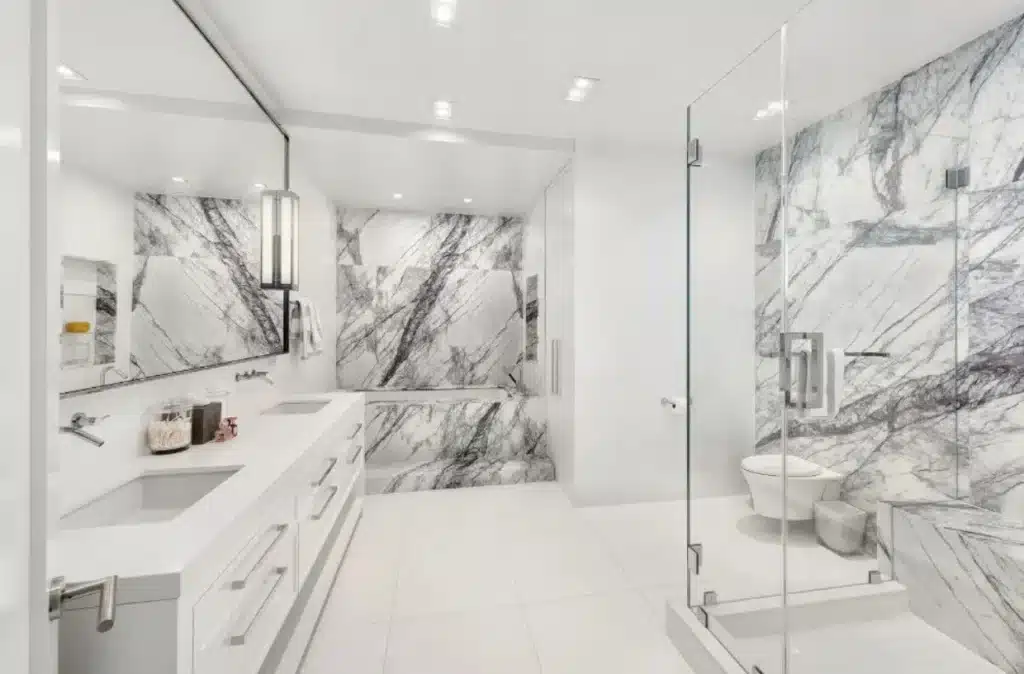 To create a luxurious feel in a small bathroom, opt for a light neutral paint color. Pair this with high-quality white towels and carpets to elevate the space. To tie everything together, add neutral-colored accessories to your white linens.
5. Consider A Larger Space Covering
Despite the potential cost and time involved, installing wallpaper can yield worthwhile results. Moreover, it remains a more cost-effective option compared to hiring a contractor for shower tile installation. Investing a few hundred dollars in a roll or two can significantly transform the bathroom, regardless of whether the entire space requires a touch of dynamism.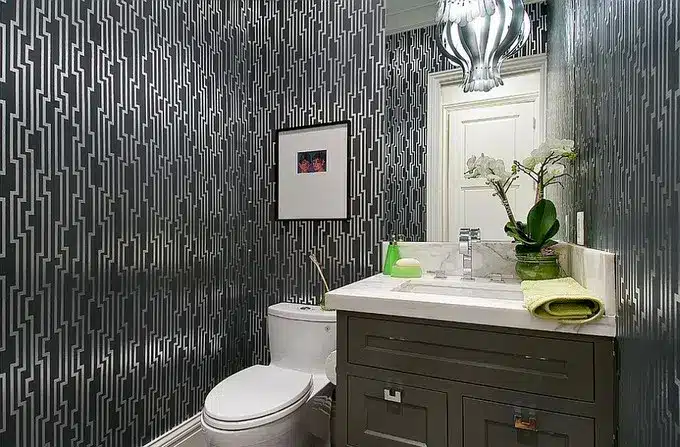 In a small bathroom, there is limited room for experimenting with finishes. However, using large or medium-sized wallpaper patterns and tile designs can create the illusion of a larger space. To stay within budget, consider choosing an accent wall or ceiling. Opting for large tiles or patterns can also help create the illusion of more space in a small bathroom.
6. Use Tile As Baseboard
Matching the baseboards with the floor tiles creates a seamless flow in the room. Additionally, incorporating Schluter edge enhances the luxurious ambiance of a compact bathroom.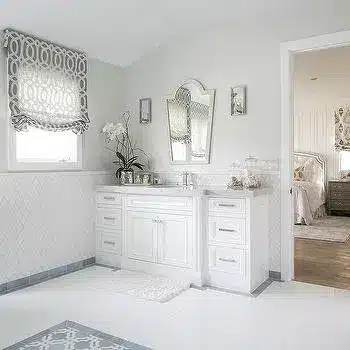 Tile is a versatile material that serves various purposes beyond its traditional use of covering floors and walls. It can be utilized in entranceways, bathroom showers, as baseboards, floor insets, and even to frame mirrors and photographs.
7. Change Your Bath Mat
If your bath mat is dirty, your bathroom might appear messy. But, to add a touch of luxury, some people have replaced terry cloth mats with Turkish and Persian rugs. These soft wool rugs make for a great alternative to traditional bath mats.
Not only that, but they can also add a touch of elegance to your compact area with their beautiful textures and colors that improve over time. Owning a small yet luxurious handwoven item is definitely achievable, even in a bathroom.
8. Get Smart Storage
If you already have sufficient storage space, that's great! However, it's important to utilize it wisely. By incorporating baskets, lazy susans, cutlery trays, and other organizers into your bathroom's cabinets and drawers, you can optimize their functionality. No more searching around aimlessly, as everything will be easily accessible.
If you're dealing with limited space, consider adding a bathroom vanity. It doesn't have to be costly, and you don't need to purchase an entire countertop. Opt for a new pedestal sink and countertop instead. To add a modern touch, repurpose another piece of furniture as a vanity. Give it a fresh coat of paint that matches the color of your bathroom walls, particularly in white, to create a sleek look. Alternatively, a deep-colored coat of paint can turn it into a stunning focal point.
9. Place Artworks
Transform your master bathroom into a tropical paradise by incorporating artwork. Even the tiniest bathroom can be transformed with strategically placed art, evoking images of high-end galleries and museums. This simple addition can elevate the entire space, giving it a more luxurious feel. Don't worry about breaking the bank, as there are plenty of affordable prints available online. Simply grab a pair of black frames and you're ready to go!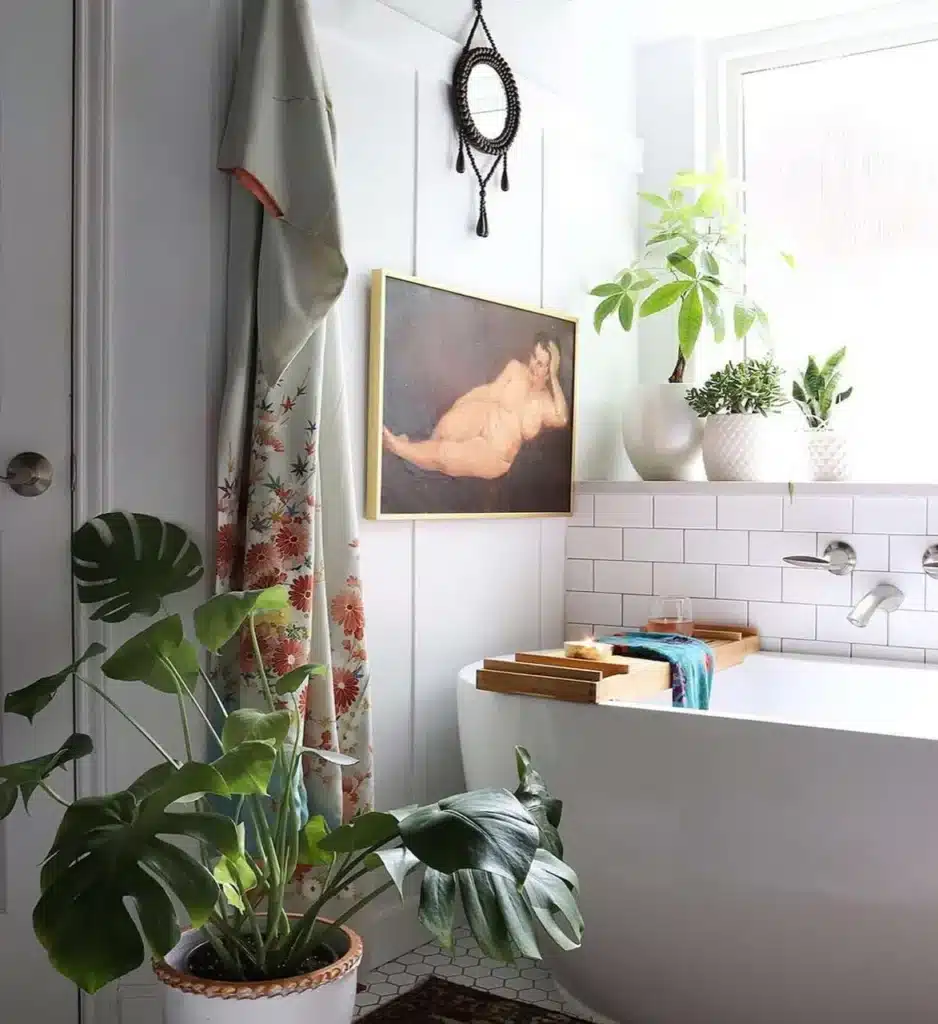 10. Plants Always Make A Huge Difference
If you're looking to add a touch of luxury and relaxation to your room, consider incorporating plants. Even in small bathrooms, plants can create a unique and elegant atmosphere. Not only do they add beauty to your sink or window sill, but they also thrive in warm and humid conditions. Plus, they can help save wall space and enhance the overall style of your bathroom.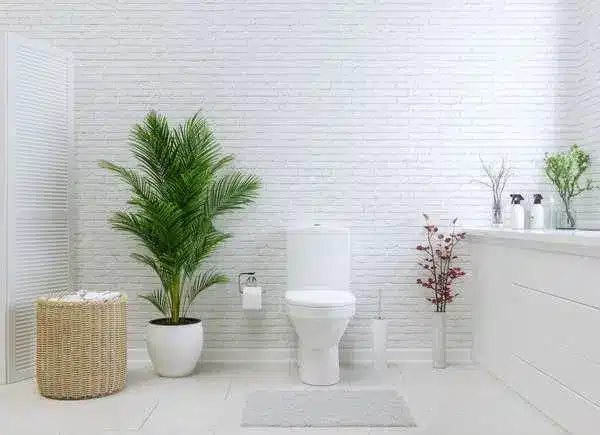 Transform your small bathroom into a peaceful sanctuary with the help of exquisite photos, a string of pearls, and air plants. Place small potted plants in the corners of your bathtub to add a touch of greenery. If your tub corner lacks natural light, opt for a plant that thrives in low light conditions. The best part? These plants are easy to find and won't break the bank.
11. Transparent Glass
Glass is an essential element in modern small bathroom design as it creates a sense of openness and clarity. Incorporating large-scale unstructured glass can transform a bathroom into a luxurious space.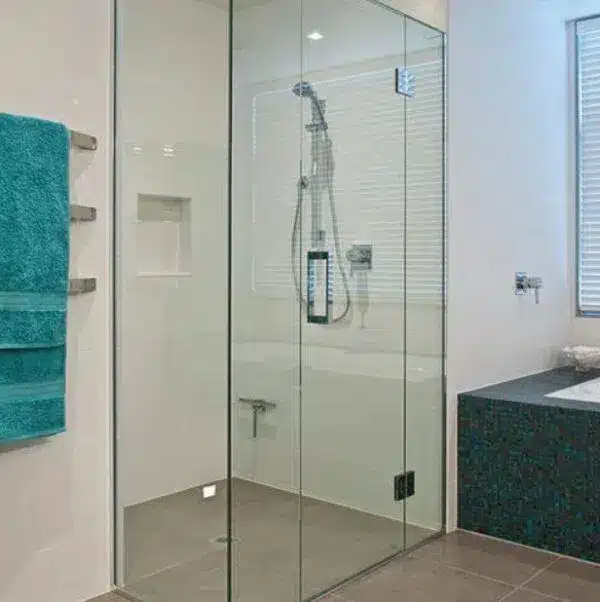 If your bathroom is positioned in a way that allows for easy visibility, consider replacing the clear glass with frosted glass.
12. Add A Bathtub Tray
A small modification can have a significant impact. Placing a beautiful bath tray on your bathtub serves multiple purposes. Whether you decorate it with fresh flowers, candles, and luxurious soaps or opt for a simple and clean look, it can create a spa-like atmosphere instead of an ordinary bathroom.
FAQs
What Are The Components Of A Luxury Bathroom?
A luxurious bathroom boasts sophisticated and high-quality surface materials that surpass other commonly chosen options. These materials not only exude style but also guarantee durability, standing the test of time.
A properly designed luxury bathroom includes a well-organized countertop, complemented by stylish finishing touches such as floor tile paint, a walk-in shower, towel bar, freestanding tub, and other accessories.
How Can I Design A Small Bathroom?
To achieve an elegant and opulent ambiance in a compact bathroom, opt for white bath towels and a soft neutral shade. By investing in premium white towels and rugs, you can elevate the overall appearance of your ordinary bathroom to a more luxurious one. Additionally, ensure a harmonious look by coordinating all elements and embellishing with natural materials that complement your white linens.
Enhance the appearance of your shower area by incorporating appealing fabrics, such as sheets and textiles, as well as window treatment materials. Additionally, you can elevate the overall look by pairing your bathroom shower curtain with fashionable bath accessories and lively wallpaper.
What's The Size Of A Small Luxury Bathroom?
Typically, a small luxury bathroom is expected to be around 35-40 square footage in size. Nevertheless, by implementing the ideas mentioned in this article, you can transform even smaller powder rooms into luxurious spaces. Regardless of whether your room is smaller than the average, you can still achieve an elegant bathroom design.
Are you looking to transform your bathroom into a dreamy oasis? Let us help you exceed your expectations with our exceptional bathroom remodeling services. Leave Comment today to turn your vision into a reality.