When you're a bride, you have lots of choices to make about how you'll look on your wedding day. If you have tattoos, deciding whether to show them off or hide them is a big decision. Tattoos can be colorful or just black, but whatever they look like, the choice to show them depends on how they fit with your whole wedding look
.Certain types of tattoos can stand out more with specific wedding dress styles. For example, tattoos on the chest might look great with dresses that have sweetheart necklines. Delicate tattoos on the wrists or arms can go well with simple, elegant gowns. And if you have a big tattoo on your back, it can peek out nicely between the dress straps. There are lots of ways to show off your tattoos if you want to, and we've got some great ideas to inspire you.
Tattoo Effect Back Wedding Dresses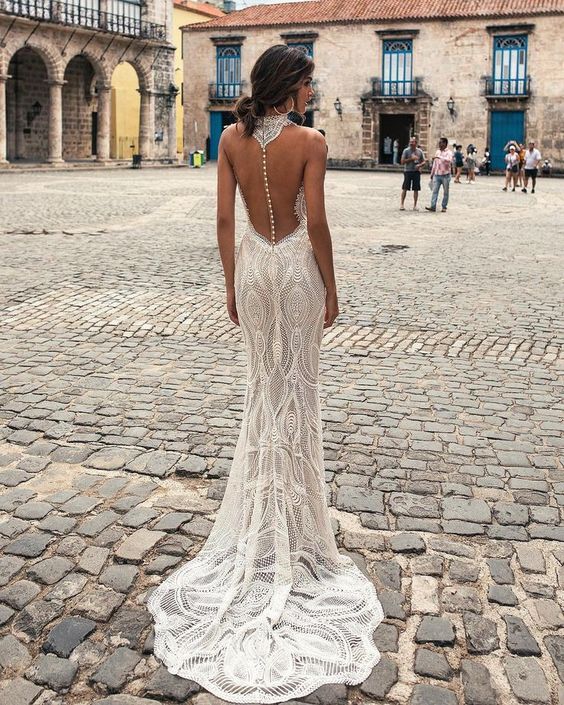 Sure! Tattoo lace wedding dresses are super popular because they imitate nature with pretty designs made from chiffon and lace. They look like weaving vines and flowers, making the dress look gorgeous and highlighting your curves. Some fancy ones even have pearls and colorful gems to make them sparkle. They're not just beautiful; they let you show off some skin in a cool way that's not too showy. So, they're both sexy and modest at the same time.
Show Some Shoulder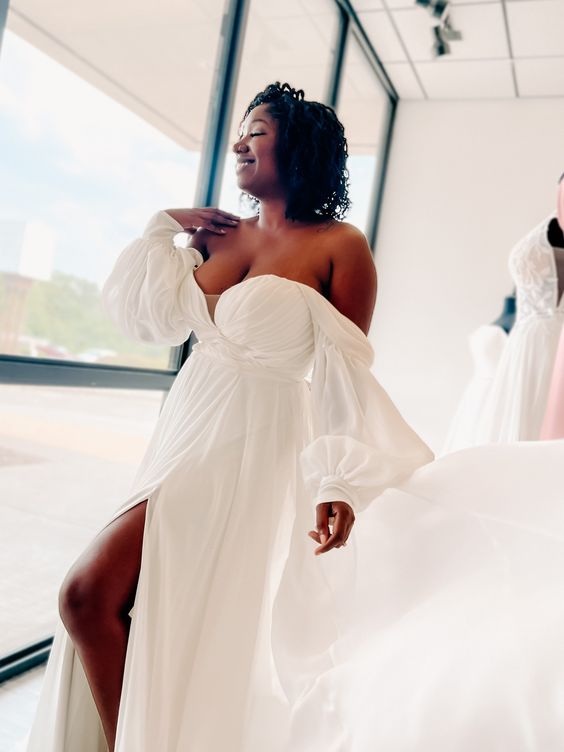 Your wedding day is all about you, so let your confidence shine with your tattoos! Look at this incredible bride with a stunning sun tattoo on her shoulder. In the picture, she's wearing a beautiful dress, and the beach behind her makes everything look like a dream—it's so captivating and artsy.
Tattoo Illusion Long Sleeve Dresses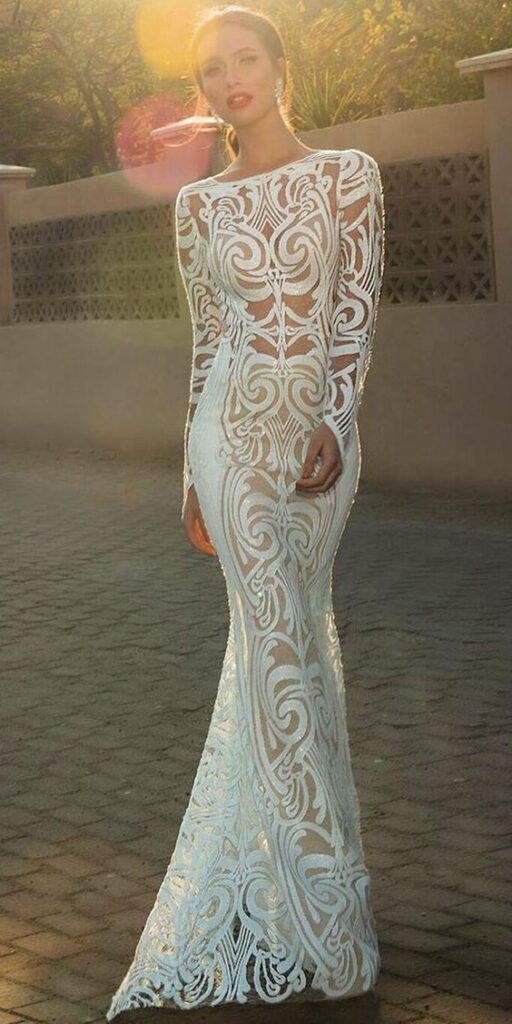 You'll feel so glamorous and gorgeous with illusion lace sleeves on your wedding dress! They add a touch of elegance and a beautiful look to your gown. But here's the bonus: they're perfect for cooler months! Some brides skip winter weddings because they worry about staying warm while looking good. But with these sleeves, the problem was solved. They cover you up, keeping you cozy, while still showing a bit of your skin. It's like having the best of both worlds.
Mimic The Design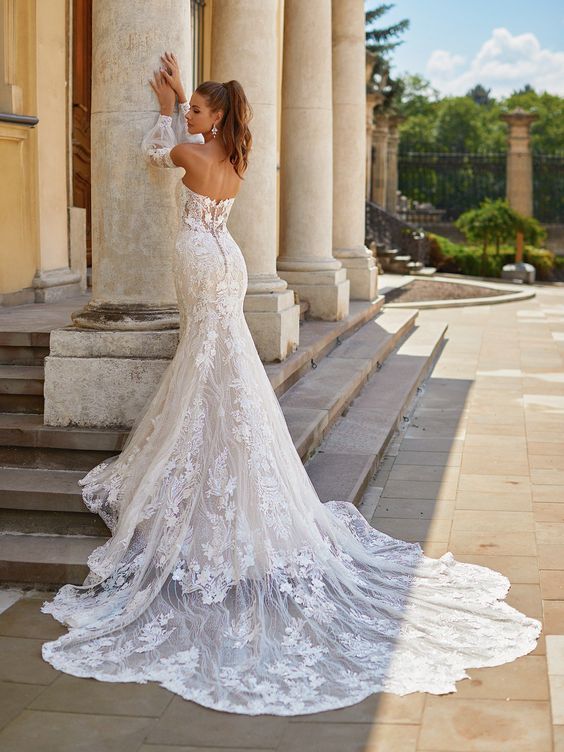 If your tattoo has a simple shape, use it to your advantage! Take this bride, for example. Her small horseshoe tattoo on the back of her arm was perfect for her wedding look. Her dress had a low back that made a similar shape, almost like a "U." It made her wedding at a mid-century modern venue look twice as stylish.
Give Them a Peep Show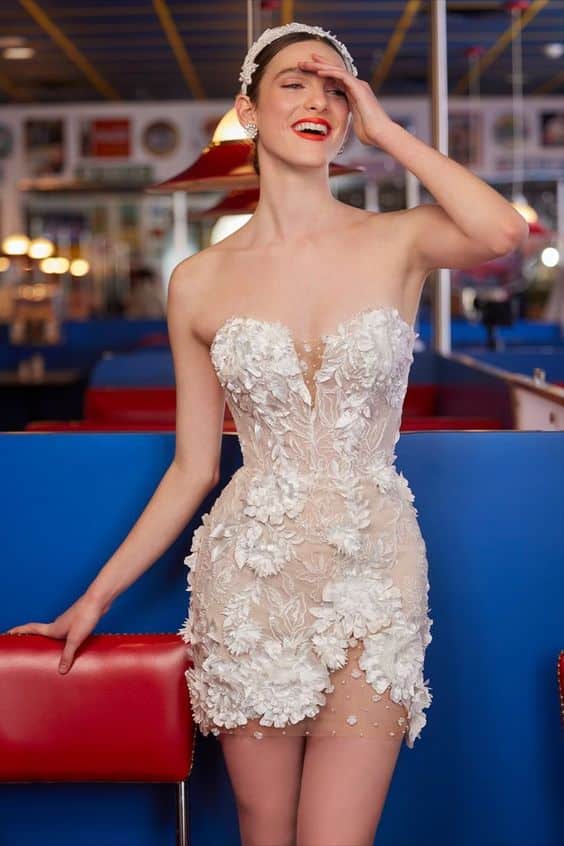 Stay classy and fabulous! If you want to show off your tattoo just a bit, go for a dress with a sheer neckline. Check out this gown with beaded lace—it covers up a colorful chest tattoo but still lets a hint show through, keeping it stylish and chic.
Tattoo Effect Neckline Bridal Gowns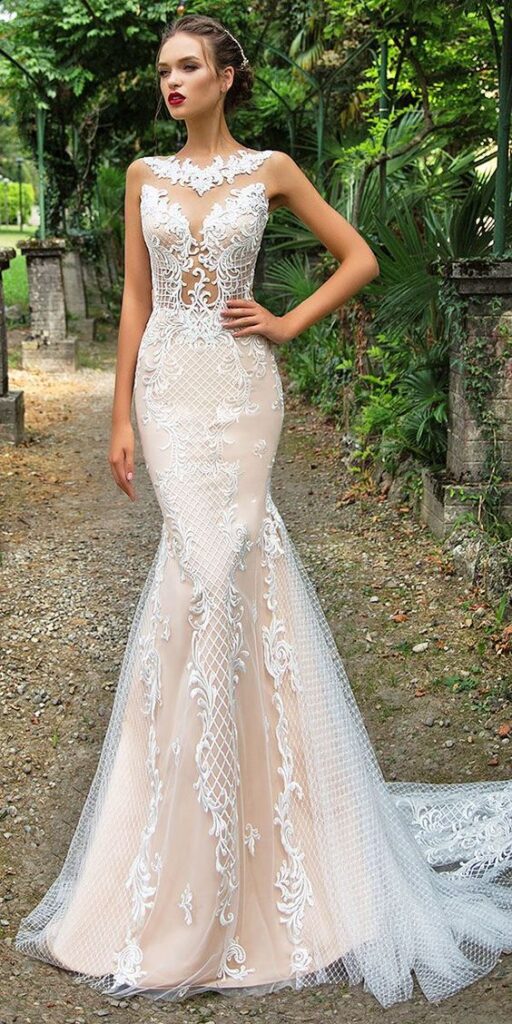 Tattoo effect neckline wedding dresses are a special kind of bridal gown that spices up tradition. They have these cool necklines that look like stunning tattoos. Imagine intricate lace or fancy decorations creating a beautiful design that seems like it's part of the bride's skin. It's a unique and captivating twist to the usual wedding dress.This cool style gives the bridal look a modern and charming touch, mixing elegance with a bit of boldness. These tattoo effect neckline dresses let brides show who they are and make a stylish statement on their big day.
Opt for a Plunging Back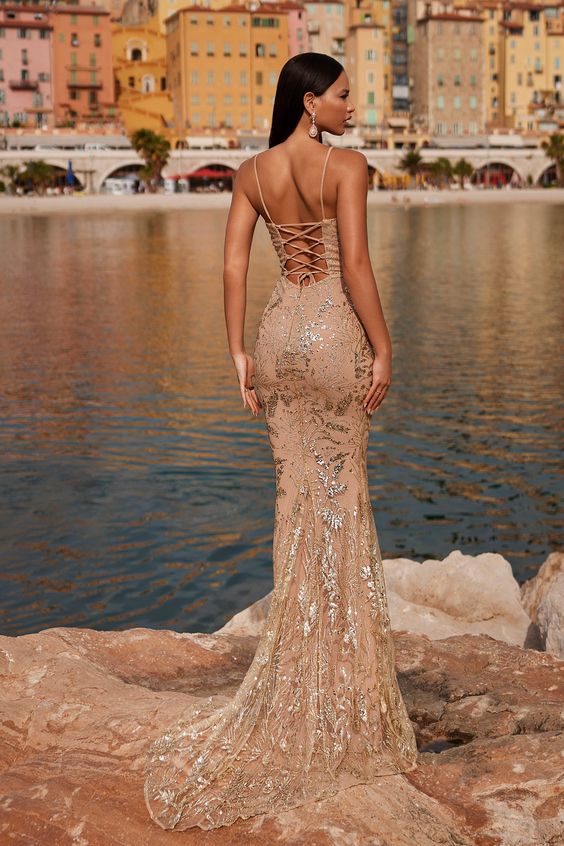 Spine tattoos look amazing, especially with a wedding dress that has a low back. Look for one with lace details—it'll make your tattoo stand out even more! Check out how this dress with scalloped-lace trim not only frames the tattoo but also matches its style. It's like the dress was made to complement the tattoo.
Consider Symmetry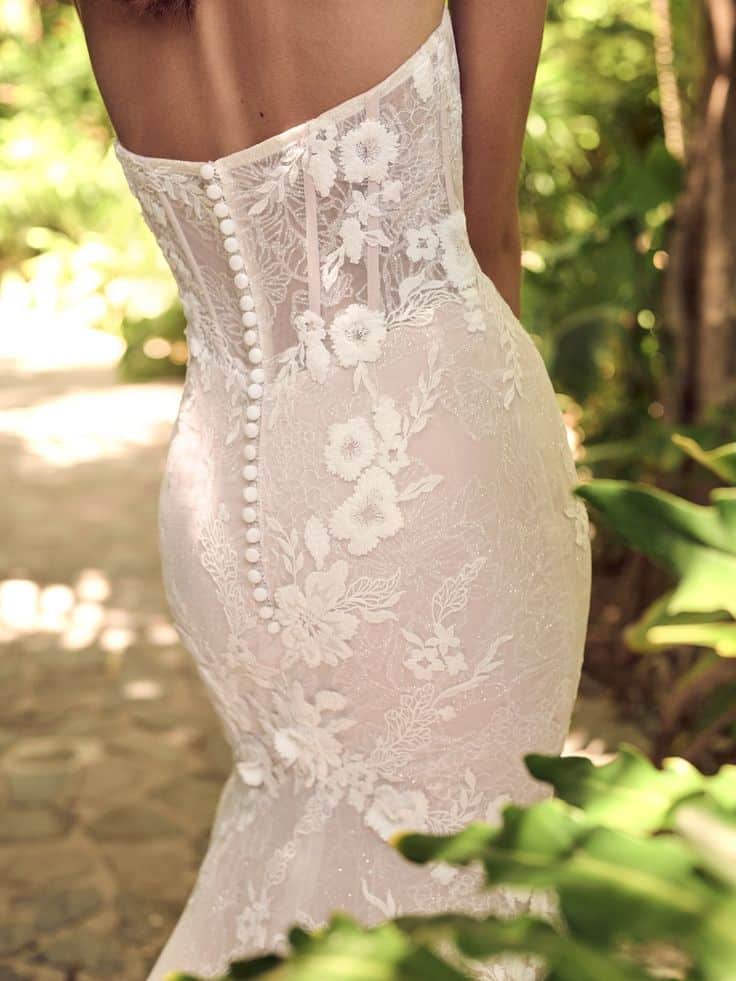 This bride had a beautiful and delicate tattoo on her shoulder blade, and she definitely wanted to flaunt it. She chose a strapless gown and simple drop earrings, giving a classy and feminine touch. Everything, from her hairstyle to the dress details, was perfectly balanced, making her asymmetrical tattoo placement stand out even more!
Opt for a Sweetheart Neckline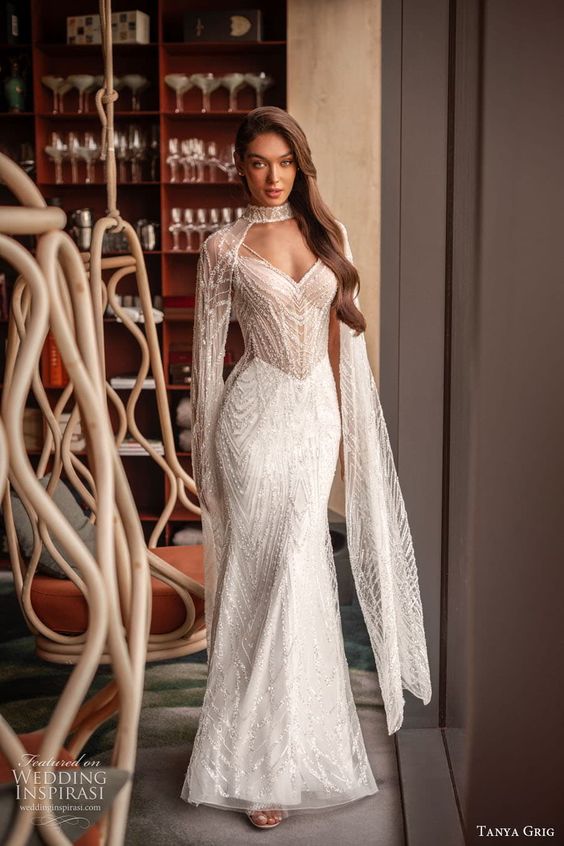 Sweetheart necklines are super popular in wedding dresses. This bride's choice was perfect for showing off her tattoos—they were right at the spot where the dress dipped. It showed off her floral designs beautifully! Even her bouquet matched with peonies and roses, keeping that flowery theme going strong.
The Keyhole Back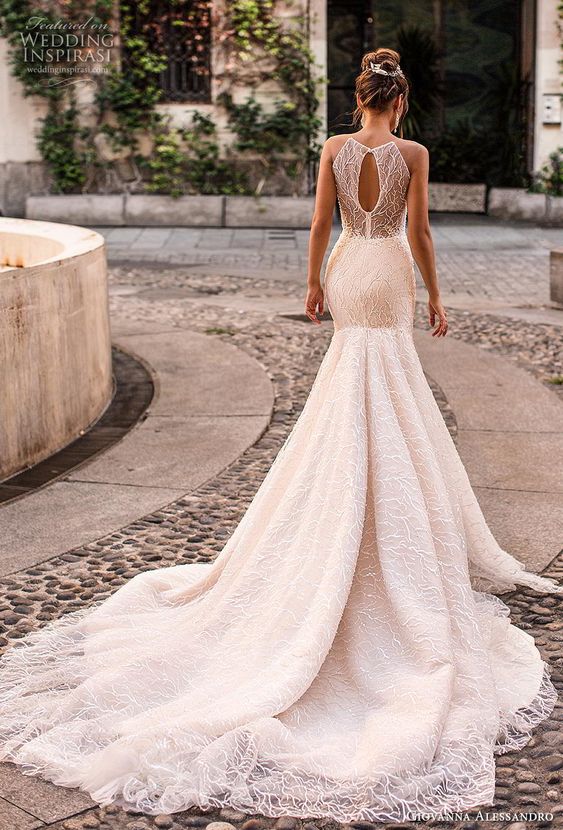 This style of back gives you some coverage but still shows a bit of your back. The dress usually has one or more round openings at the back where the fabric from the neckline meets again. These openings can be made of lace or tulle.This style works for everyone and is great if you prefer not to show your lower back or shoulder blades. It gives a bit of confidence without exposing too much.
Play Into the Placement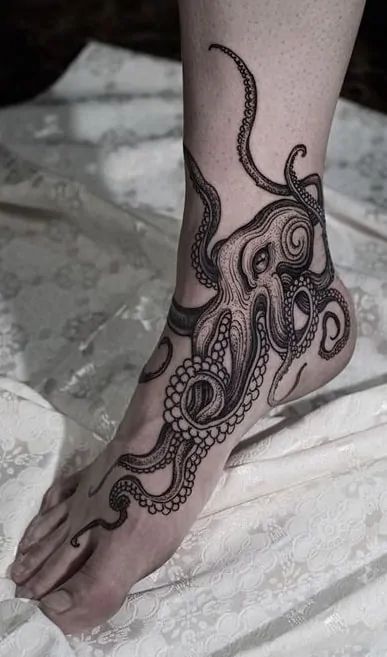 Having a tattoo on your foot can be a cool secret on your wedding day! This bride wore strappy sandals that showed off her tattoo in the getting-ready photos and probably while dancing too. It's like having a hidden surprise.
Play Up a Corset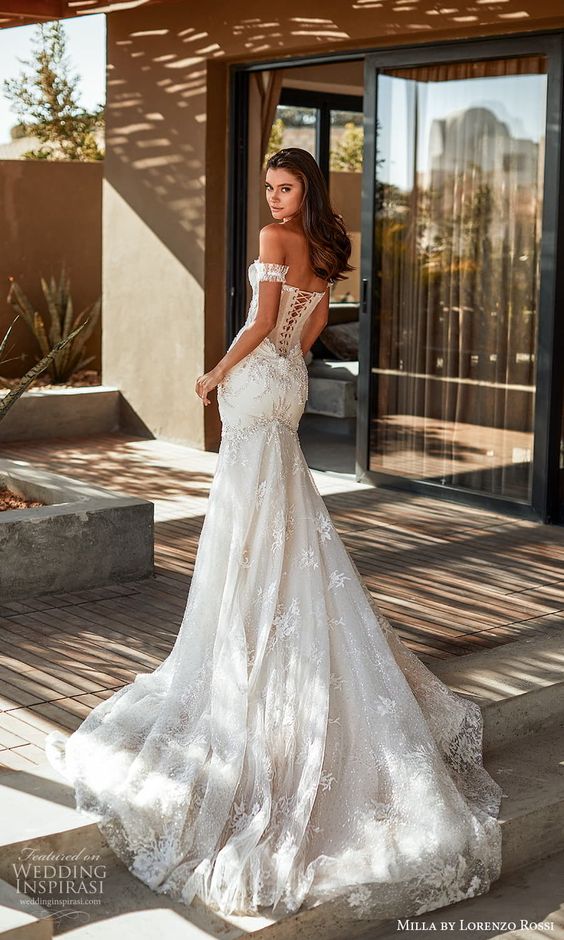 You don't need a backless dress to show off shoulder tattoos. Corset-style dresses are great for that too! You can adjust the laces to cover or reveal your artwork. This bride used this style to flaunt her shoulder tattoo while dancing at her wedding in Israel.
The back with jewelry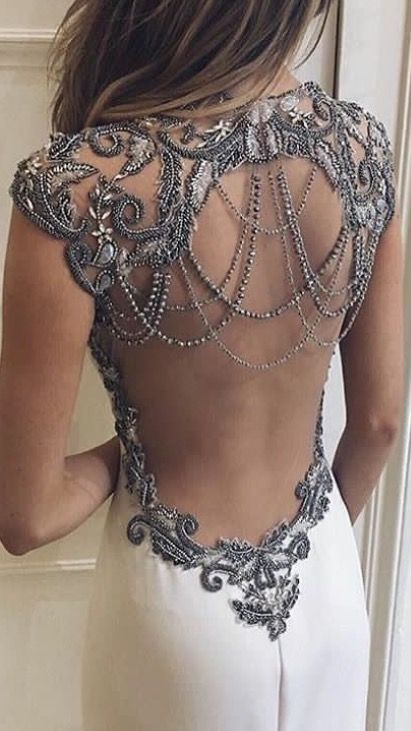 Sparkly stuff at weddings is super classy! To look elegant, pick a dress with jewelry on the back, like pretty beads. You can match them with necklaces and earrings to finish off your classy look.
Conclusion
"Inked & Beautiful: 13 Breathtaking Bridal Moments" celebrates the stunning fusion of tattoos and bridal elegance. Through these 13 captivating moments, it's clear that tattoos add a unique and beautiful dimension to a bride's look. Whether subtly showcased or boldly displayed, each moment reflects the individuality, confidence, and beauty of these brides, emphasizing that inked skin can truly enhance the charm of a bride on her special day.