Losing a life is a sad event, but it becomes more heartbreaking when it is the life of a young individual and they die prematurely. It has been observed that despite having vast wealth, authority, and impact, individuals can still meet an undeserving fate. Unfortunately, some gifted celebrities had a lot more to offer but departed from this world too early.
Sharon Tate
Sharon Tate's death, which occurred when she was only 26 years old, received an immense amount of media coverage due to the disturbing circumstances surrounding it. Tate, who was a model and actress, had gained recognition for her performances in Eye of the Devil, Valley of the Dolls, and The Fearless Vampire Killers.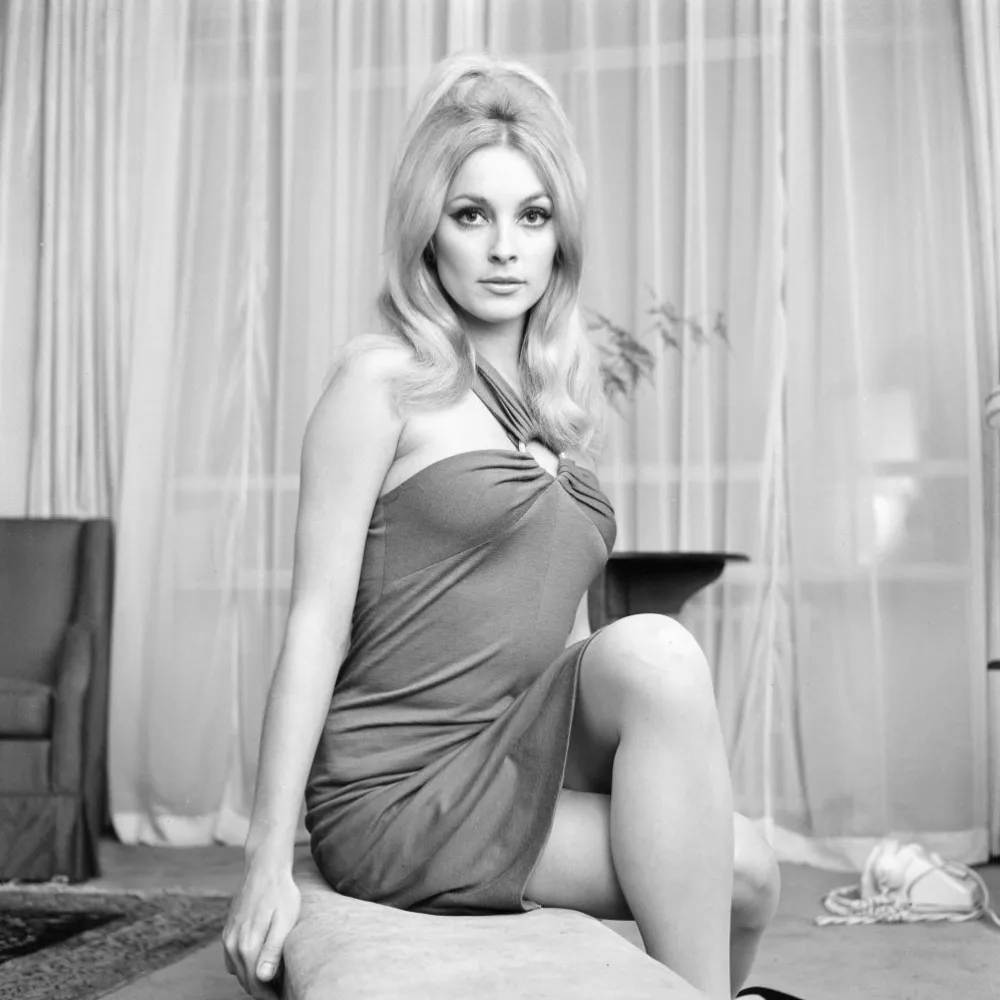 Unfortunately, Sharon's life was cut short by the Manson Family cult. She was just a few weeks away from delivering her baby when she died.
Janis Joplin
Janis Joplin, known for her memorable tracks such as "Me and Bobby McGee" and "Piece of My Heart," has become an everlasting figure in music history. However, she also became a part of the 27 Club due to her untimely death at the age of 27, caused by drug use.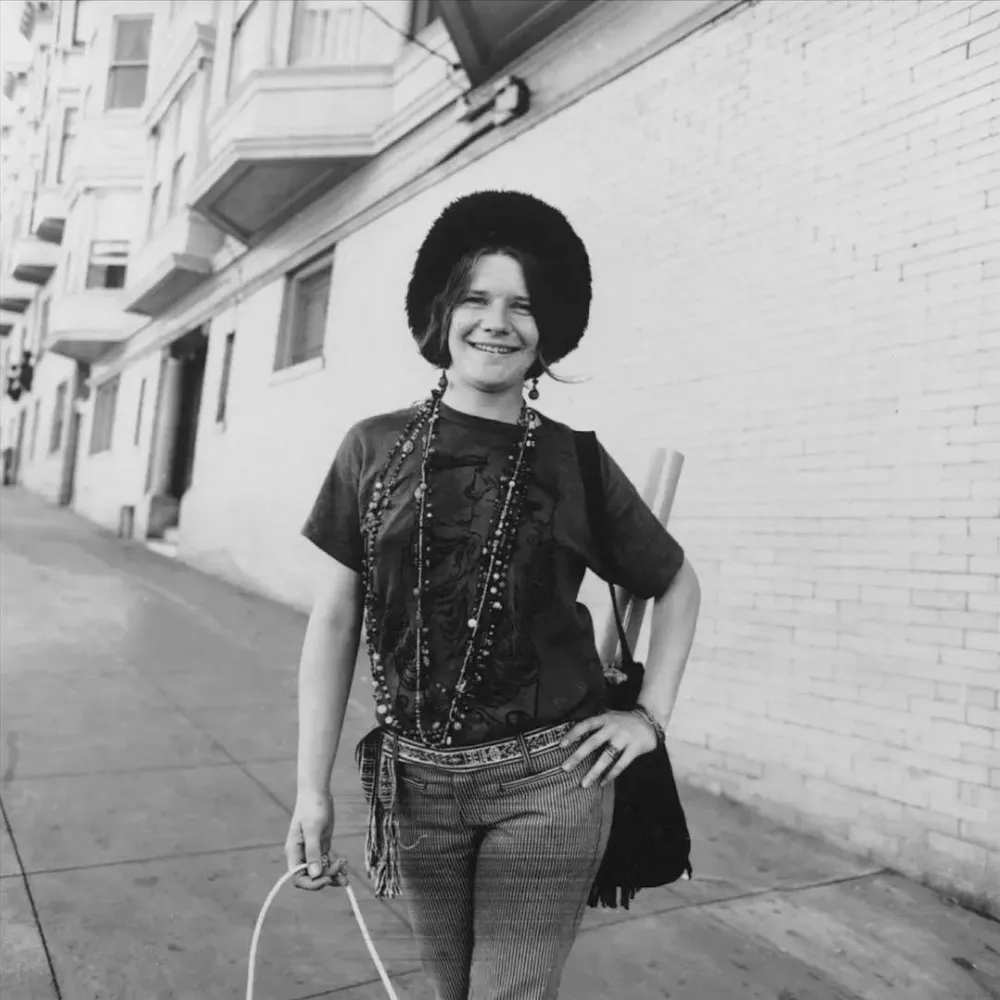 After her death, Janis was included in the Rock and Roll Hall of Fame in 1995 and Rolling Stone magazine recognized her as one of the top 100 greatest artists ever.
Jim Morrison
The Doors' frontman, Jim Morrison, rose to stardom for his undeniable musical talent. However, his name is also associated with the tragic "27 Club," comprising of several famous individuals who all died at the age of 27. Jim, like several other rock musicians of his time, experimented with illegal drugs – this has led many to believe that drug abuse was a contributing factor to his premature death.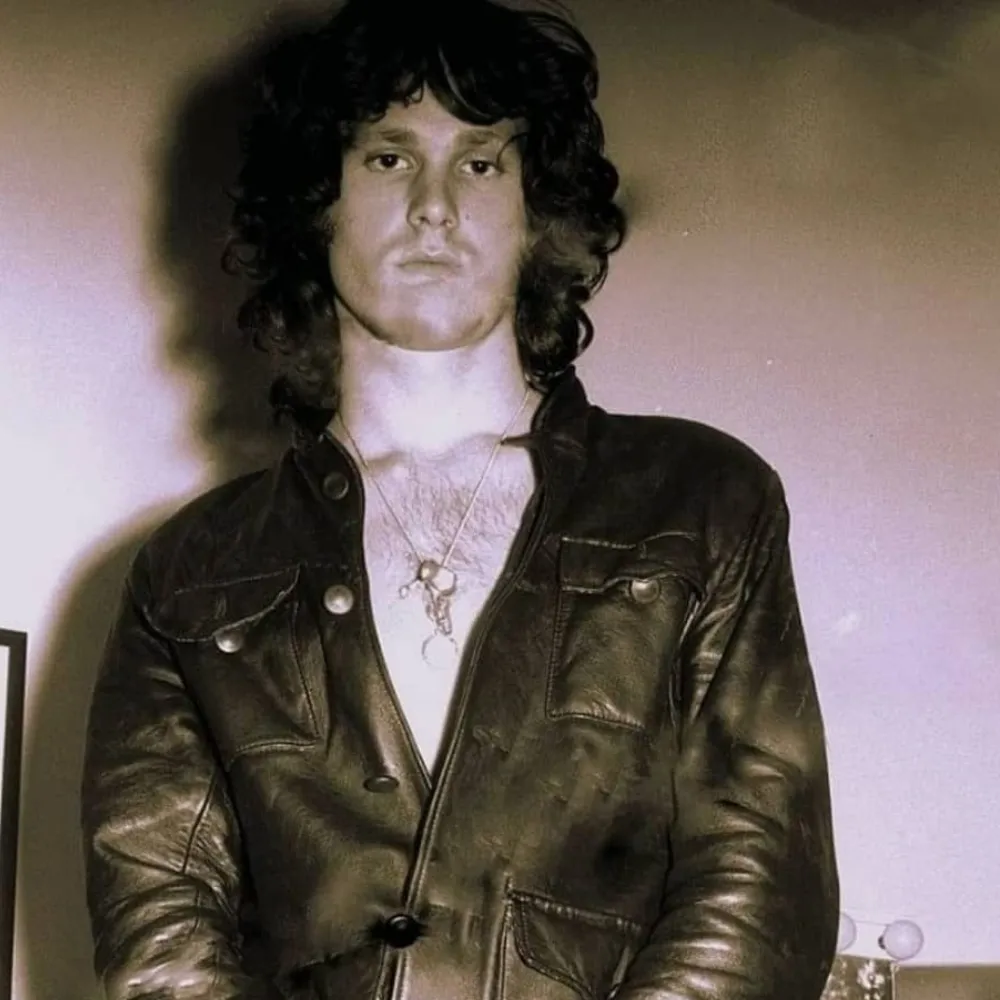 However, it has never been officially verified. The only thing that is certain is that Morrison was discovered dead in his bathtub, as a result of a heart attack.
Jimi Hendrix
The Rock and Roll Hall of Fame has referred to James Marshall "Jimi" Hendrix as possibly the best instrumentalist in the history of rock music. However, his death is shrouded in mystery and leaves many unanswered questions.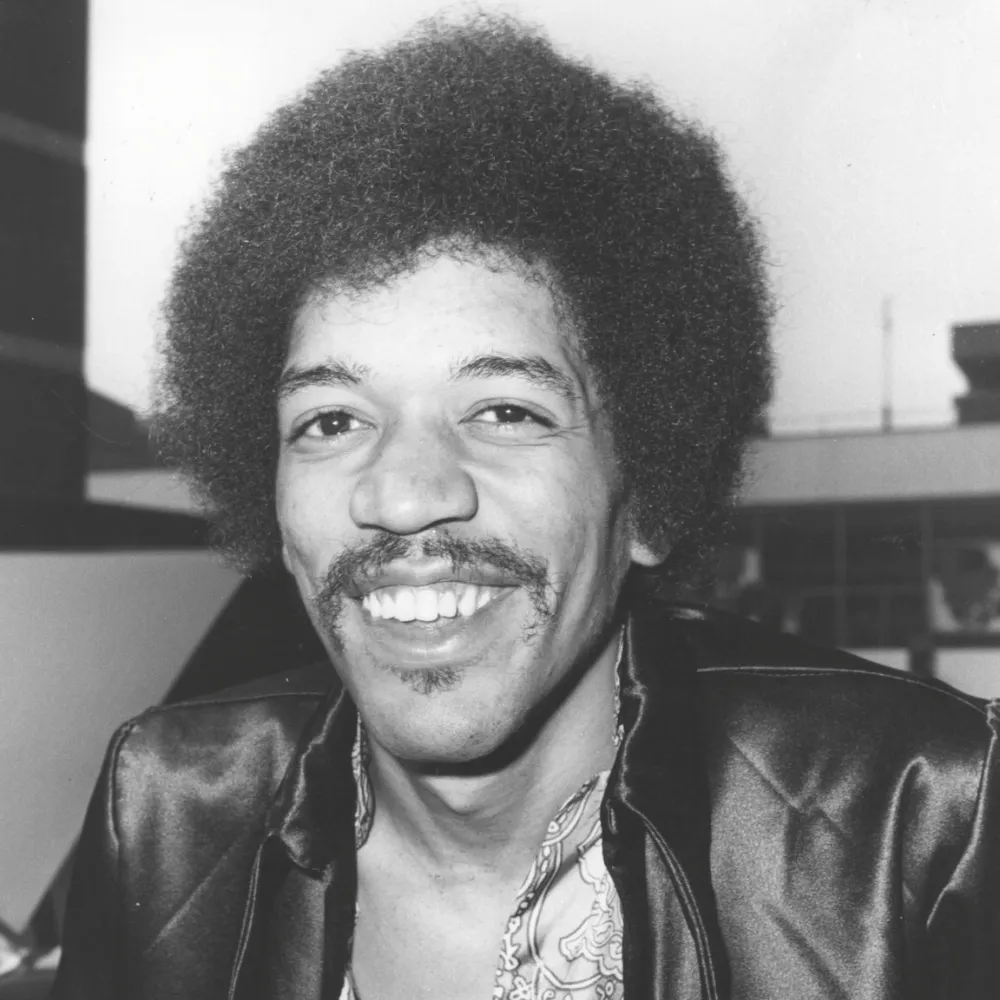 Furthermore, he belongs to the 27 Club, which is surrounded by numerous conspiracy theories. Hendrix's final moments were spent with a lady named Monica Dannemann, who alleges that he consumed multiple prohibited substances before passing away peacefully in his sleep.
Avicii
Avicii, whose real name is Tim Bergling, was an extremely renowned and favored DJ in the music industry. He is widely recognized as one of the pioneers who introduced electronic music to the mainstream audience, although this viewpoint may be contested among music aficionados. His chart-topping tracks such as "Levels" and "Waiting for Love" have contributed to his success in elevating electronic dance music's popularity.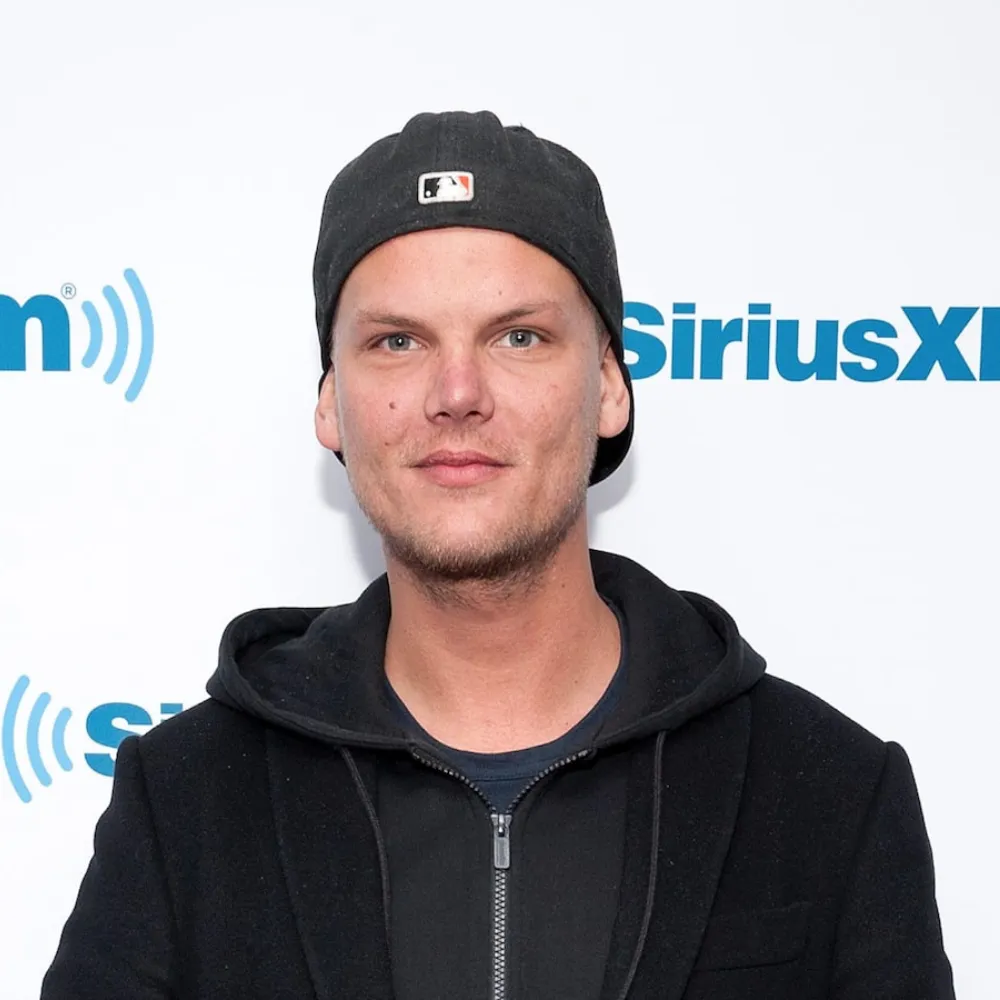 Nonetheless, he passed away at the youthful age of 28. Following the DJ's suicide in 2018, his loved ones expressed their concern about his emotional well-being, which had been a cause for anxiety for some time. This was mainly attributed to his rapid and overwhelming rise to stardom.
Taylor Hawkins
Taylor Hawkins gained a lot of fame for his drumming skills while being a part of the legendary rock group Foo Fighters. However, there is a lot of disagreement on the details surrounding his death.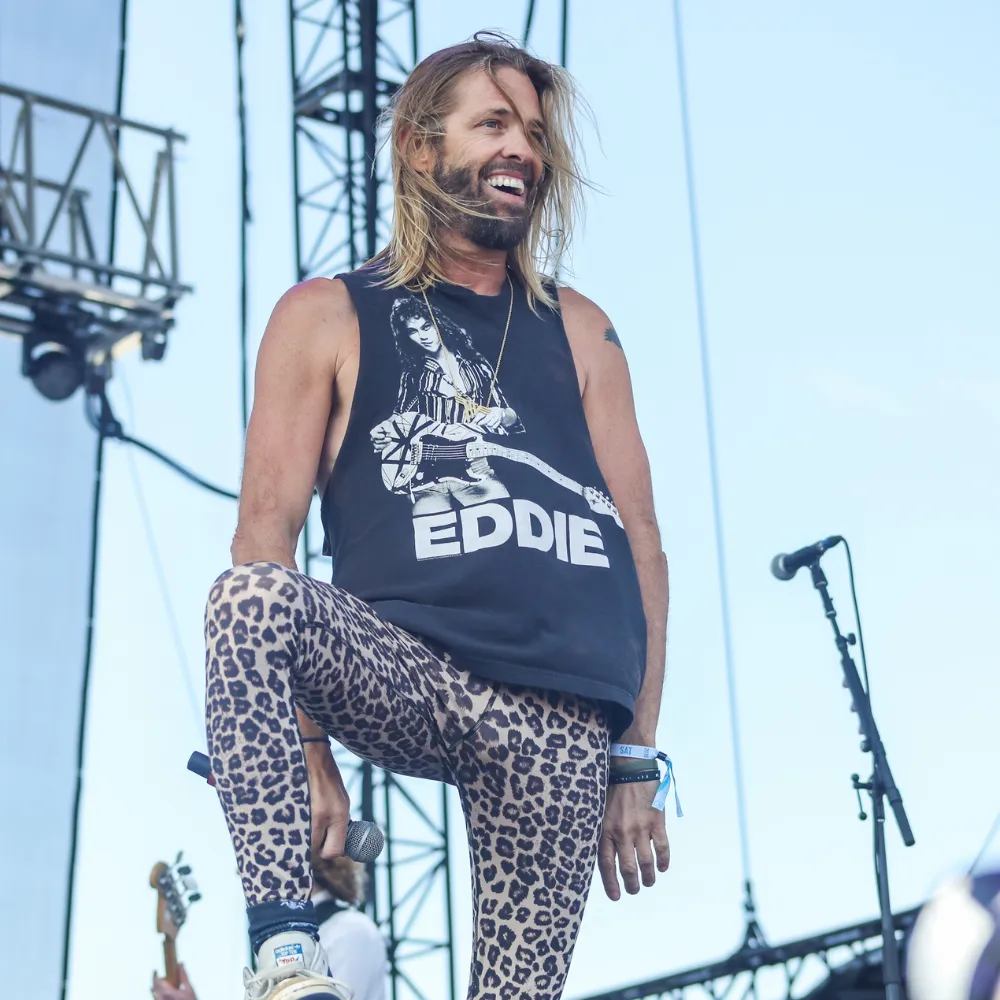 Hawkins died when he was 50 years old as a result of excessive consumption of illegal substances. There are those who claim that during the tour, the drummer became overly stressed and requested to perform fewer shows. Nevertheless, some refuse to correlate the Foo Fighters' tour to Taylor's tension and his means of dealing with it.
Brittany Murphy
During the late 1990s and early 2000s, Brittany Murphy gained a lot of popularity and became a beloved figure in America. She earned this due to her brilliant performances in movies such as Girl, Interrupted, Drop Dead Gorgeous, and Uptown Girls.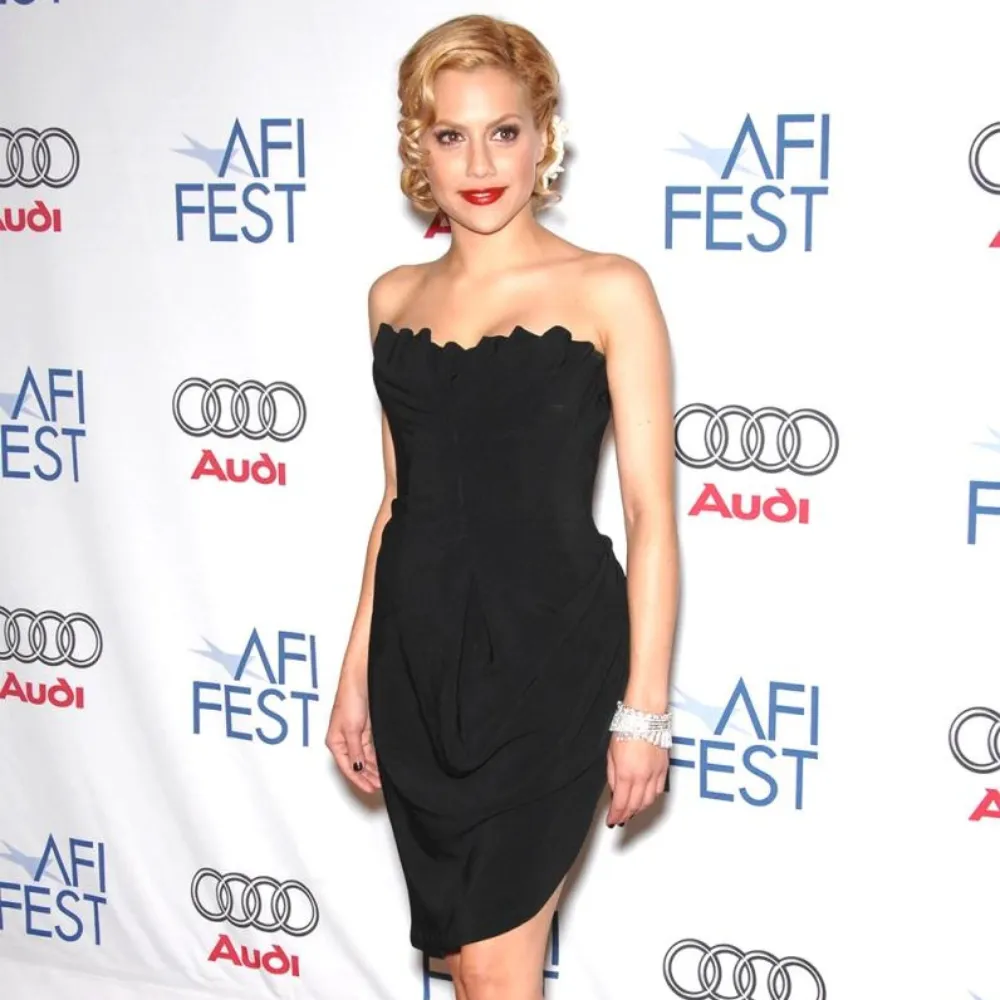 In 2005, Brittany's situation took a negative turn as people began to suspect that she was consuming illegal substances. Despite denying the accusations, her passing at the age of 32 appears to be a tragic accident resulting from taking an excessive amount of prescribed medication while being ill.
Princess Diana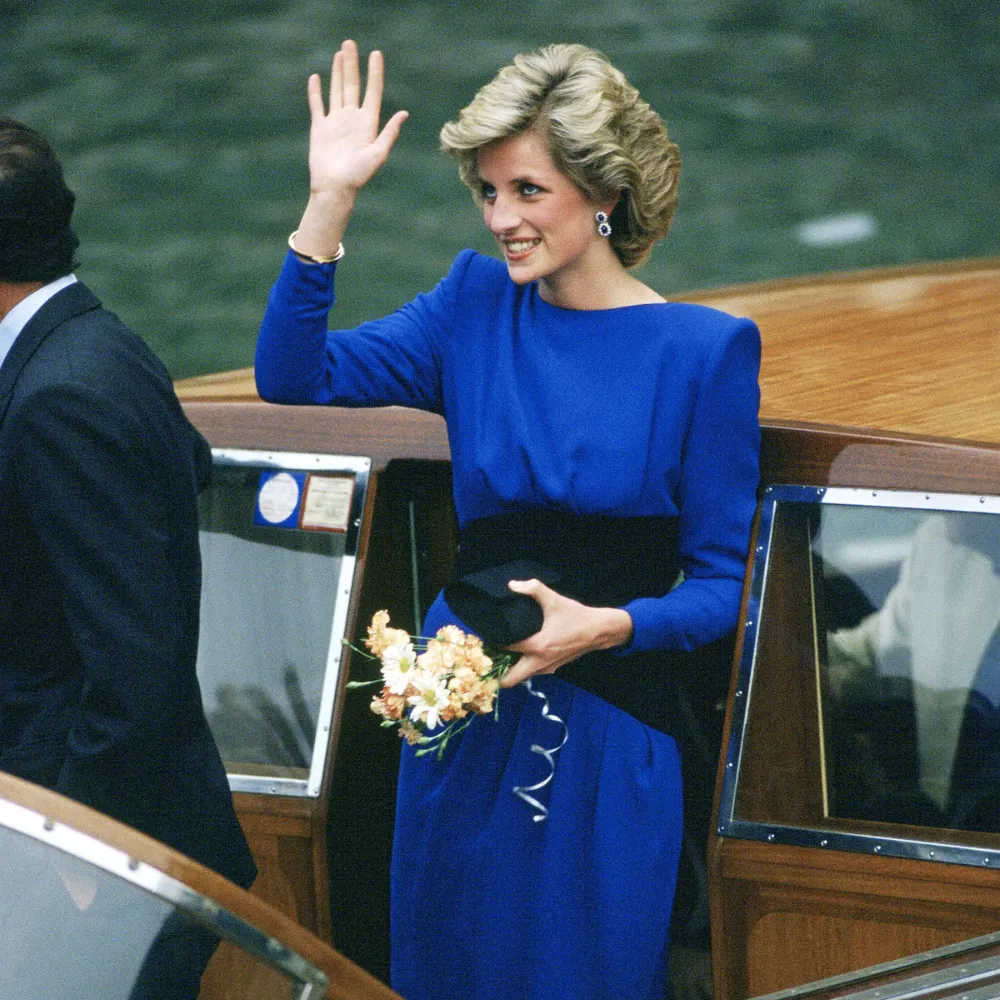 The tale of Diana's tragedy is often offered as a warning to paparazzi for their intrusive actions. Nevertheless, some individuals assert that there were influential people who desired Diana's demise because she planned to marry someone considered "unsuitable" by the royal family.
Robin Williams
Robin Williams was a greatly adored comedian/actor in Hollywood, who had many famous roles to his credit. His most well-known performances were in Good Morning Vietnam, Mrs. Doubtfire, and his role as the Genie in Aladdin that will always be remembered.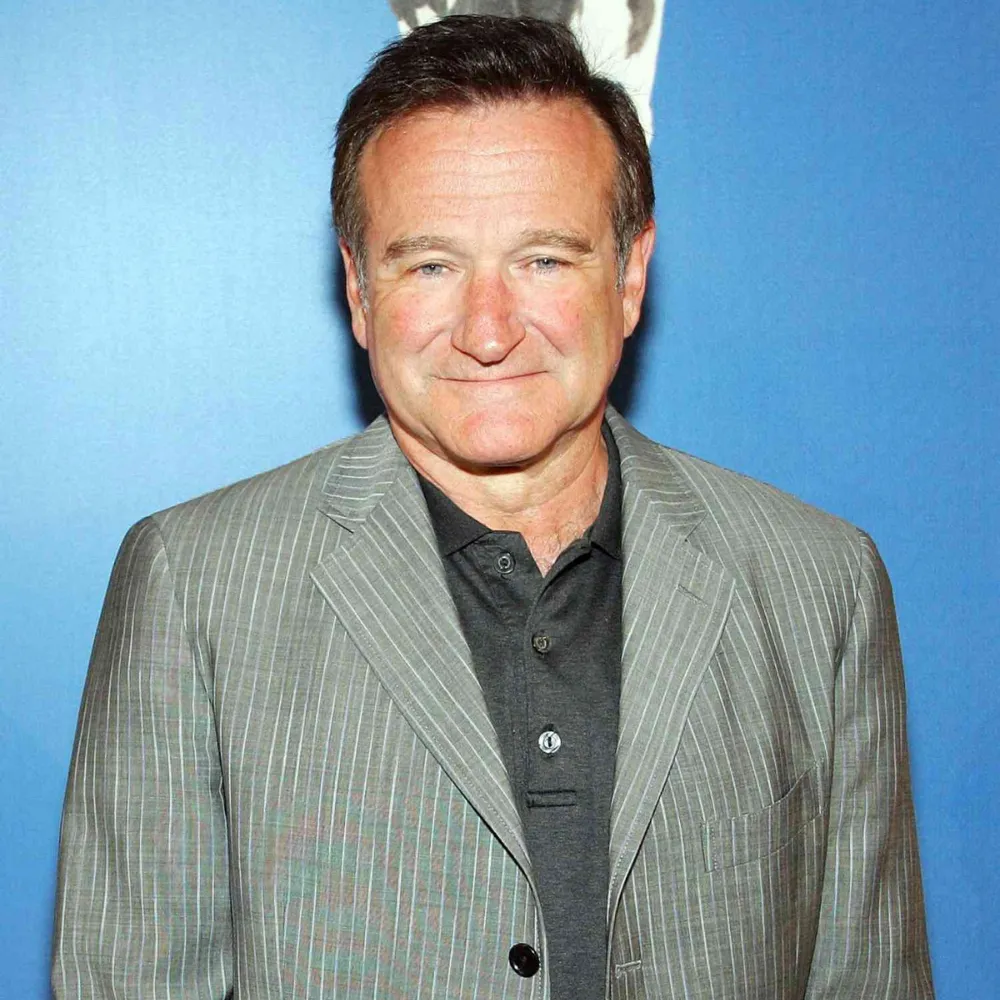 Sadly, Robin suffered from mental health problems which were likened to a "terrorist inside his brain" by his wife. Robin ultimately decided to end his life at the age of 63. It was only after his death that the public realized how much he was loved, with the entire world grieving together.
Luke Perry
Luke Perry was well-recognized for his appearances in popular TV series like Beverly Hills, 90210 and Riverdale, as well as the film The Fifth Element. Sadly, at the age of 52, Luke experienced a stroke and was subsequently placed on life support.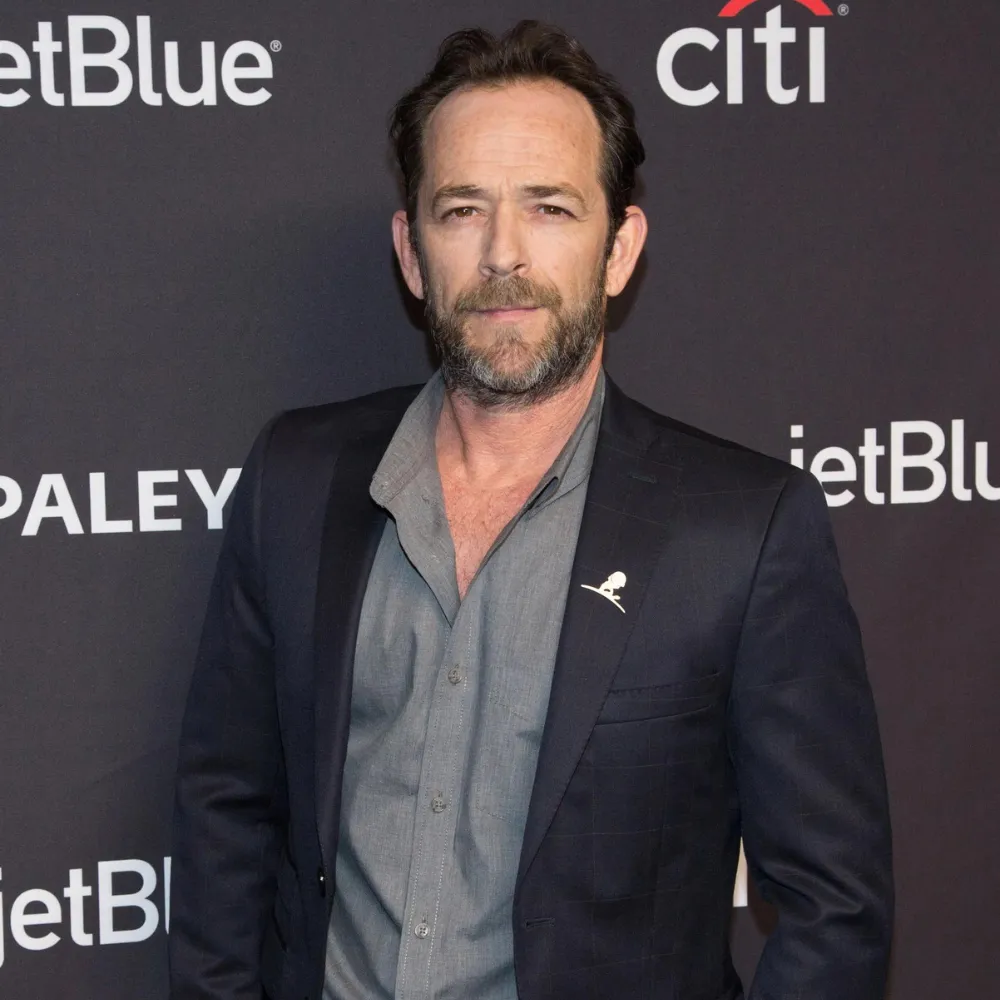 A few weeks later, he experienced another stroke, leading his family to make the decision of withdrawing him from medical support. Since Luke was still working on Riverdale during that time, his character was written off the show in a touching move, instead of finding a new actor to play the role.
Philip Seymour Hoffman
Philip Seymour Hoffman was famous for his contributions to both Hollywood films and Broadway plays. He appeared as Plutarch Heavensbee in his latest project, The Hunger Games.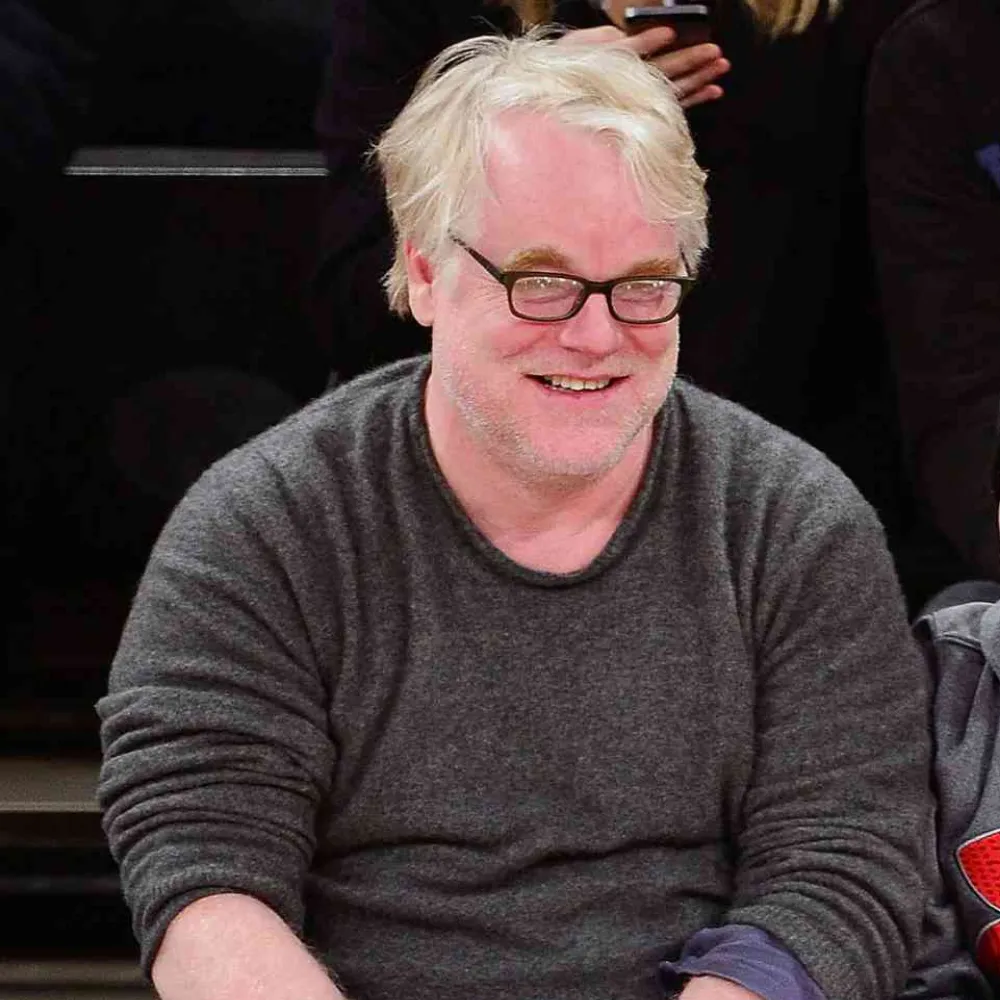 Unfortunately, Philip battled with illicit substances during his younger years; however, he managed to stay away from them for 23 years until he suffered a relapse in 2013. He passed away in 2014 when he was 46 years old in his home. His body was discovered with many illegal substances nearby.
Paul Walker
Paul Walker was featured in The Fast and the Furious series, creating apprehension about his well-being among many people. Nonetheless, his death was not caused by a staged filming act, but instead by a regular car wreck that occurred when he was not on set.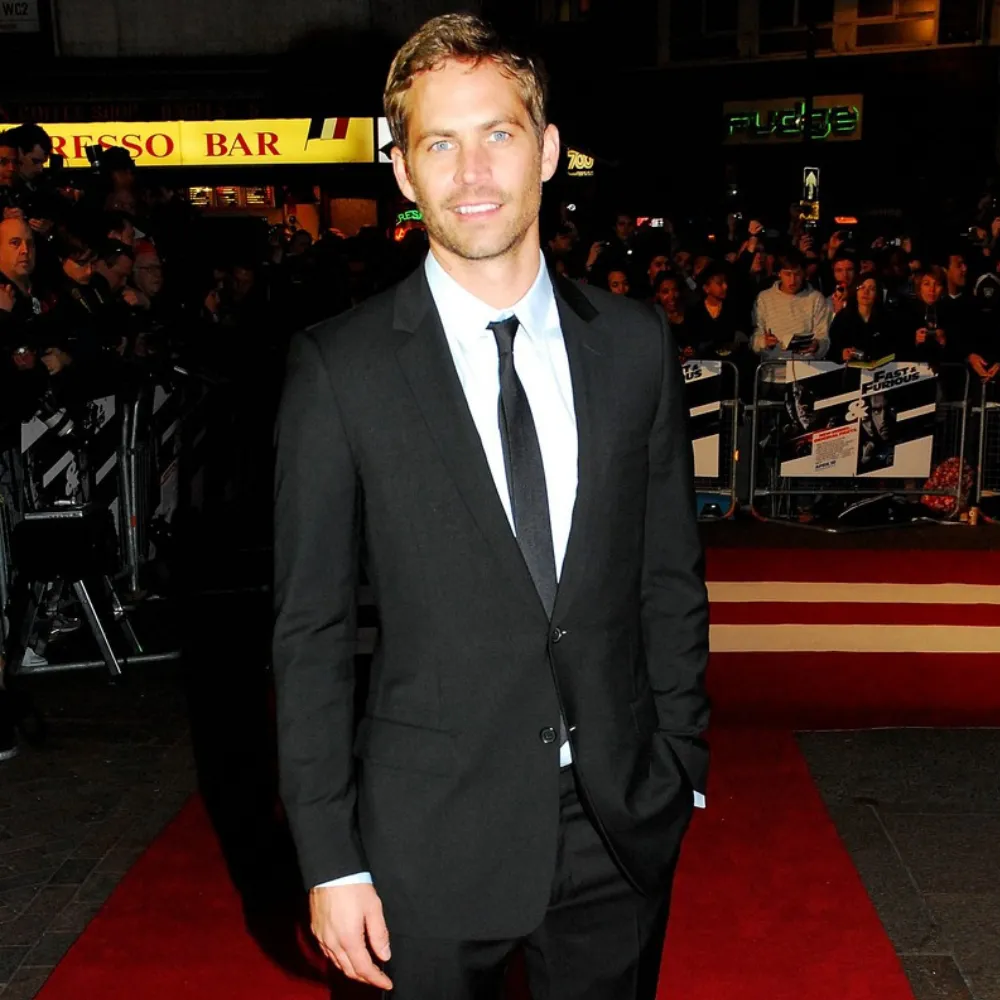 At the age of 40, Paul died while filming Furious 7. However, his character's narrative was finished by making use of CGI technology and his two brothers took over as replacements.
Elvis Presley
Elvis Presley, popularly known as the King of Rock and Roll, made a significant impact on the music industry with his legendary numbers such as "Heartbreak Hotel" and "Hound Dog," along with his remarkable dancing skills. However, as Elvis reached his forties, his excessive consumption of illegal substances and exhaustive tour routines became too much for his body to bear.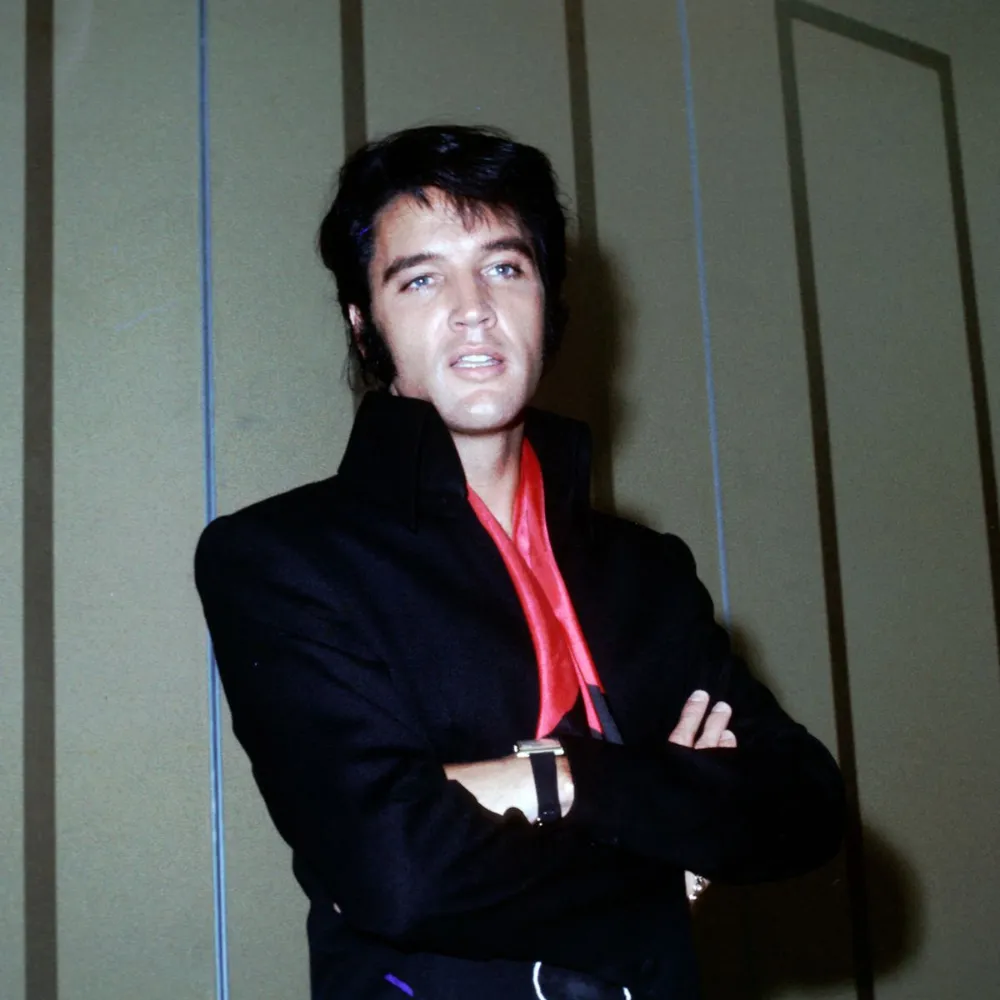 The singer passed away at the age of 42 due to his heart failing, which was speculated as the cause of his death among several other theories.
Mac Miller
Mac Miller gained fame for skillfully blending the genres of jazz and hip-hop in his popular songs such as "Stay" and "Dang!" The artist was candid with his audience about his struggles with both depression and substance abuse, which he frequently expressed in his music.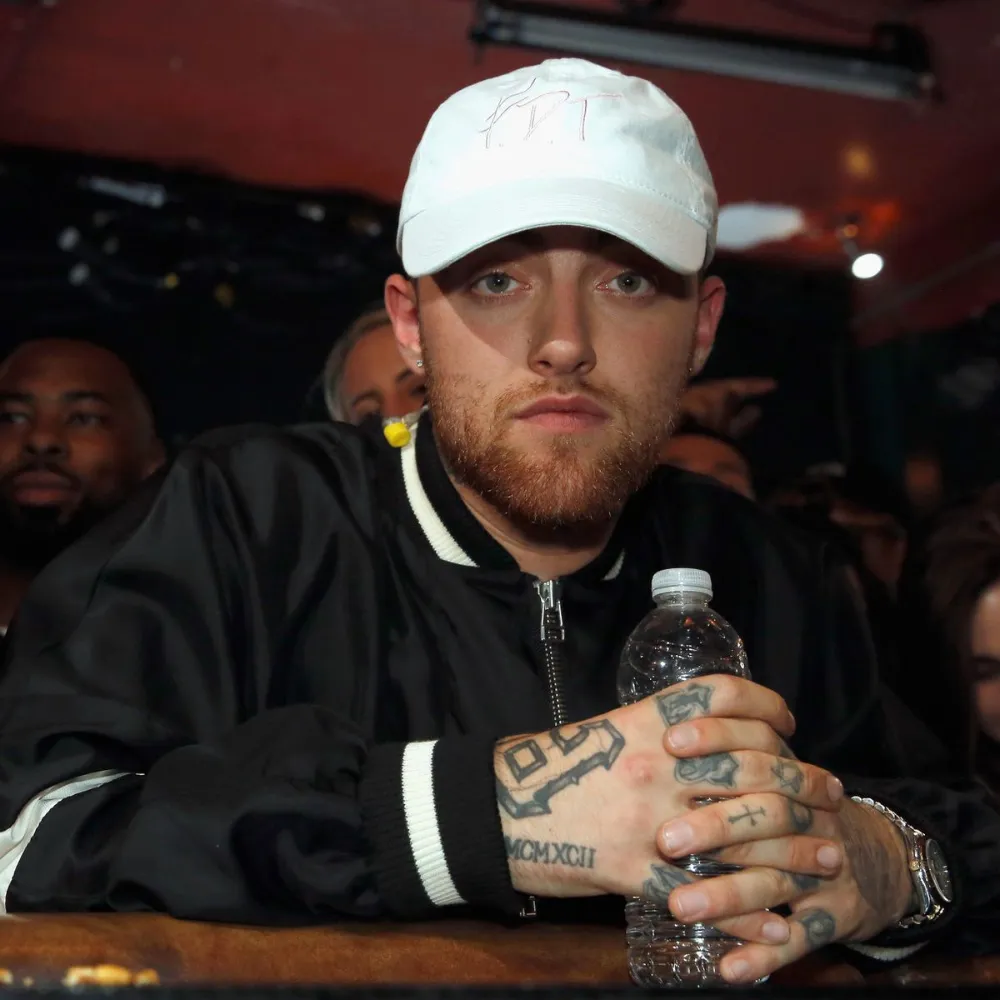 Mac died at 26 years old because of an excessive intake of illegal drugs, for which the individuals who supplied them to him are currently incarcerated. Nonetheless, in 2020, Miller's family unveiled his fully-completed album, Circles, which has been an indisputable triumph.
John Belushi
John Belushi, a renowned comic and performer, gained his fame primarily from his appearances on Saturday Night Live. However, his frequent use of illicit substances and the resulting questionable actions led to his dismissal and subsequent rehiring from SNL on several occasions.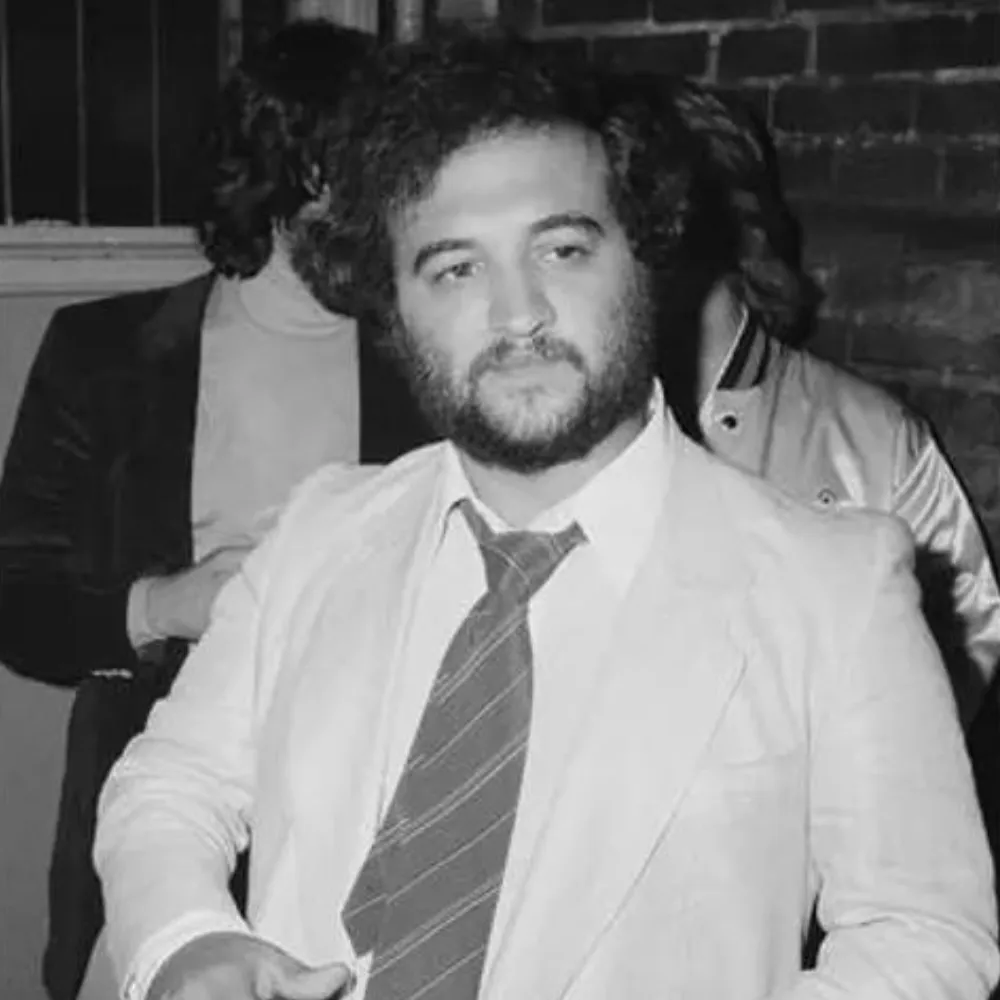 In 1982, at the age of 33, Belushi died as a result of consuming excessive illegal substances. In 2004, the Hollywood Walk of Fame honored him with a posthumous star.
Whitney Houston
Whitney Houston's popularity skyrocketed due to the phenomenal success of hits such as "I Will Always Love You" and "One Moment in Time." Despite openly acknowledging her battles with illegal substances, Whitney remained resolute in her determination to overcome her addiction.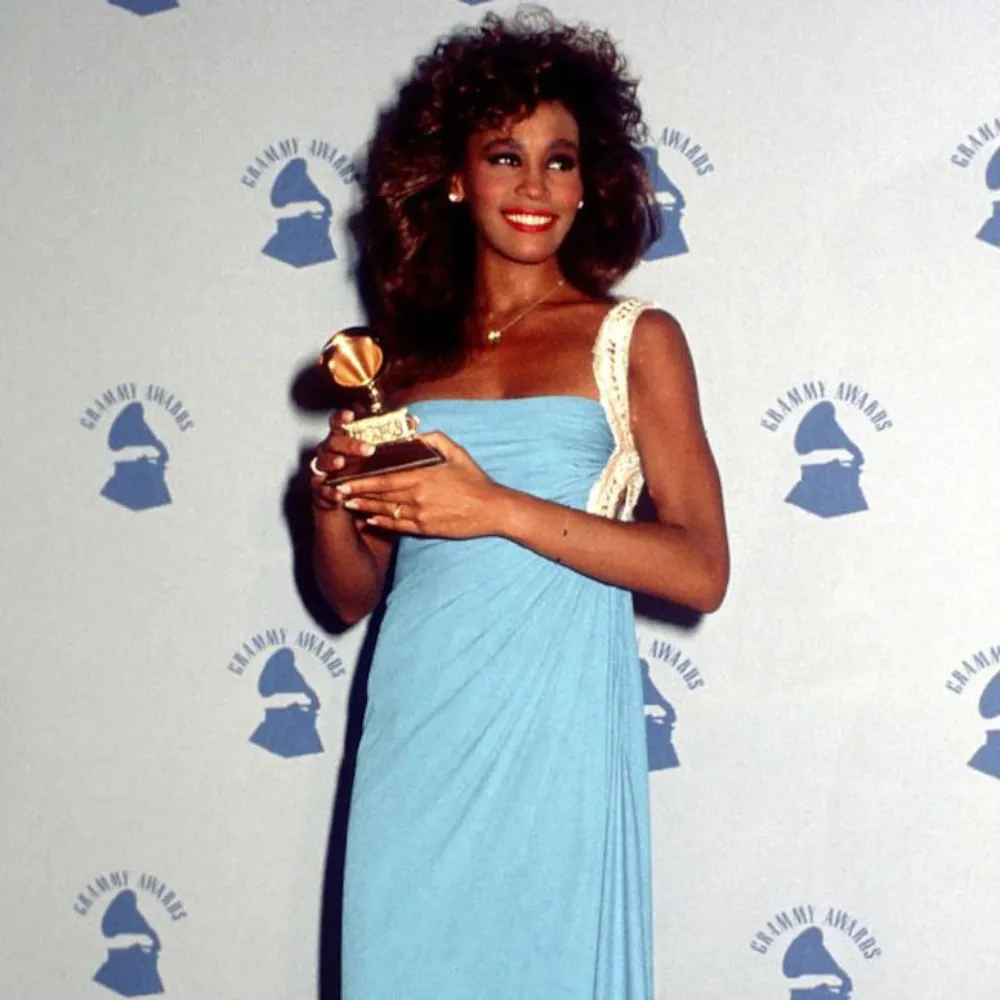 Regrettably, the vocalist died at the age of 48 due to an accidental drowning in the bathtub while under the influence of certain substances. Interestingly, her daughter died in a remarkably similar way, three years later.
Bobbi Kristina Brown
Bobbi Kristina Brown gained popularity through her frequent appearances on the reality show named "Being Bobby Brown". She happened to have well-known parents, Whitney Houston and Bobby Brown. When her mother passed away, it took only three years for Bobbi to join her at the young age of 22.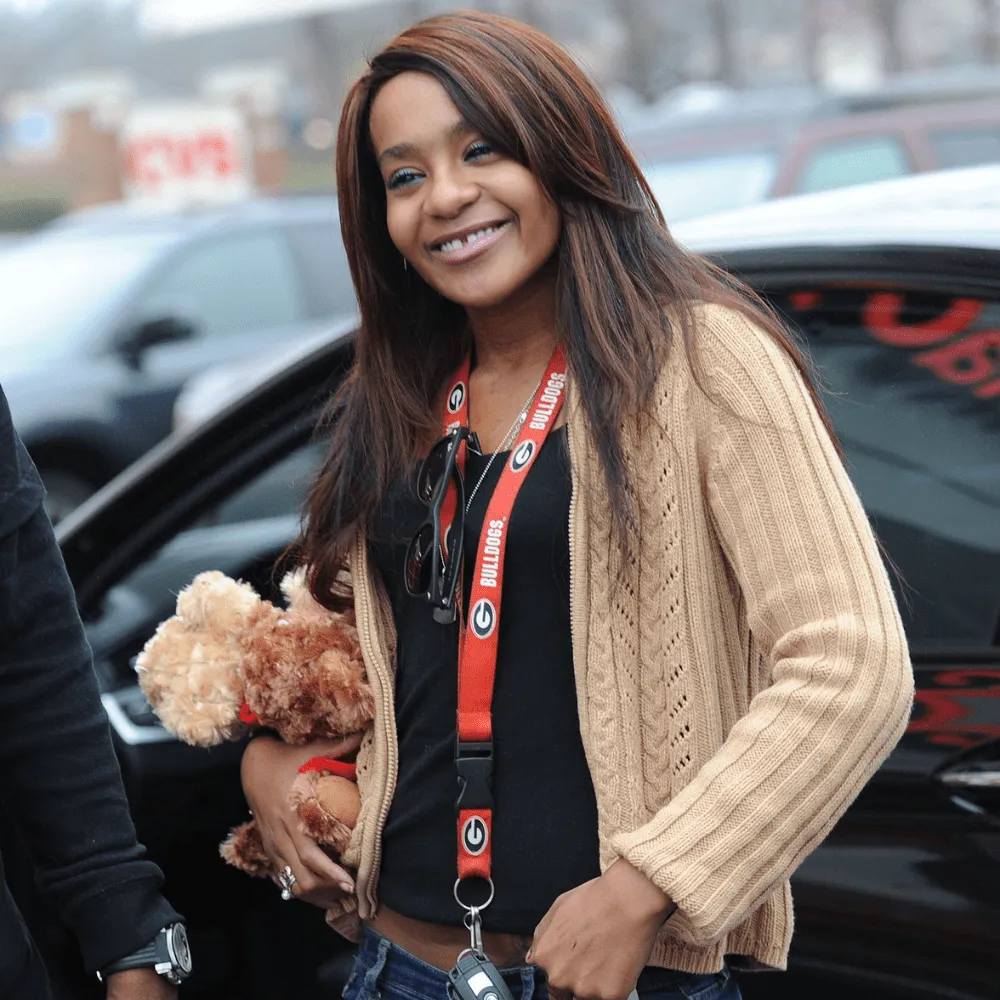 Bobbi, similar to her mother, was discovered unconscious in a bathtub and had illicit substances in her body which resulted in her being induced into a medical coma for six months. Eventually, she expired while receiving hospice aid.
Corey Haim
Corey Haim is commonly known as an example of how a person's life can be ruined by their reliance on illicit substances. He gained recognition for his performances in films such as Lucas and The Lost Boys, as well as for his collaboration with Corey Feldman as The Two Coreys.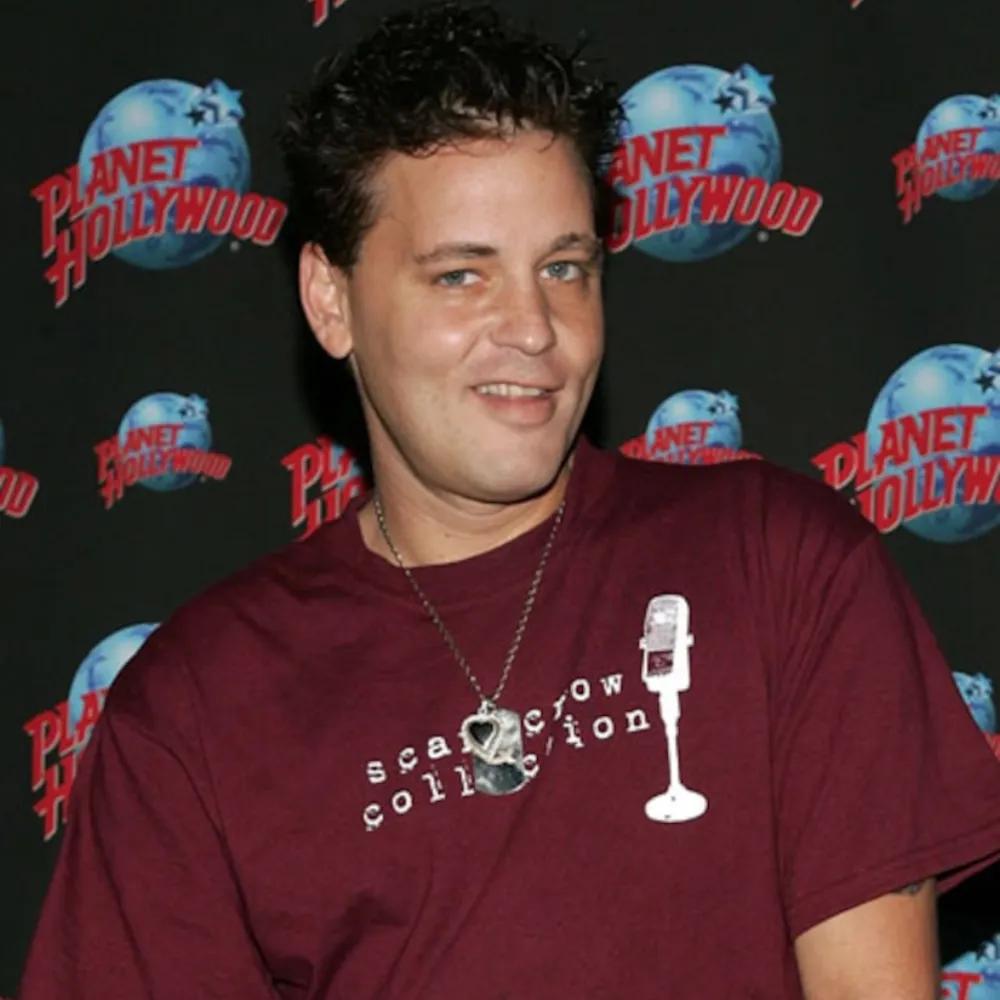 Unfortunately, Corey's dependency on substances led to his homelessness. His acquaintances and coworkers disassociated themselves from him, and he tried to take his own life multiple times. Ultimately, he died from the consumption of addictive substances at the age of 38, which is a sad occurrence.
Michael K. Williams
Although Michael K. Williams has had a longstanding presence in Hollywood, his most iconic portrayals are likely Omar Little in The Wire and Ray Ray in The Sopranos.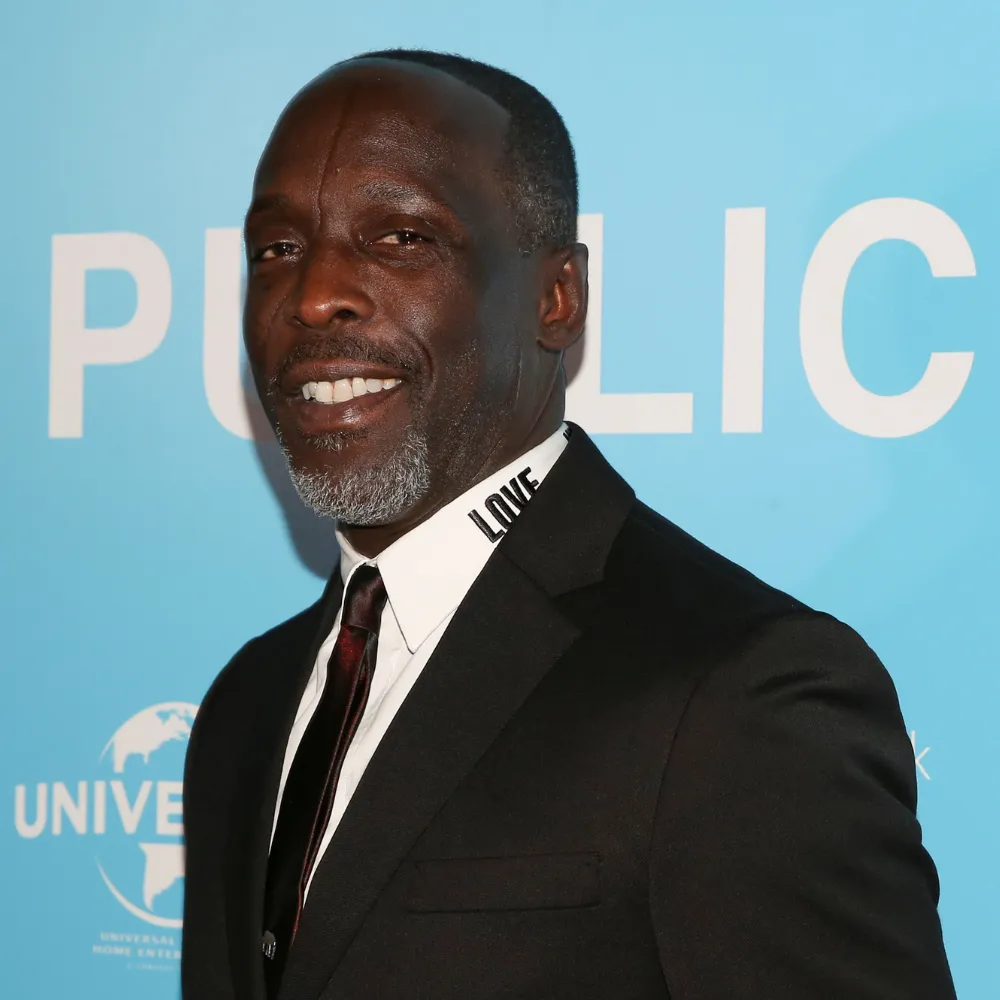 Throughout his life, Michael had a difficult time with illicit substances and he attributed it mostly to the negative aspects of being famous. However, while he was filming, he was able to manage staying away from drugs for the most part. Unfortunately, at the age of 54, in 2021, he died because of his excessive use of those harmful substances.
Heath Ledger
Although Heath Ledger had several notable roles during his acting career, his performance as the Joker in The Dark Knight is highly praised and regarded as his most remarkable work. Despite receiving awards for his portrayal of the character, some people argue that his complete immersion into the role might have contributed to his premature death.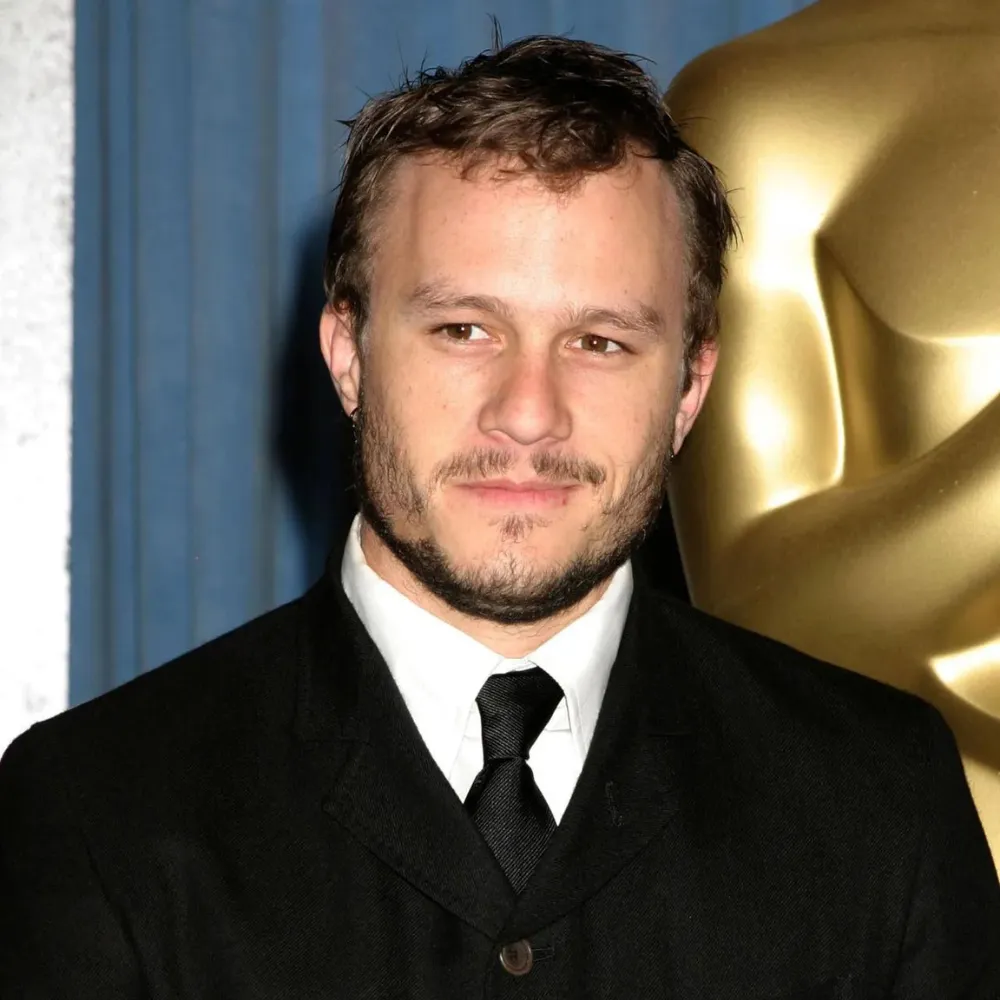 The actor died at the age of 28 because of excessive usage of illicit substances, which was not a recent concern for Heath. However, certain individuals believe that the demanding part of the Joker might have worsened the situation.
Cory Monteith
Cory Monteith became famous by portraying Finn on the popular series Glee. However, unknown to his fans, Cory had battled addiction to illegal substances starting from the age of 13.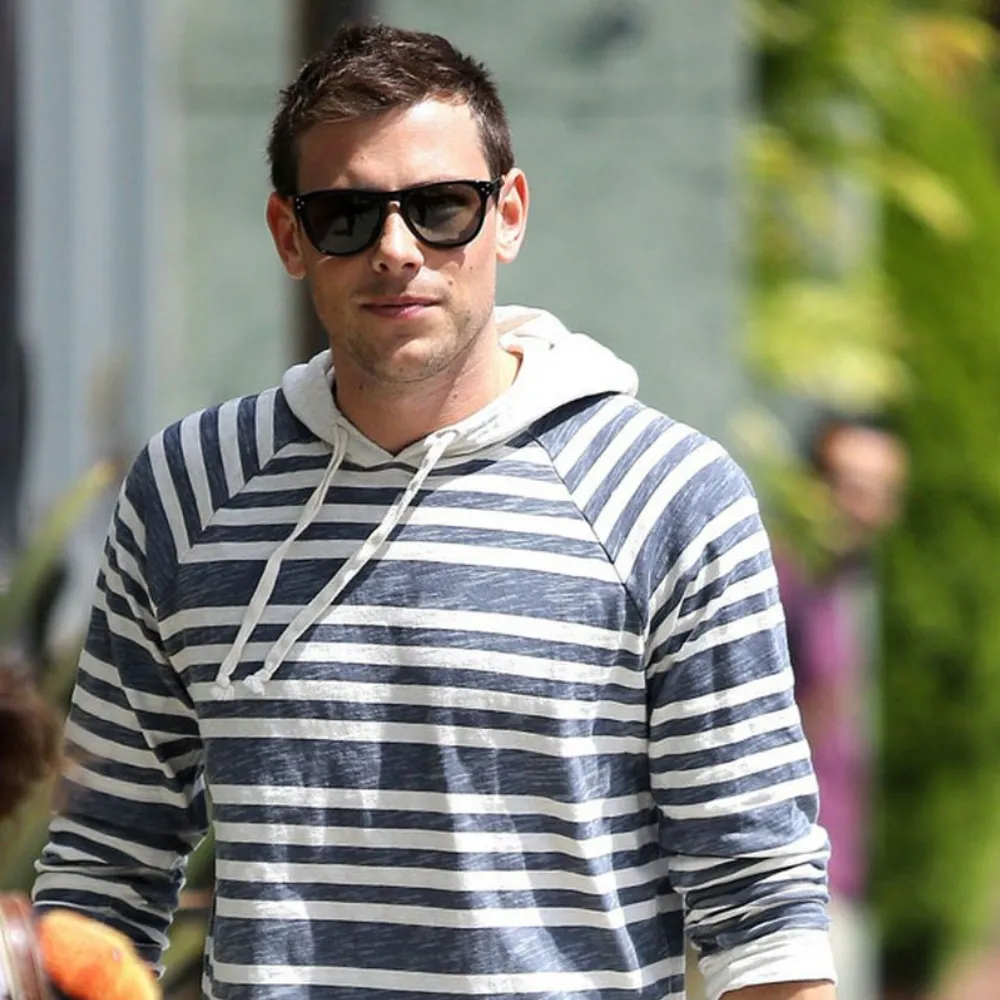 At a certain moment, Monteith's cast and crew from Glee organized a meeting with him, urging him to seek treatment at a center, which he complied with. However, unfortunately, the actor's struggle with substance abuse persisted, ultimately leading to his untimely death at the young age of 31.
James Dean
With his part in Rebel Without a Cause, James Dean showed potential for a fruitful career in Hollywood. Sadly, his prospects were shattered when he got involved in a car crash that led to his untimely death at only 24 years old.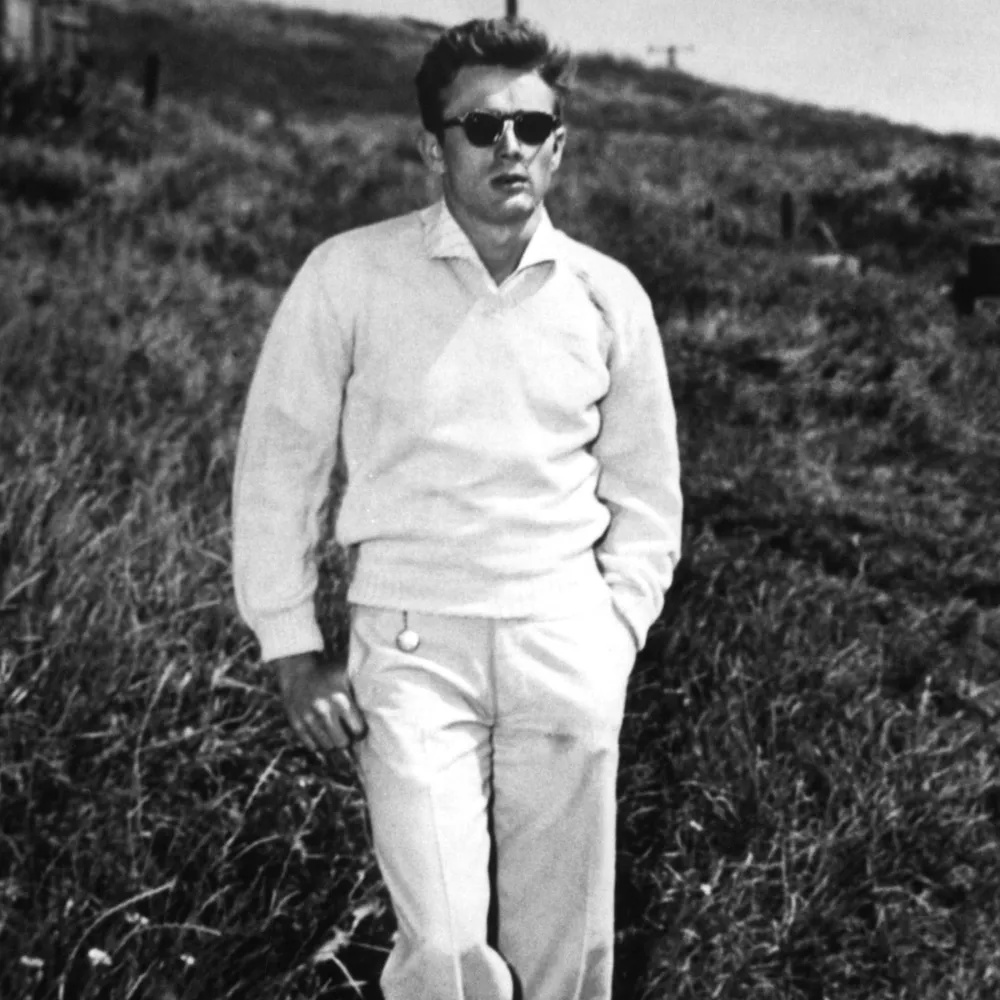 In 1955, East of Eden's outstanding performance earned Dean the first-ever posthumous Oscar nomination for an actor. In the following year, a second nomination was bestowed on him for his role in Giant. To this day, no other actor has received two posthumous Oscar nominations as James Dean did.
River Phoenix
At the young age of 10, River Phoenix started his career in acting, which later paved the way for his younger brother Joaquin Phoenix's success. River played prominent roles in several movies, such as Stand by Me, My Own Private Idaho, and Running on Empty, which earned him a nomination for an Oscar.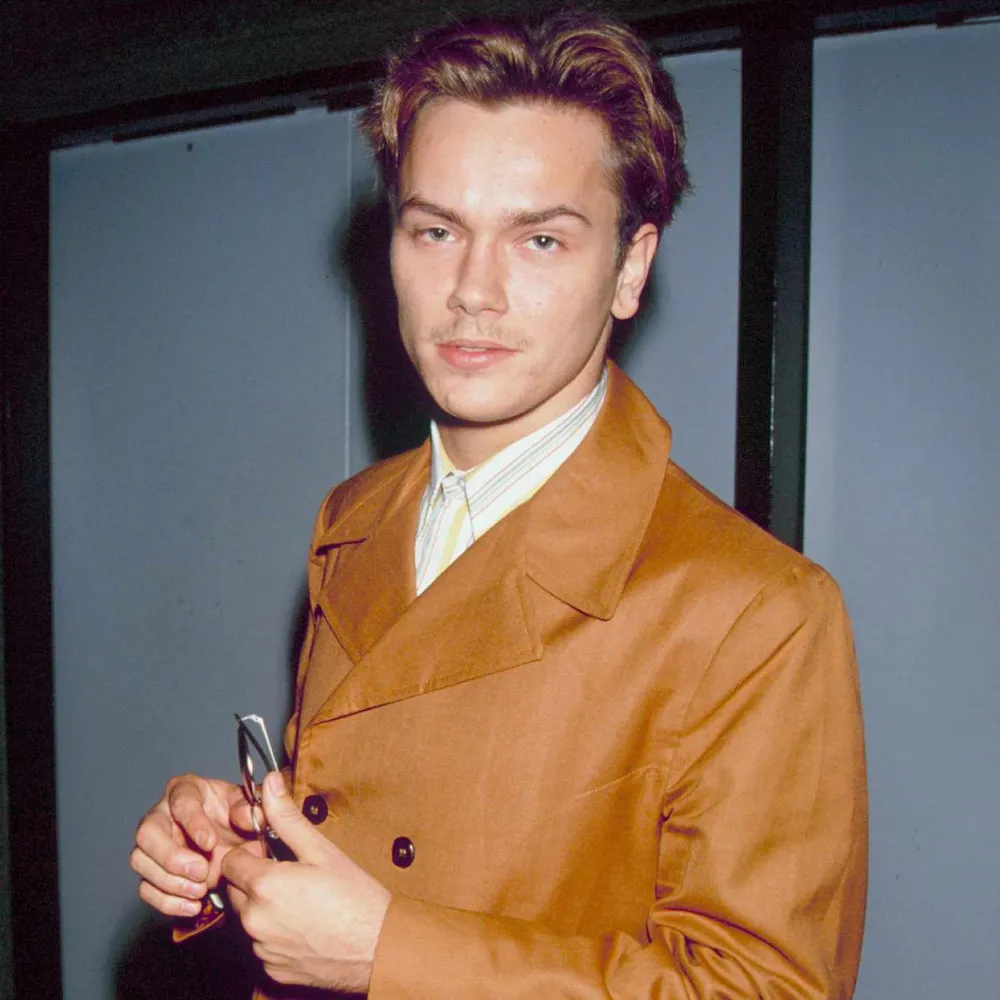 Joaquin pays his homage to River who had died at the age of 23 after consuming different types of illegal drugs during a party. River's accomplishments and promising future are comparable to James Dean, and his memory is kept alive through this comparison and acknowledgment in Joaquin's interviews and speeches.
Prince
Prince, also referred to as Prince Rogers Nelson, was a highly accomplished musician and a significant figure in the music industry, recognized worldwide. His unique and versatile persona, notable singing expertise, and popular tracks such as "Purple Rain" contributed to his legendary status.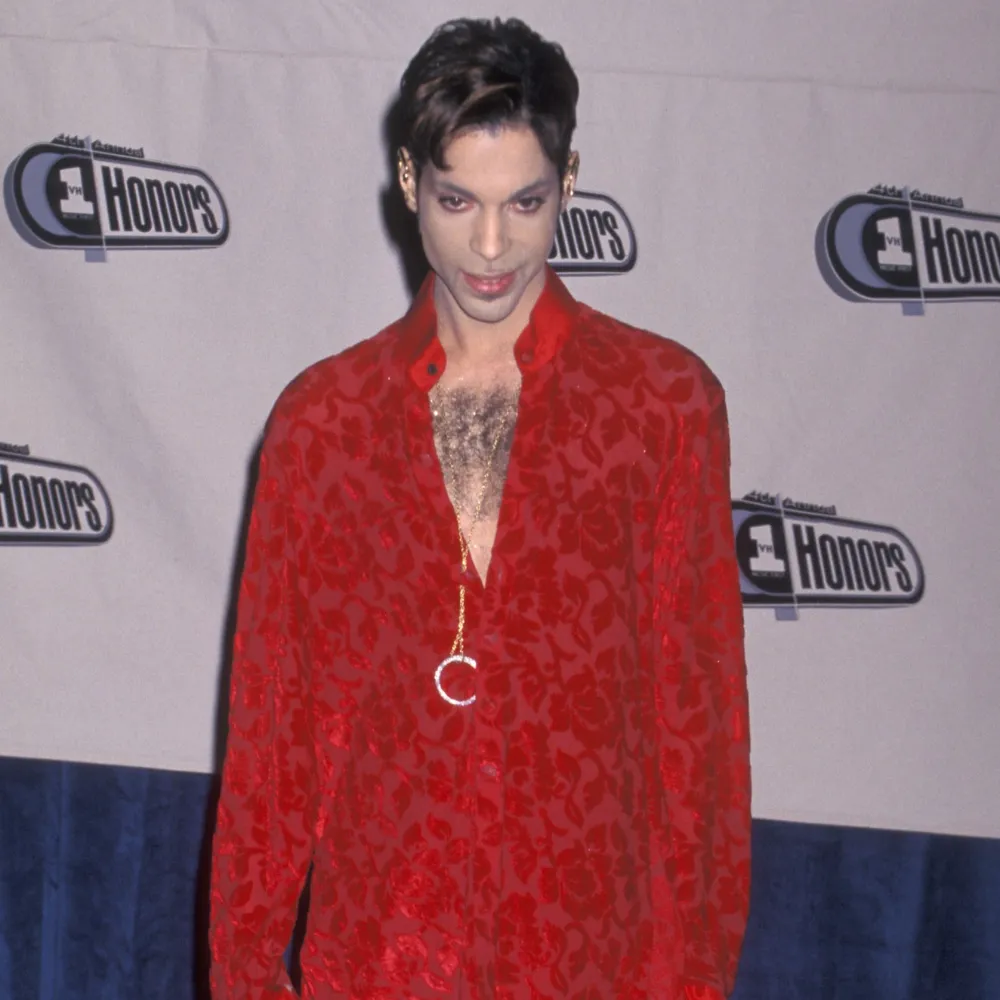 It is regrettable that Prince's life came to an end at 57 years old because of his use of illegal substances. Prince is commonly recognized as a renowned icon in popular culture. The Los Angeles Times fittingly stated that Prince was the initial pop star who transcended simple classifications of race, genre, and commercial success.
Kurt Cobain
Kurt Cobain was the vocalist for Nirvana and his contribution to the band's success was significant, propelled by popular tracks such as "Heart-Shaped Box" and "About a Girl." Unfortunately, Kurt struggled with personal and professional complications as being in the limelight did not suit him.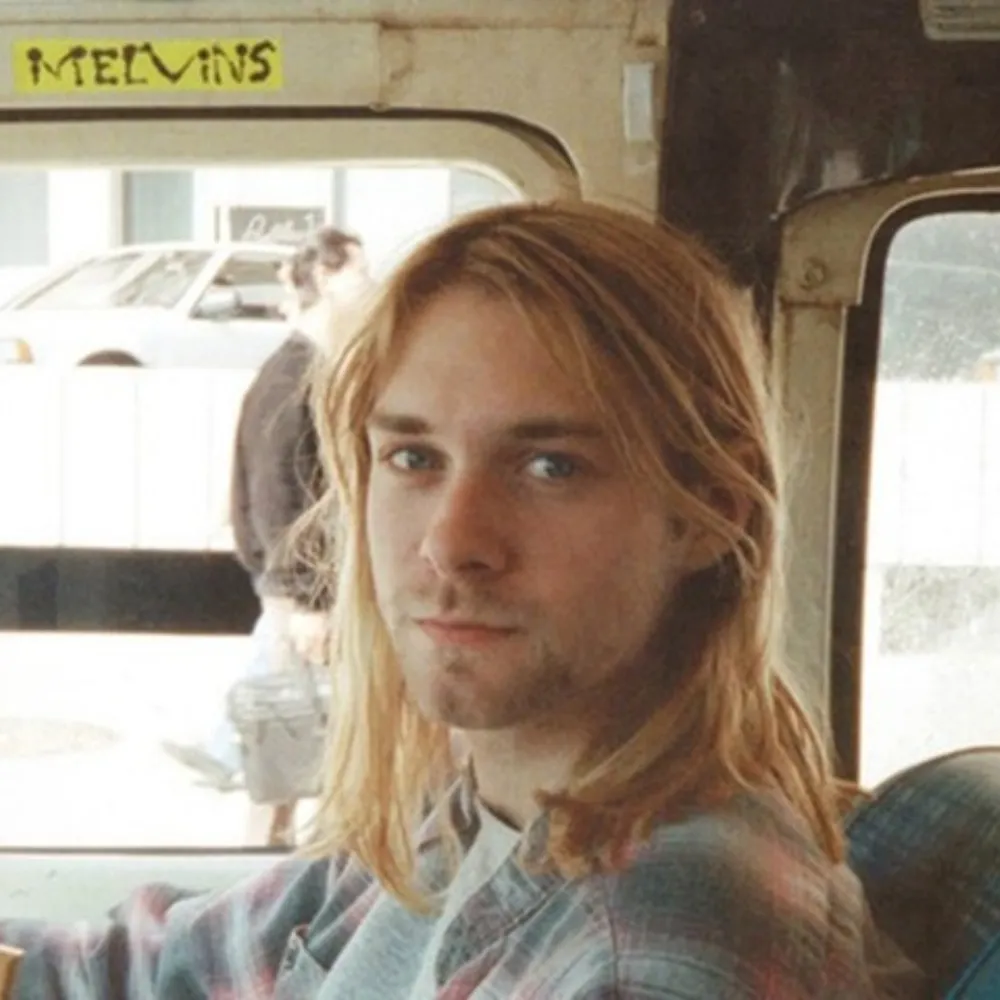 Kurt Cobain faced challenges with addiction to illegal drugs and depression, which caused problems in his music career and marriage with Courtney Love who was also a musician. As a result, in 1994 he made the decision to take his life and joined the 27 Club.
Kobe Bryant
Kobe Bryant, also known as the Black Mamba, is commonly recognized as one of the greatest basketball players to have ever played the sport. He played the position of shooting guard for the Los Angeles Lakers and achieved five NBA championships, participated in the All-Star team 18 times, and earned the MVP title three times.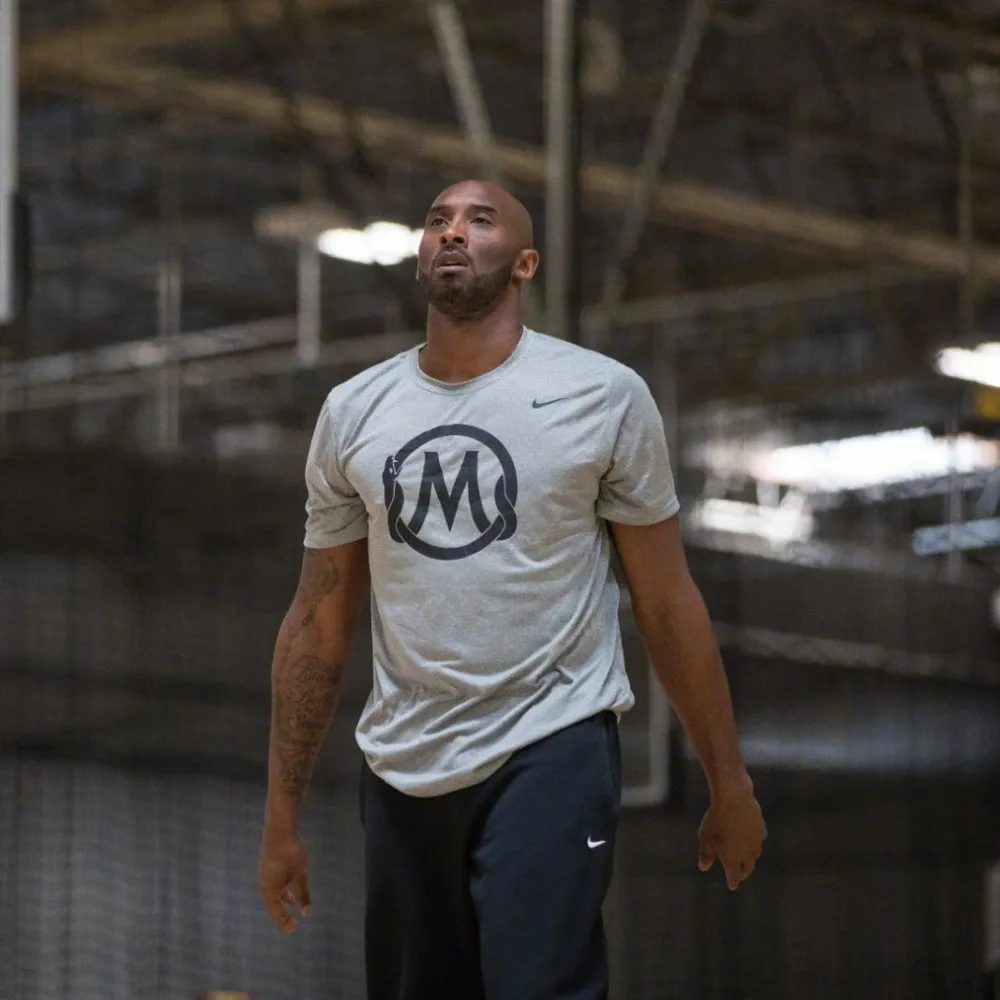 In the year 2020, Kobe, who was 41 years old, was with eight other individuals on a helicopter, which includes his daughter. The pilot was facing difficulty in navigating due to the dense fog, and unfortunately, the helicopter crashed leading to the demise of all aboard.
Amy Winehouse
Amy Winehouse was an accomplished singer among the newer crop of artists. Her songs "Rehab" and "Back to Black" were incredibly popular, and Amy's individualist fashion sense and disinterest in conforming to the standards of other pop stars contributed to her success.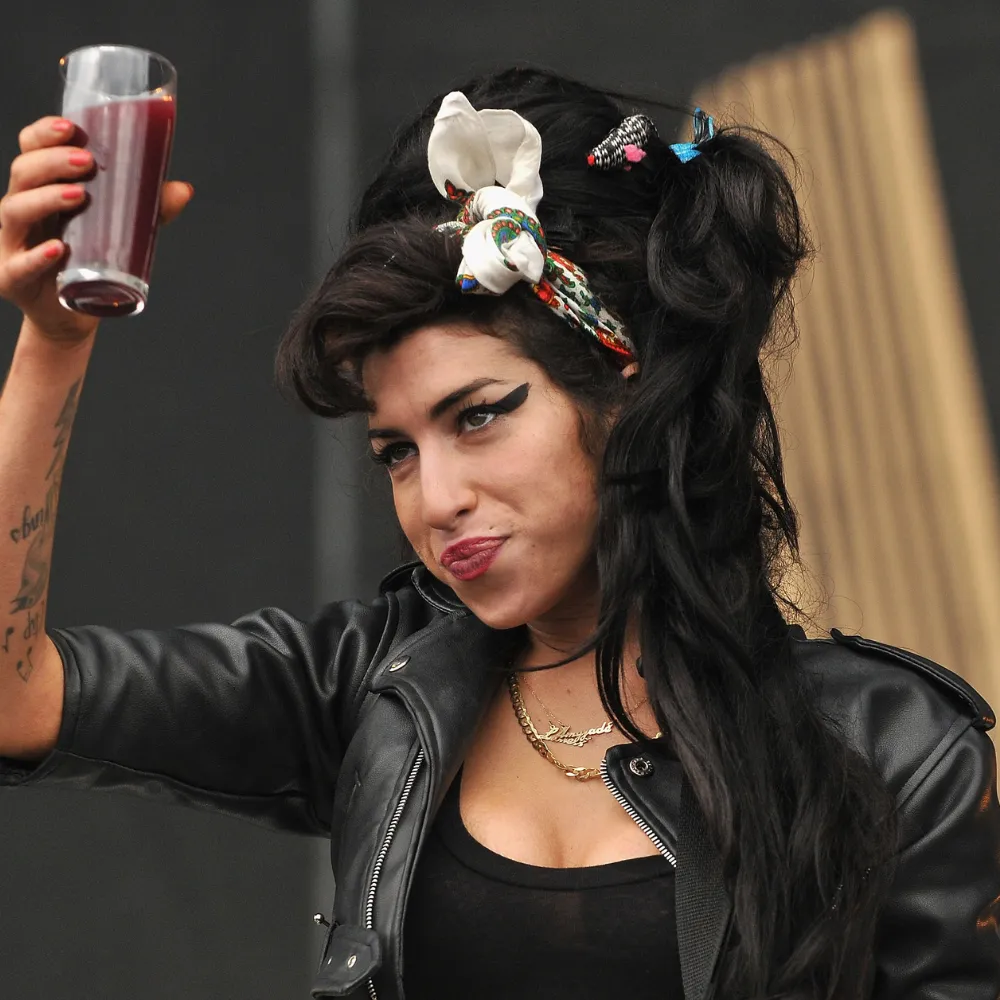 Like many other famous singers, Amy also faced challenges with drug addiction, mental illness, and eating disorders. Unfortunately, she lost her life at the age of 27 due to excessive alcohol consumption. She was also a member of the infamous 27 Club, which refers to the group of musicians who died at the age of 27.
John Lennon
The Beatles member, John Lennon, gained his reputation from his involvement in the legendary band. Additionally, he formed the Plastic Ono Band alongside his spouse Yoko Ono. At the age of 40, John had an encounter with an individual named Mark David Chapman.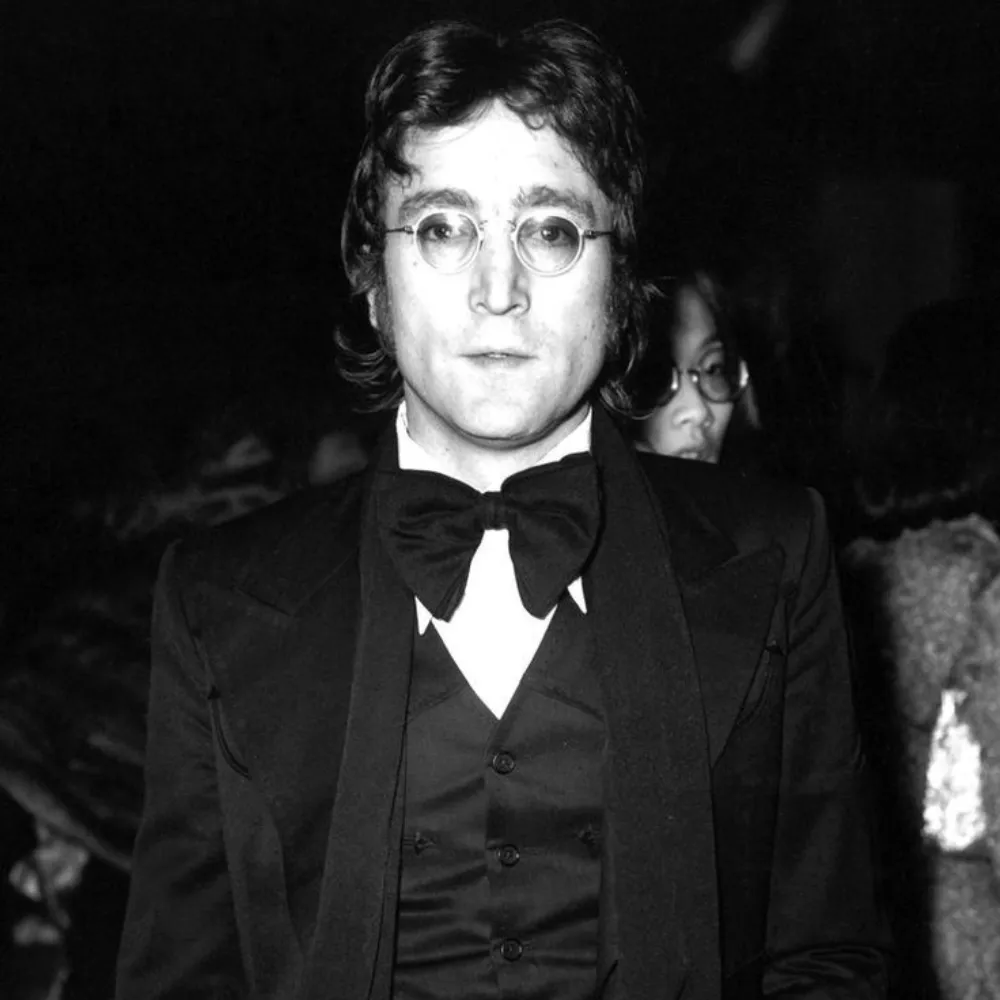 John's untimely death was caused by a conflict between him and another person. Despite this tragic ending, his song called "Imagine" still stands out and is considered as one of the top hits of all time, serving as a striking contrast to the way his life came to an end.
Tupac Shakur
Tupac Shakur achieved great success as a rapper on a global scale, but his notoriety extended beyond his musical talents due to his ongoing conflict with Notorious B.I.G., which ignited the East Coast versus West Coast rivalry.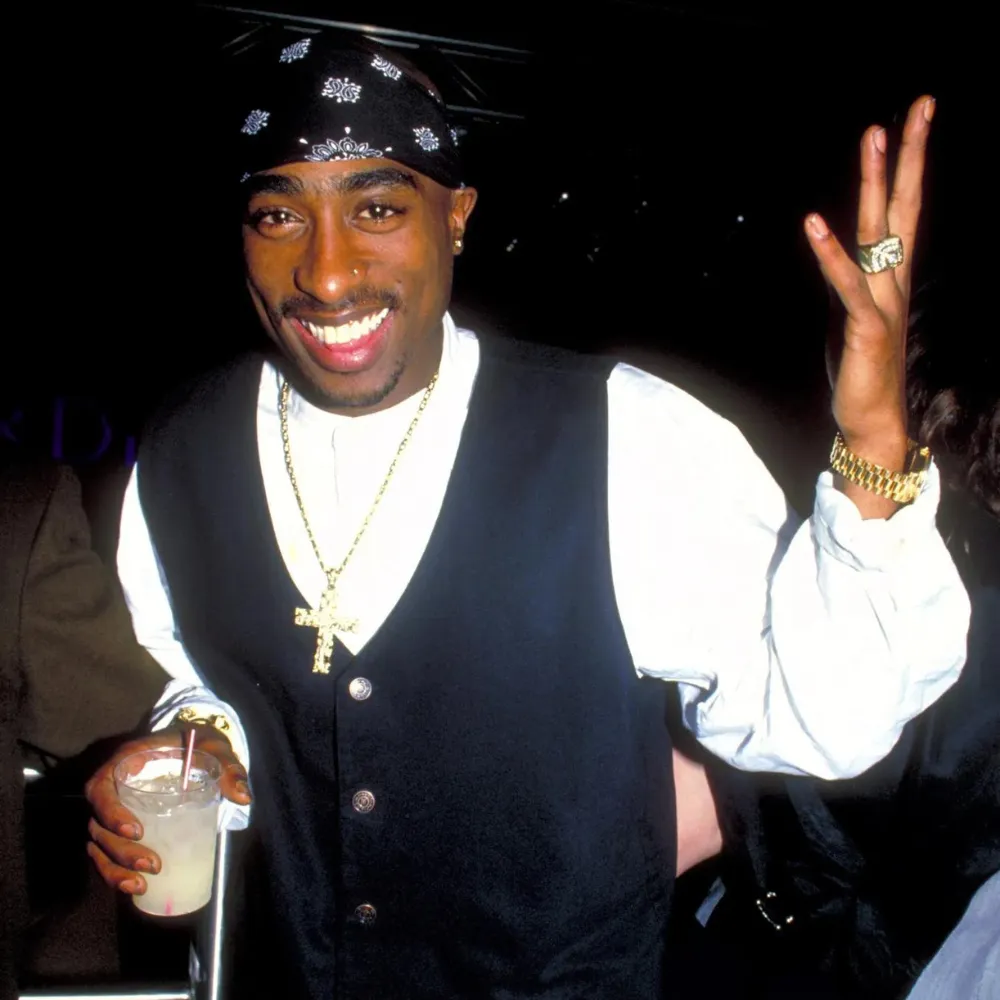 Tupac passed away at a young age of 25, allegedly due to the involvement of Notorious B.I.G.'s crew or a group with similar motives. Despite this, some are of the opinion that Tupac fled upon being threatened, and still lives, resulting in frequent reports of people having seen him in various regions worldwide.
The Notorious B.I.G.
Christopher George Latore Wallace, who went by the name The Notorious B.I.G., achieved remarkable success as a rapper. Yet, his competition with Tupac Shakur wasn't just business; it became personal. Along with their respective crews, both men battled for the title of the best rapper, and that competition spilled over into their actual lives.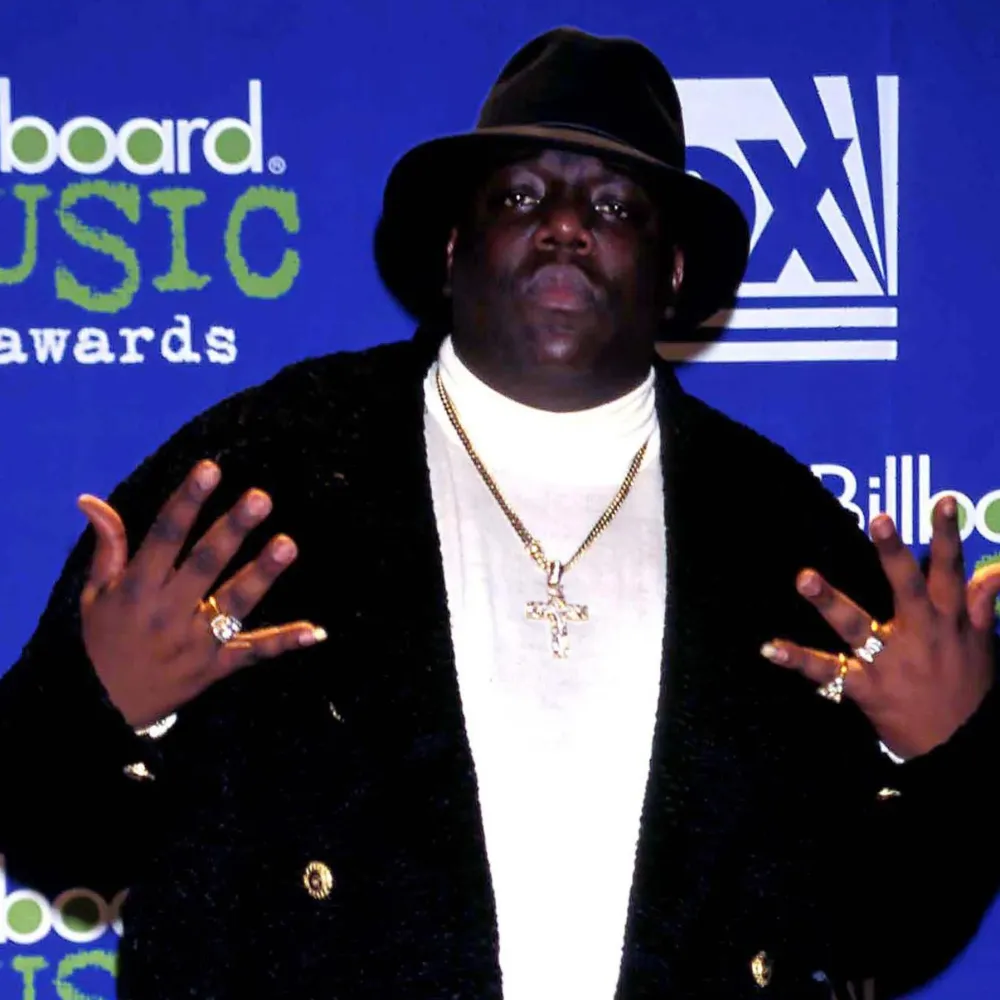 At the age of 24, Notorious B.I.G.'s life was tragically cut short. Although there is speculation that Tupac's group or a similar opposing group may have been involved, there is no definitive proof.
Marilyn Monroe
Marilyn Monroe initially gained recognition in Hollywood for her acting skills, but she became most renowned for her attractive appearance. Unfortunately, her rapid ascent to stardom exacerbated her preexisting mental health problems. As a result, she developed a reliance on prohibited substances, leading to both psychological and physical suffering.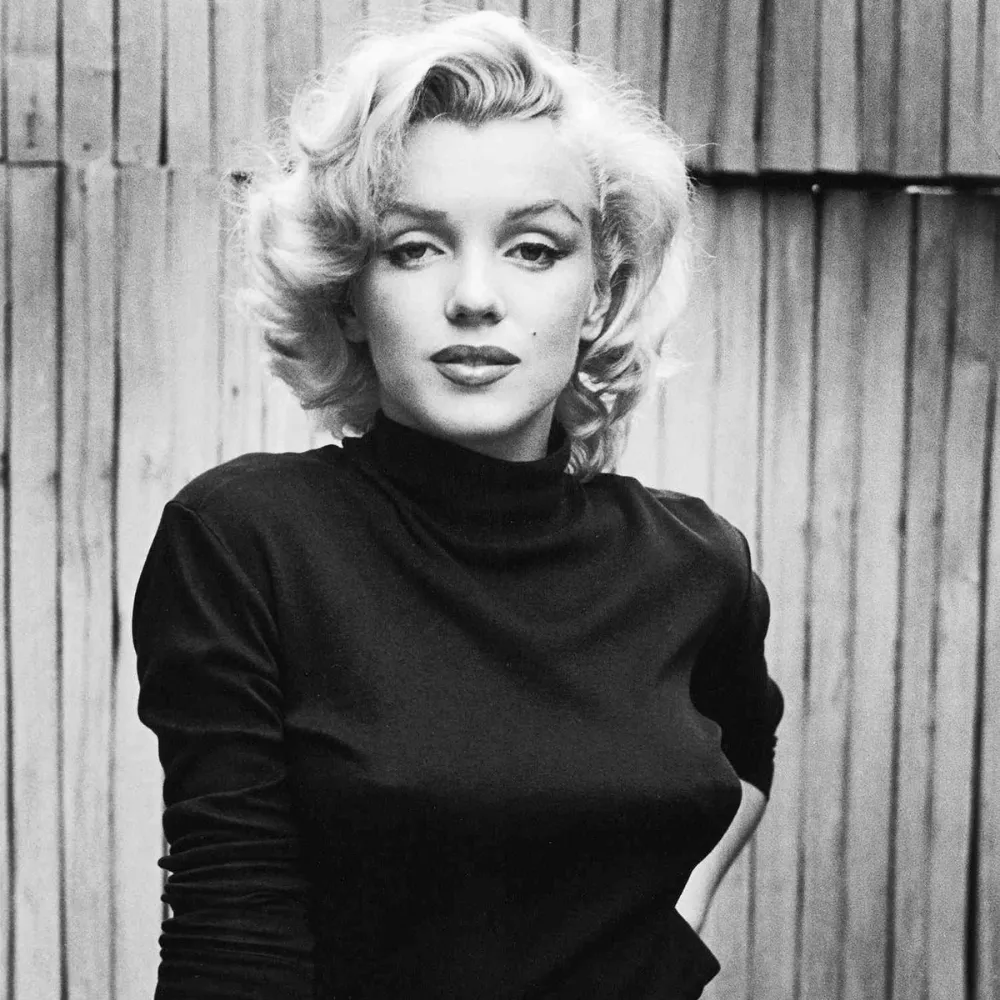 The tragic death of the icon occurred in 1962 when she was just 36 years old. It had a huge impact on the world and reportedly led to a doubling of the amount of young women who took their own lives after being influenced by their idol's actions.
Kailia Posey
Kailia Posey gained fame as a beauty pageant competitor and reality show personality, specifically from her appearance on TLC's Toddlers and Tiaras. She even became a viral meme as the recognizable Grinning Girl.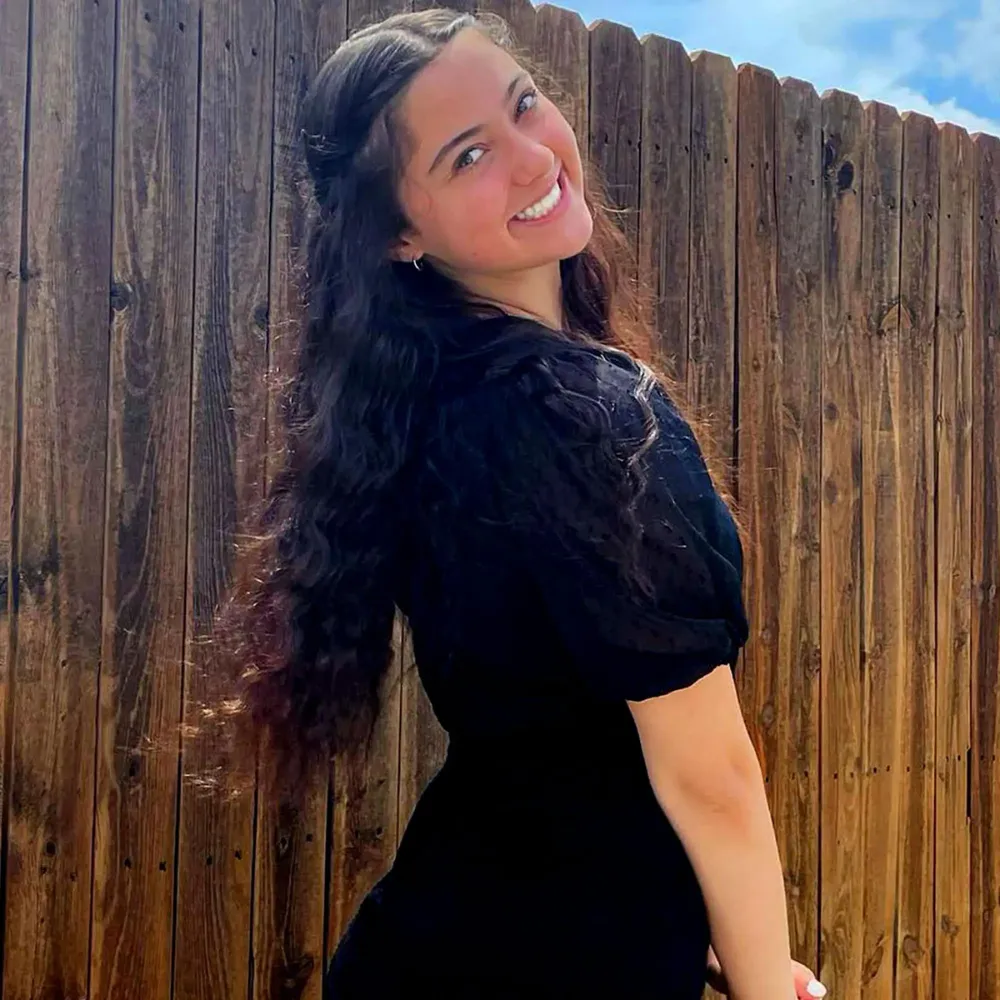 Kailia took part in beauty pageants from a very young age, continuing until she passed away at the age of 16. Despite her young age, she managed to secure the title of Miss Lynden Teen in 2021. Sadly, the next year, in 2022, Kailia tragically ended her life.
Takeoff
Takeoff was a member of Migos, a hip-hop trio that also included Offset and Quavo. The group gained a lot of fame for their chart-topping tunes such as "MotorSport" and "Bad and Boujee," and also for their collaborations with big-name artists like Nicki Minaj, Cardi B, and Drake.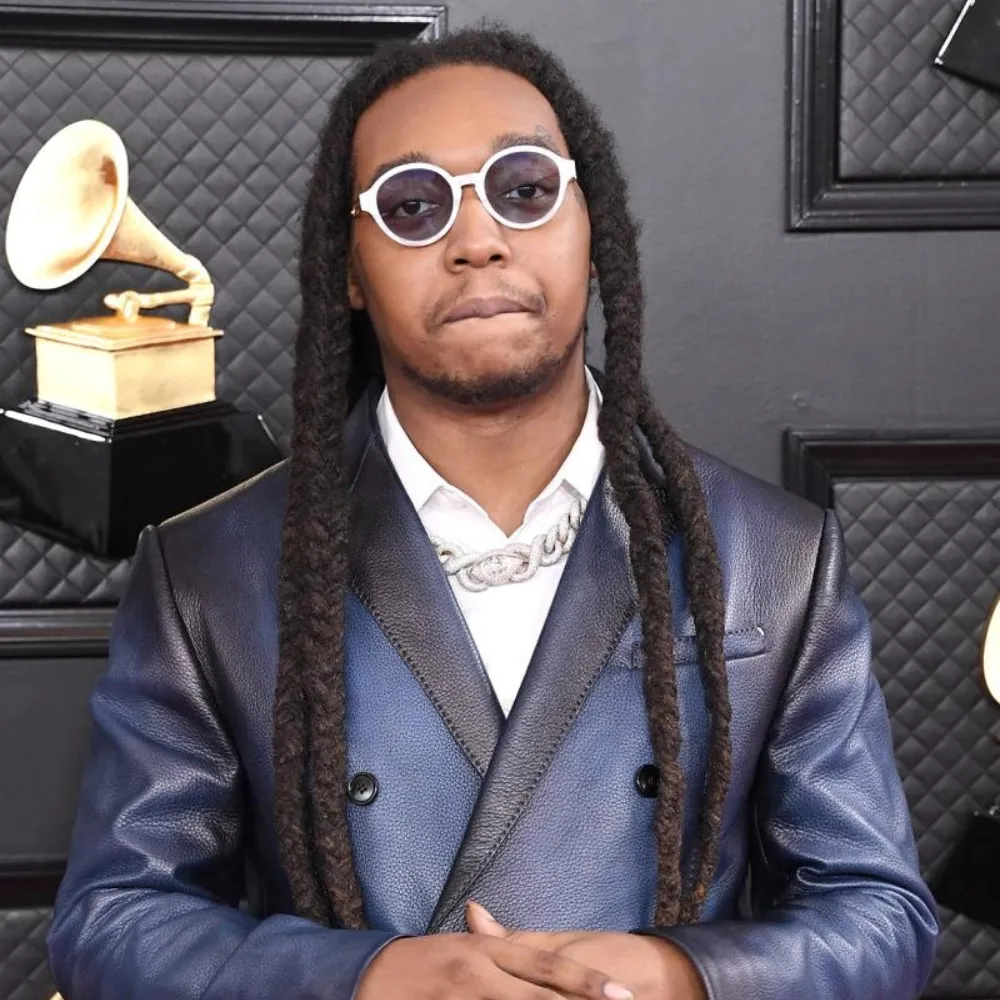 In 2002, on November 1st, Takeoff was attending a party with about 40 people at a bowling alley. While the group was outside, there was an argument that resulted in Takeoff's death. According to authorities, the rapper was not meant to be the victim, and his death was unintentional. He was 28 years old.
Steve Irwin
Steve Irwin aka the Crocodile Hunter was a wildlife expert widely known for his TV show The Crocodile Hunter which aired from 1996 to 2007. In 2006, Steve was filming for the documentary series Ocean's Deadliest when he was stung by a stingray.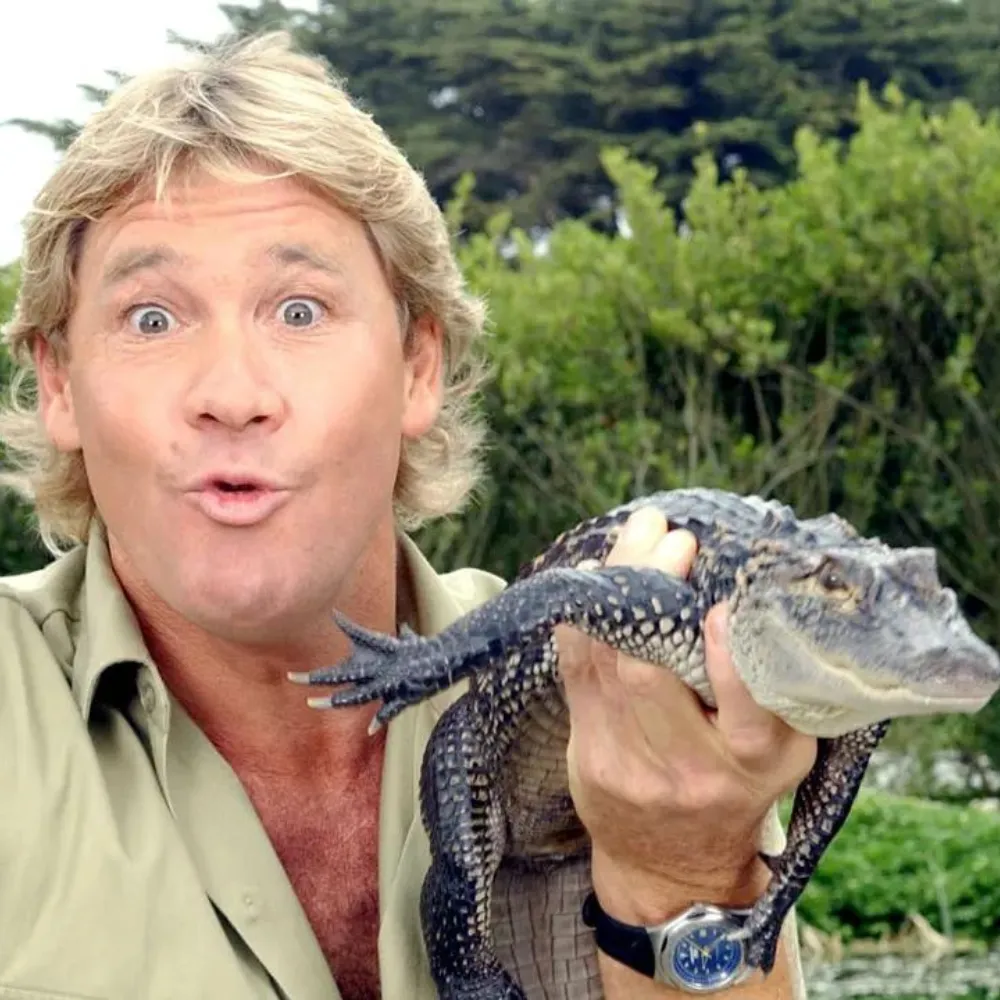 The stingray pierced Irwin's chest, ending his life at 44 years old. Eerily, the entire incident was caught on camera. As of 2022, Steve's family is following in his footsteps by operating the Australian Zoo and sharing his love of animals with the world.
Helen McCrory
Helen McCrory was known for her incredible acting across all platforms — theatre, movies, and TV. Her most iconic roles were Narcissa Malfoy in the Harry Potter series and Aunt Polly in Peaky Blinders.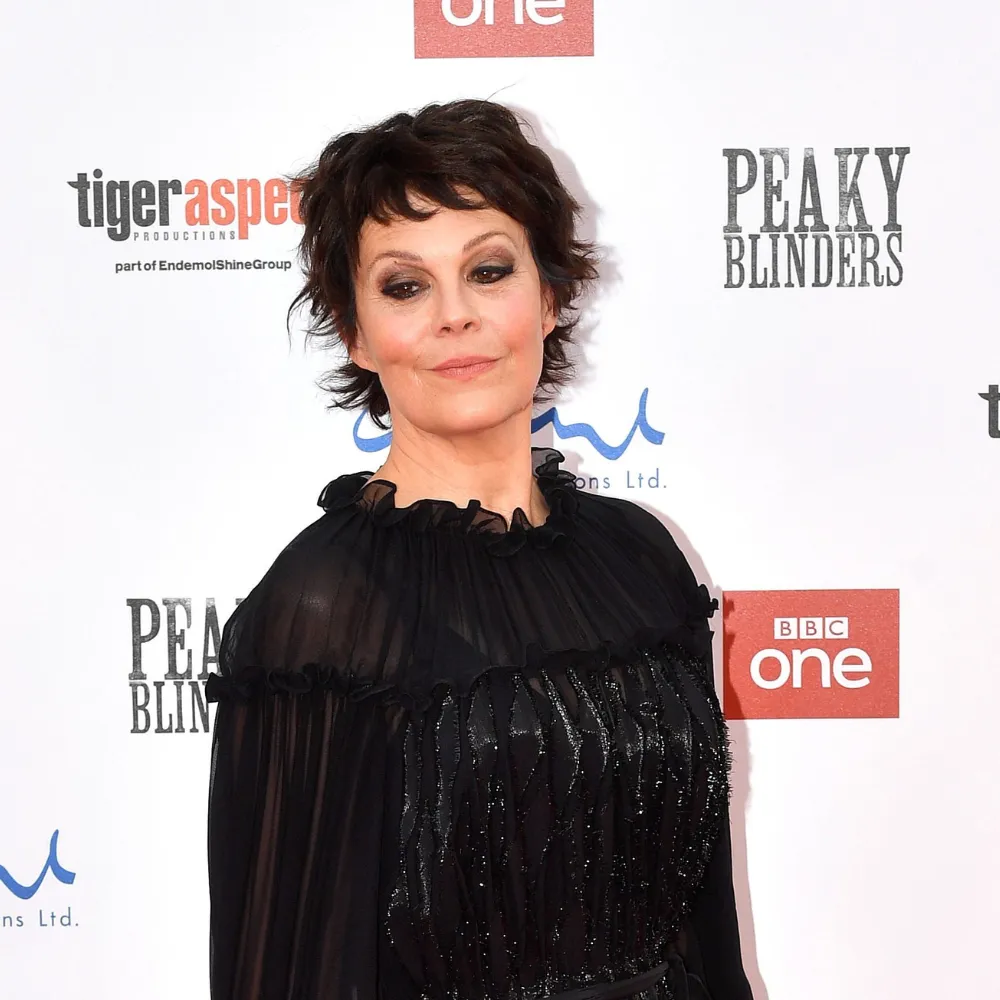 What very few people knew was that Helen had breast cancer for many years. That knowledge only became public when she passed away from the illness at 52 years old. The actress was still filming Peaky Blinders at the time, causing her character's life to end, and the show to be rewritten.
Cameron Boyce
Cameron Boyce was a child star famous for his work with the Disney channel, specifically, his starring roles in the show Jessie and the Descendants movie trilogy. Cameron had a bright future ahead of him, as he seamlessly grew out of his younger roles and took on more mature content.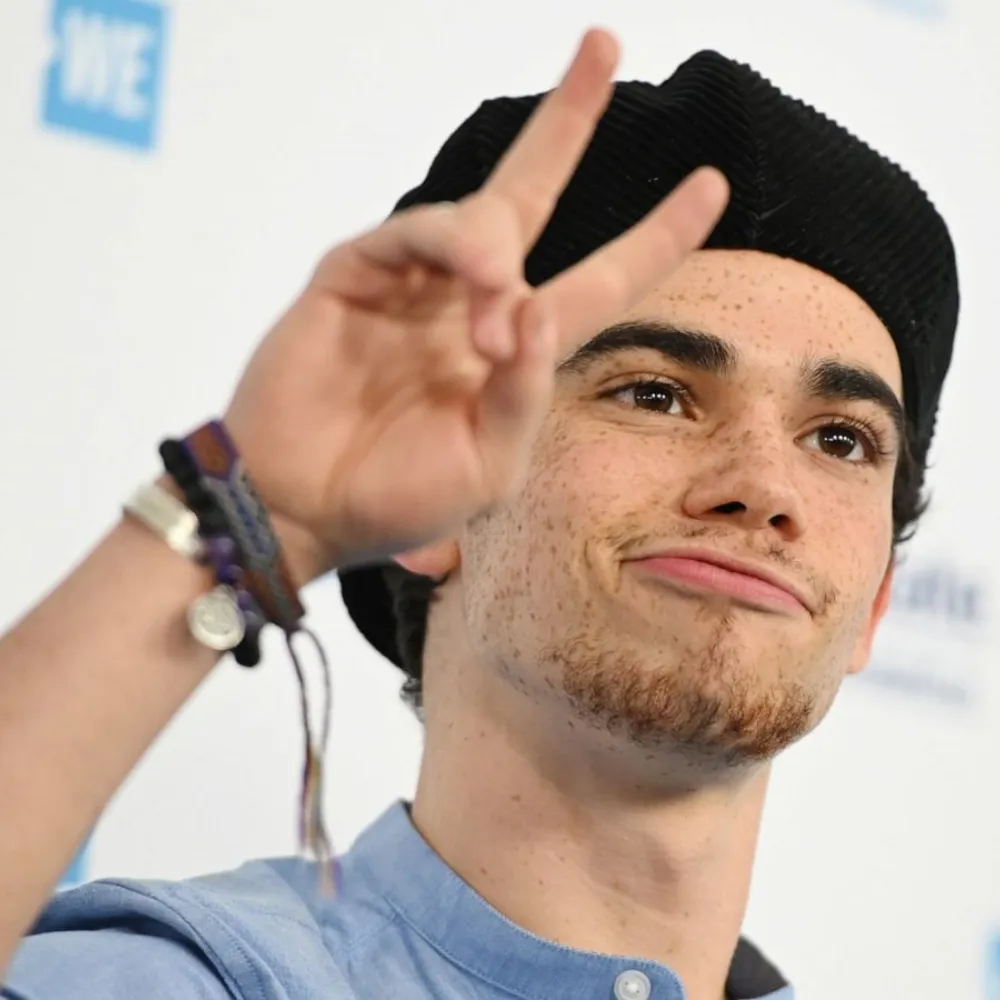 Unfortunately, the actor had some health issues. He'd been diagnosed with epilepsy and was taking medication for it. However, something seems to have gone wrong, as he passed away at just 20 years old due to having an epileptic seizure in his sleep.
DJ AM
Adam Michael Goldstein aka DJ AM was famous for his solo work in the music industry and his collaboration with Travis Barker in TRV$DJAM. Sadly, DJ AM had several dependencies and passed away at the age of 36 due to consuming too many illegal substances.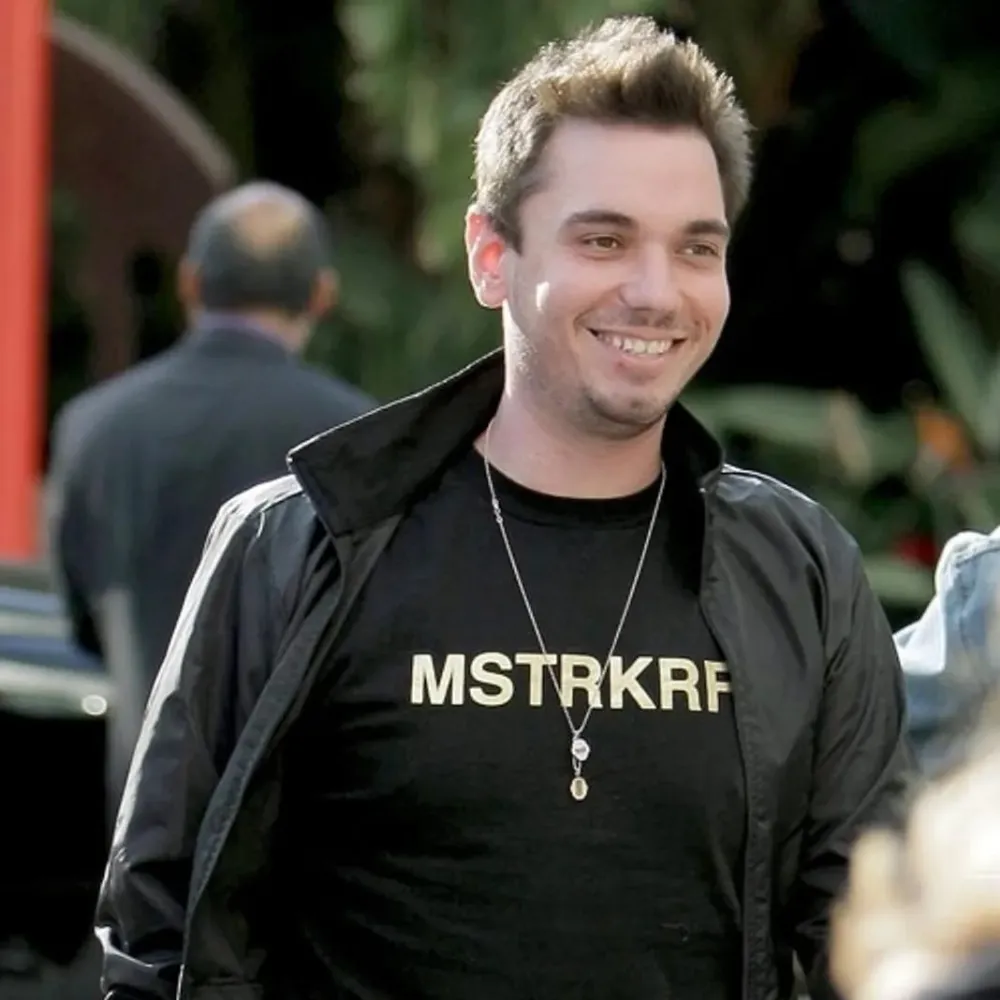 In a move that only added to the tragedy, the public blamed AM's former girlfriend, Haley Wood, saying their breakup contributed to his emotional state (Ariana Grande suffered the same accusations when Mac Miller passed away). Haley, rightfully, denied responsibility for her ex's difficulties.
Sid Vicious
Sid Vicious (born John Simone Ritchie) was famous in the 1970s as the Sex Pistols' bassist, and he's still a punk subculture icon today. Sid suffered from various dependencies and passed away at the young age of 21, due to having had too many illegal substances.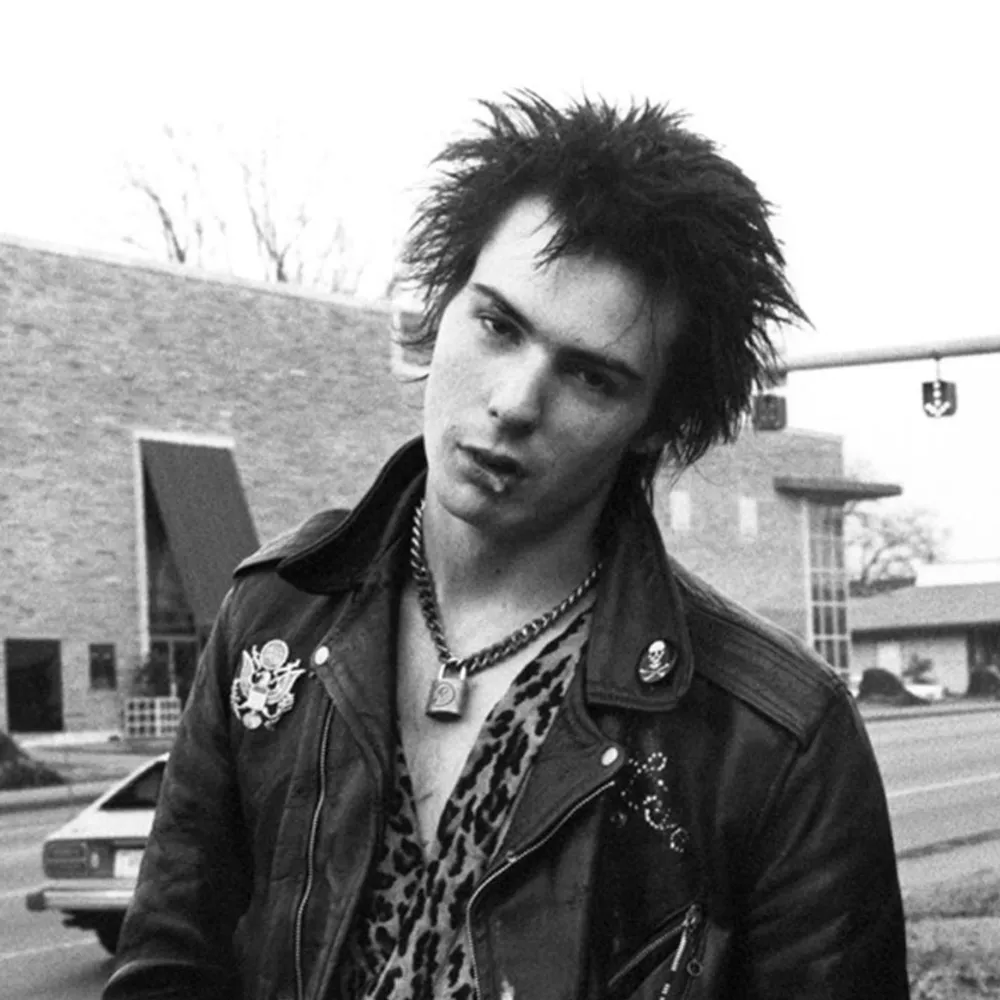 Some conspiracy theories say that Sid's passing was intentional, as he was on trial and afraid of going back to prison. Others claim that, in true punk fashion, the musician had a pact with his girlfriend, Nancy Spungen, and they both wanted to pass away.
Selena
Selena Quintanilla Pérez (known simply as Selena) was so iconic that she was often referred to as the Queen of Tejano music. With hits like "Captive Heart" and "I Could Fall in Love," Selena was an international sweetheart.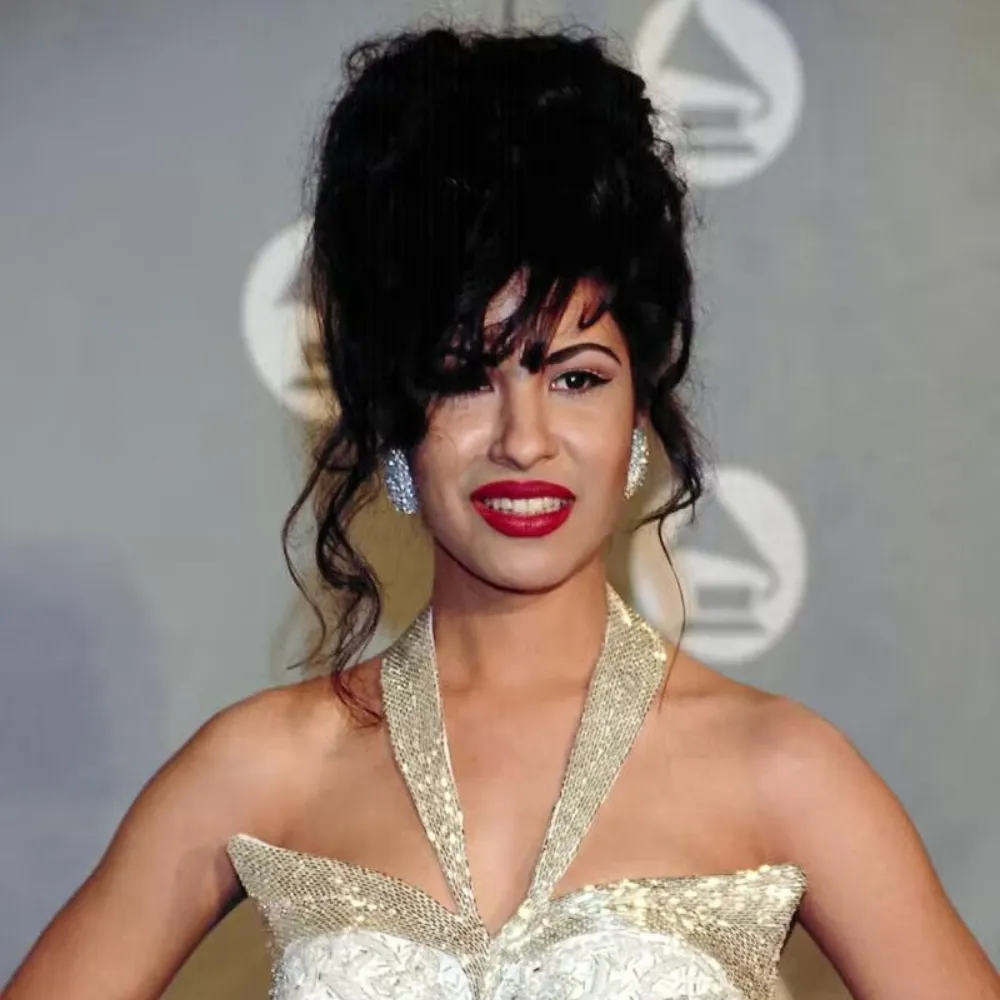 Things went south when Selena's former boutique manager (and friend) Yolanda Saldívar was put on trial for embezzlement. The singer went to confront Yolanda about the finances, which led to an altercation that ended Selena's life. She was only 23 years old.
Aaliyah
Aaliyah's music is often credited with redefining hip-hop, pop, and contemporary R&B. Singles such as "Try Again" and "More Than a Woman" earned the singer titles like the Queen of Urban Pop and the Princess of R&B.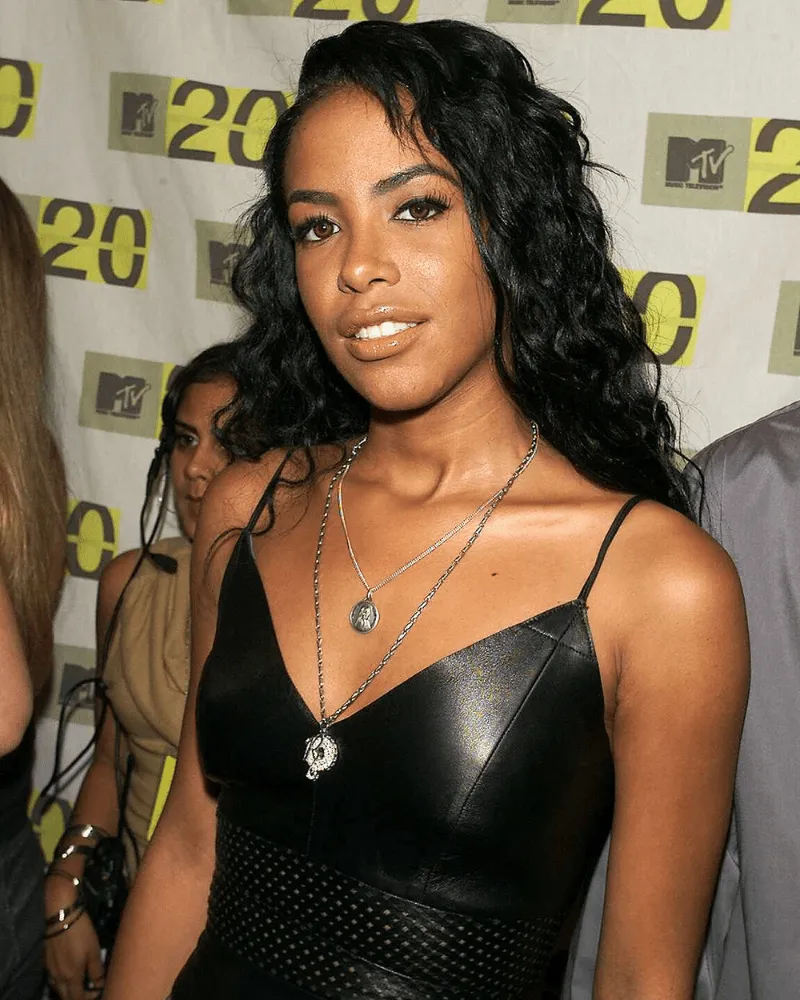 To the world's dismay, Aaliyah passed away at the age of 22 in a plane crash. The flight was last minute and the plane was overloaded, yet, it somehow still got cleared for takeoff. There were nine people on that flight and, tragically, none of them survived the crash.
Aaron Carter
Aaron Carter is most widely known for his singing and acting abilities, and his equally famous brother the Backstreet Boys' Nick Carter. Aaron had his struggles in life, particularly with substance dependencies, but was trying to get clean. He was 34 years old when he was found deceased in his home.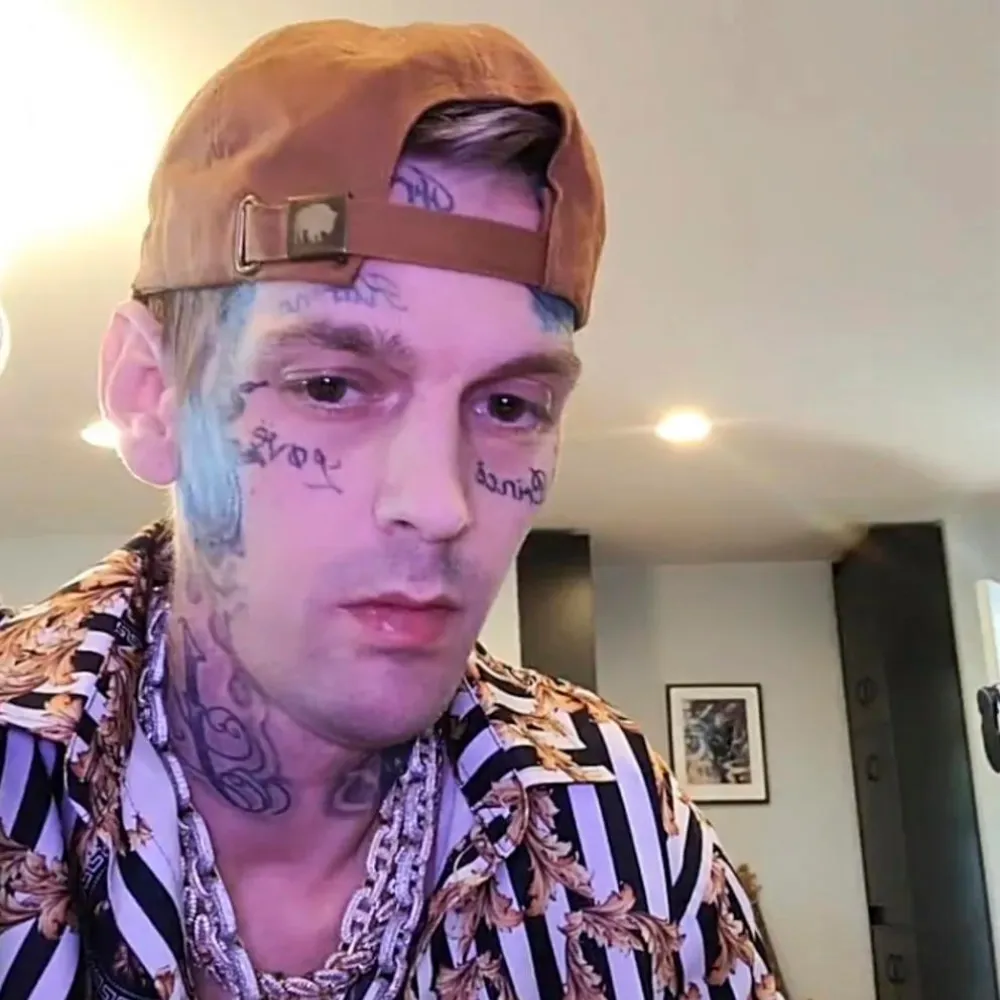 The case is still being investigated, as no one knows exactly what happened. The main theory is that Carter relapsed on some illegal substances and accidentally drowned in his bathtub. However, at the time of writing this, that hasn't been confirmed.
Chadwick Boseman
Chadwick Boseman will always be remembered as the very first actor to play Black Panther in a live-action film. What fans didn't know was that Chadwich was suffering from cancer while filming many of his movies.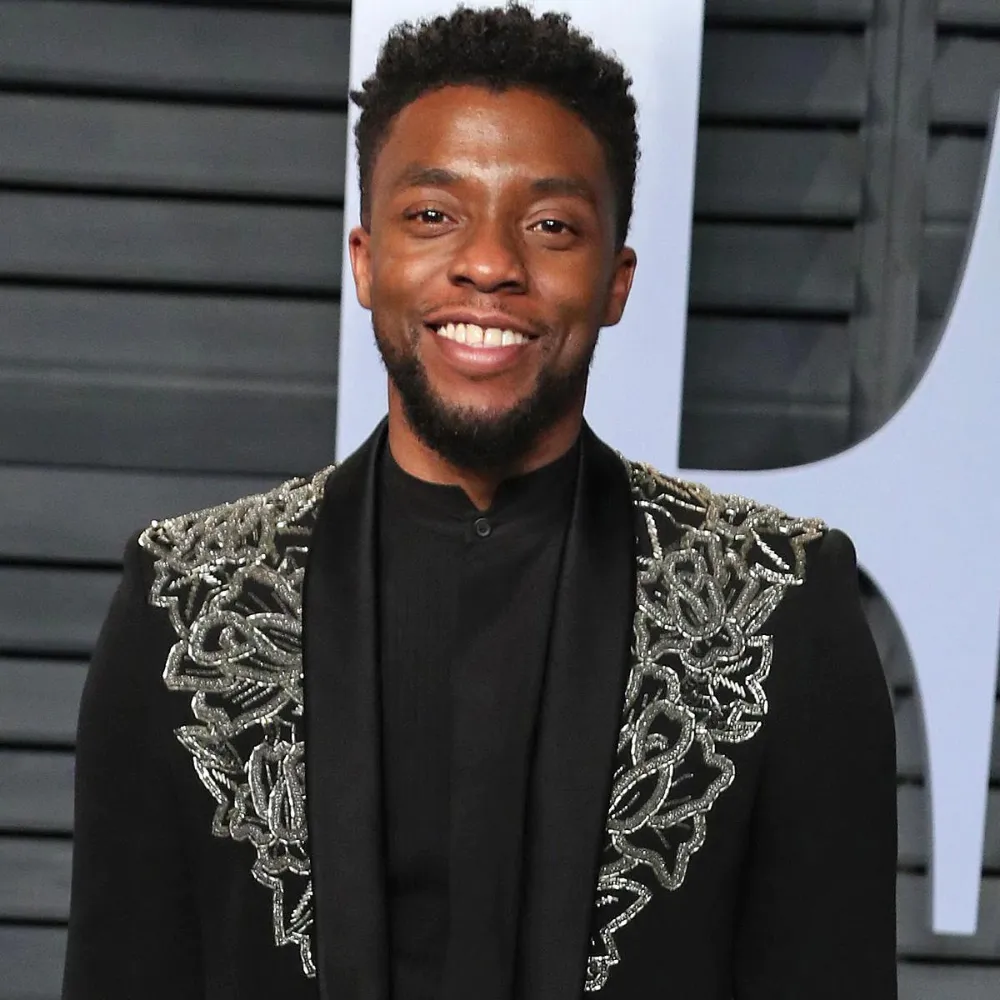 His illness continued for four years before ending his life when he was 43 years old. Very few people knew about Boseman's condition, as he didn't want it to affect his day-to-day life. Clearly, his plan worked, as he continued to star in major films until the day he passed.
Anne Heche
Anne Heche was an actress most known for her roles in I Know What You Did Last Summer and Wag the Dog. Sadly, Anne suffered from mental health issues due to the mistreatment she endured as a child.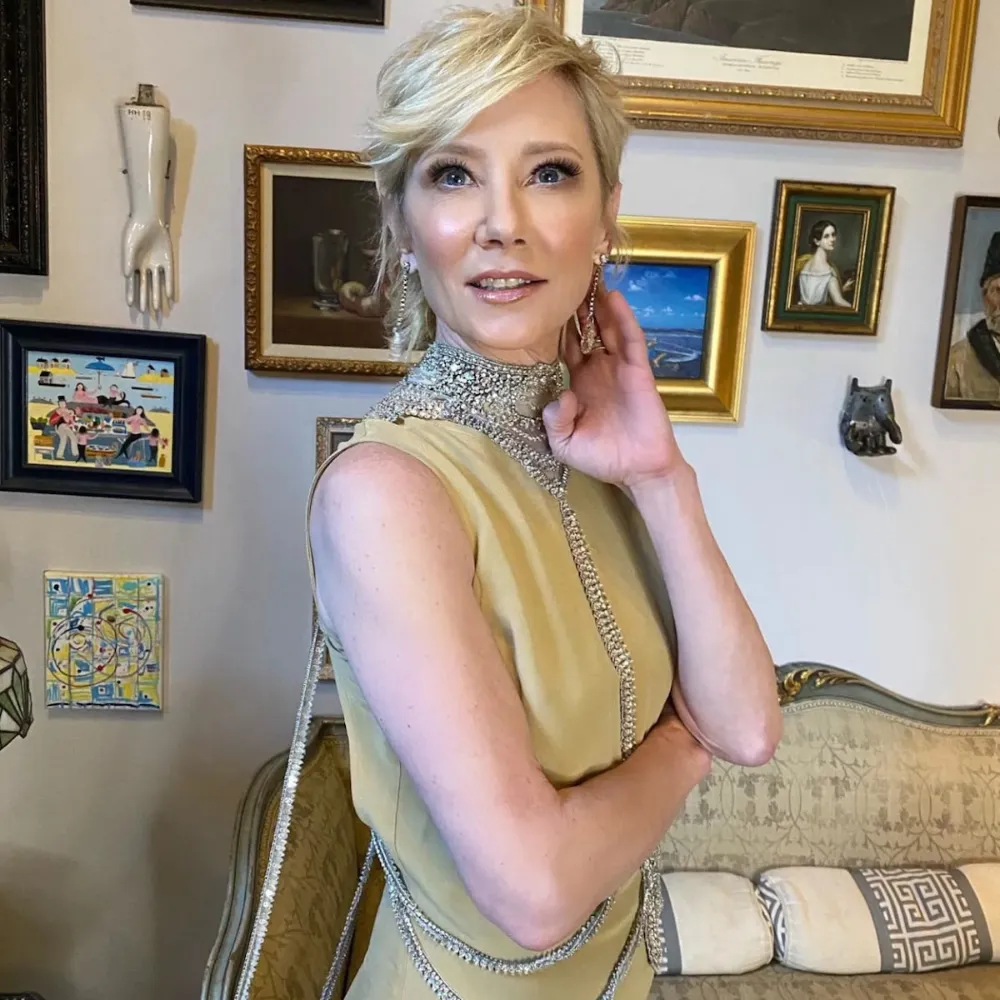 At the age of 53, Heche was in a series of three car accidents in one night — the third of which took her life. Police who were at the scene said that Anne was "deemed to be under the influence and acting erratically" at the time.
Anna Nicole Smith
Anna Nicole Smith was widely known for her modeling work, particularly her appearances in Playboy magazine. Despite her success, Anna led a pretty tragic life that culminated in her untimely passing at the age of 39.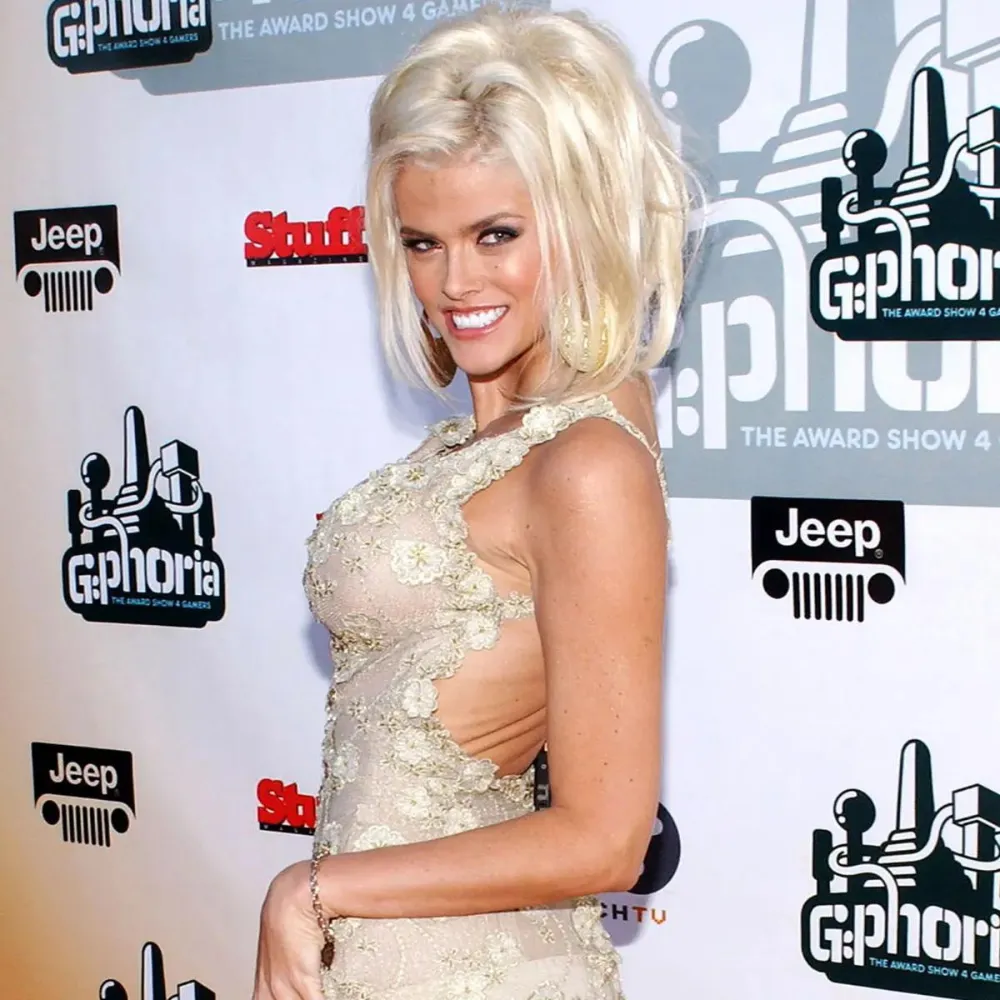 The model suffered financial issues throughout her life and finally filed for bankruptcy. Furthermore, her son passed away at the age of 20, due to consuming an excess amount of illegal substances. Anna passed a year later, in the exact same way.
Naya Rivera
Naya Rivera was known for her acting and singing in the show Glee. In 2020, 33-year-old Naya was declared missing when her four-year-old son, Josey, was found alone on a rented boat.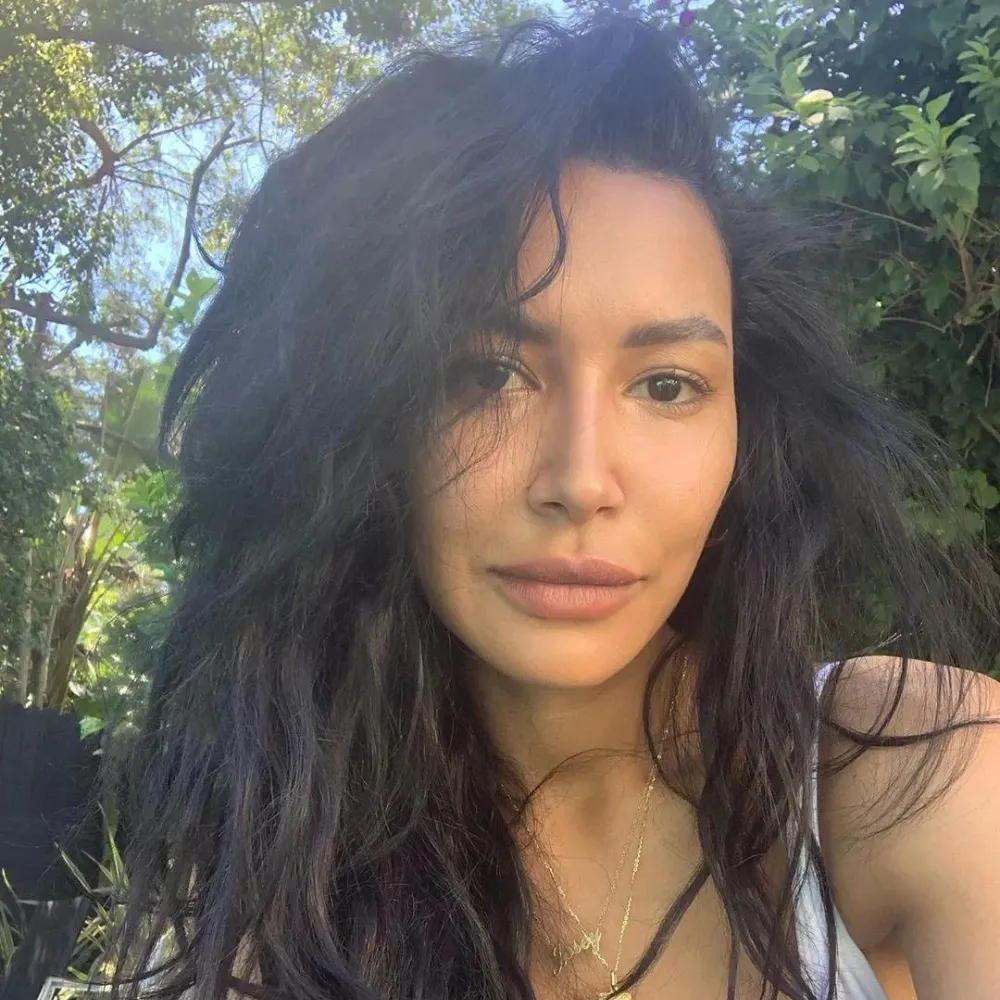 Josey recalled his mother helping him onto the boat but struggling to get on herself. Josey was wearing a life jacket but Naya was not. Five days later, Rivera's body was found. It's assumed that she and Josey got caught in a rip current, in which Naya heroically saved her son but was unable to save herself.
Twitch
Stephen Laurel "Twitch" Boss rose to fame on the reality show So You Think You Can Dance as one of the most popular contestants of all time. He went on to star in several of the Step Up movies and The Ellen DeGeneres Show.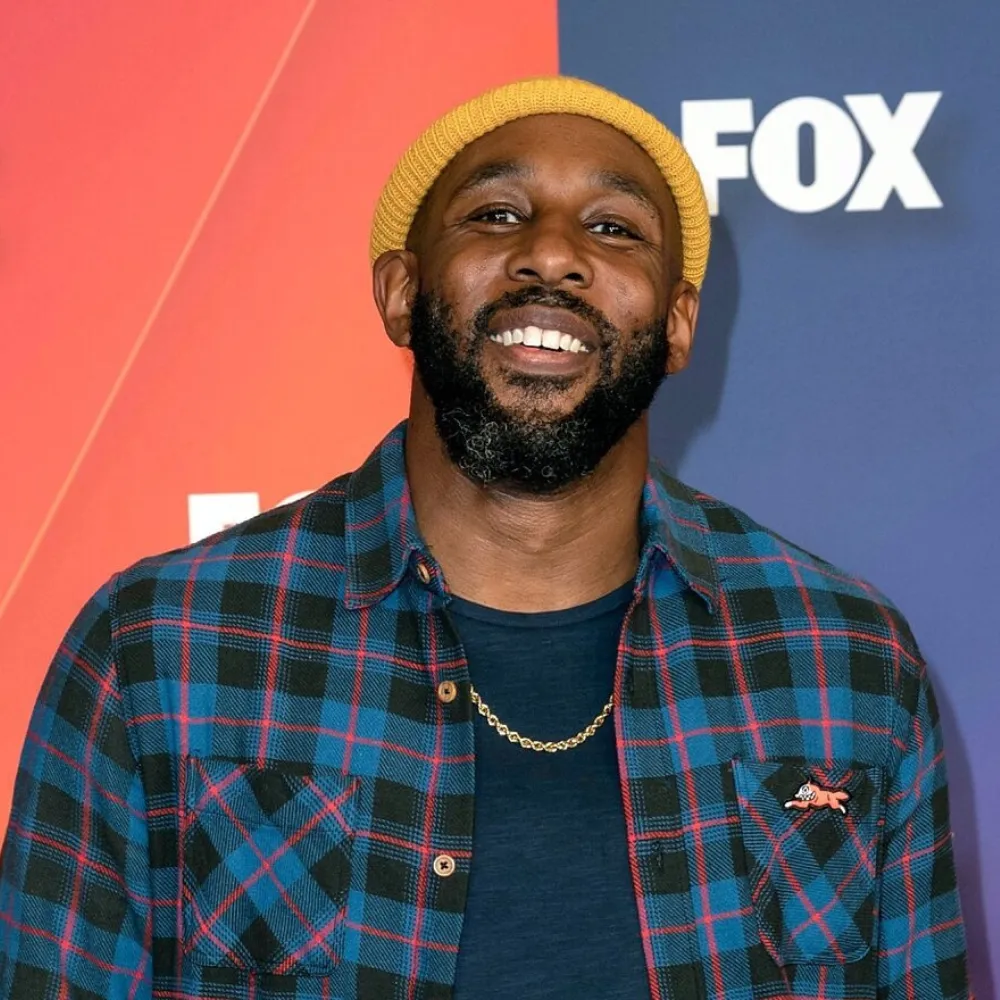 In December 2022, Twitch tragically took his own life at the age of 40. He's survived by his wife, fellow SYTYCD alum Allison Holker, and their three children.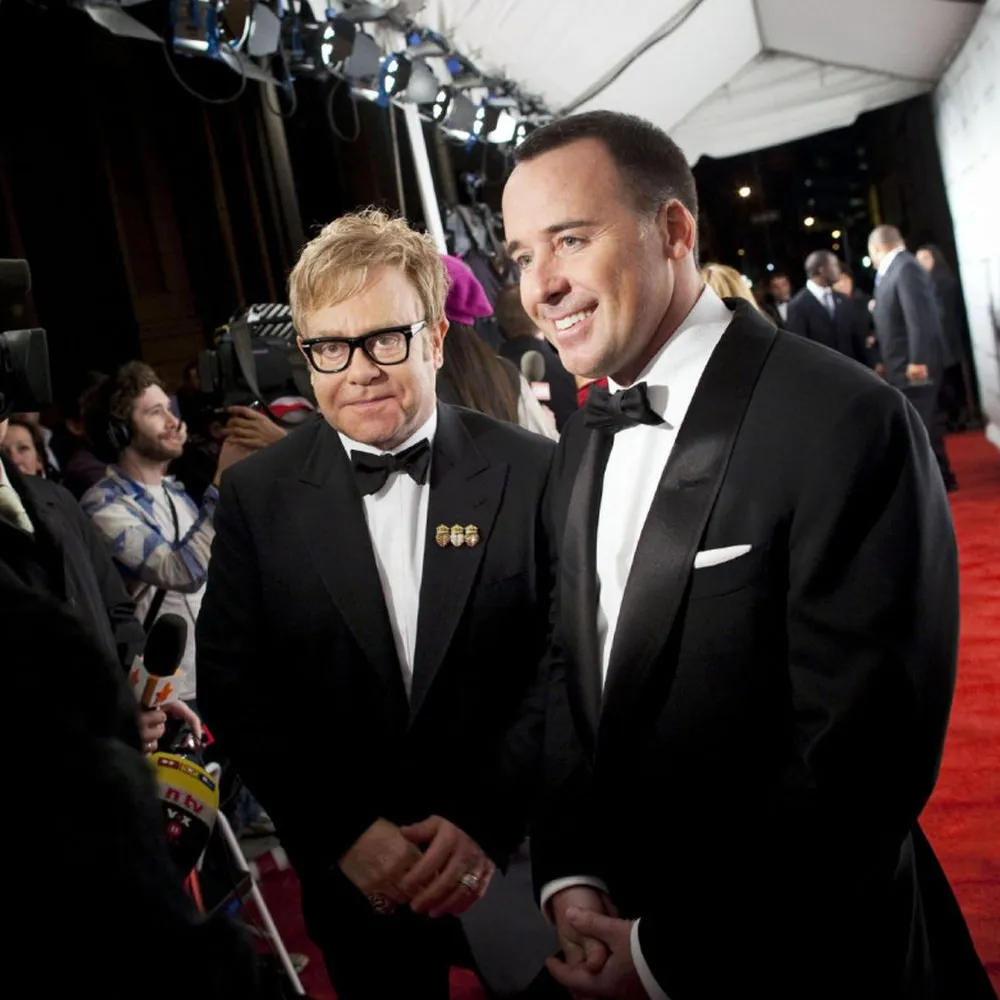 Whether they're actors, directors, interior designers, athletes, fashion icons, or writers, LGBTQ celebrities have made their mark in Hollywood and beyond for their incredible talents and abilities to overcome any obstacle standing in their way of success. Their stories have empowered countless individuals from all walks of life to be honest with their friends and families and improve their lives tremendously. Now these LGBTQ celebrities have taken their stories one step further, revealing to the public that they have found love and that they are not afraid to show off their significant others to the world. Here are the other halves of your favorite LGBTQ celebs.
Neil Patrick Harris
While his How I Met Your Mother character, Barney Stinson, maybe a total womanizer and player, notorious for his pickup lines and crazy antics with the women of New York City, in real life, Neil Patrick Harris has openly shared that he is "quite proud to say that I am a very content gay man living my life to the fullest."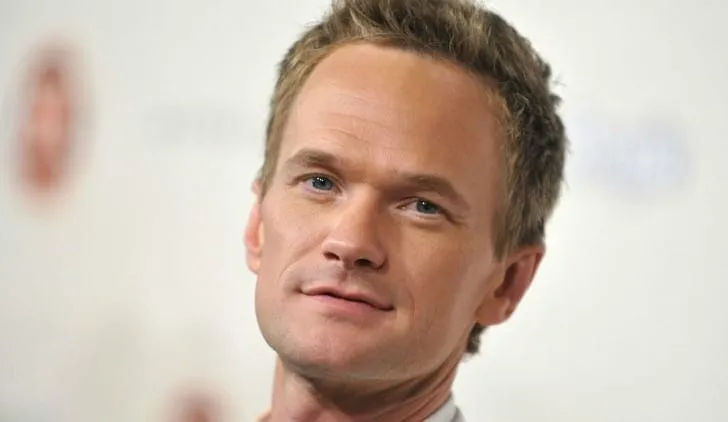 In fact, fans of the popular sitcom were shocked to see Harris portray such an unexpected character. Nevertheless, the actor has proudly shared glimpses into his family and personal life with his fans on social media.
David Burka
Neil Patrick Harris was first presumed to be in a relationship with David Burka in 2007. However, during an interview on The Ellen Degeneres Show, Harris later admitted that the two had begun dating in 2004.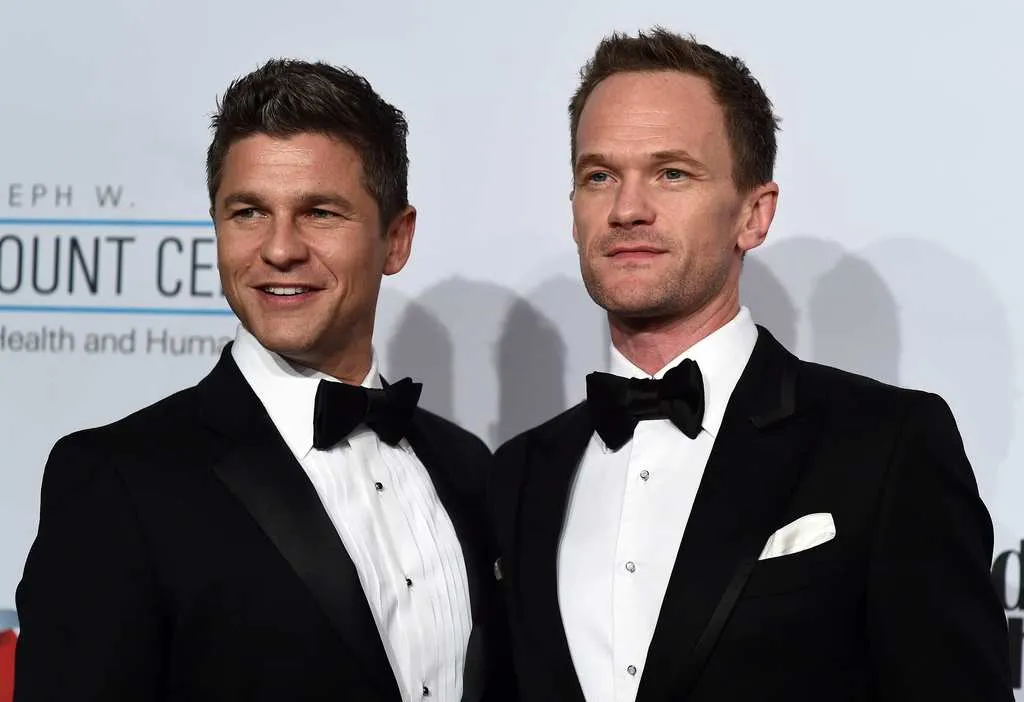 Harris and Burka even got the chance to worked together on the former's hit show How I Met Your Mother. While they didn't share a scene together, they did have fun on set. In 2010, Harris and Burka became fathers to twins Gideon Scott and Harper Grace via a surrogate. Once the Marriage Equality Act was passed, the couple said "I do" in a beautiful ceremony in Italy. HIMYM director Pamela Fryman officiated the wedding, and Elton John performed.
Anderson Cooper
Anderson Cooper has been the lead anchor of his CNN show Anderson Cooper 360° since the show debuted all the way back in 2003. That's not all though. He has also worked as a correspondent for 60 Minutes.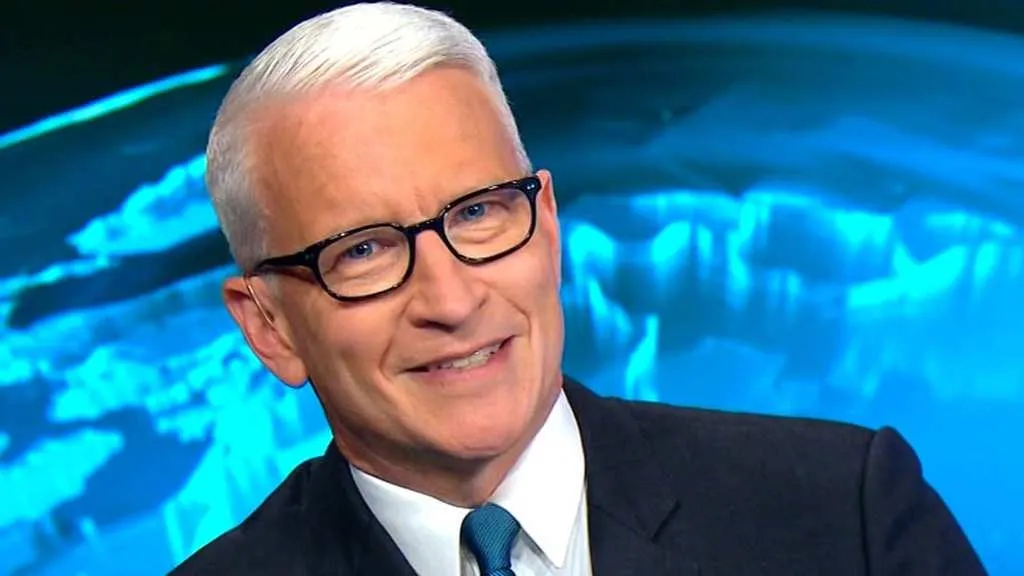 In addition to being one of the most recognizable faces in journalism, Cooper is, as the New York Times once described, "the most prominent openly gay journalist on American television." Cooper considers himself very lucky, for a number of reasons. One of those is the fact that he was able to strike a balance between having such a successful career as well as a happy and fulfilling personal life. So who exactly is Cooper in a relationship with?
Benjamin Maisani
In general, Anderson Cooper has kept his personal life out of the spotlight and avoided interview questions about his private life.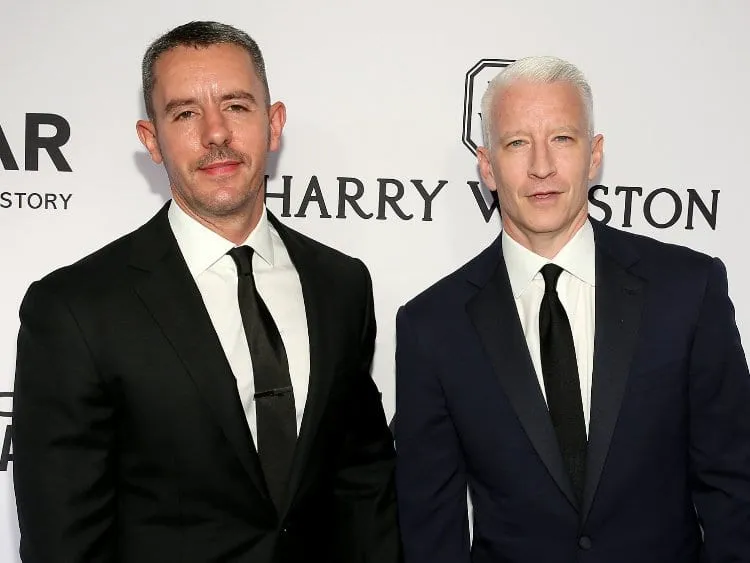 During a 2012 interview, Cooper stated, "I'm gay, always have been, always will be, and I couldn't be any more happy, comfortable with myself, and proud." Cooper first began dating bar owner Benjamin Maisani in 2009. While they've yet to tie the knot, the couple share a Rye House in Connecticut. They purchased the historic estate back in 2014.
Lauren Morelli
As a writer for Orange Is The New Black, it's no surprise why Lauren Morelli has seen so much success in recent years. However, her journey has been anything but easy.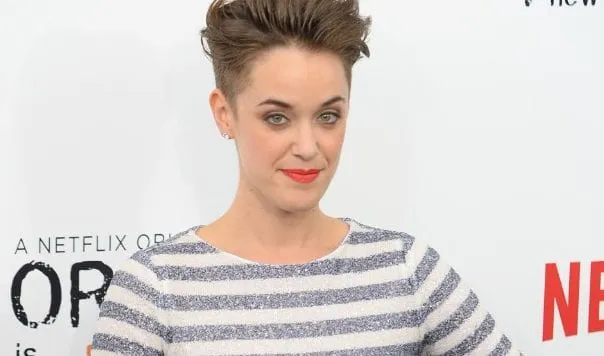 Before she took Hollywood by storm, Morelli was an aspiring dancer. Following a devastating back injury, she battled with depression while changing career paths. She first began writing as a coping mechanism and soon realized she had a knack for it. Now, she's the lead writer for one of Netflix's most popular series.
Samira Wiley
Before Morelli came out about her true sexuality, she was married to Steve Basilone for two years. Within the first few seasons of Orange Is The New Black, she filed for divorce and openly revealed her preference for women.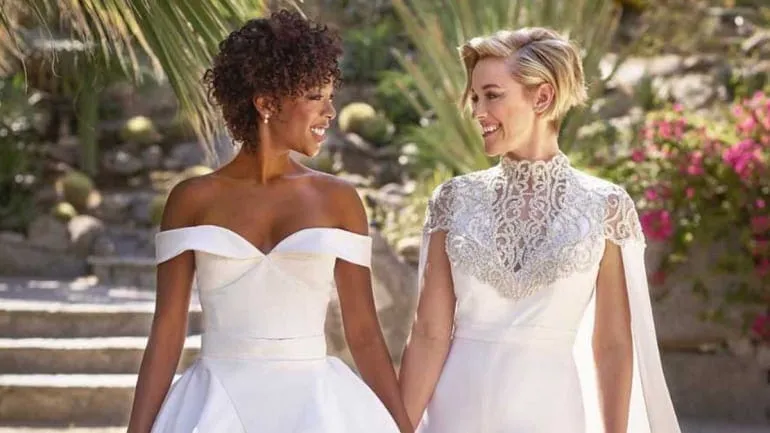 Morelli's work life and personal life crossed paths when she found love with Samira Wiley, the actress who portrays Poussey on Morelli's show. Interestingly enough, when their romance first began, Morelli was writing the script about Poussey's relationship with a woman.
Victor Garber
Famous for hit films such as Legally Blonde, Milk, and Titanic, Victor Garber has made a name for himself among Hollywood elites for his incredible versatility.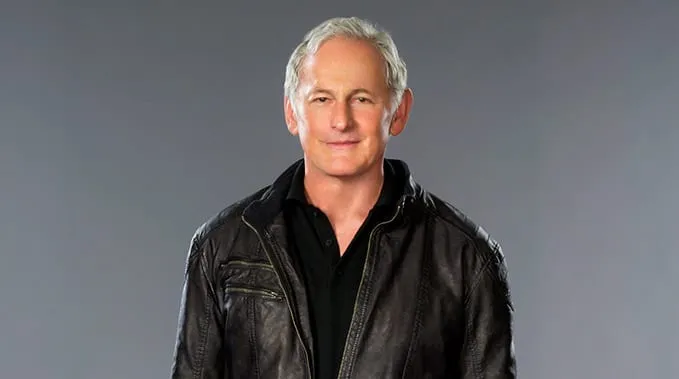 With such a successful career, it's no surprise that Garber boasts an impressive resume, with everything from a recurring role on the CW's The Flash, to a starring role on the off-Broadway musical Godspell. Garber first came out as gay in 2012, saying in a 2013 interview, "I don't really talk about it, but everybody knows."
Rainer Andreessen
Back in 2015, Garber announced his marriage to Rainer Andreesen. The couple has reportedly been together since 2000.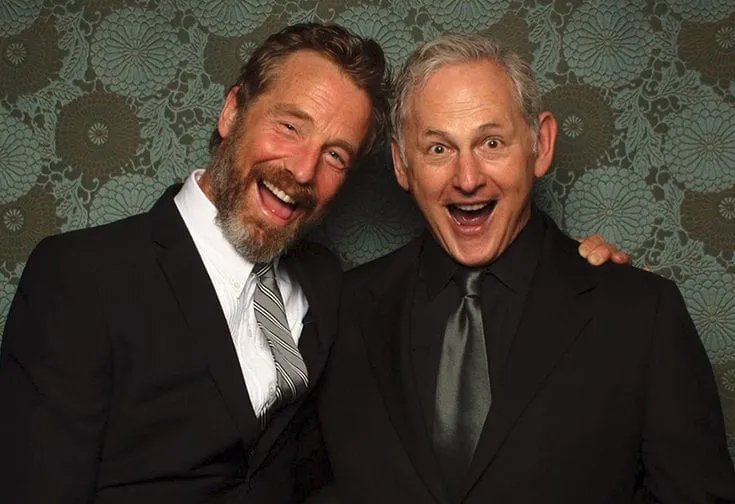 After Andreesen uploaded an adorable photo of the couple on Instagram along with the caption "YES WE DID!" his followers could only assume that the two had eloped and tied the knot in Canada. Following the announcement, a whole slew of celebrity co-stars and friends congratulated the happy couple. After 15 years, Garber had finally made his love official.
Zachary Quinto
Zachary Quinto, an actor famous for his role on Heroes, came out as gay to the general public in October 2011.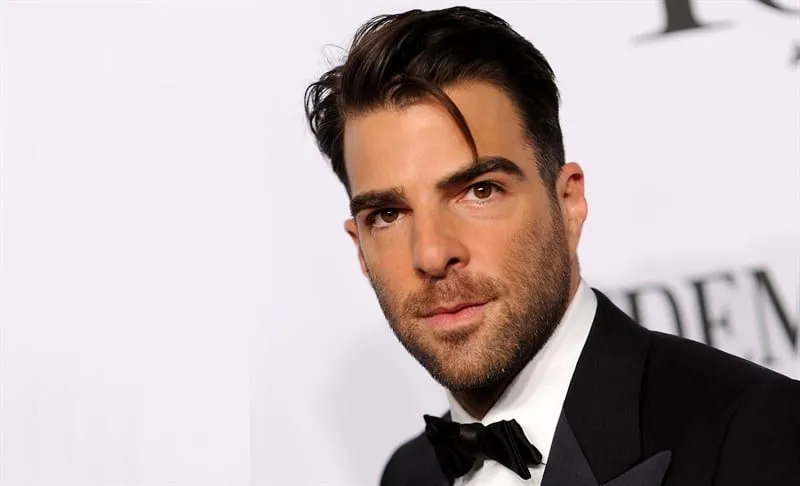 He said "that living a gay life without publicly acknowledging it is simply not enough to make any significant contribution to the immense work that lies ahead on the road to complete equality." Since coming out, Quinto has become heavily involved with various gay rights organizations, including the It Gets Better Project, a campaign to aid in the suicide epidemic among LGBT youths.
Miles McMillan
Zachary Quinto first began dating painter and model Miles McMillan in 2013. Since then, the pair has been inseparable.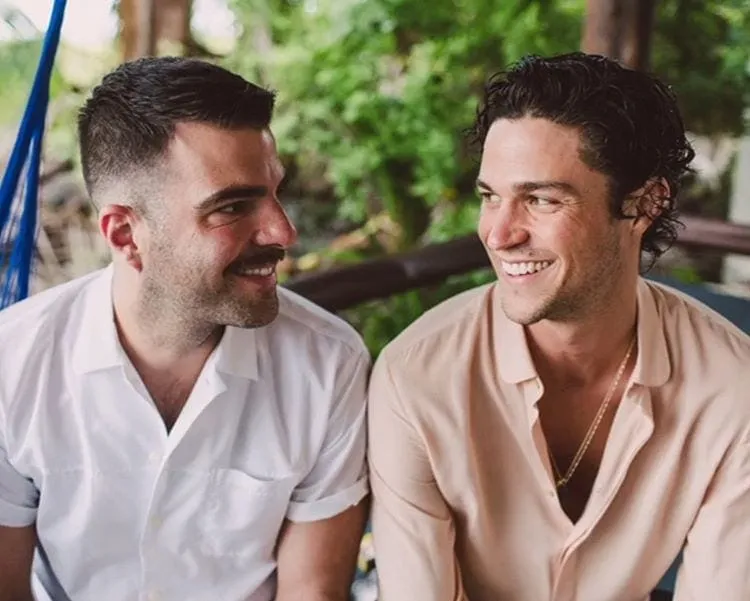 While they've yet to tie the not, Quinto and McMillan have shared a Manhattan apartment since 2015, where they currently live along with their dogs, Skunk and Rocco. For the time being, they're enjoying life together. Vogue wrote about the pair in 2015, calling Quinto and McMillan "a power couple whose domain extends across the film, fashion and art scene."
Nate Berkus
Nate Berkus became famous for his incredible eye for interior design earning himself his own self-titled DIY show.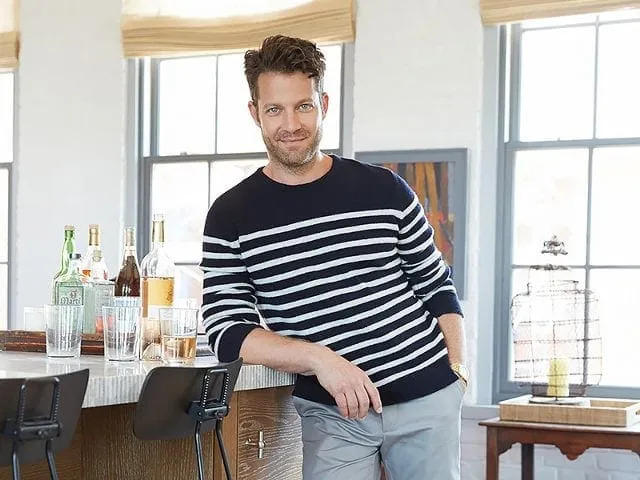 On numerous occasions, Berkus has been featured as a guest on The Oprah Winfrey Show. With such a successful career, it was only a matter of time before Berkus left the single life behind for good. In 2012, Berkus met Jeremiah Brent. The two hit it off right away and soon fell in love. Within a year, they were happily engaged!
Jeremiah Brent
Jeremiah Brent and Nate Berkus got engaged in April 2013. A year later, they tied the knot. Thanks to the TLC network, the couple was able to launch their own show in 2017, titled Nate & Jeremiah By Design.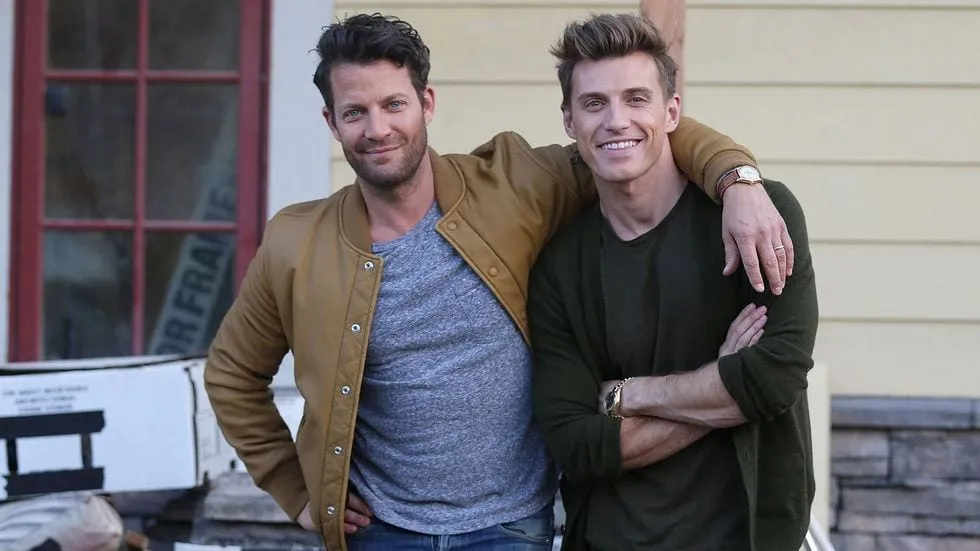 These days, they reside in West Hollywood, California with their two kids who were brought into the family via surrogates. The couple's daughter, Poppy Brent-Berkus, was born in 2015, and their son, Michael Brent-Burkus was born in March 2018. They are happy and thriving.
Kristen Stewart
She was once famous for her highly publicized relationship with Twilight co-star Robert Patterson and subsequent affair with director Rupert Sanders.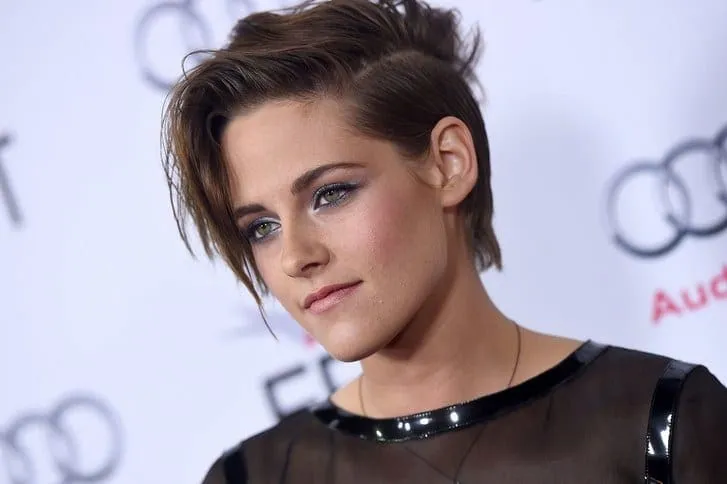 However, Stewart leads a much different lifestyle these days. In a February 2017 episode of Saturday Night Live, Stewart explained that she is "so gay." In a later interview, she described that she's actually bisexual, and has dated various women in recent years. That being said, she remains open to the idea of dating men, saying, "I want to try everything."
Stella Maxwell
Since coming out as bisexual, Kristen Stewart has been spotted with numerous male and female celebrities. Most recently, Stewart and Victoria's Secret model Stella Maxwell have become an item.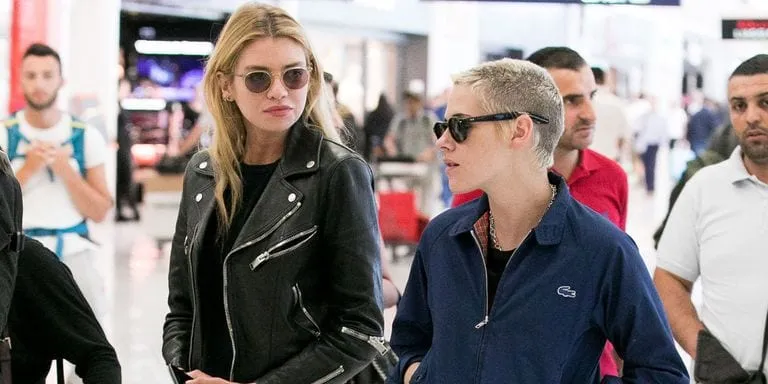 The two have been together since 2016, and things seem to be going quite smoothly for the lovebirds. It's no surprise to us why Stewart has chosen Maxwell as her partner, especially considering Maxwell's status as number 1 on Maxim's "Hot 100 List." The two are certainly a Hollywood power couple.
Cheyenne Jackson
Jackon is actor famous for roles both on Broadway as well as television series like American Horror Story.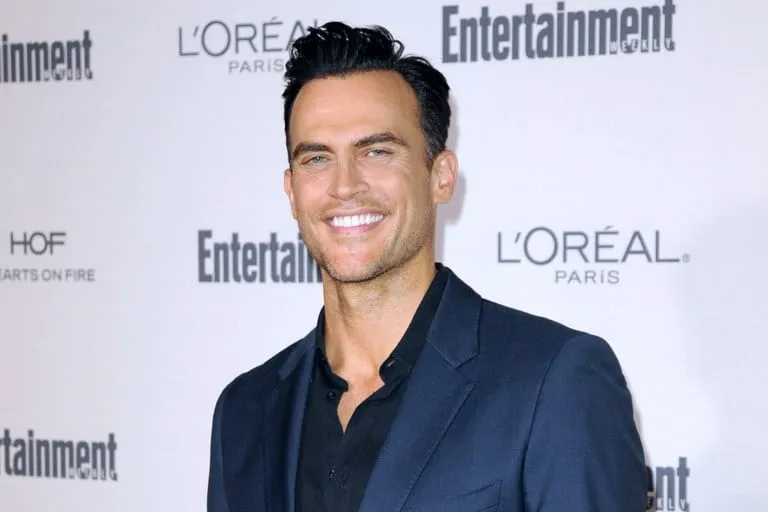 Cheyenne Jackson has used his platform as an openly gay celebrity to make a difference by speaking out for gay rights and improving the status of the LGBTQ community. In addition to his work as an ambassador for the Foundation for AIDS Research, Jackson has also served as a spokesperson for the Hetrick-Martin Institute, an organization aimed at helping LGBTQ youth.
Jason Landau
Following a 13-year relationship which ended in divorce in 2013, Cheyenne wasn't sure he would ever find love again.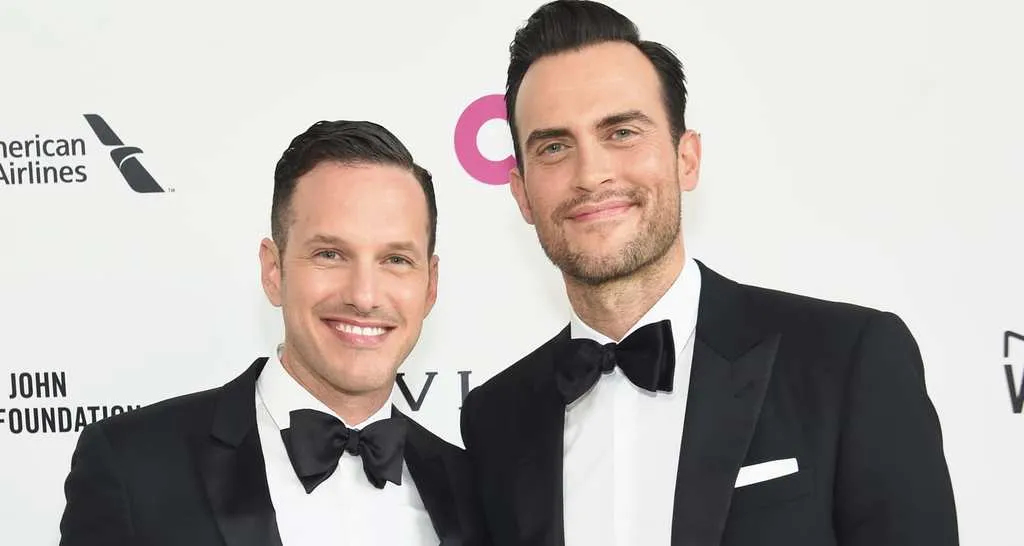 Then, just one month after divorcing his ex, he met and began dating fellow actor Jason Landau. As someone who has never stayed single for long. Cheyenne got engaged just six months into his relationship with Landau, and the two tied the knot in Encino, California in 2014. In October 2016, the happy couple brought twins Willow and Ethan into the family.
Ellen Page
Ellen Page got her big break when she starred as a pregnant teenager in the award-winning romantic comedy Juno. Since then, she's become a household name in Hollywood.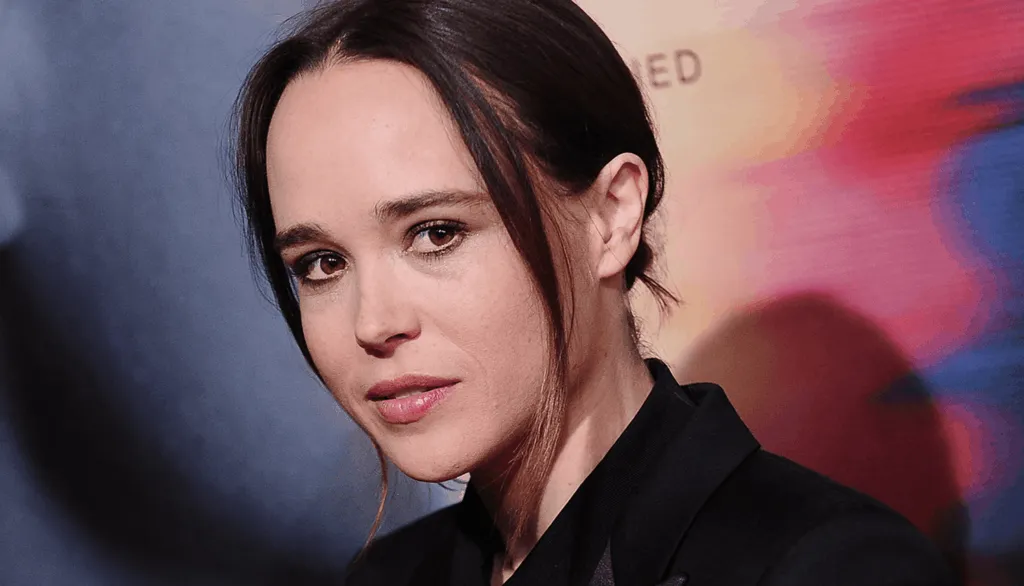 Like many other celebs on our list, Page has used her platform as a famous actress to stand up for what's right. In recent years, she's become a strong advocate for gay rights and an inspirational figure within the LGBTQ community. One could only hope that Page's love life is as exciting as her career.
Emma Portner
Ellen Page was once rumored to be romantically involved with artist Samantha Thomas, but the couple's relationship reportedly fizzled out.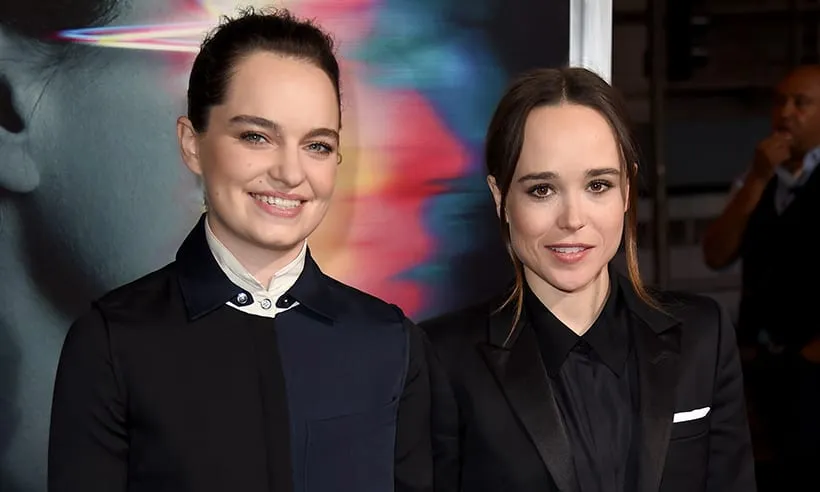 Since 2018, Page has a new love interest in dancer Emma Portner. These lovebirds first met via Instagram, and have since fallen head over heels for each other. It wasn't long before the two moved in together. While they now share a place in LA, Page is often in Hollywood working as an actress, while Portner runs a dance company in New York.
Jodie Foster
Jodie Foster has been an openly gay celebrity for several decades. From 1993 until 2008, she was romantically involved with Cydney Bernard.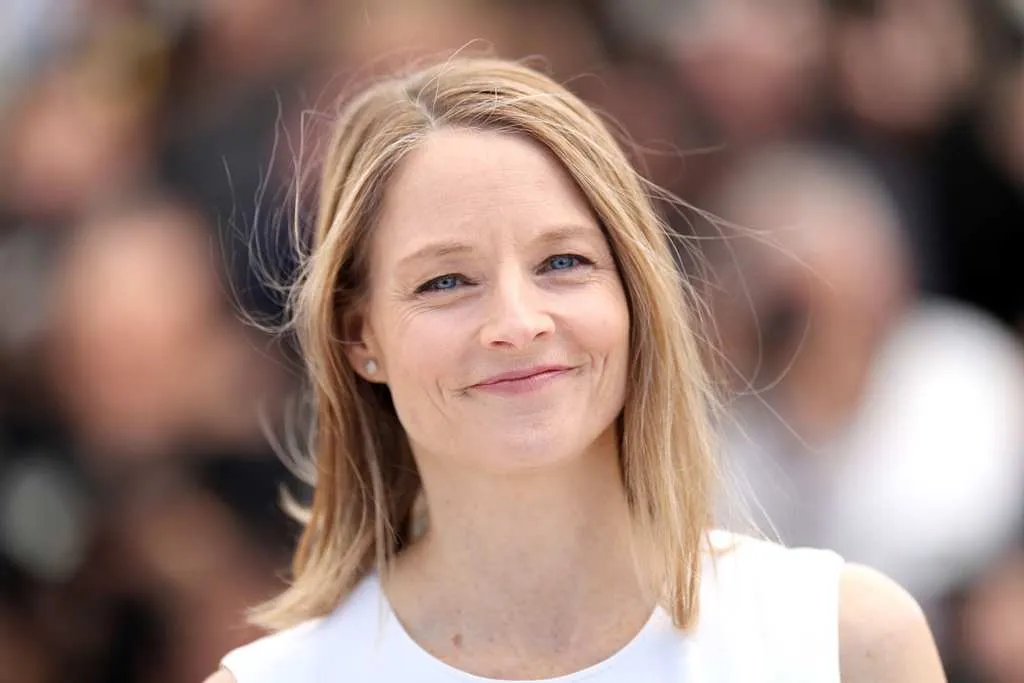 During a 2013 Golden Globes acceptance speech, Foster said, "I already did my coming out about a thousand years ago back in the Stone Age, those very quaint days when a fragile young girl would open up to trusted friends and family and co-workers, and then gradually and proudly to everyone who knew her, to everyone she actually met."
Alexandra Hedison
Although Foster's relationship with Cydney Bernard didn't end with a "happily ever after," the couple still share two children together. These days, Foster is married to actress and photographer Alexandra Hedison.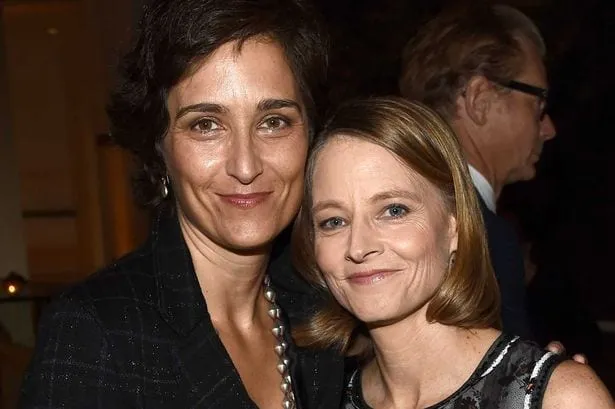 The couple said "I do" in 2014 and have remained faithful to one another ever since. While Foster once found it difficult to open up about her sexuality, the award-winning actress no longer tries to hide anything. The only thing that concerns her these days is her happiness and that of her beautiful family.
Ellen DeGeneres
In many ways, Ellen DeGeneres paved the way for the new generation of openly gay celebrities. DeGeneres first came out in 1997, and initially, the world didn't take the news well.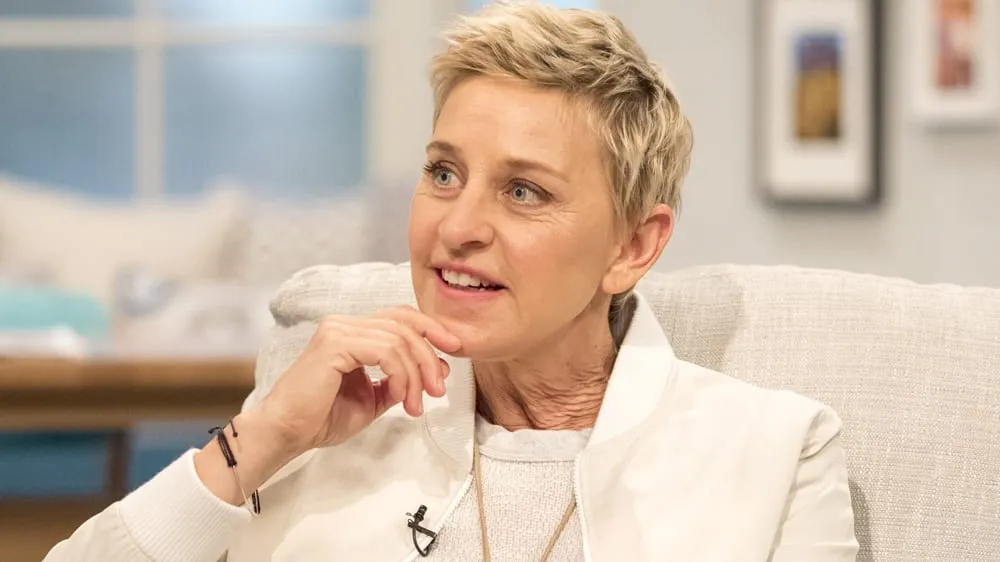 Believe or not, her self-titled sitcom was taken off the air for a bit. Luckily, Ellen refused to be silenced and continued to push her career forward. Her persistence has paid off in a big way, and she eventually became the first openly gay talk show host on TV.
Portia de Rossi
Ellen met Portia de Rossi in 2004, and the pair hit it off immediately. Although Rossi had previously pursued men romantically, there was no denying the chemistry that she shared with Ellen.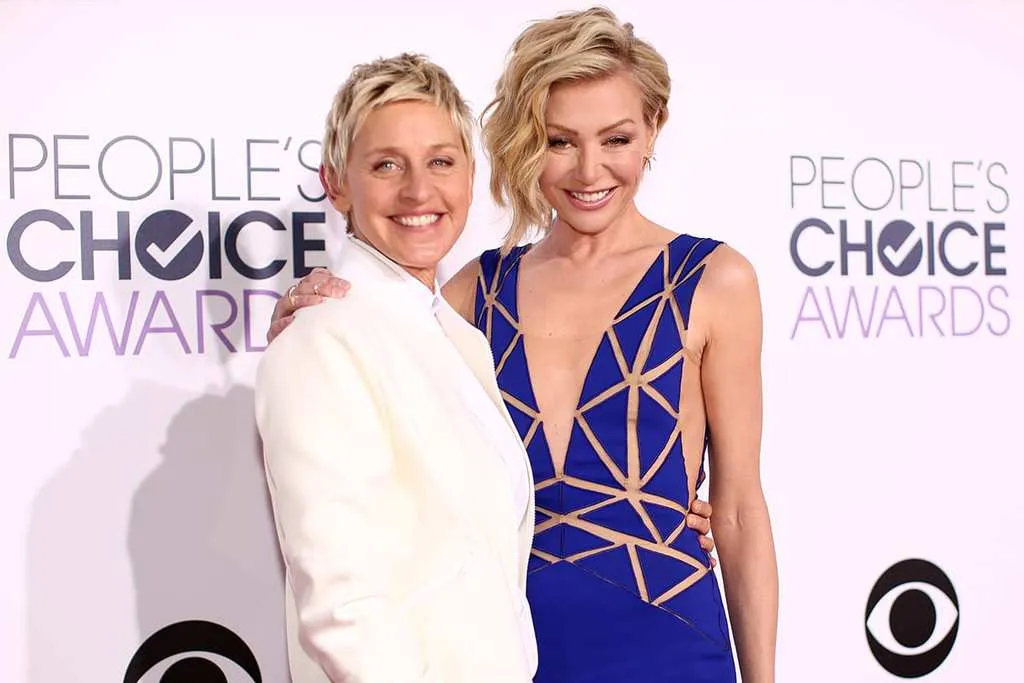 The couple soon became engaged and tied the knot after same-sex marriage was made legal in 2008. Rossi and DeGeneres are truly a match made in heaven and the couple is never shy when it comes to showing off their love for one another to the world.
Orlando Cruz
For gay professional athletes, particularly in combat sports, the process of coming out is never simple.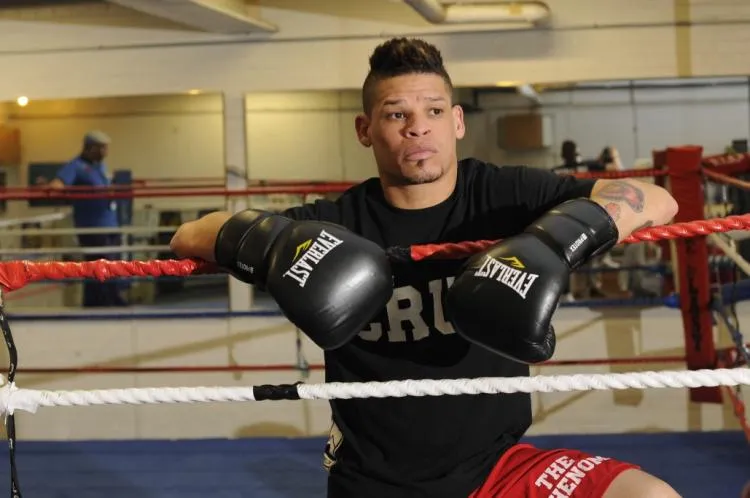 Former professional boxer Orlando Cruz experienced this first hand when he came out during the peak of his fighting career. In a sport dominated by a macho mentality, the task must have been incredibly difficult for Cruz. Ever since he became open about his sexuality, the Puerto Rican boxer has shown the world just how much he loves his husband and other half.
José Manuel Colón
After Orlando Cruz came out as gay, it only took a year before the world met his partner, Jose Manuel Colón. The couple got married in 2013, having a beautiful Central Park ceremony.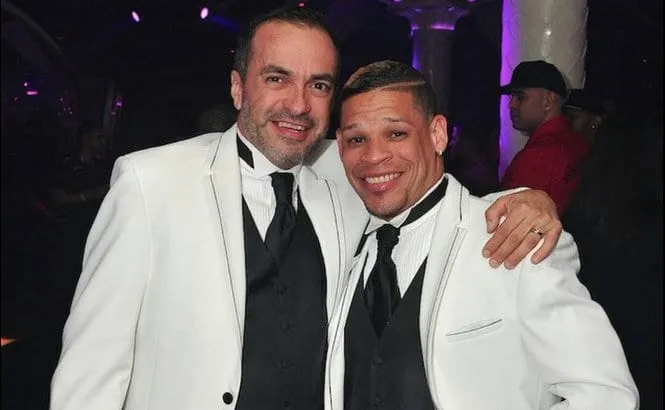 Although the pair tries to keep their personal life out of the spotlight, Cruz took to Facebook after the wedding to share some thoughts about the man of his dreams. He wrote, "Giving thanks to my heavenly father for one more day of life and with [my] husband José Manuel in it."
Lance Bass
Best known for his '90s music career as a member of the boyband 'NSYNC, Lance Bass has done his best to keep his personal life as quiet as possible.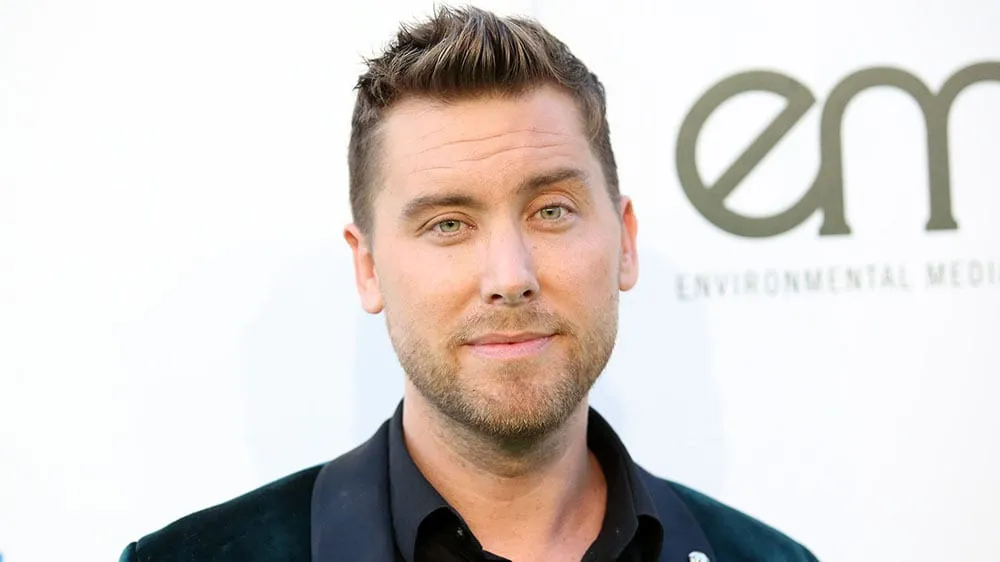 In 2006, Bass finally opened up to the world about his sexuality, appearing on the cover of People magazine. A year later, Bass published his autobiography titled Out of Sync, where he shared even more about his struggle growing up as a closeted gay man and the courage it took to come out.
Michael Turchin
After coming out to the world as gay, Bass spent the better part of five years publicly dating men and figuring out what exactly he wanted.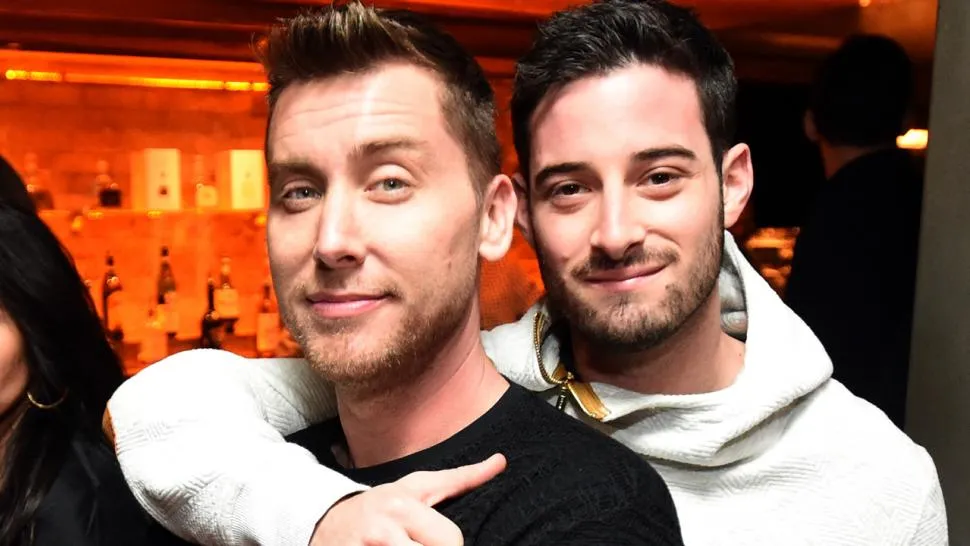 Then, in 2011, he found what he had been searching for when he started dating Michael Turchin. Three years into their relationship, Bass and Turchin tied the knot on an E! network special titled Lance Loves Michael: The Lance Bass Wedding. Lance and Michael's groundbreaking wedding ceremony became the first-ever televised same-sex marriage.
Jim Parsons
Famous for portraying the lovable and goofy nerd Sheldon Cooper on The Big Bang Theory, Jim Parsons' real-life persona is quite different from his sitcom counterpart.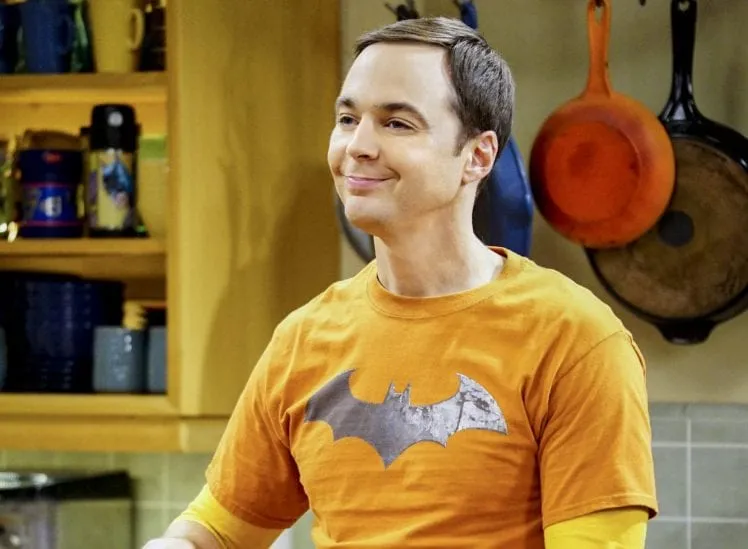 While Sheldon is known for his romantic pursuit of fellow genius and geek Amy Farrah Fowler, Jim has been openly gay since his acting career took off. In fact, during a New York Times interview, he revealed that he's been in a serious relationship with a man for more than a decade.
Todd Spiewak
The mystery man who Jim Parsons has been dating for over ten years and whom he spoke of in his New York Times interview is none other than successful art director Todd Spiewak.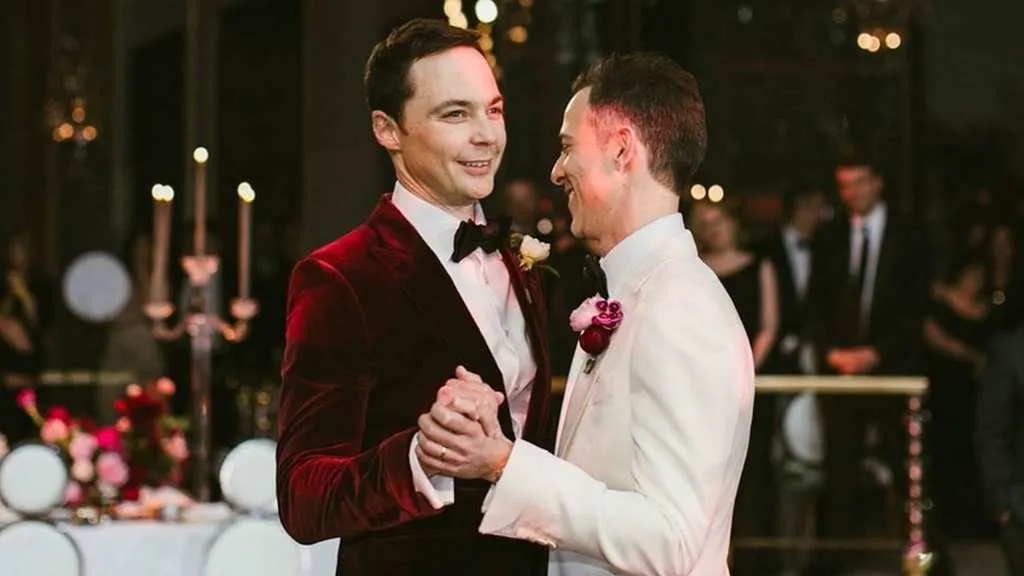 The couple has given the public a glimpse into the personal lives, sharing that their lifestyle is surprisingly boring and normal, despite the fame, fortune, and never-ending spotlight. During a 2013 interview with E!, Parsons claimed that they have "a regular life, boring love."
Robin Roberts
Every day, Robin Roberts brings us news stories from all over the country on Good Morning America. While the headlines which she shares tend to be positive and upbeat, Roberts faced some much darker news in 2013.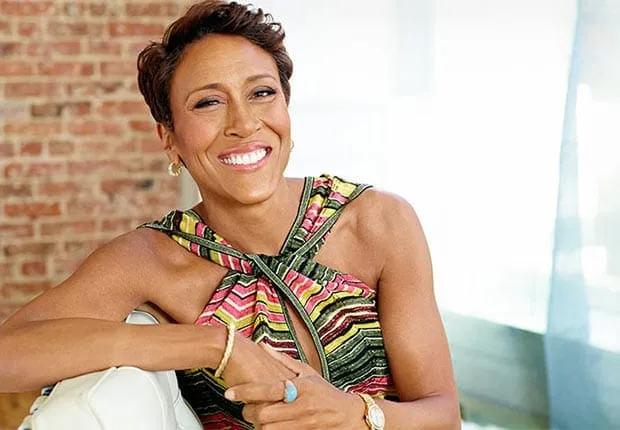 That year, she opened up to viewers about her ongoing battle with breast cancer. In the aftermath of her diagnosis, Roberts learned what was most important and soon came out to the world as gay. She even recently shared that she's been in a long-term relationship.
Amber Laign
Although Robin Roberts didn't publicly come out as gay until 2013, she's been romantically involved with professional massage therapist Amber Laign since 2005.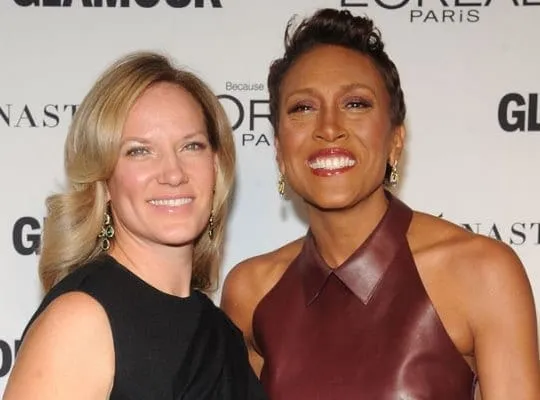 Eight years is an awfully long time to keep such a big secret! Despite facing all kinds of scrutiny and adversity from the public, Roberts and Laign have proved that love will always triumph. The happy couple refuses to let anything stand in their way. In 2015, Equality Forum named Roberts as one of their 31 Icons of the 2015 LGBTQ History Month.
Sir Elton John
Regardless of your music trivia knowledge, chances are you've heard of the legendary Sir Elton John. He's had many popular hits such as "Candle In The Wind," "Your Song," "Rocket Man," and "Tiny Dancer."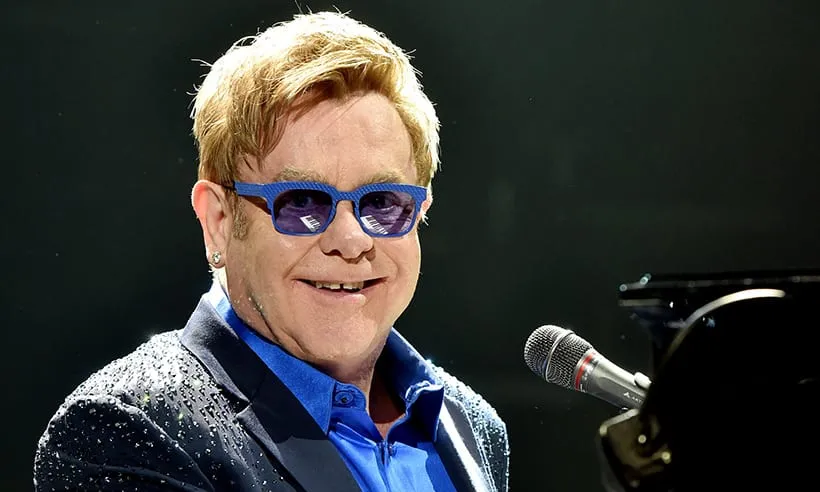 In addition, he did plenty of work on the soundtracks of films like Lion King, Aida, and Billy Elliot the Musical, it's no surprise why Elton John is widely considered as one of the greatest musical performers of all time. He's also been an openly gay musician since the late 1980s.
David Furnish
After a pair of failed marriages and speculations regarding his true sexuality, Sir Elton John finally shared that he was "comfortable" as a gay man and announced his relationship with David Furnish in 1993.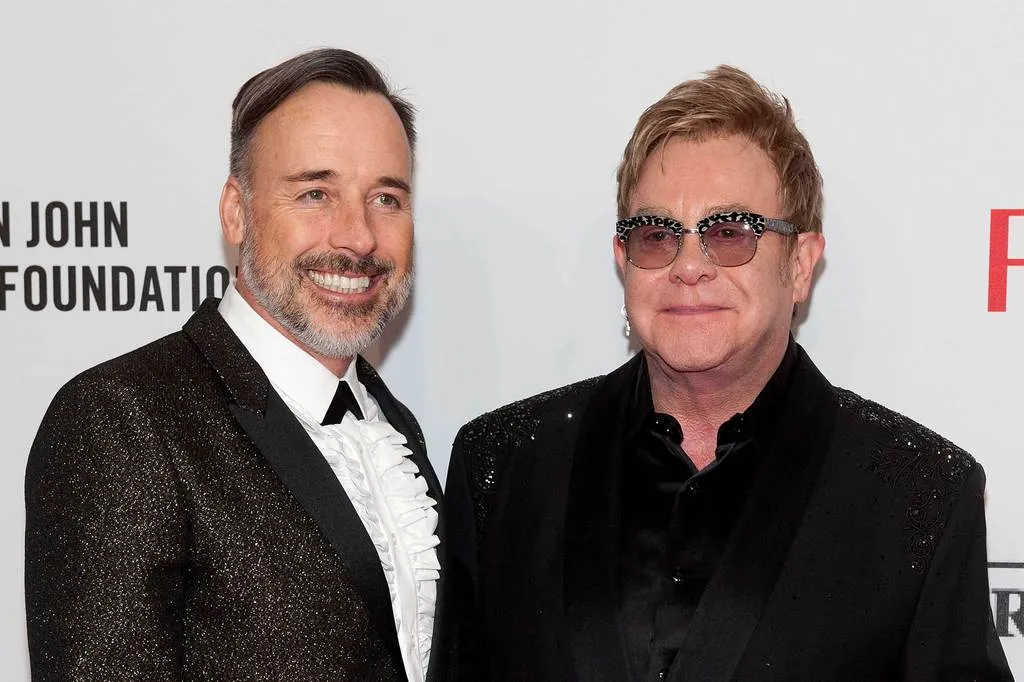 In 2005, the couple had a civil union and the first-ever civil partnership in the UK. In 2014, John and Furnish were finally able to marry once the law passed in England. Since their marriage, the couple has brought two sons into their incredibly talented family.
Jillian Michaels
Famous from her role as a personal trainer and motivator on The Biggest Loser, Jillian Michaels has built up an empire of workout DVDs and fitness equipment from scratch.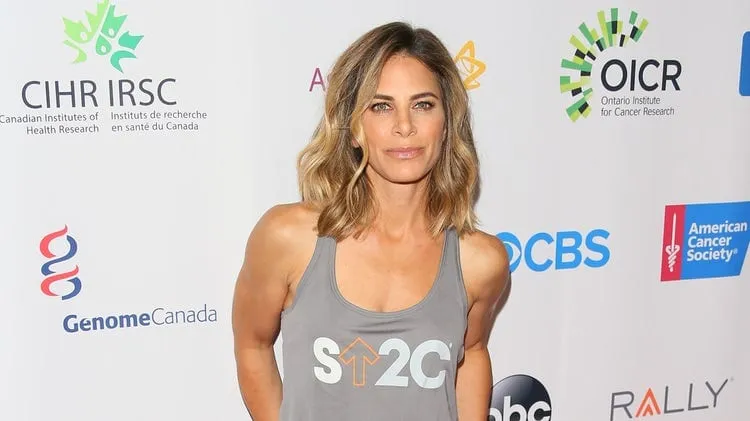 She has worked hard, overcoming lots of adversity to get to where she is today. Her work ethic and positive attitude is evident to anyone who has seen her work. With regards to her sexuality, Michaels once stated that she didn't even realize she was gay until she was in her 20s.
Heidi Rhoades
Jillian Michaels began dating her current wife, Heidi Rhoades, in 2009. After Michaels popped the question in a movie theater, the couple went on to welcome two children into their family.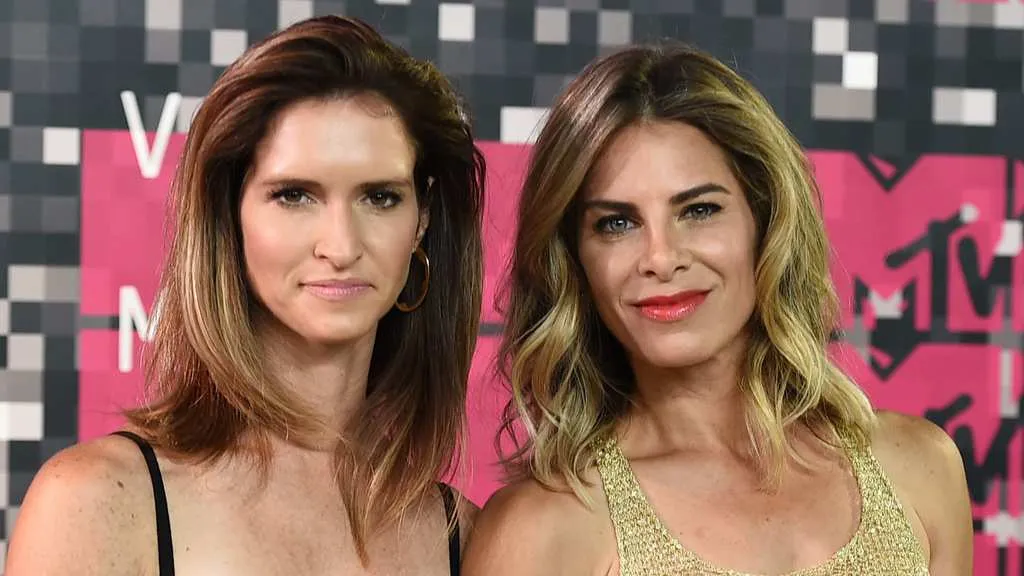 In May 2012, Rhoades gave birth to a baby boy, and later that month, Michaels adopted a two-year-old girl from Haiti. Speaking about love and sexuality, Michaels once said, "As long as you fall in love…it's like organic food. I only eat healthy food, and I only want healthy love!"
Louis van Amstel
World renown professional dancer Louis van Amstel has been a featured competitor on Dancing with the Stars since the competition's first season in 2005.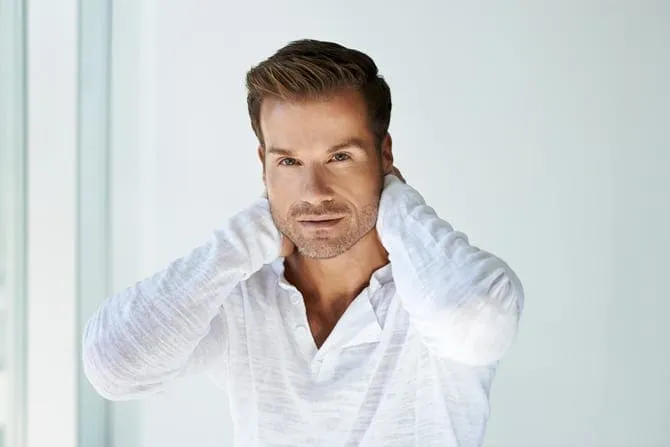 He's performed alongside celebrities such as Lisa Rinna, Kelly Osbourne, and Pricilla Presley. When he's not on stage, Louis enjoys time with his husband, who has appeared on the dancer's Instagram page on numerous occasions. Louis and his partner have never been shy when it comes to sharing their love, even posting a photo flaunting their marriage license.
Joshua Lancaster
After maintaining a long distance relationship with Joshua Lancaster for four years, Louis van Amsel decided the time had come to make things official and take their romance to the next step.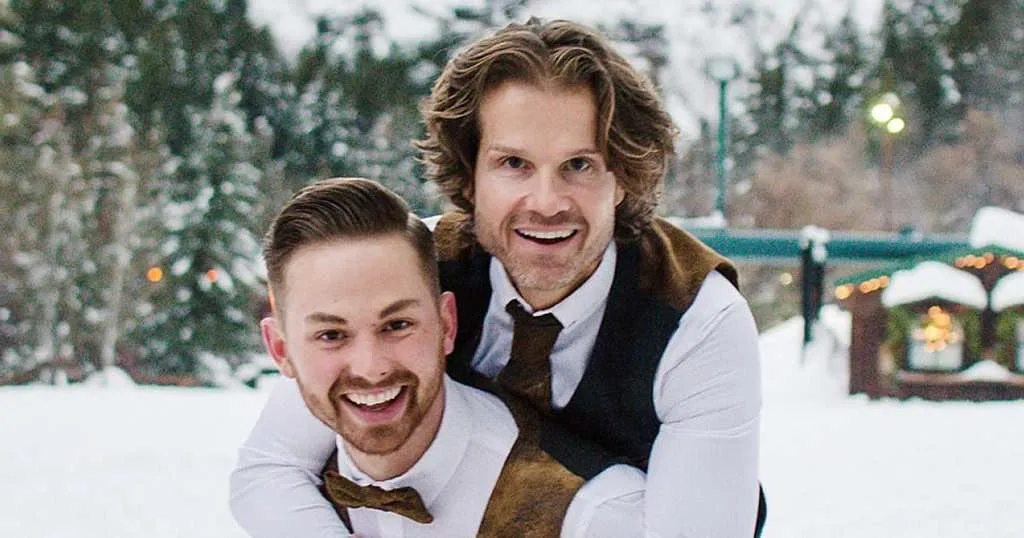 Lancaster packed his things and moved to Utah from Texas in order to be closer to the man of his dreams. In January 2016, the couple finally tied the knot in front of friends, family, and fellow celebs. In fact, Kelly Osbourne was the flower girl!
Tom Ford
Whether it's high-end fashion or fancy fragrances, Tom Ford probably has his name on it. While studying in the Big Apple, the fashion icon discovered he was gay.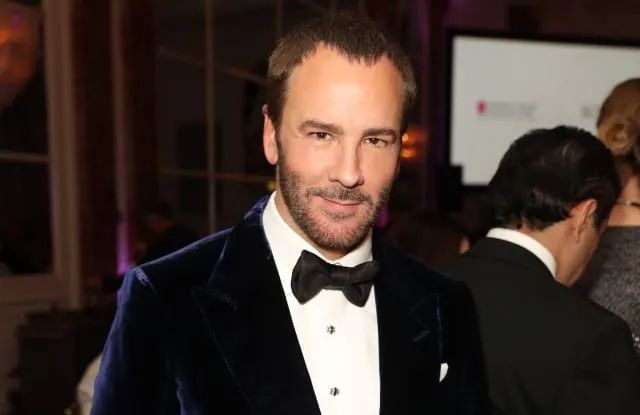 Serving as the creative director for big-name fashion houses like Gucci and Yves Saint Laurent, Ford went on to start his own label. In addition, he has taken on side projects in screenwriting, film directing, and producing. With such an impressive resume, it was only a matter of time before Ford found the love of his life.
Richard Buckley
Tom Ford began dating Richard Buckley more than three decades ago, and the pair has been absolutely inseparable ever since.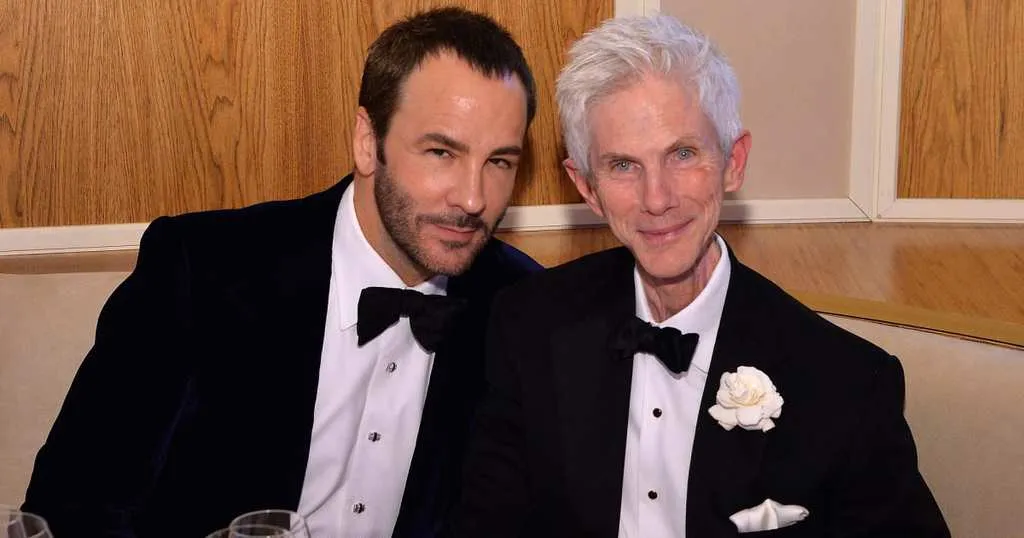 During one interview, Ford spoke of his relationship with the successful magazine editor and journalist, saying, "It was literally one of those things. It was literally love at first sight." In 2012, Ford and Buckley welcomed a son named Alexander John Buckley Ford, into their family with open arms and, two years later, the couple officially tied the knot.
Tom Daley
In 2012, Tom Daley took the Olympic games by storm, putting on an impressive performance as a member of the British swim team.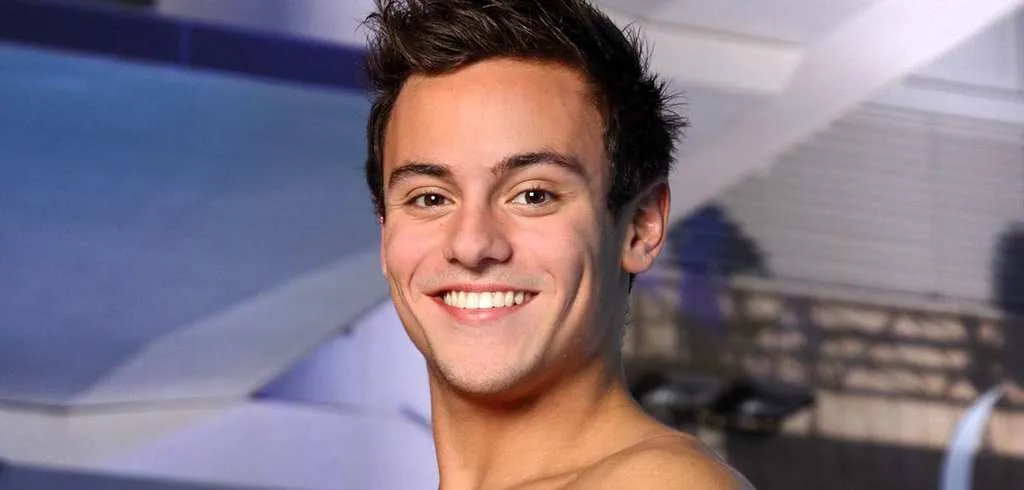 The whole world watched as Daley took home a bronze medal. A year later, Daley took to YouTube to publicly come out as gay. According to the British swimmer, a "massive weight" had now been lifted off his shoulders, and he felt that he could finally be himself. A few years later, he found the love of his life.
Dustin Lance Black
Despite an age difference of 20 years, Tom Daley had fallen head over heels for film director and producer Dustin Lance Black.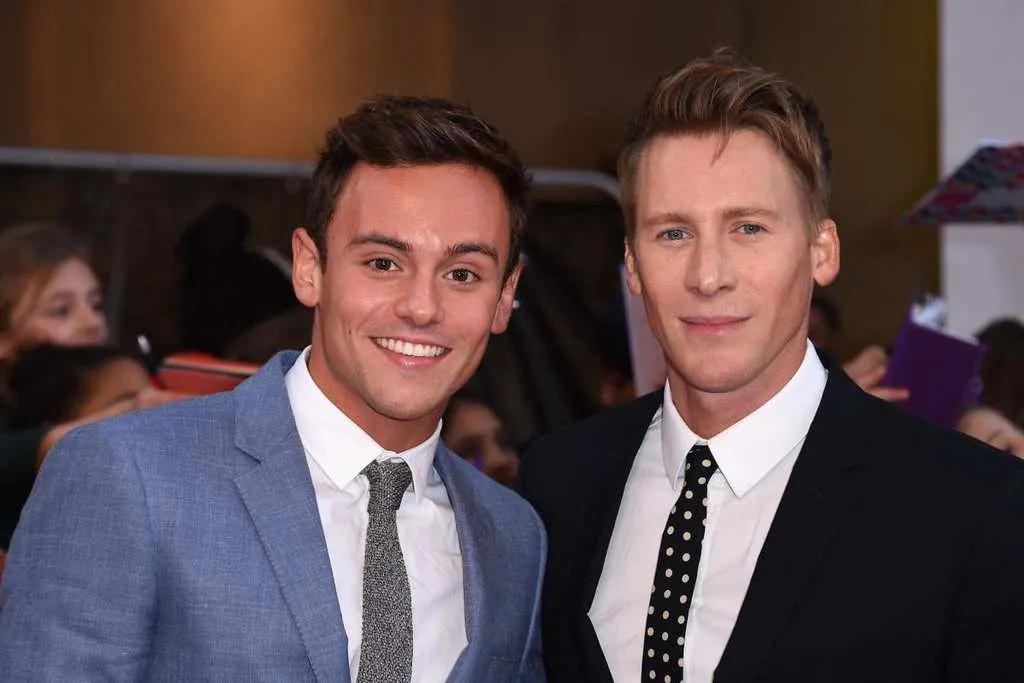 By 2015, the lovebirds were engaged and, in 2017, they made their romance official, tying the knot in Daley's hometown of Plymouth, England. Daley may be an incredibly talented swimmer, but Black is also extremely successful in his field of work. In fact, he's even won an Oscar for Best Original Screenplay in 2008 for his film, Milk.