Getting ready for your Halloween bash? Don't sweat it! We've got your back with some creepy-yet-tasty appetizers. Think stuffed cockroaches, puking pumpkins, and heaps of skeleton bones. No hungry ghouls or goblins at your party – we promise!
-Advertisement-

1. Mummified Garlic Bread
Get ready to feel the Halloween vibes with this easy and super fun appetizer that will make everyone, even the pickiest eaters, happy. Turn ordinary garlic bread into cute mummy creations using string cheese. It's a spooky and delicious treat!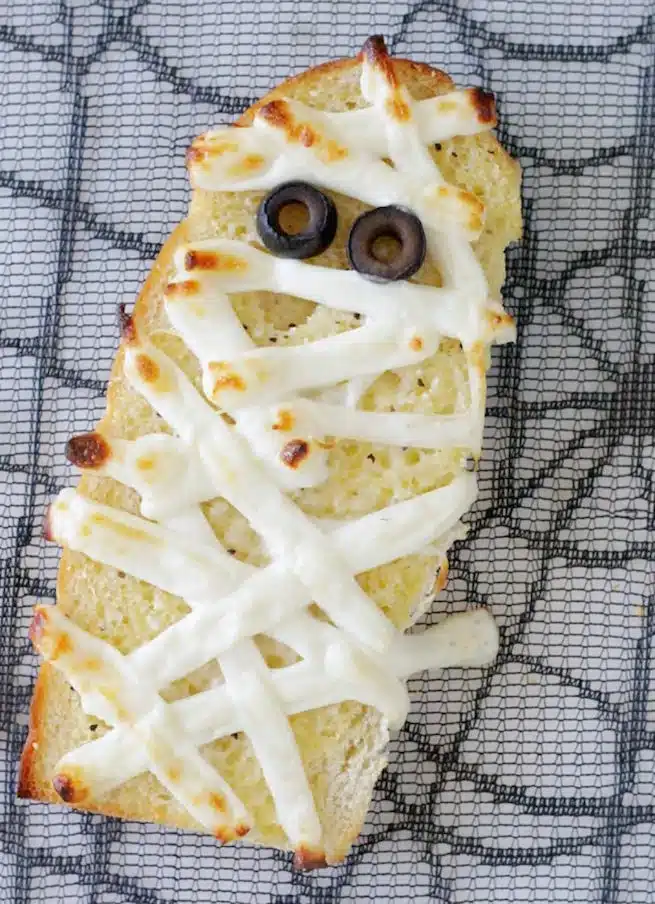 2. Skeleton Veggie Tray
Counteract the sugary Halloween treats with a fun and wholesome choice like the skeleton veggie tray. While candy gets all the attention, this creative and nutritious option adds a refreshing touch to the celebrations.
-Advertisement 3-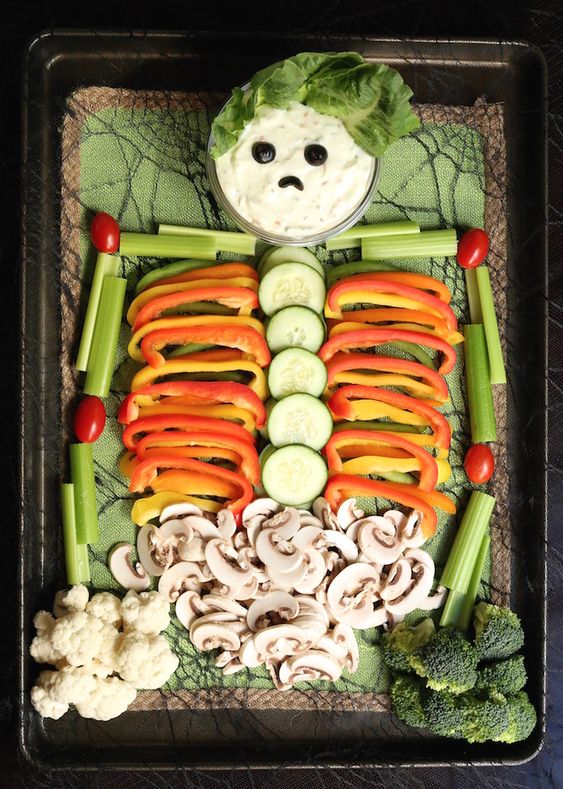 3. Graveyard Taco Dip
Prepare for Halloween with a taco dip that's spooky and yummy. Transform a usual dip into something eerie by crafting a graveyard scene on top, using baked tortillas to shape a scary tree and tombstones. It's a playful way to bring some Halloween flair to your table!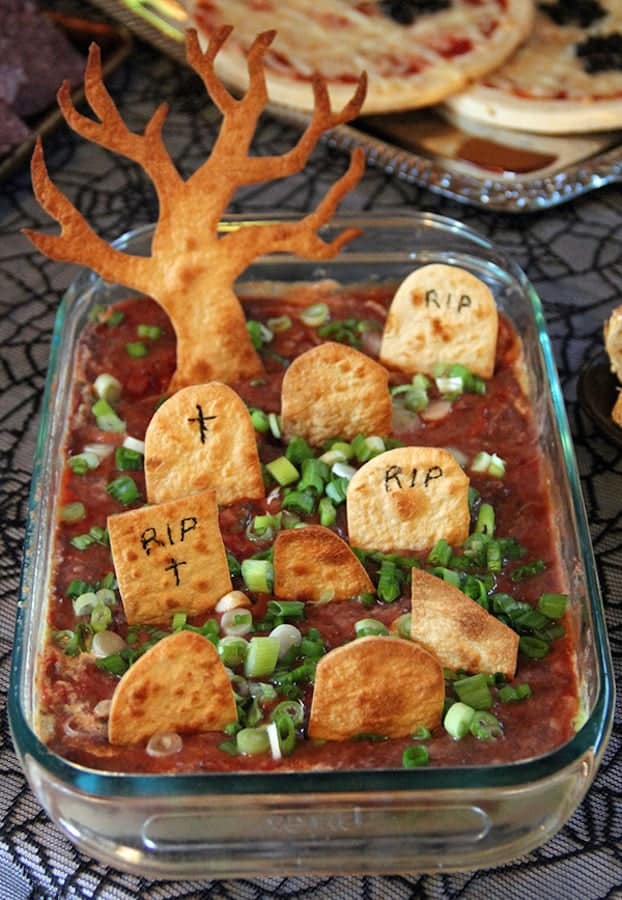 4. Stuffed "Roaches"
If you want a Halloween appetizer that's both creepy and delicious, try making these stuffed dates that cleverly look like cockroaches. This eerie treat involves turning regular dates into lifelike critters that will give your guests a spooky surprise.
-Advertisement-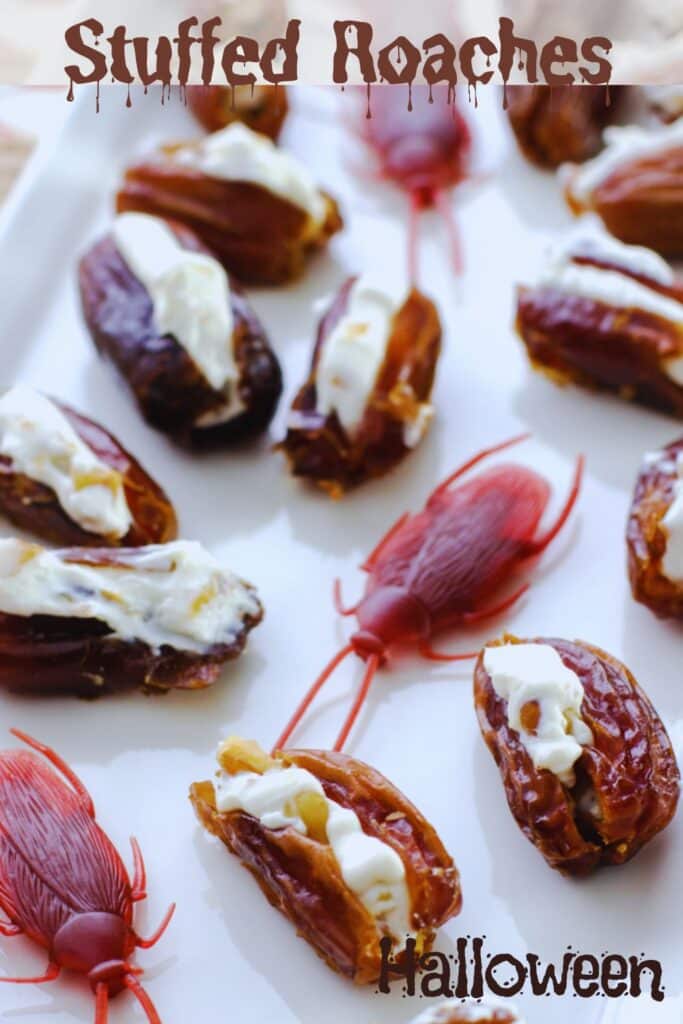 5. Guacamole Puking Pumpkin
Make your Halloween party awesome with a standout and playful appetizer that everyone will remember: the guacamole puking pumpkin. This festive dish brings the Halloween spirit to life in a super funny way that'll have everyone talking about it.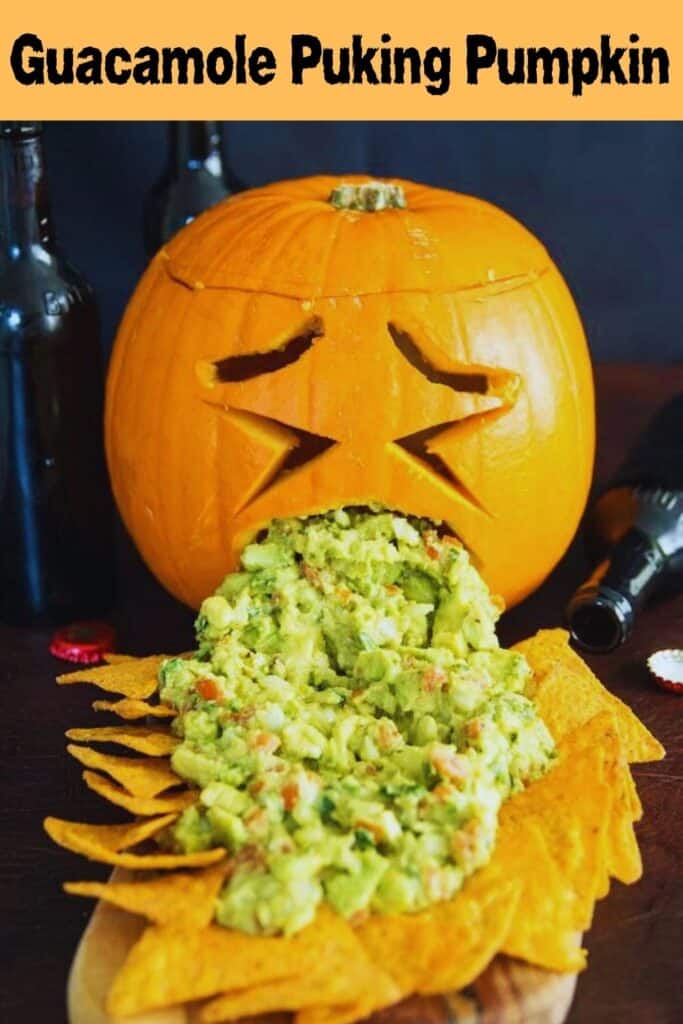 6. Skeleton Bone Dip
-Advertisement-

Bring back the nostalgia of your favorite holiday treat, but with a Halloween twist that's perfect for when you're on the go. The classic pairing of pepper jelly and cream cheese gets a creative update that perfectly captures the spirit of the season.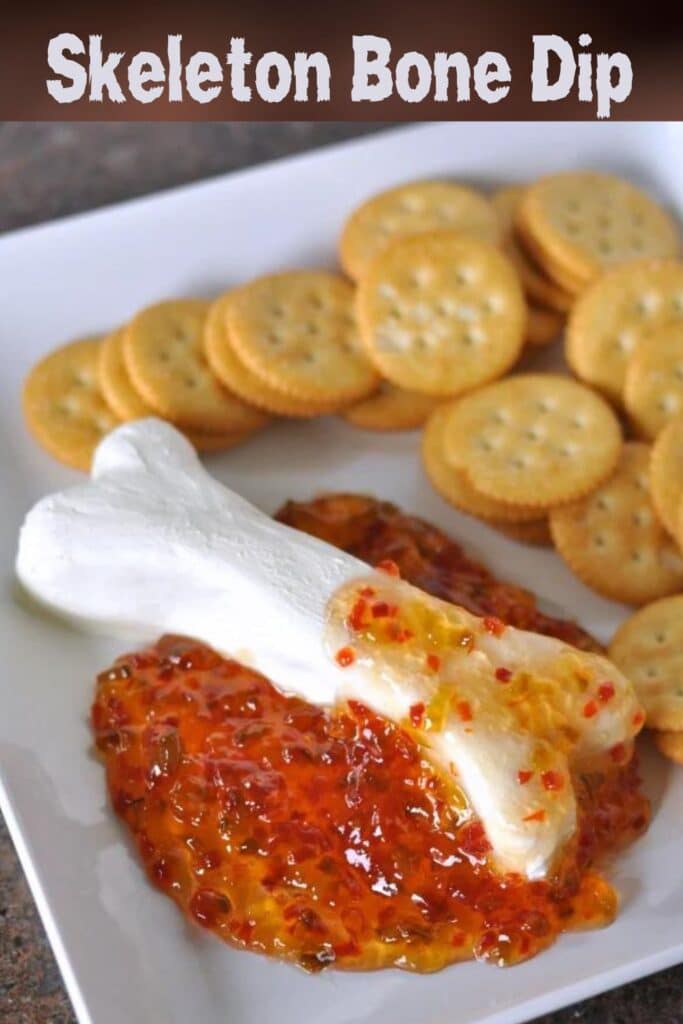 7. Witch's Broomstick Snacks
Make a Halloween appetizer that's super kid-friendly and as easy as magic. Create these adorable broomstick treats with only three simple ingredients. These cute broomsticks will definitely catch the attention of young minds and their taste buds too.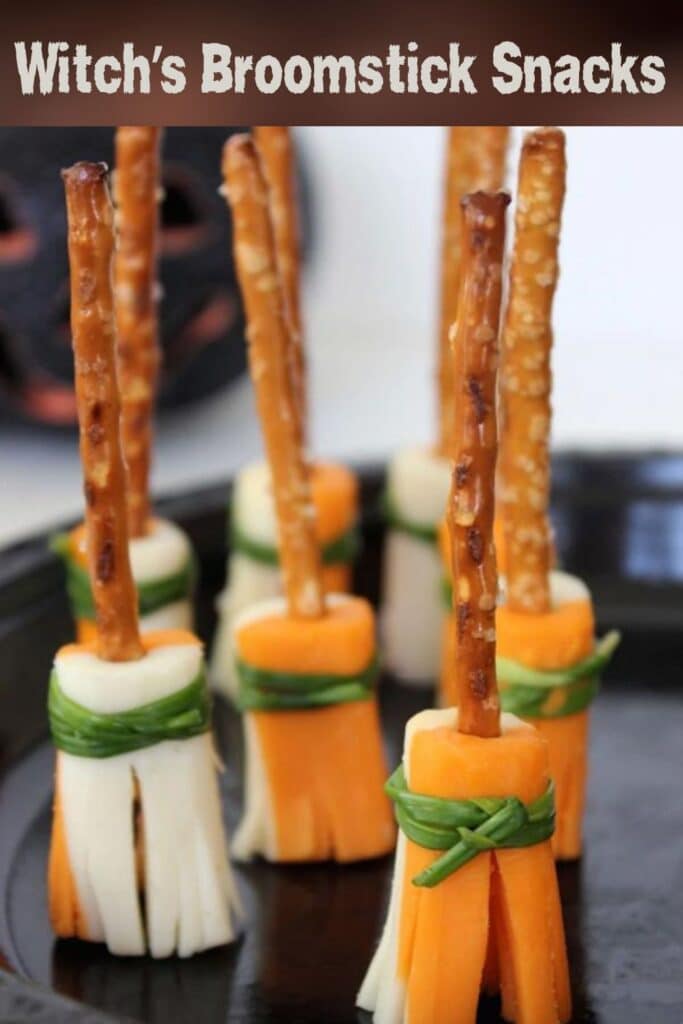 8. Buffalo Meatball Pumpkins
-Advertisement-

Absolutely love these Buffalo Meatball Pumpkins! They're seriously delicious and way too cute. A total hit for your Halloween get-together. They're like playful meatballs that taste amazing. Perfectly adds that fun and tasty twist to your Halloween party!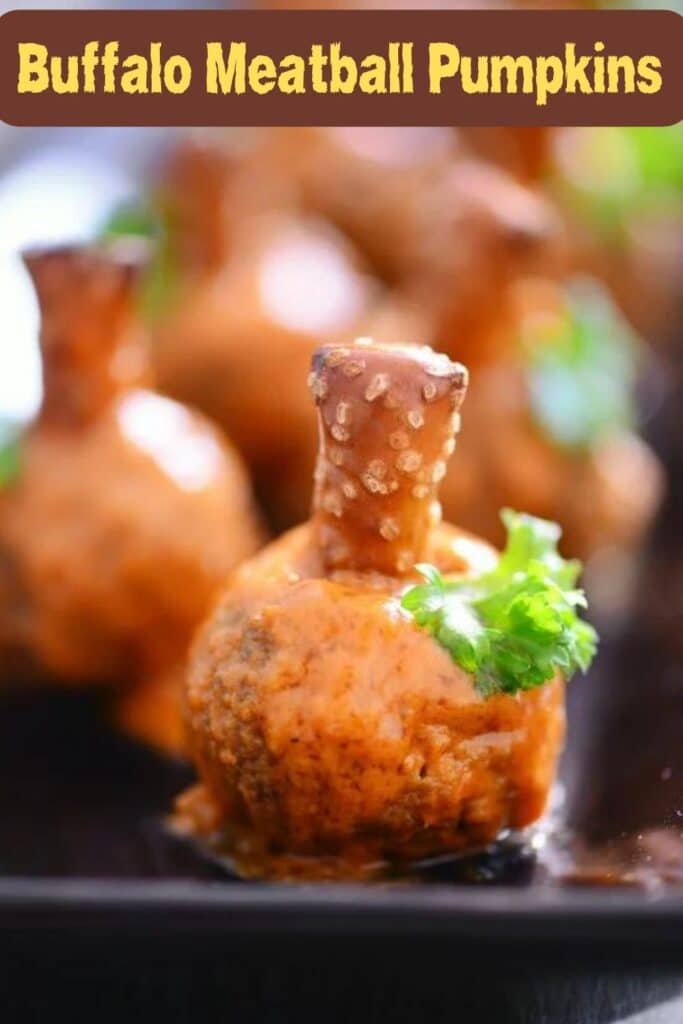 9. It Pennywise Clown Vegetable Tray
Get set to dial up the spooky vibes at your Halloween get-together! Picture this: a seriously creepy appetizer that gives a nod to the legendary Pennywise the Clown. But here's the twist – it's a veggie tray! Yep, your regular veggies turn into a spine-chilling masterpiece that you won't forget anytime soon.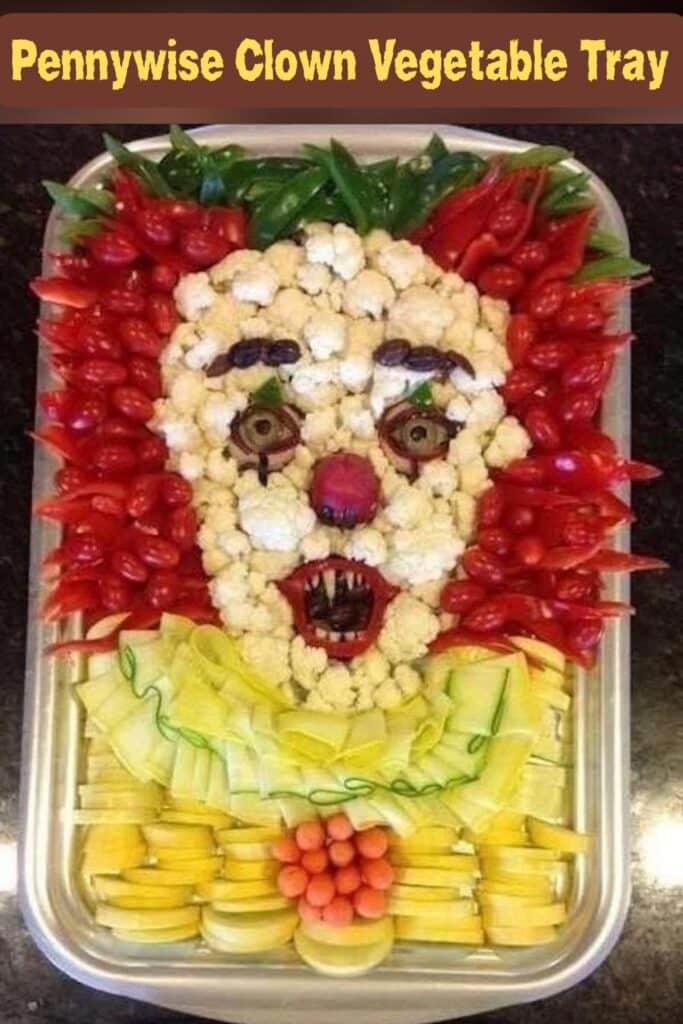 10. Meatball Mummies
-Advertisement-

No doubt about it, these Mummy Meatballs are an adorably spooky take on a classic appetizer that's bound to be a crowd-pleaser at your Halloween party. Imagine turning regular meatballs into the cutest mummies ever, complete with little olive eyes – it's a creative twist that adds charm to your spooky spread!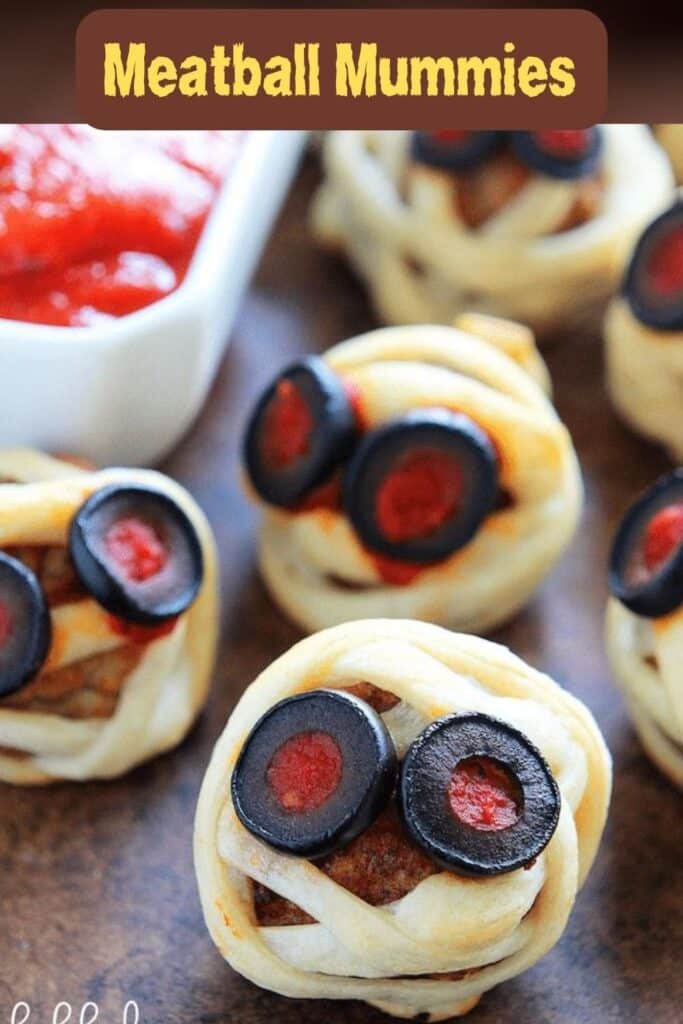 11. Halloween Tortilla Chips
Cast a spell of deliciousness at your Halloween bash with these baked Halloween tortilla chips. We're talking about using nifty cookie cutters to whip up an array of spooky shapes. And that's not all – there are three mouthwatering flavors that'll absolutely captivate your guests. Get ready to create a spread that's nothing short of enchanting!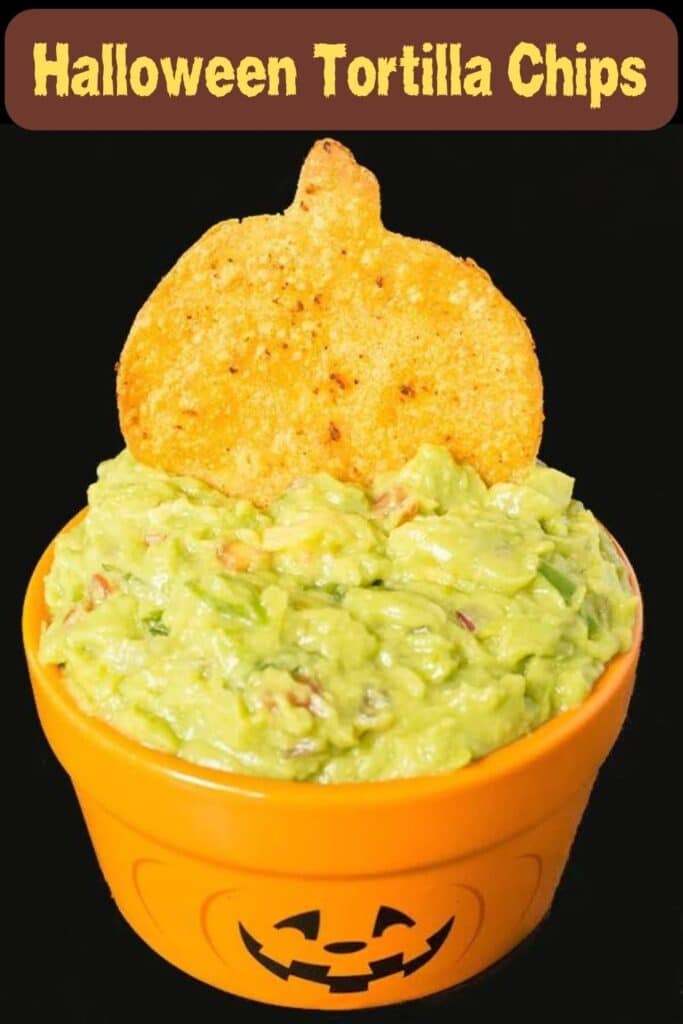 12. Shrimp Brain Dip
Unleash your inner spooky genius with a Halloween appetizer that's both freakishly tasty and absolutely mouthwatering. A shrimp dip skillfully molded into the shape of a brain, and guess what? It's crowned with a "bloody" cocktail sauce that's just the right amount of creepy.
-Advertisement-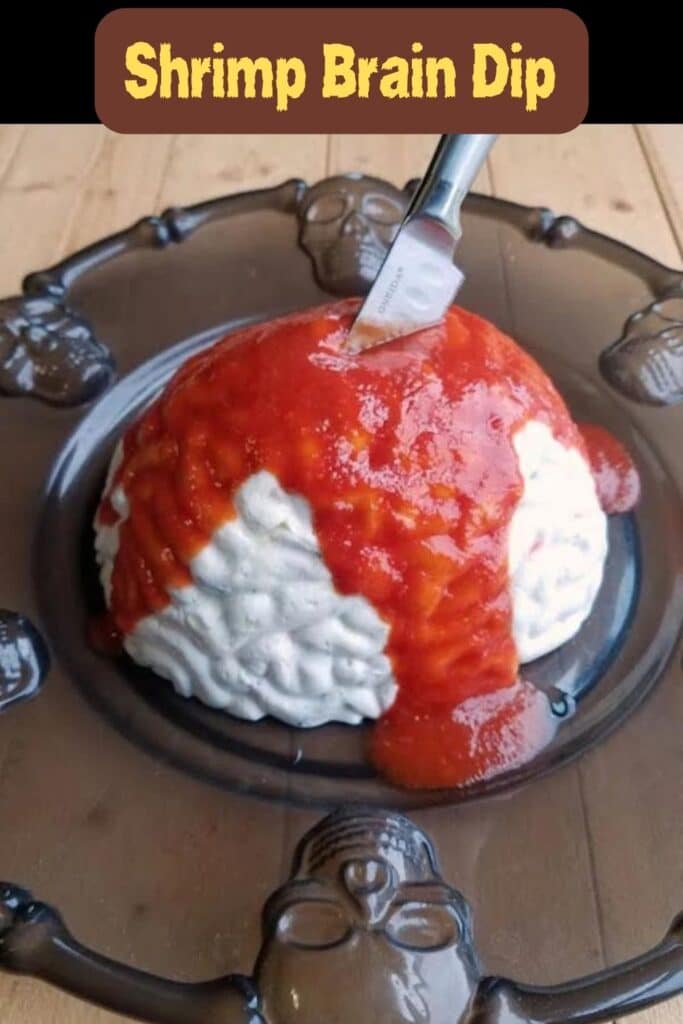 13. Spooky Chorizo Hand Pies

Get ready to sink your teeth into something spook-tacularly delicious! Imagine these handcrafted empanada-style pies – they're like little pockets of heaven filled with flavorful chorizo and an oh-so-perfect double dose of gooey cheese. Seriously, they're the kind of treat that's an absolute must for your Halloween bash. These hand pies are like a mouthwatering masterpiece that combines flavors and creativity in the best way possible. Get ready to have your taste buds and your imagination totally impressed!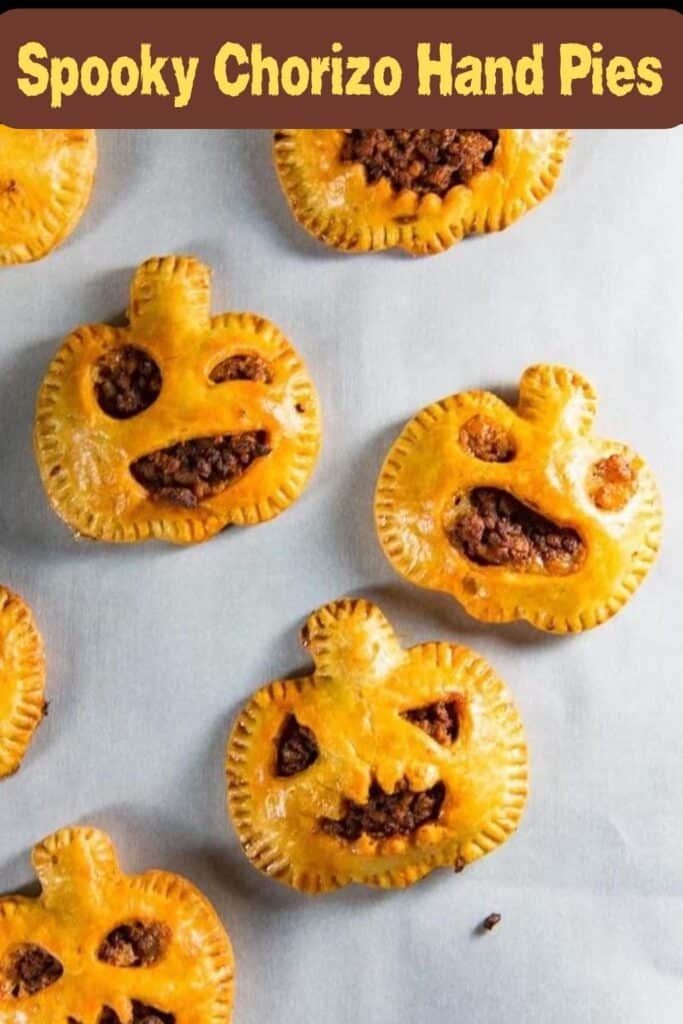 14. Sweet & Sour "Bat Wings"
Get ready to amaze your taste buds and your Halloween guests with something seriously spooktacular! Imagine sinking your teeth into these Sweet & Sour "Bat Wings" – they're like a flavor explosion. Think tender chicken wings coated in a mouthwatering sweet and sour sauce, all with a fun and slightly eerie vibe. Seriously, it's like a culinary adventure that's both delicious and playfully creepy. Get ready to wow your friends and your taste buds at the same time – it's a total win!
-Advertisement-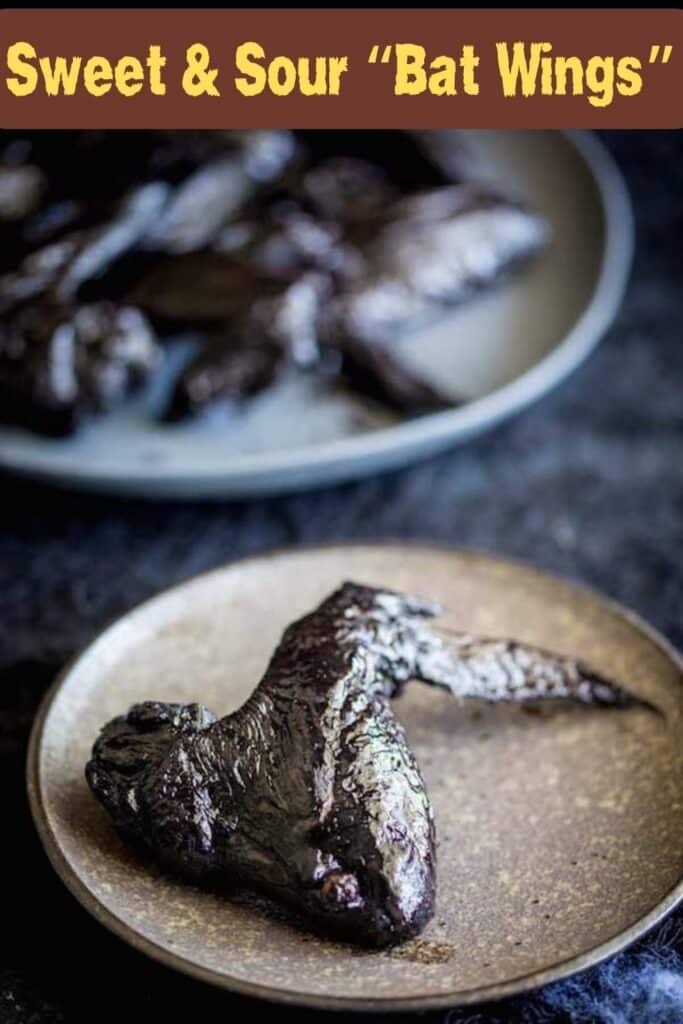 15. Monster Halloween Popcorn
Get ready to take your Halloween snacking to a whole new level with a treat that's as fun as it is delicious: let's talk about Monster Halloween Popcorn! Imagine the joy of crunchy popcorn combined with a burst of colorful sweetness – it's seriously a match made in snack heaven. Trust me, whether you're a kid or an adult, this treat is going to put a huge smile on your face. It's the kind of snack that brings out the playful spirit in everyone!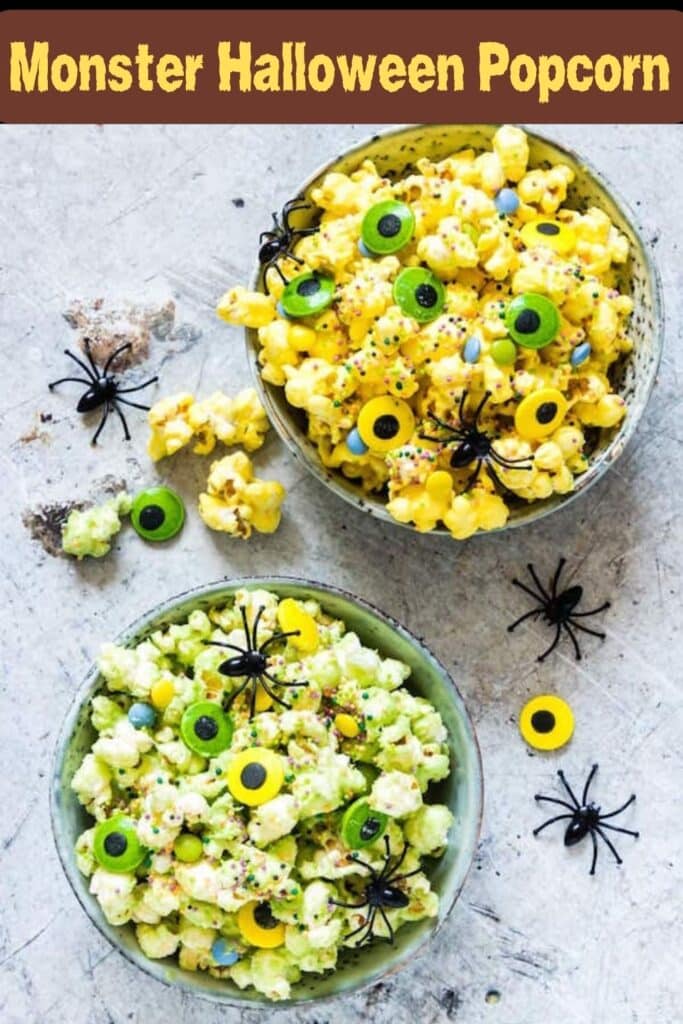 16. Halloween Meat & Cheese Board
If you're all about hosting a fancy and stylish Halloween get-together, here's a way to really impress: go for Sugar & Charm's stunning seasonal charcuterie board. Seriously, it's like a work of art with the most amazing gourmet goodies. Imagine all those flavors coming together in a display that's not only delicious but also super pleasing to the eye. Trust me, this is how you take your party to a whole new level of chic!
-Advertisement-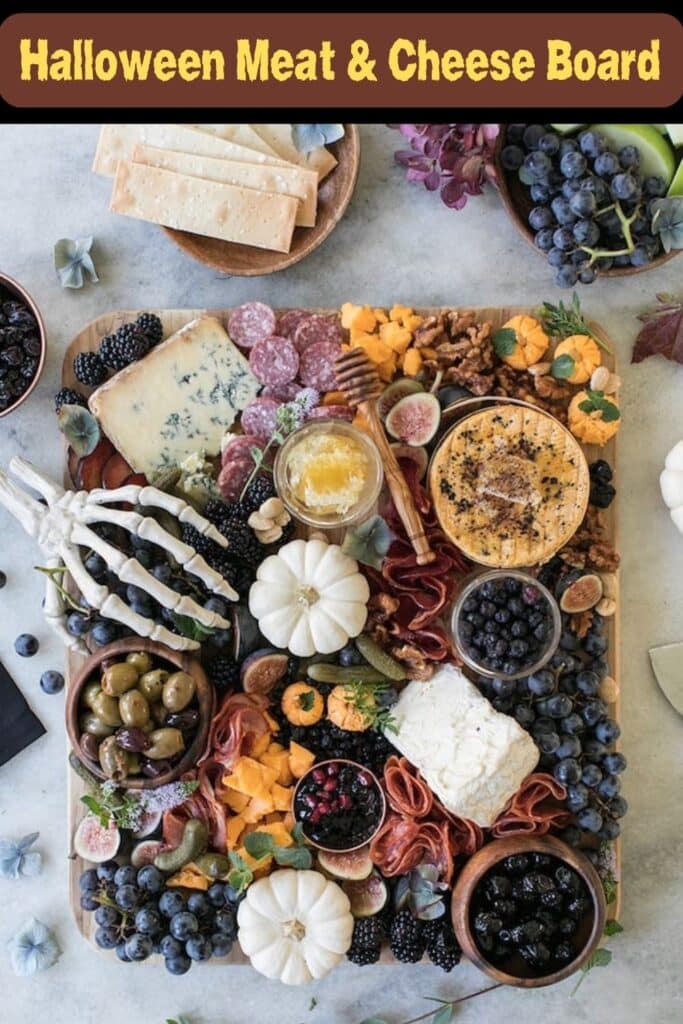 17. Spiderweb Halloween Taco Dip
Transform your classic taco dip into a hauntingly delicious Halloween appetizer with a touch of spookiness – a spooky spider web design! This creative twist not only adds visual flair but also maintains a health-conscious approach by serving it with fresh veggies for dipping.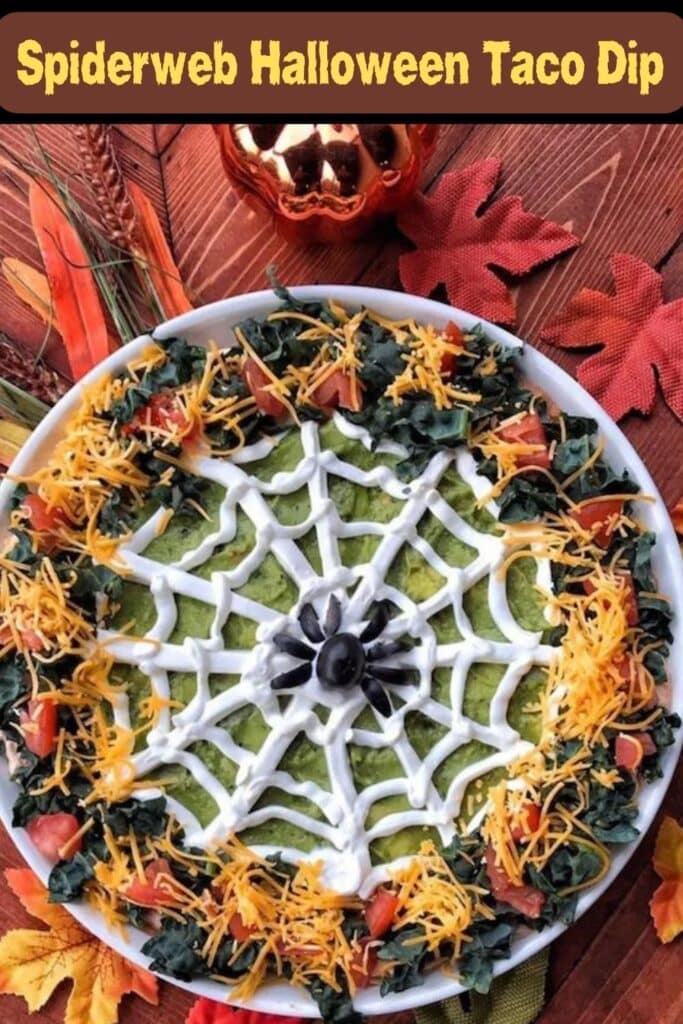 18. Babybel Cheese Monsters
Get ready to have a blast with the most adorable snacking experience ever – introducing these super cute Cheese Monsters! They're like little bites of joy that'll definitely bring out the giggles and grins at your gathering. And here's the best part: they're not just delicious, they're also a healthy addition to your party spread. No artificial colors, flavors, or preservatives here – just pure, wholesome goodness. So dive in and enjoy the tastiest and cutest treats around!
-Advertisement-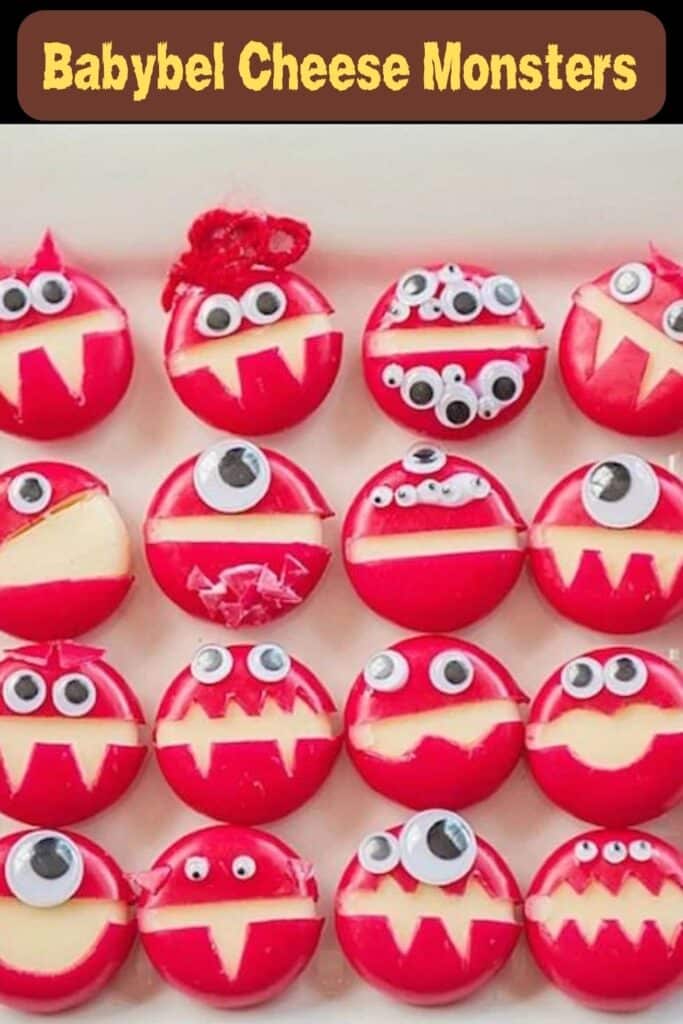 19. Spooky Spinach Dip in Bread Bowl Cauldron
Get all geared up for a dose of Halloween excitement with a seriously delicious Spooky Spinach Dip tucked inside a bread bowl cauldron. Imagine it as this amazing creative masterpiece that's absolutely going to thrill your guests with its festive charm. All it takes is whipping up a creamy spinach dip using your personal favorites, and presto – you've conjured up a truly magical treat that's bound to sprinkle some extra enchantment onto your Halloween bash!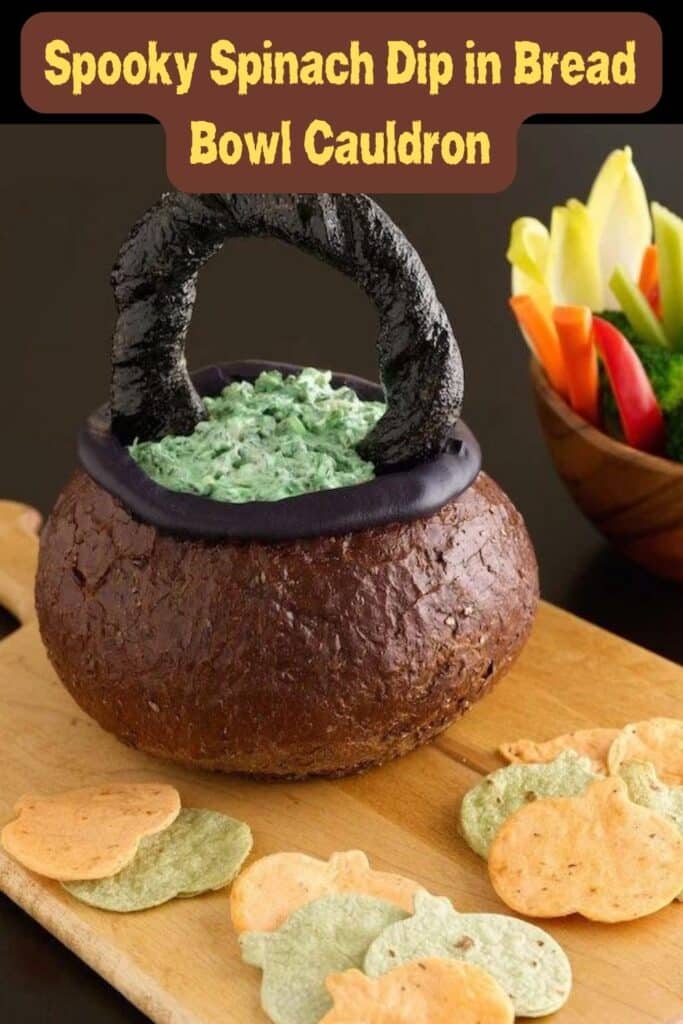 20. Cheetos Monster
Summon monstrous fun at your Halloween gathering with a playfully spooky Cheetos Monster that's sure to awaken your inner child. This whimsical snack brings together the beloved cheesy crunch of Cheetos with a fantastical and frightful twist.
-Advertisement-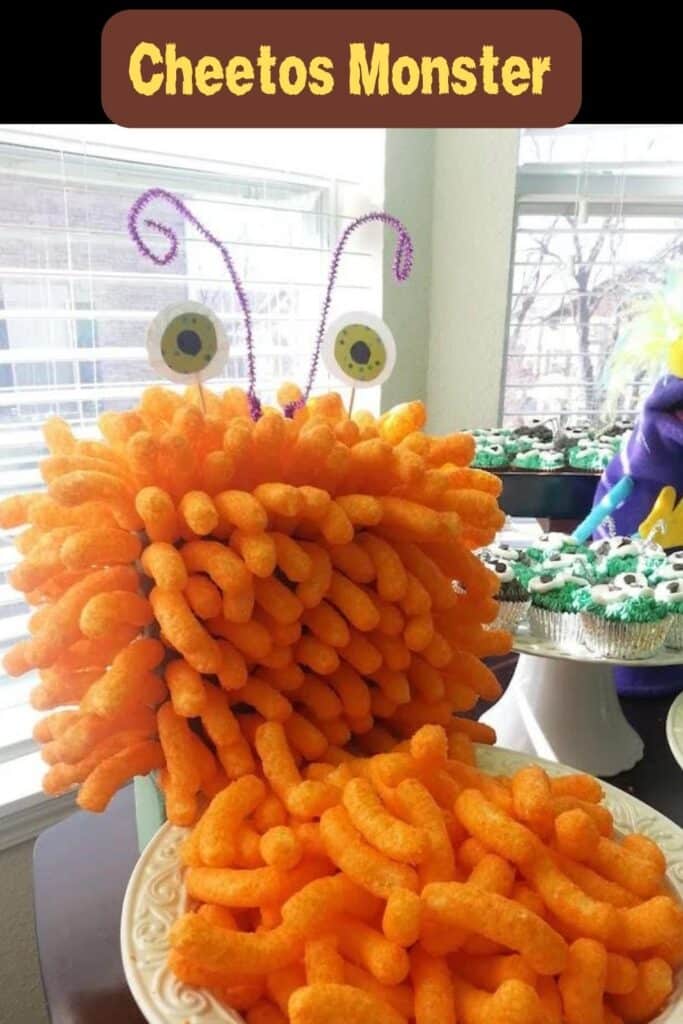 21. Witch Calzone Hats
Prepare to work your kitchen magic with these utterly charming Witch Calzone Hats that are sure to captivate your Halloween crowd. These delightful treats blend the savory goodness of a calzone with the whimsical look of a witch's hat.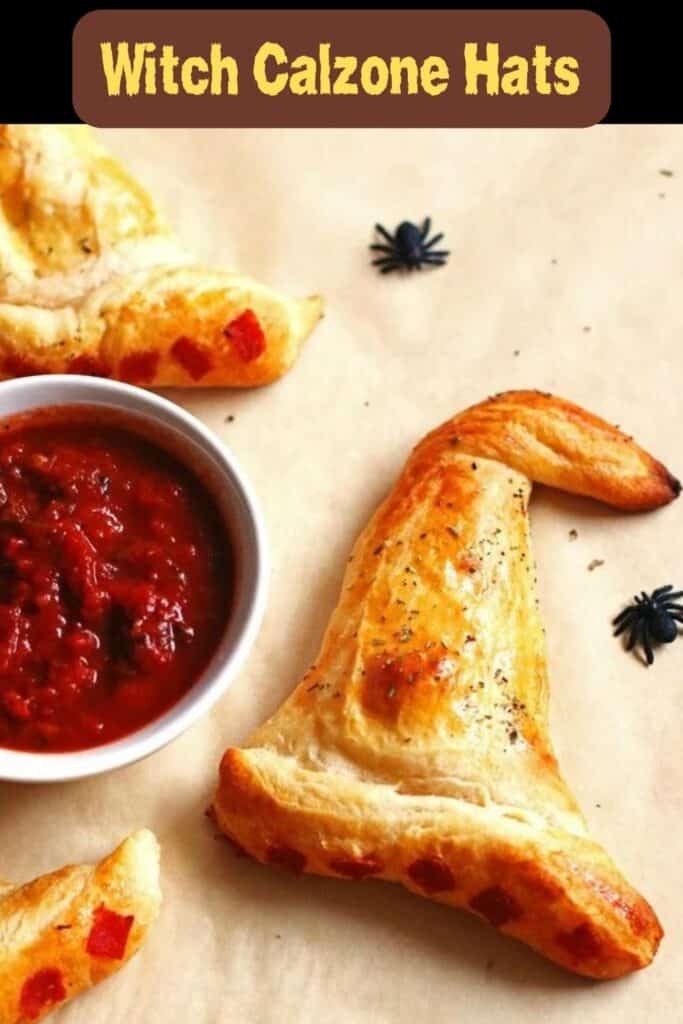 22. Tangerine Pumpkins & Ghost Bananas
Get into the Halloween groove with these wonderfully easy and utterly charming appetizers: Pumpkin Tangerines and Ghost Bananas. These simple yet creative treats bring a healthy dose of fun to the holiday festivities, especially for the little ones.
-Advertisement-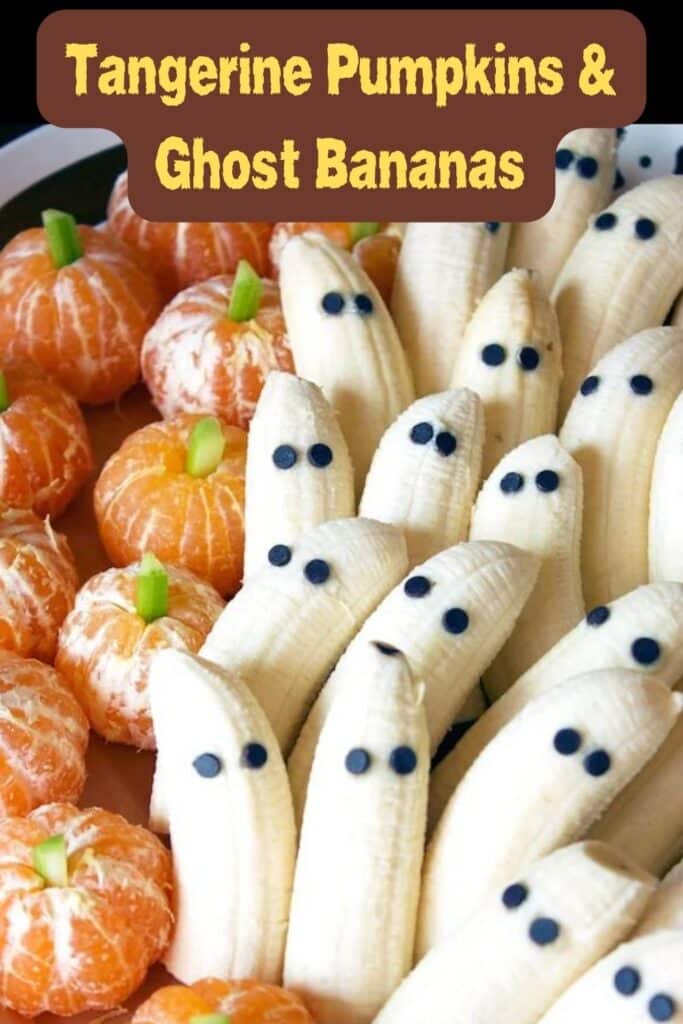 23. Spooky Spider Deviled Eggs
Imagine spreading a little Halloween joy with these absolutely darling deviled egg spiders. They're like the sweetest appetizer that's sure to win over both the little ones and the grown-ups. And guess what makes them even more charming? Those candy eyes that give these little spiders their endearing expressions! Just picture the giggles and happy faces these treats will bring to your Halloween gathering – it's pure delight for everyone involved.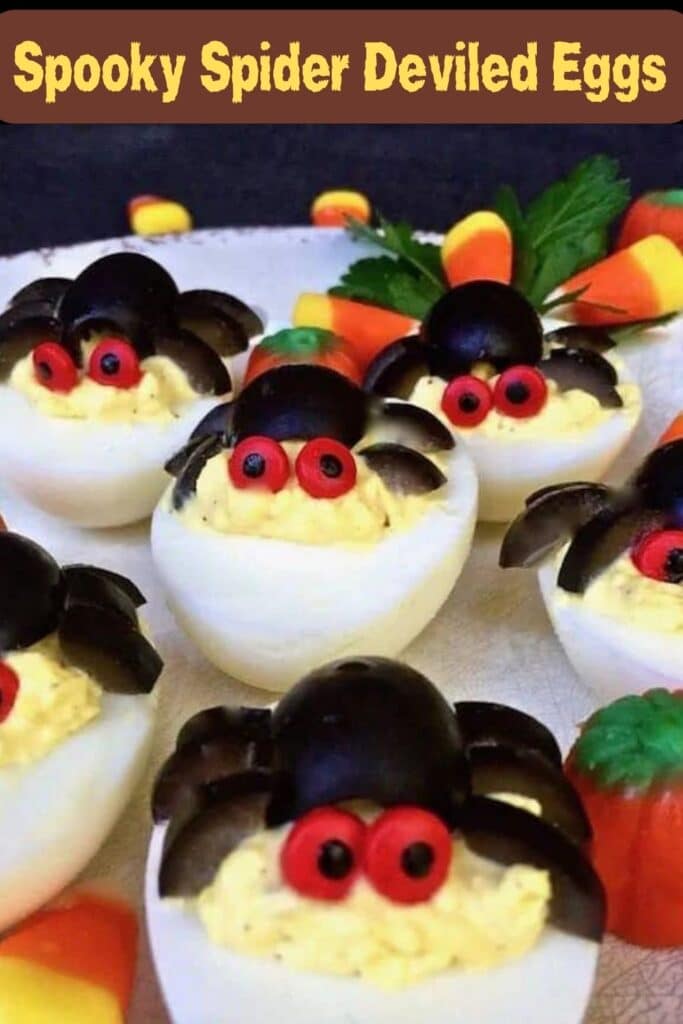 24. Bloody Witch Fingers
Discover a spooky surprise that's secretly good for you – these "witch fingers" might look eerie, but they're surprisingly healthy! The crispy finger is crafted from wheat flour, and a touch of jam is used to attach the bloody almond fingernail. It's a deliciously playful treat that's perfect for your Halloween spread.
-Advertisement-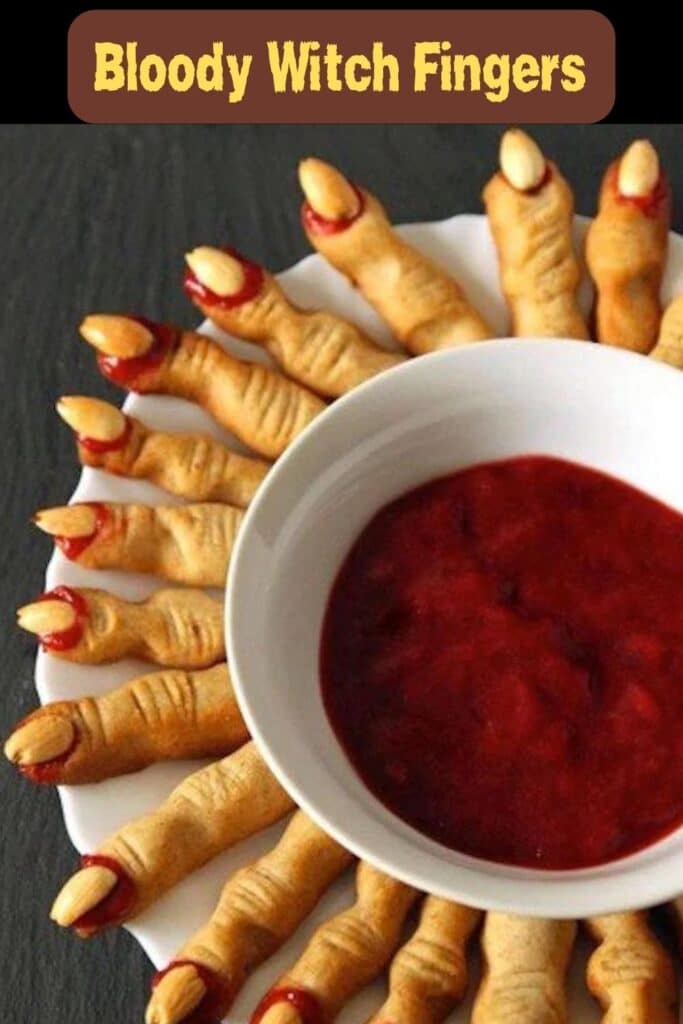 25. Halloween Chili Con Queso Dip
Whip up a Halloween cheese dip appetizer in a flash – we're talking under 10 minutes! And here's the festive touch: serve it alongside orange and black tortilla chips for that extra spooky vibe. It's an easy and quick way to add a touch of Halloween magic to your snack spread.