Your wedding day is the most special day of your life. You're marrying the person you love most, surrounded by your nearest and dearest, including some long-lost relatives. For brides, a big highlight is getting their hair and makeup done. Makeup artist Arber Bytqui works magic, enhancing their beauty even more. Check out these amazing before-and-after photos of the stunning brides.
You Can Never Go Wrong With A Crown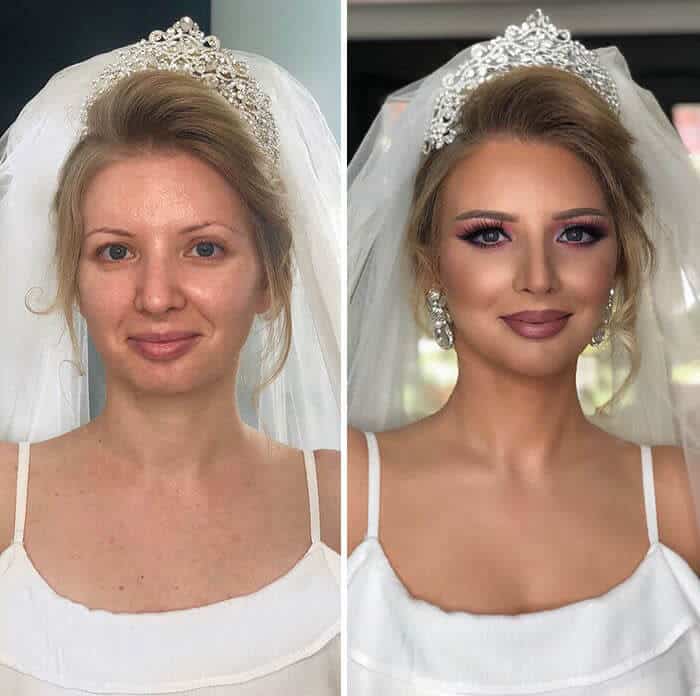 This makeup look is flawless, featuring pink and purple eyeshadow and a gradient nude lip. The colors really accentuate her blue eyes, and she looks absolutely ready to walk down the aisle.
From Cute To Stunning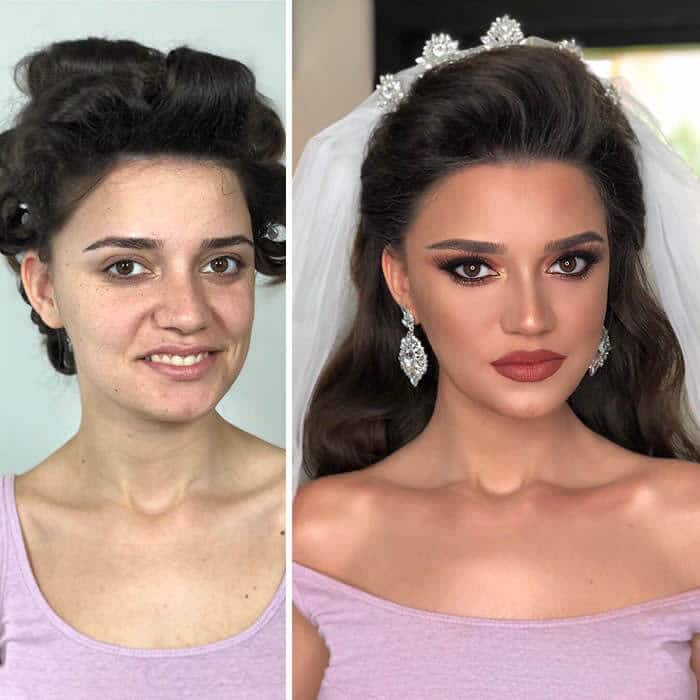 The woman looks like a brunette barbie! She is glowing, and the makeup enhanced her natural features. The eyeliner perfectly frames her large eyes and the pink-nude lipstick compliments her skin tone perfectly.
Ice Princess Vibes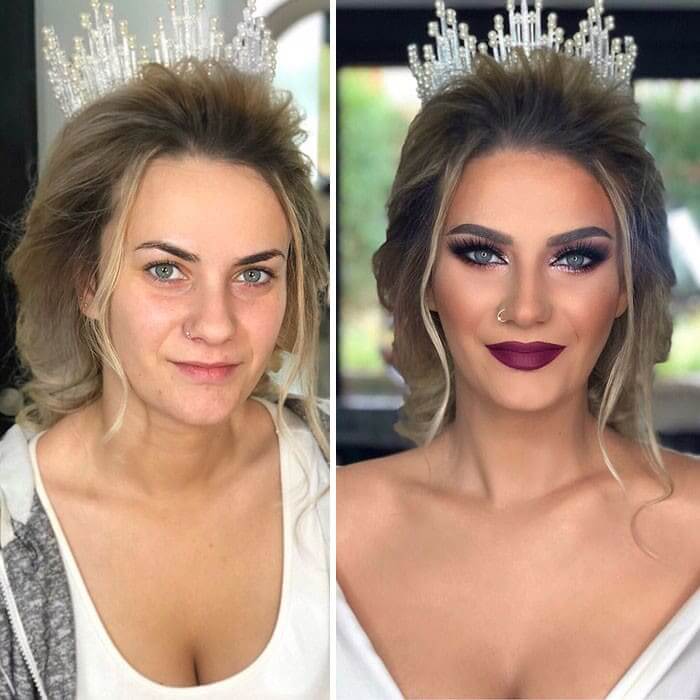 You can see how confident this woman feels with her wedding day makeup. Her Tiara looks like it is made from ice, and she is ready to rule the kingdom.
Big Jewels For The Big Day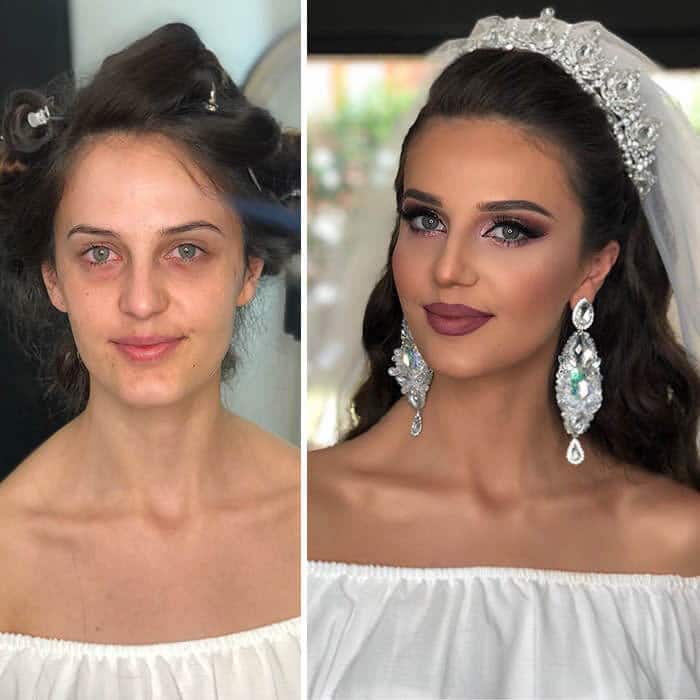 This transformation is amazing. She looks so gorgeous with her makeup, and everyone is going to be stunned by her transformation.
You Can Never Go Wrong With A Red Lip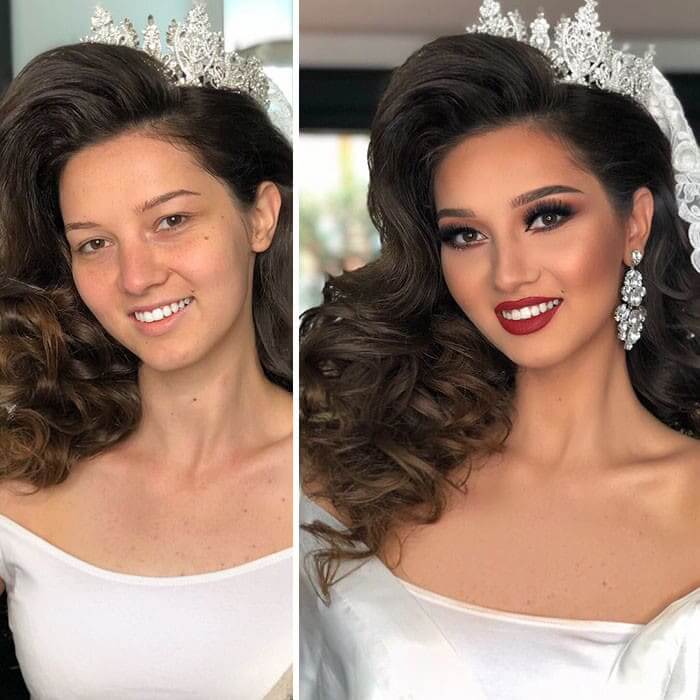 A golden smokey eye and a classic red lip are a timeless combination, and she is rocking this look. From her delicate veil to sparkling dress, she looks like a million dollars, and her husband is one lucky man.
Dripping In Pearls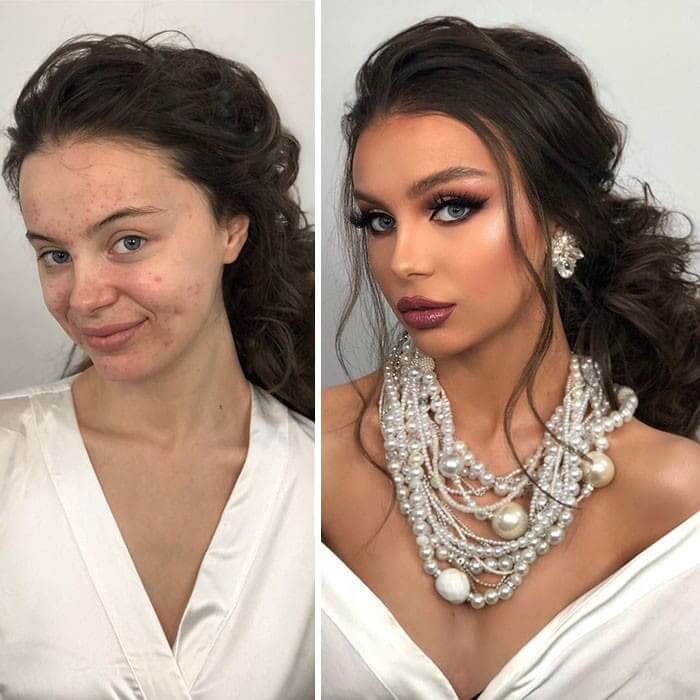 Pearls are timeless, and they look elegant on this bride. Her skin also looks smooth and clear in this transformation.
The Right Makeup Can Boost Your Confidence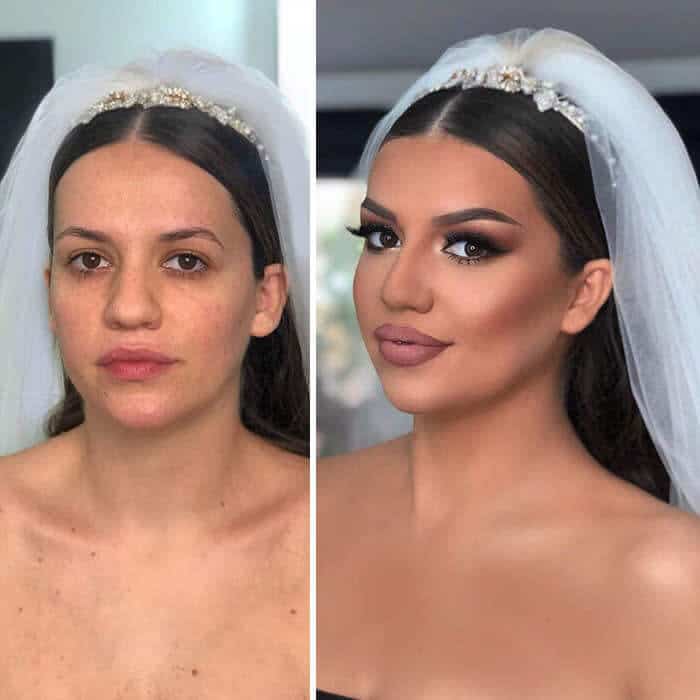 This bride looks fierce and confident after getting her makeup done for her wedding day. She was stunning before, and now she is glowing. She isn't just walking down the aisle; she is strutting.
Bold And Beautiful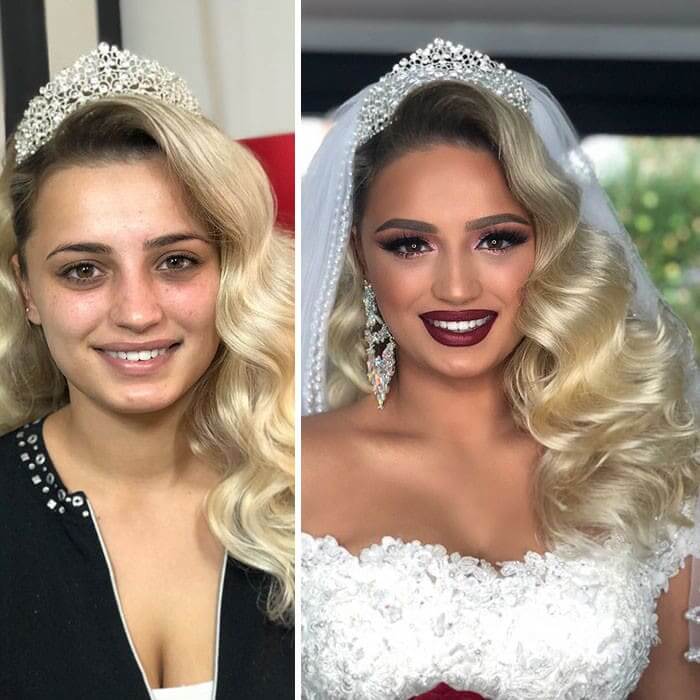 From the classic Hollywood waves to the dark lips, she is gorgeous. Her husband is going to be speechless when he sees her walking down the aisle.
A Little Glamour Never Killed Nobody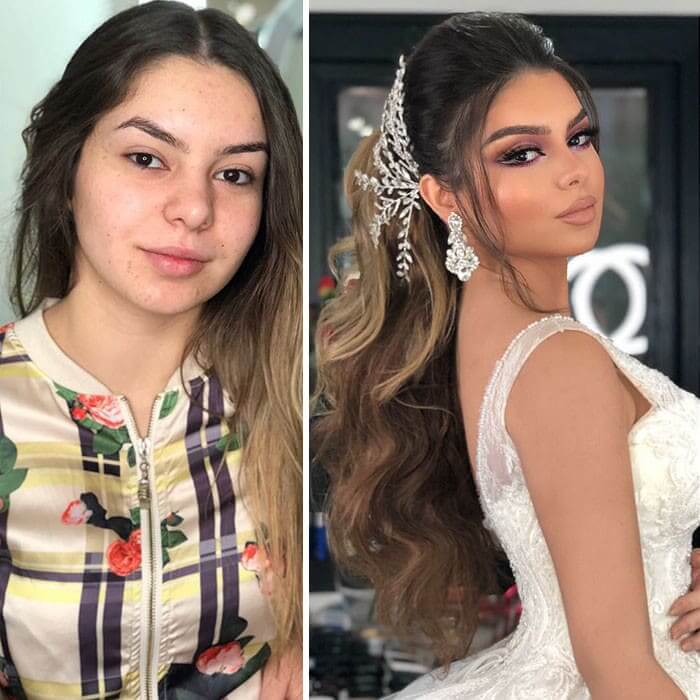 This transformation is extraordinary. Her eye makeup is incredible and changes the appearance of her eyes completely.
Queen Of Her Wedding Day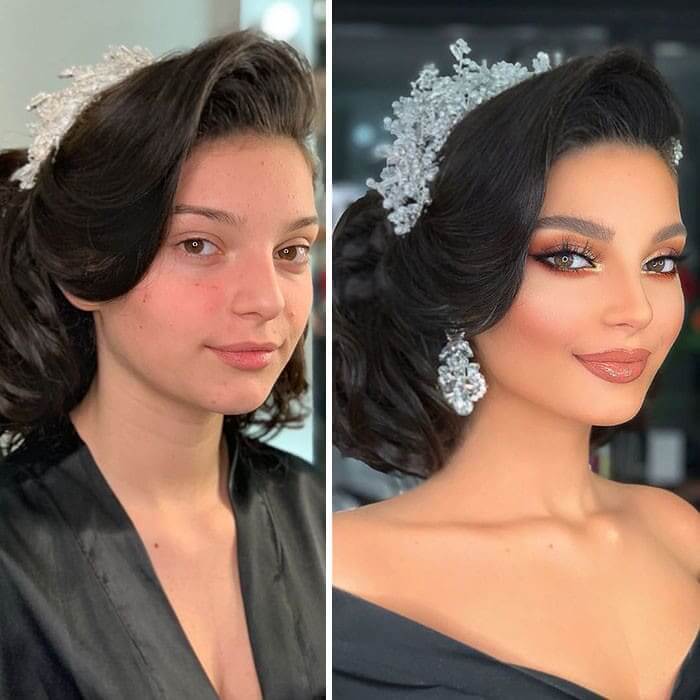 This woman looks like royalty for her wedding day. This is how we imagine Snow White would look at her wedding.
Let That Highlighter Pop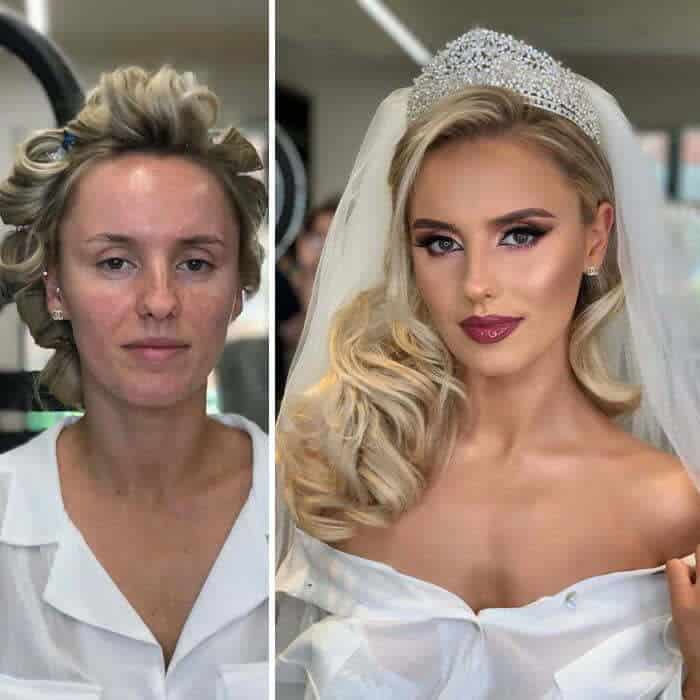 This bride's highlighter is popping! You can see that glow from miles away, and it looks fantastic on her.
Enhancing Your Natural Features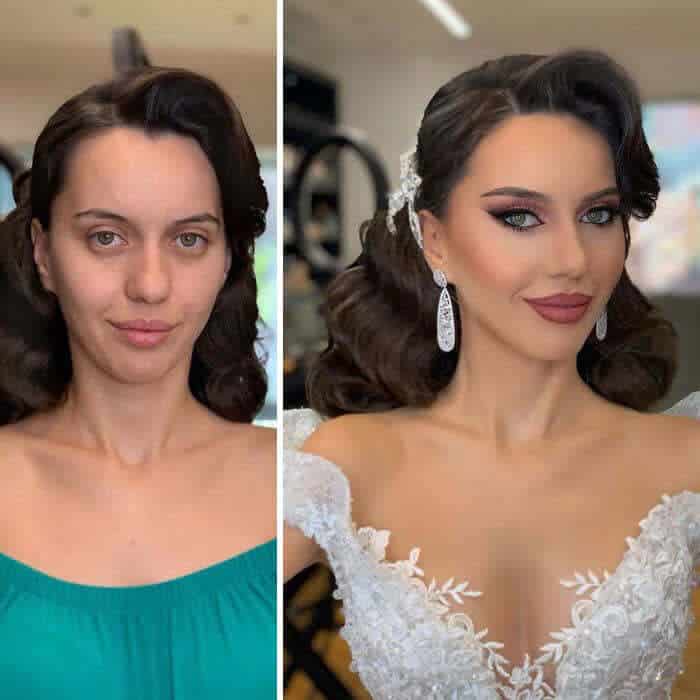 This woman is beautiful with or without makeup. She has beautiful natural features that the makeup artist was able to highlight.
From The Hitting The Gym To Here Comes The Bride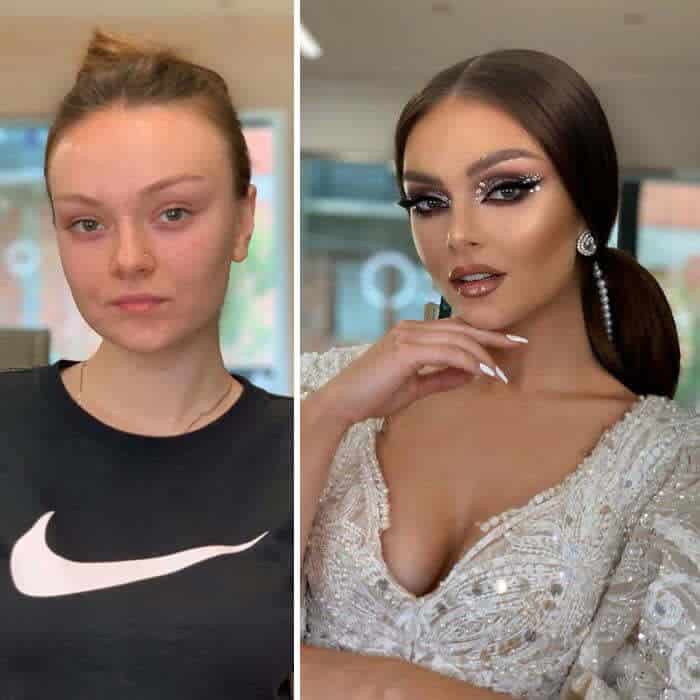 This woman had a full transformation for her wedding day. She looks like a completely different person with the darker hair and eyebrows.
Purple Eye Power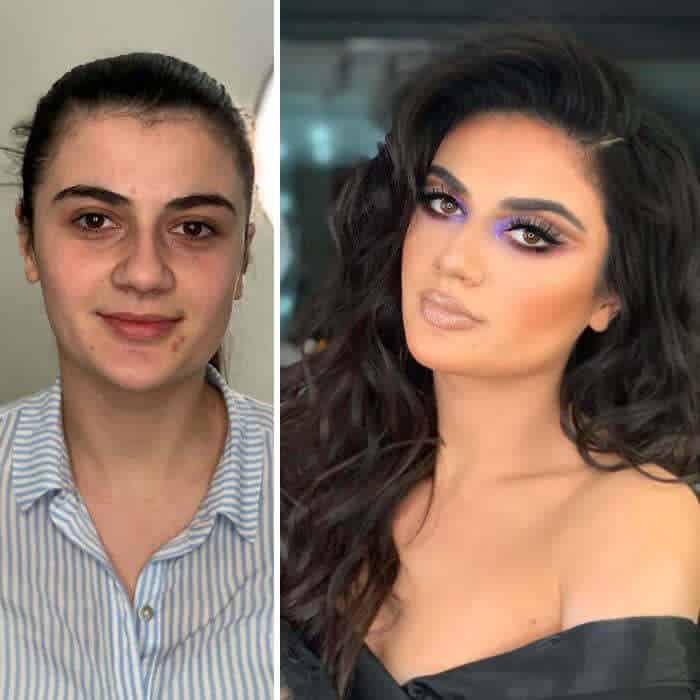 Purple eye shadow is a great way to bring out the different undertones in brown eyes. We love the use of this bright purple on her inner corner to liven up the look.
A Fierce Cat Eye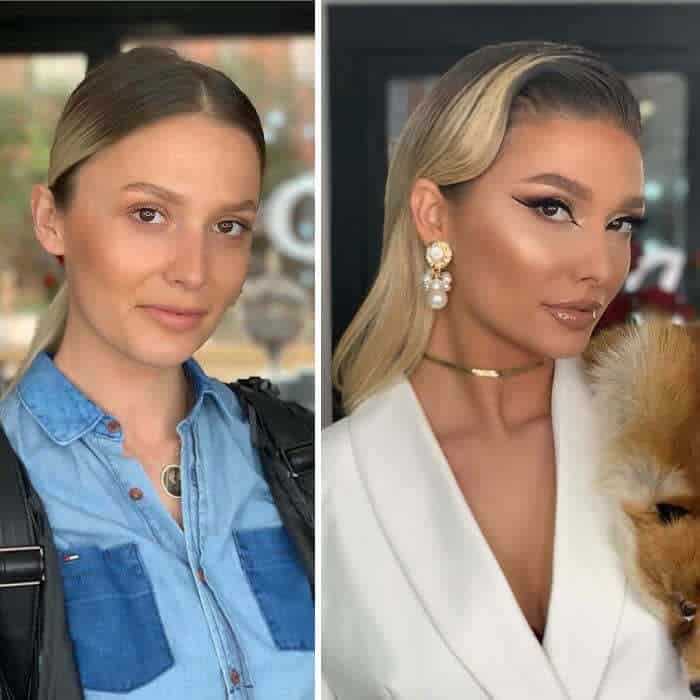 She went from "stay-at-home-mom" to "Mrs. steal your man." It is incredible how makeup can transform your look and attitude.
Smokey Eyes Add A Mysterious Touch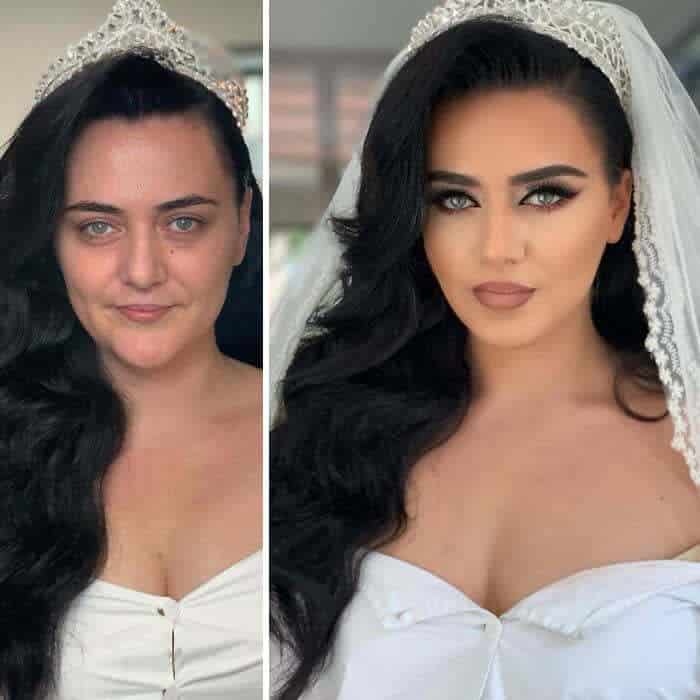 This is another timeless makeup combination that she will be able to look back on and enjoy for years.
The Crown Completes The Look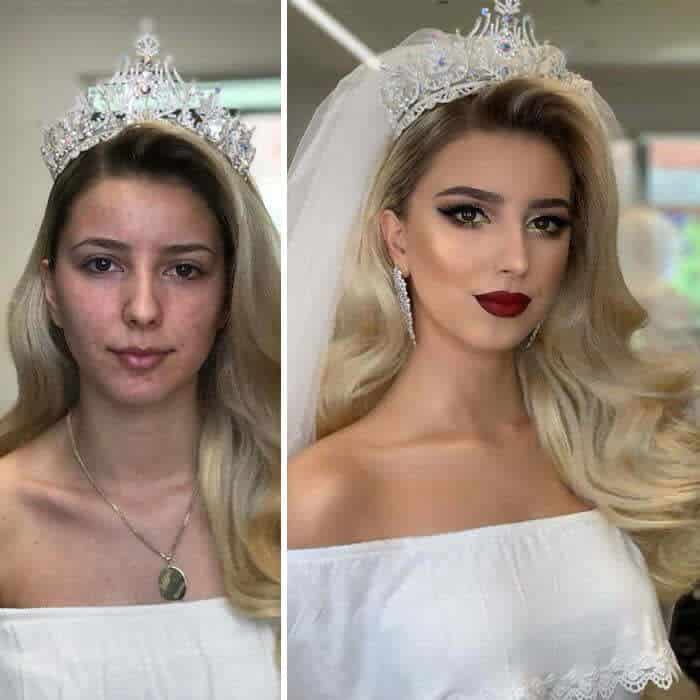 These dark red lips are perfect with her golden eyeshadow and highlight.
Soft Skin And Bold Lips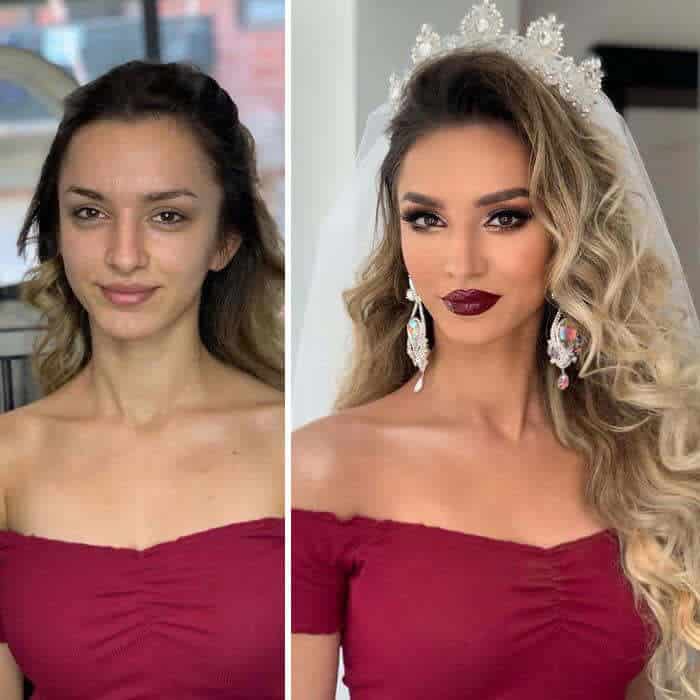 This is such a beautiful transformation. The glossy dark lips look incredible with her ombre blonde hair and olive skin.
She's Ready To Say "I Do"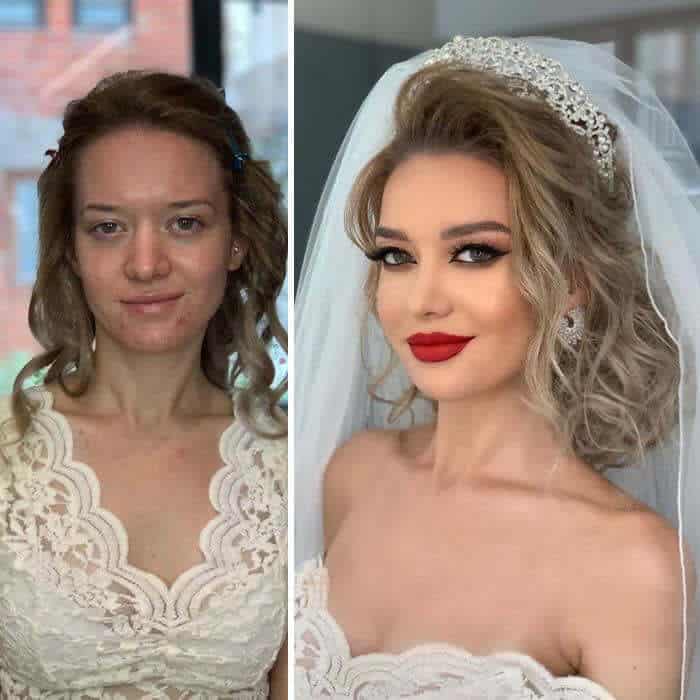 Sometimes it can be challenging to cover up acne, but this makeup artist was able to make her skin look clear and smooth in the most beautiful way.
Bejeweled and Gorgeous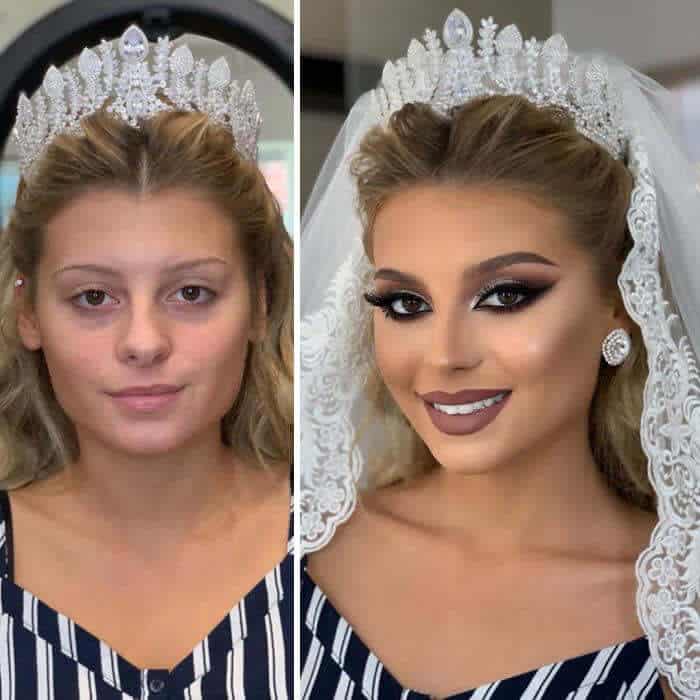 This bride looks so happy with her transformation. Her monochromatic makeup suits her skin tone perfectly.