Everyone's attention was on Hunter Schafer at the 2023 Vanity Fair Oscar Party. She wore a super bold outfit by Ann Demeulemeester that was topless, making quite a statement.
The party was full of daring fashion choices, with many celebrities wearing naked dresses or sheer outfits. Olivia Wilde rocked a bra-revealing look, Alessandra Ambrosio went completely braless, and Emily Ratajkowski left very little to the imagination.
But it was Hunter Schafer who stole the show with her entrance. She wore a unique ensemble consisting of a single white feather held together by a sleek strap. Her nipples were covered with white tape, but she still had a major underboob moment and flaunted her exposed midriff.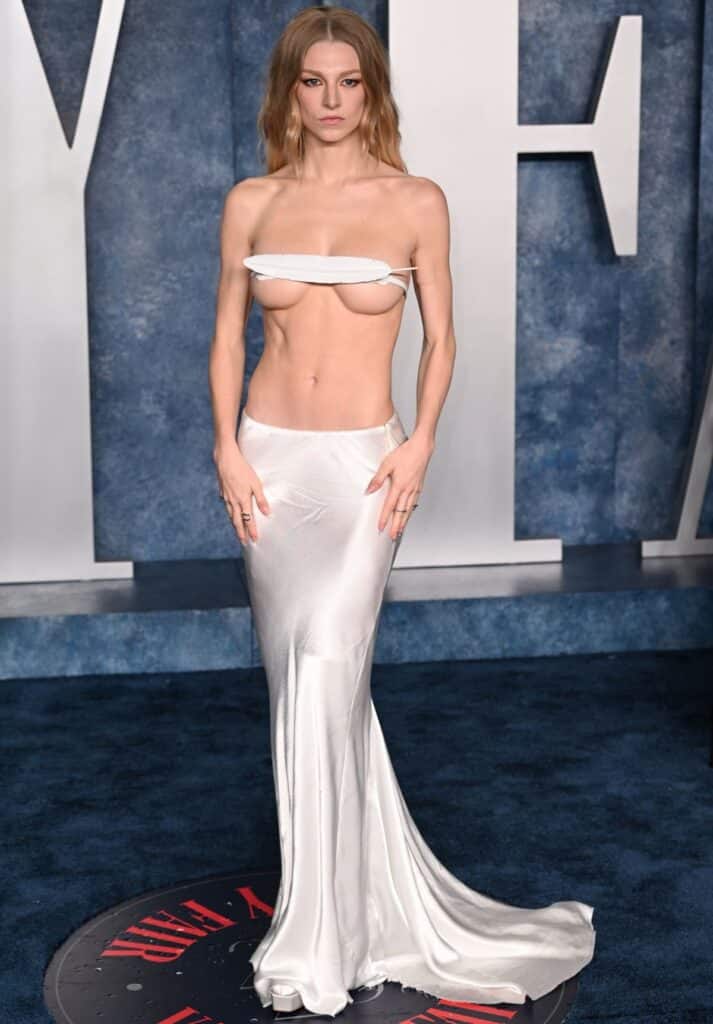 To dial down the sexiness, she paired her daring top with a white satin maxi skirt that sat low on her hips. The skirt was so long that it only offered a subtle peek at her Jimmy Choo heels.
The mermaid shape of her skirt, combined with her flowing, beachy waves falling down her back, gave her a dreamy appearance that could easily be mistaken for a living masterpiece. It was as if she had walked straight out of a Renaissance painting!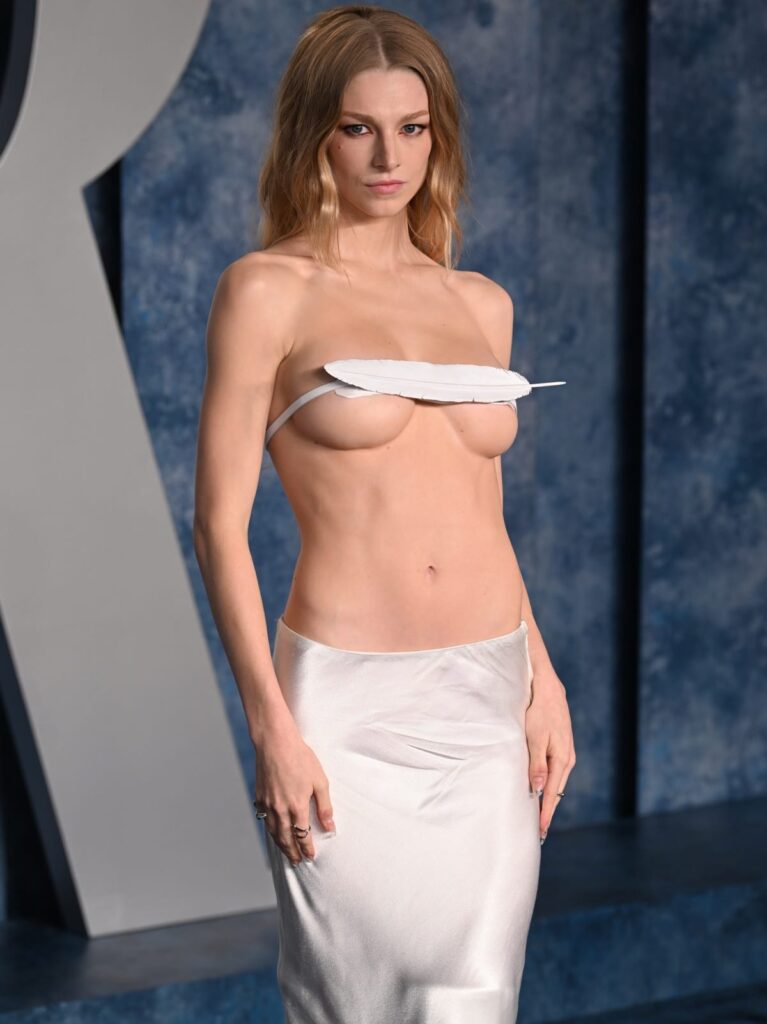 Rena Calhoun, the hairstylist, shared her thoughts with ELLE UK, saying, "Hunter naturally possesses a effortlessly enchanting presence. She is naturally beautiful and seems like she belongs in another realm. When we saw the dress, it immediately reminded me of Botticelli's 'Birth of Venus.' She looked like a goddess, tall and majestic, like a living work of art."
To enhance the overall effect, makeup artist Sandy Ganzer opted for a smoky eye with a twist, using a combination of gold flecks and brick hues to create a painterly look.
Hunter Schafer's styling was done by Law Roach, who had recently worked with Zendaya on another memorable appearance.
The renowned stylist took to Instagram to share a photo of Schafer, praising her and giving a glimpse into Zendaya's own comments about her co-star's ethereal appearance. Zendaya described Schafer as "STUNNING" and added several heart-eye emojis to emphasize her admiration.
Hunter Schafer's outfit was directly taken from Ludovic de Saint Sernin's debut Fall/Winter 2023 collection for Ann Demeulemeester. It was the closing look of the runway show, making it even more special.