Hey there, folks! When it comes to Hollywood and the world of celebrities, we're no strangers to glitz, glamour, and unique forms of self-expression. And one particular art form that has captured the spotlight is tattoos! From iconic actors and musicians to beloved athletes, it seems like everyone in the celebrity realm is getting inked up these days.
-Advertisement-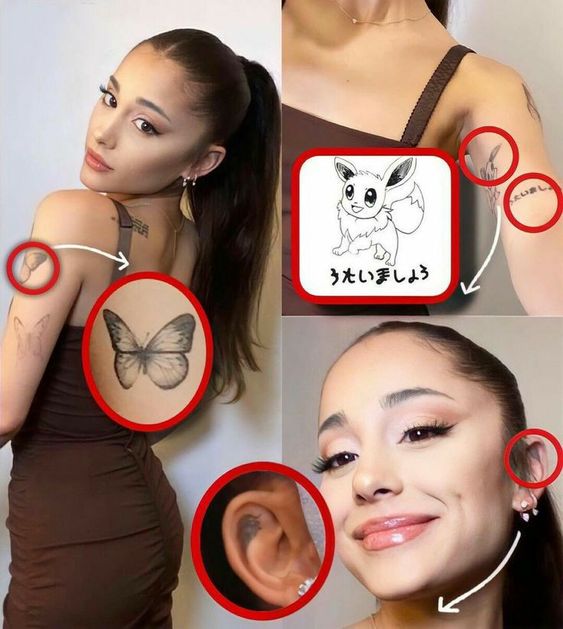 Selena, Rihanna, Lady Gaga — so many celebrities love getting inked up, how can you not want to do the same? That being said, if you're easily influenced like us and have been feeling the itch to visit the closest tattoo shop, we've got you covered. Check out what we're calling the most memorable celebrity tattoos, including Kaia Gerber's minimal flowers, Rihanna with tiny stars cascading down her back, and more, below. You can thank us later.
Emma Watson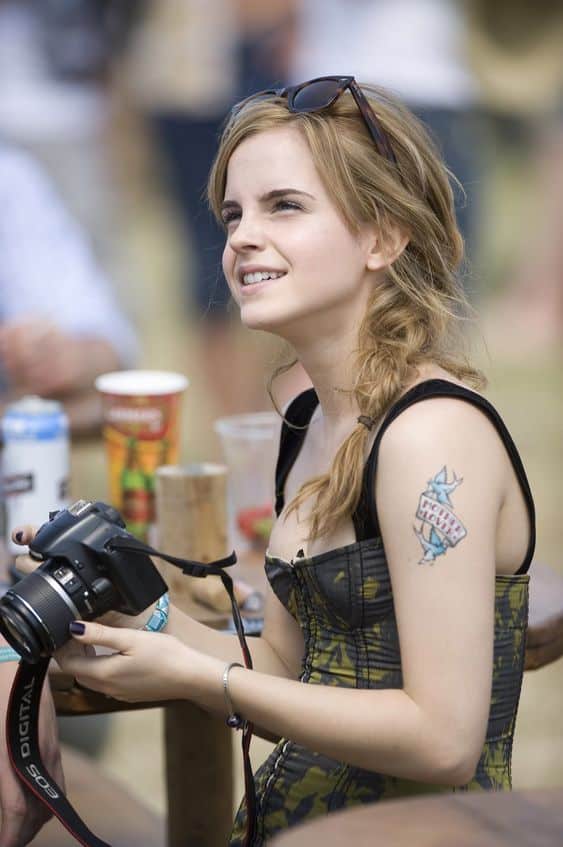 While all eyes were on Watson's baby bangs  at the Oscars 2018 Vanity Fair party on March 4, eagle-eyed fans were more interested in her "Time's Up" tattoo. The only issue? It's grammatically incorrect, as it's missing an apostrophe. Here's to hoping she makes a follow-up appointment with her tattoo artist.
-Advertisement 3-

Kylie Jenner and Travis Scott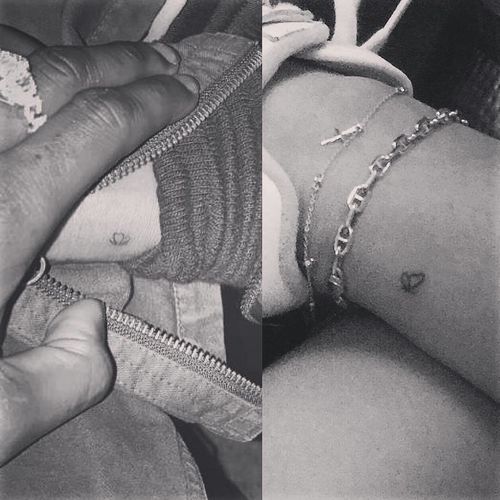 Kylie Jenner and Travis Scott got matching miniature butterfly tattoos on the back of their ankles to celebrate the birth of their baby girl.
Hillary Duff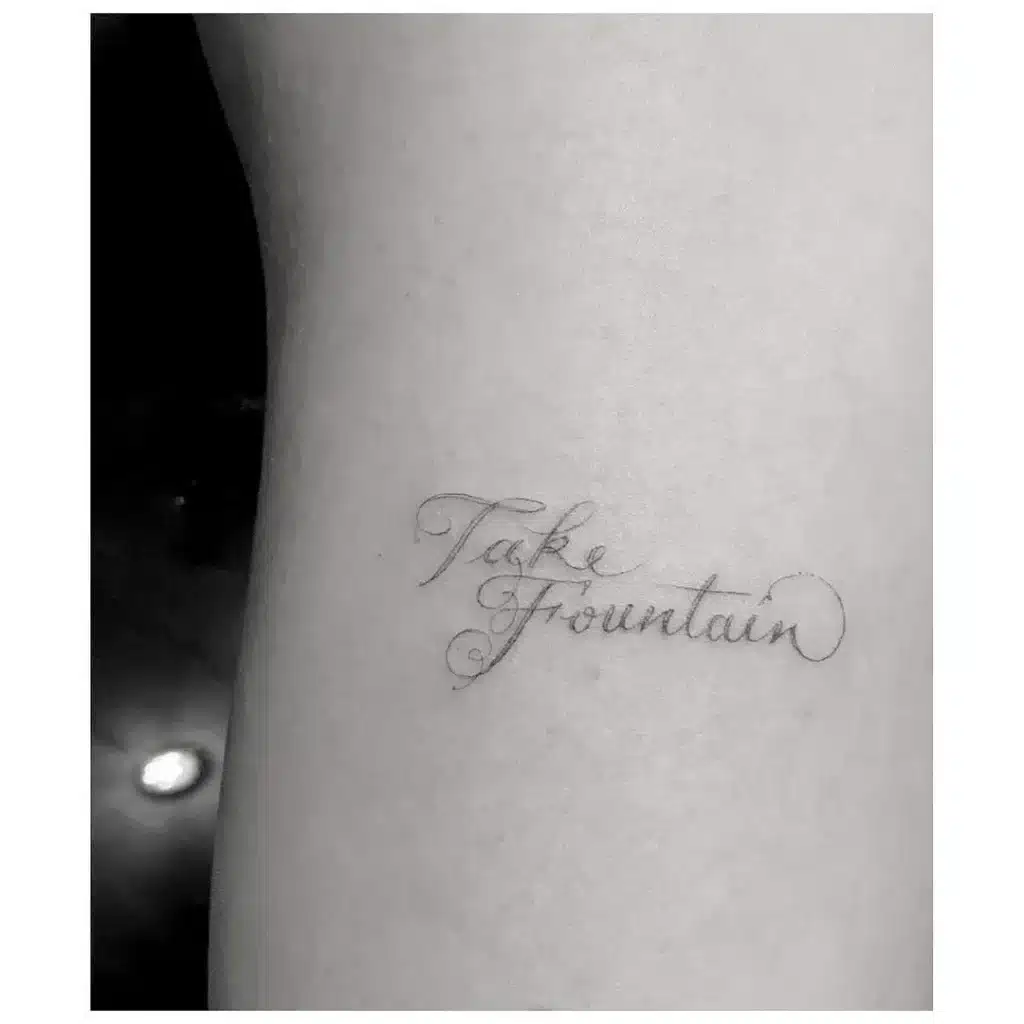 The Younger star recently visited the infamous Doctor Woo to add to her ever-growing number of tattoos on her inner arms. This time, she went with an old quote by Bette Davis, who responded to the then-Tonight Show's Johnny Carson "Take Fountain," when he asked her how a young actress should get into Hollywood, as it used to be a shortcut that leads into the Los Angeles neighborhood. We can't be sure what significance these words hold for Duff, but regardless, it turned out rad.
-Advertisement-

Selena Gomez and Nicola Peltz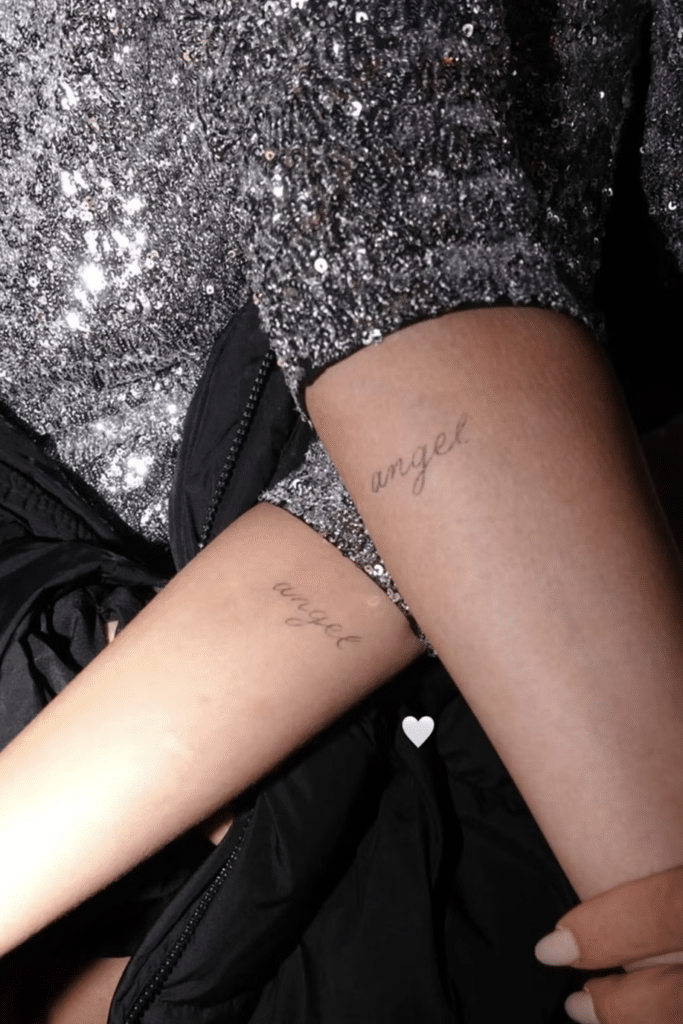 Selena Gomez joked about turning newlywed cup Nicola Peltz and Brooklyn Beckham into a "throuple" while ushering in the new year together. Along with rocking matching sparkling silver dresses on NYE and dazzling hoop earrings during their vacay, Sel and Nicola took their friendship to new heights with matching tattoos of the word "Angel" delicately written in cursive on their forearms.
Sabrina Carpenter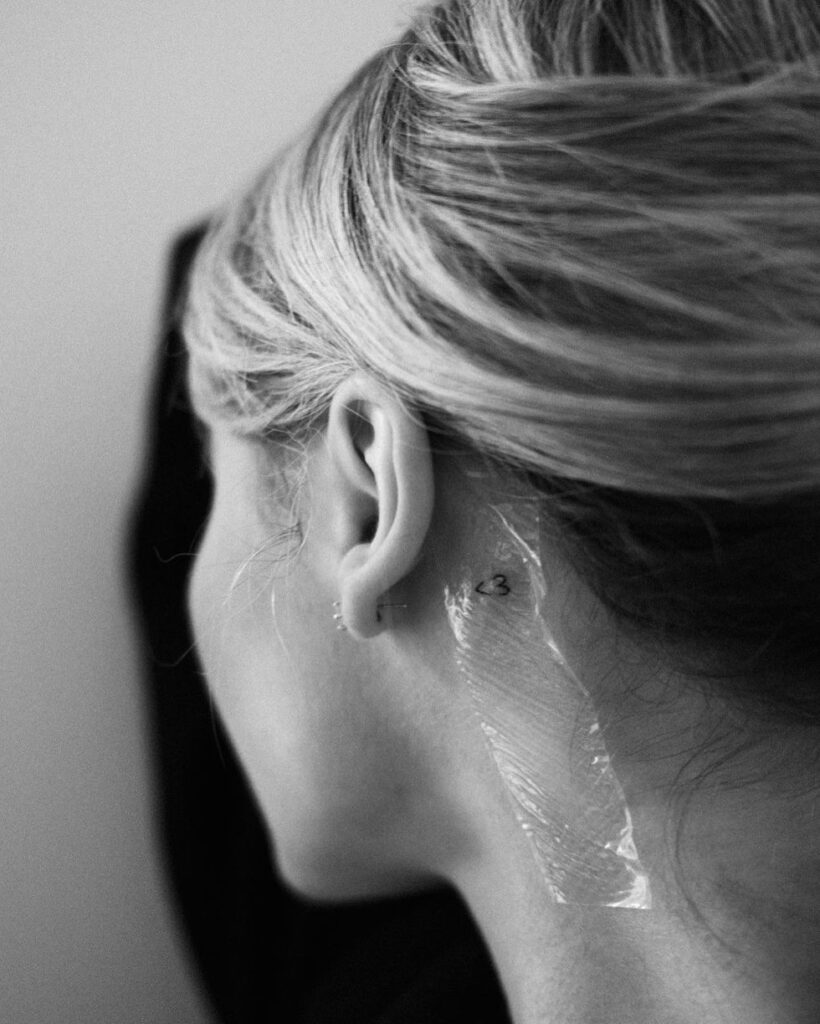 -Advertisement-

The Emails I Can't Send singer got a simple "<3" heart tattoo behind her ear during a trip to London. The stick-and-poke ink was done by tattoo artist @belpoke on Instagram.
Lily Collins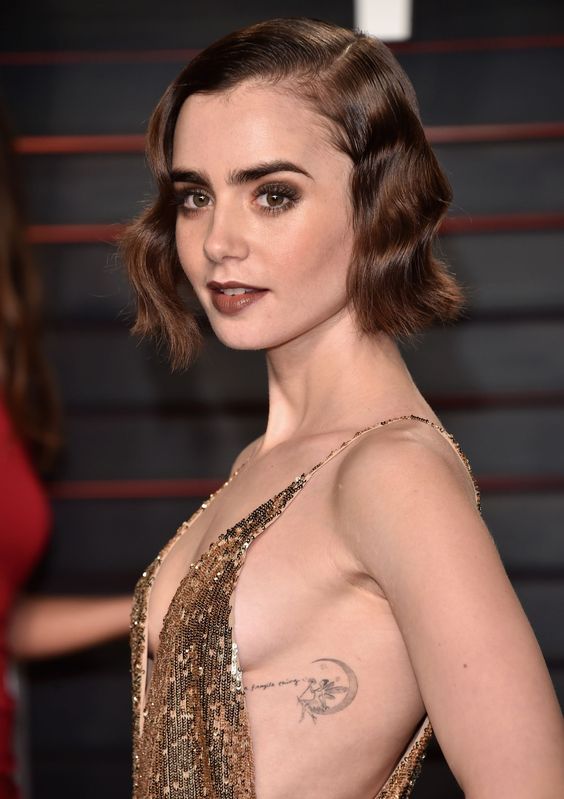 On a trip to South Korea in 2016, Collins got a tattoo of a nude women sitting on a lily pad in the fetal position, meant to represent her own name.
Shawn Mendes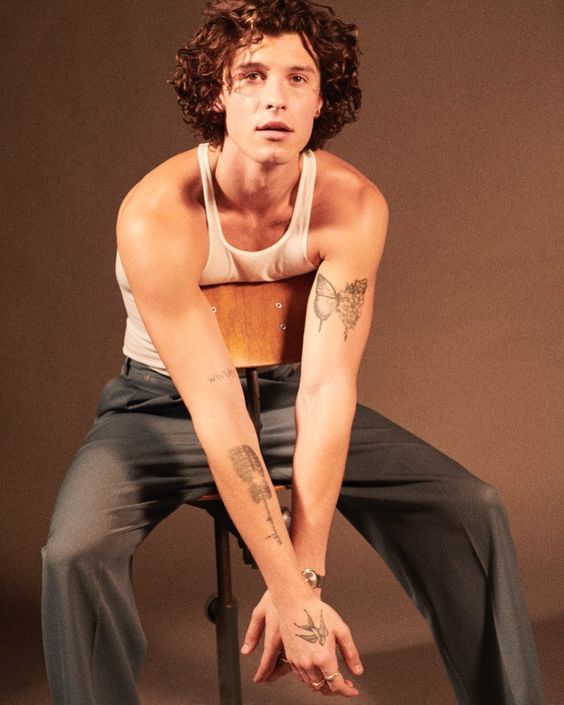 -Advertisement-

 Seems fitting for a man with the voice of an angel!
Selena Gomez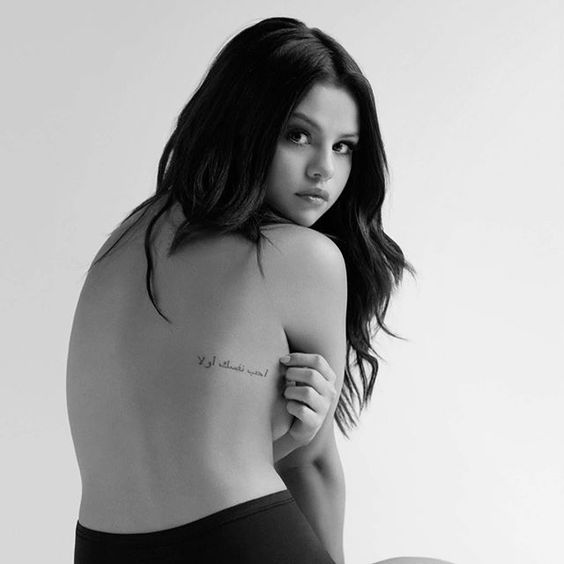 Selena Gomez showing off her beautiful back tattoo .
Barbie Ferreira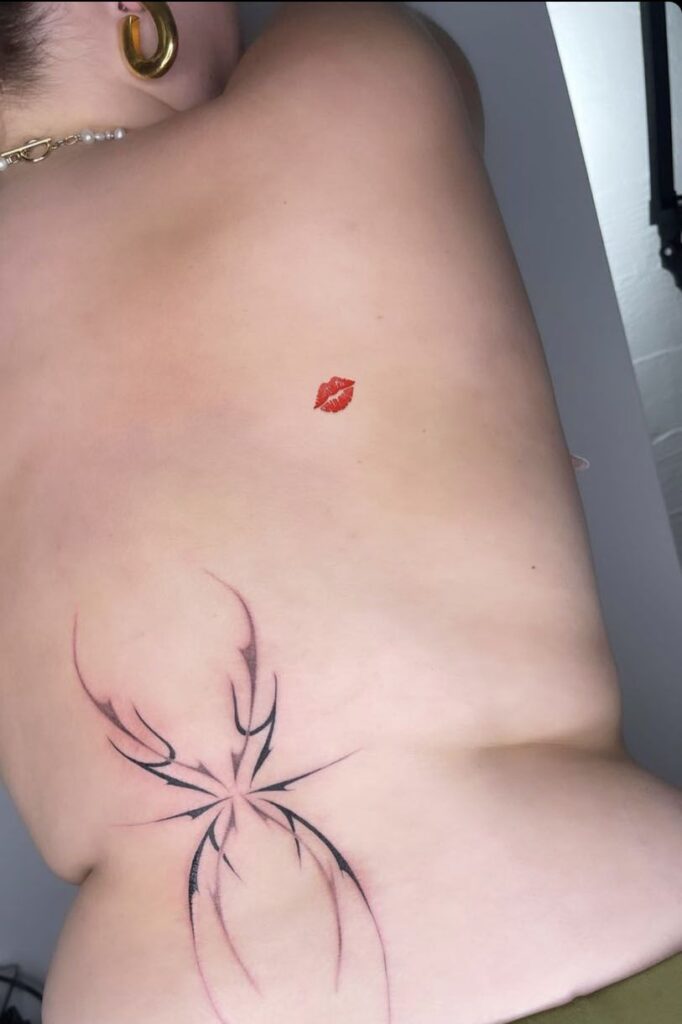 -Advertisement-

Euphoria leading lady Barbie Ferreira revealed a sick butterfly back piece she had tattooed by celebrity tattoo artist Davidenth.
Angelina Jolie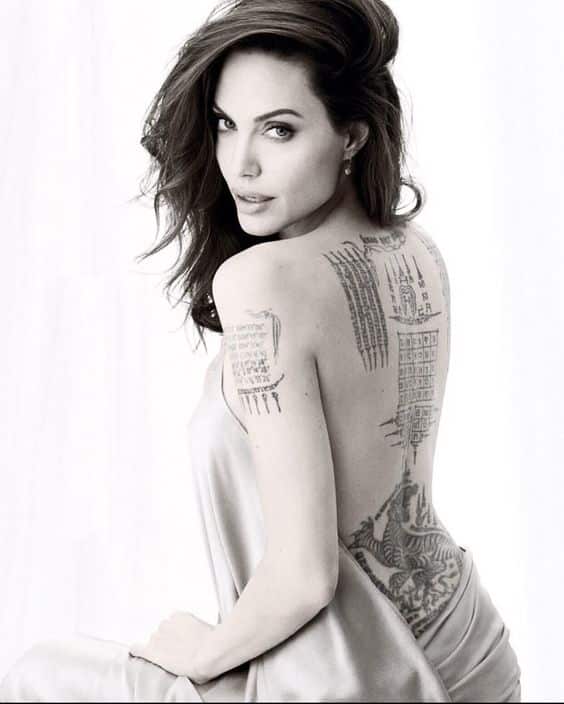 The tattoo is a breathtaking blend of ancient symbols and personal elements, reflecting Jolie's deep connection to her beliefs and experiences. The central motif features a sprawling Buddhist mantra written in Khmer script, honoring her son Maddox's Cambodian heritage. Surrounding it are beautifully interwoven patterns, celestial imagery, and other spiritual symbols that represent her journey, values, and the interconnectedness of life.
For Jolie, her back tattoo is not just an artistic masterpiece but a profound expression of her inner self. It serves as a reminder of the experiences that have shaped her, the values she holds dear, and her commitment to personal growth and understanding.
-Advertisement-

Megan Fox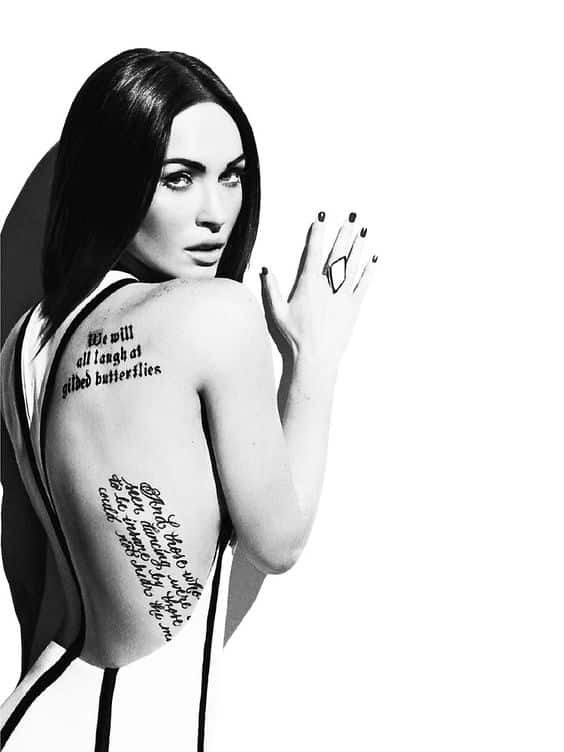 On Fox's right shoulder blade she has the Shakespearean quote, "We will all laugh at gilded butterflies," written in medieval gothic font. The line comes from one of his plays, King Lear.
Hailey Bieber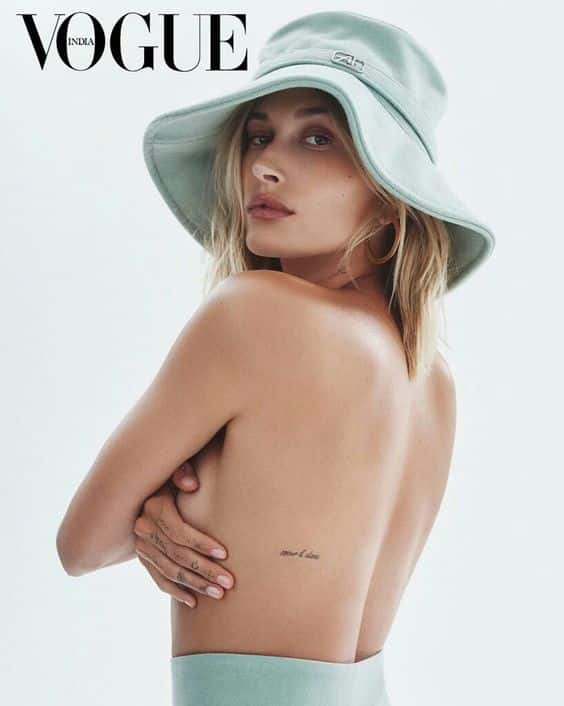 New York in the house. Supermodel Hailey Bieber paid tribute to the Big Apple with her latest tattoo, which comes courtesy of go-to celeb tattoo artist Dr. Woo.
-Advertisement-

Lana Del Rey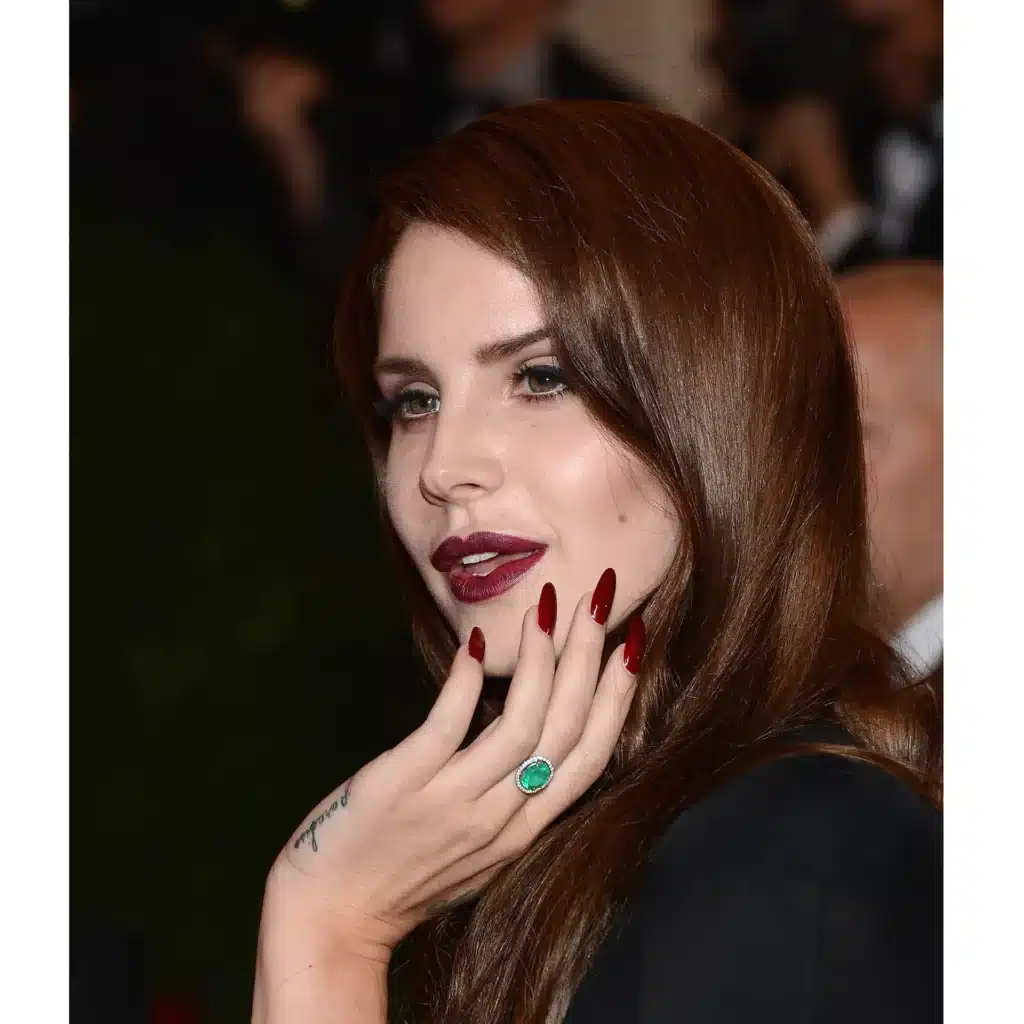 On Del Rey's left hand, she has "paradise" written in script.
Travis Barker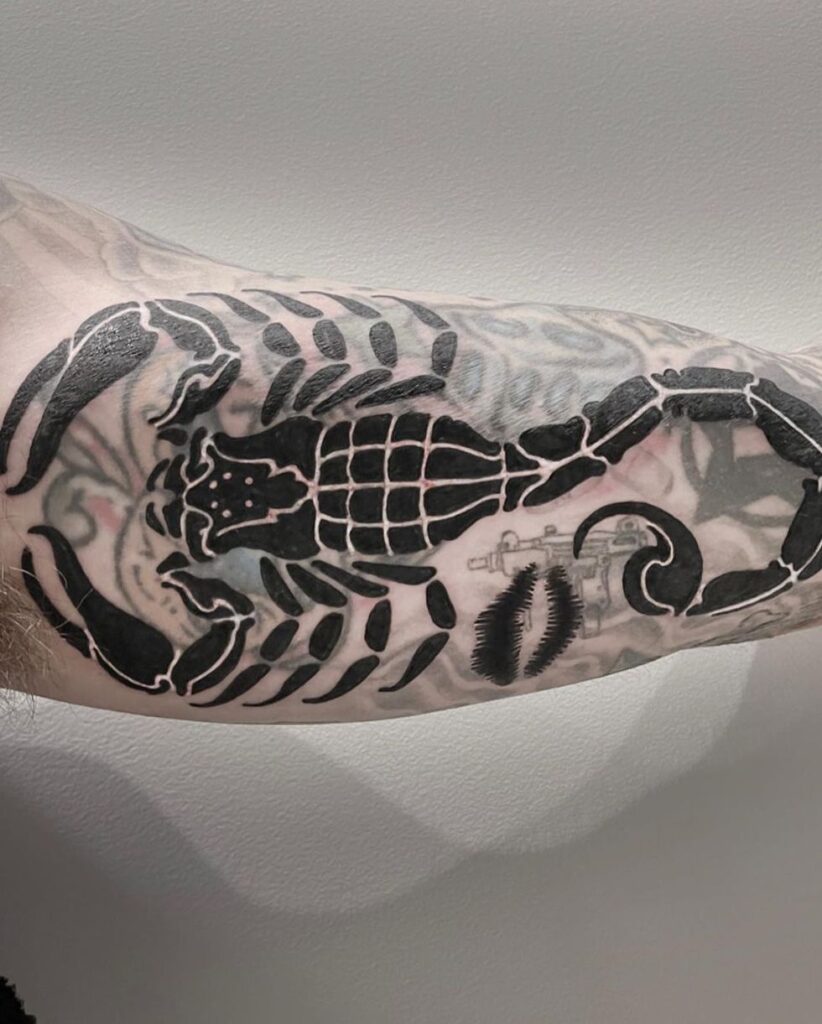 One week after his engagement to Kourtney Kardashian, Travis added a *checks notes* third tattoo dedicated to his forever gf. His Kourtney-themed tattoo collection now includes: her name, "i love you" in her handwriting, and this lipstick print. *Sigh.* If it's not this, I don't want it.
-Advertisement-

Billie Eilish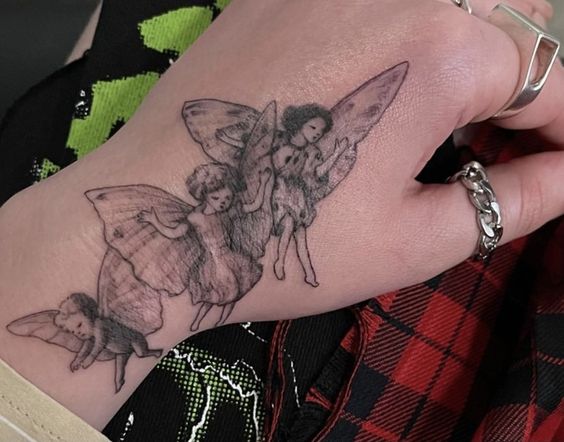 Billie Eilish once promised that fans "won't ever" see her tattoos. Thankfully, that wasn't true. The singer recently added a duo of what appear to be farries to her hand, showing them partially at the No Time To Die world premiere. For the record: we absolutely stan a tatted-up Billie.
Jessica Alba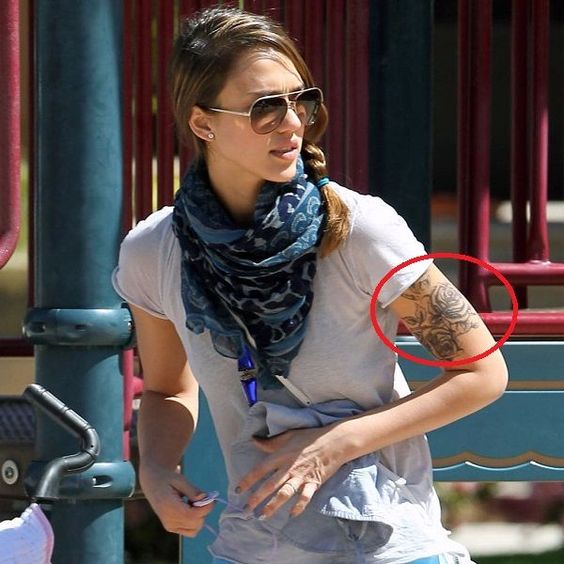 Alba revealed to Stephen Colbert that she got inked after a bad breakup, deciding on a Sanskrit character that symbolizes a lotus.
-Advertisement-

Demi Lovato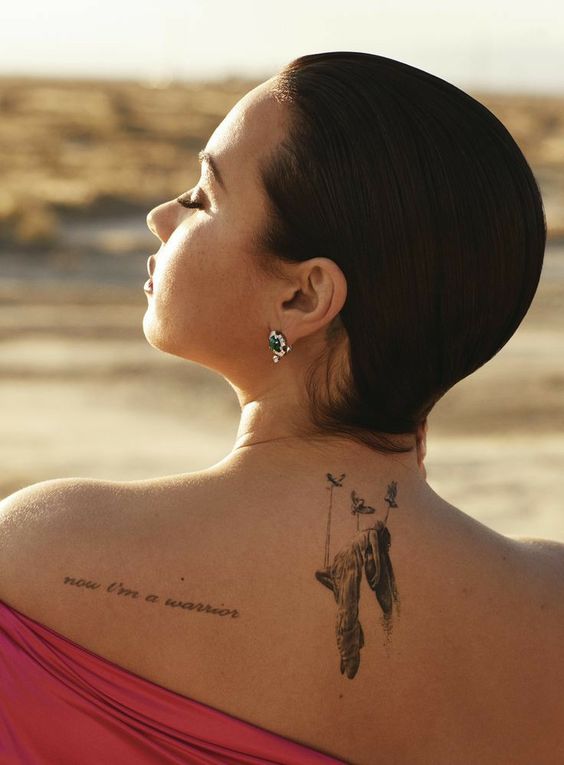 Demi showed off their latest tat.
Katy Perry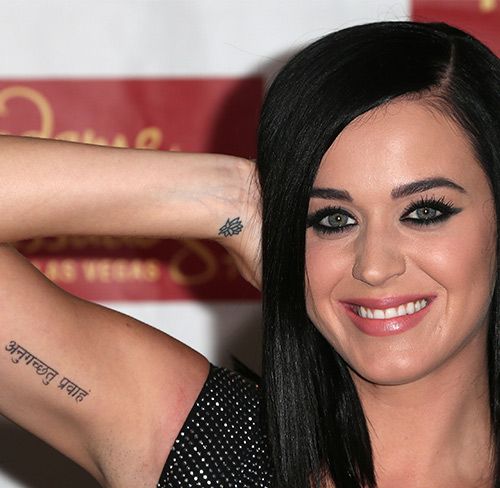 When Perry was with then-fiancé Russell Brand, the duo got matching tattoos on their biceps that read "go with the flow" in Sanskrit.
-Advertisement-

Hailey Baldwin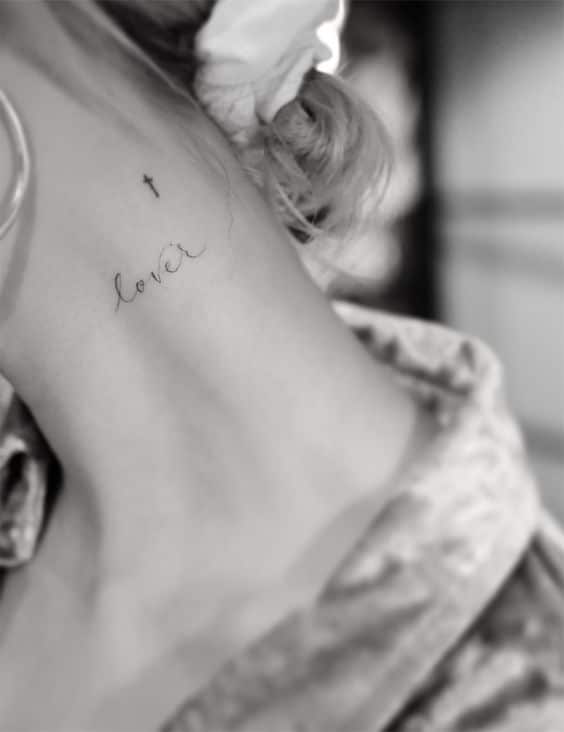 Hailey Baldwin got two new pieces of ink and they are absolutely gorge! The first includes the initial "J" along with a sparkling star on her ring finger for her hubby Justin Bieber. The second is a neck tattoo (!!!) with the world "beleza," meaning "beauty" in Portuguese, in a pretty dainty script.
Wiz Khalifa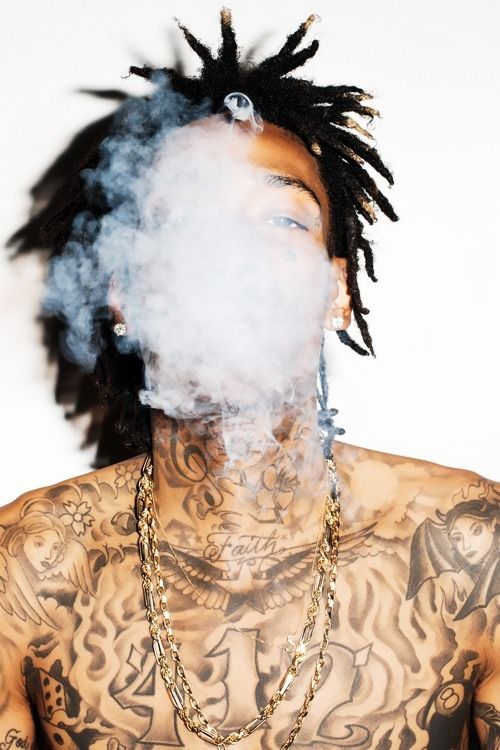 Rapper Wiz Khalifa has tattoos all over his body, as well as on the side of his face, too.
-Advertisement-

Joe Jonas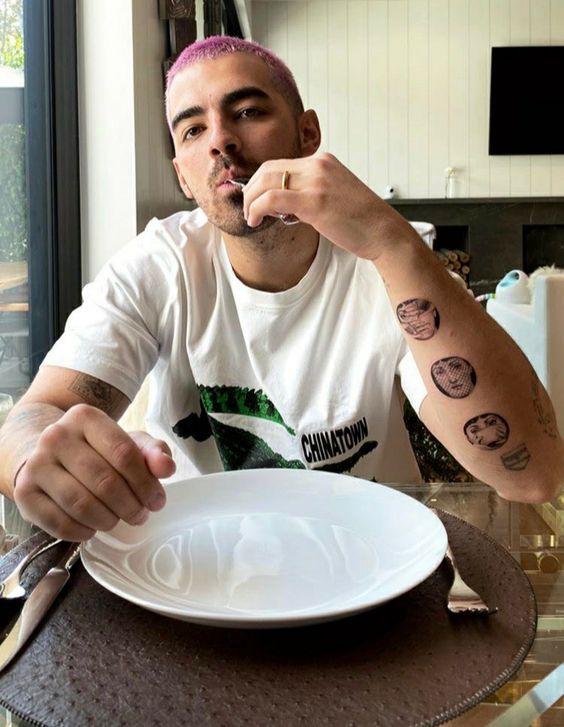 Tattoo artist NAL showed off Joe's newest ink on the back of his neck, which features the black-and-white image of a woman staring through a peep hole. While not much of the woman's face can be seen, the resemblance to Joe's wife, Sophie Turner is undeniable.
Chase Hudson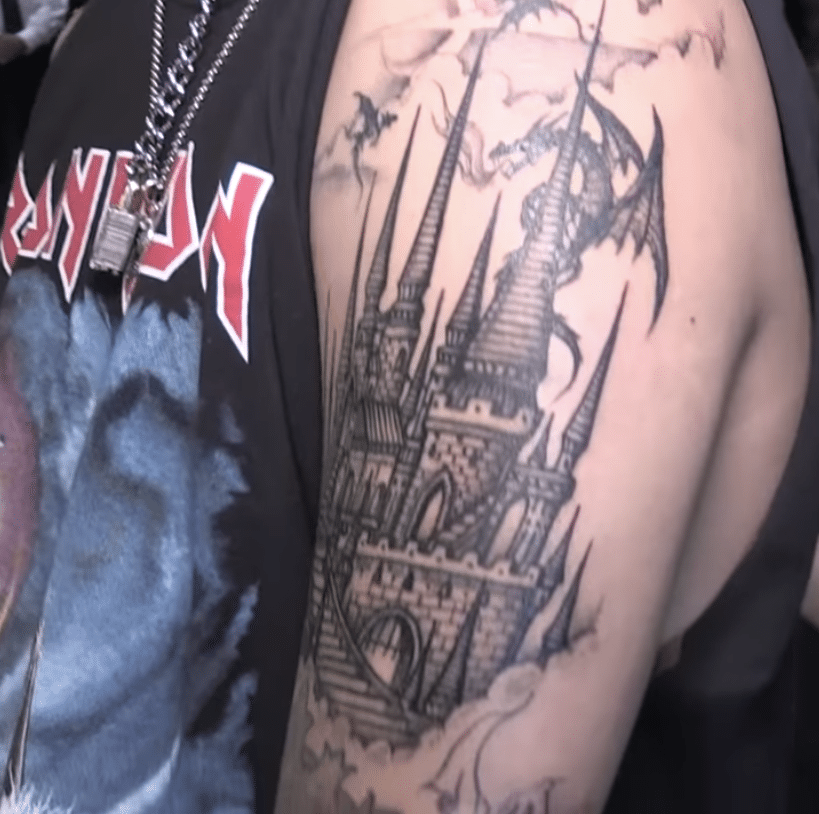 Chase Hudson showed off his new ink to Hollywood Fix, flashing the castle motif that takes up the entirety of his left forearm. The image is definitely fantasy-related, and Chase agreed that itreminds him of Harry Potter, though he didn't confirm if Hogwarts inspired the body art.
-Advertisement-

David Beckham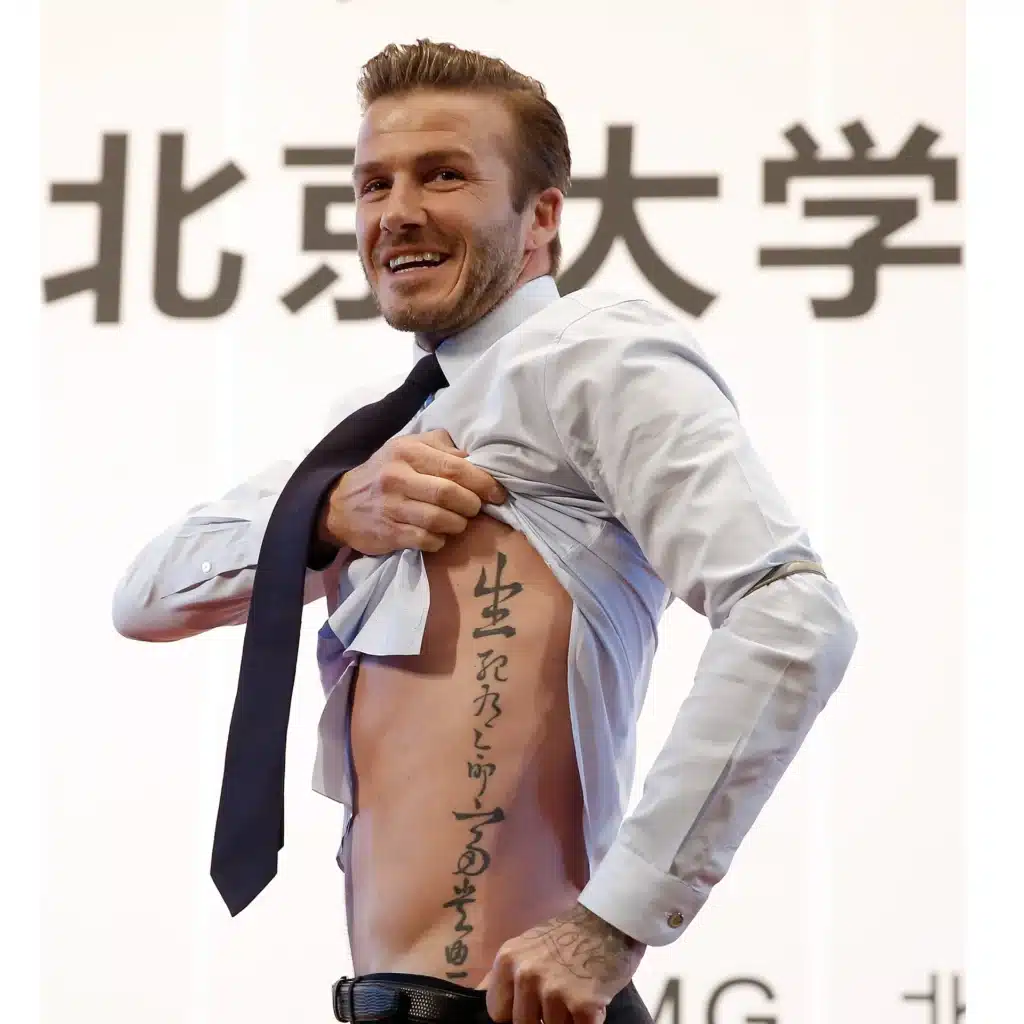 Beckham has a vertical side tattoo made up of Chinese symbols that translates to: "Death and life have determined appointments. Riches and honor depend upon heaven."
Rihanna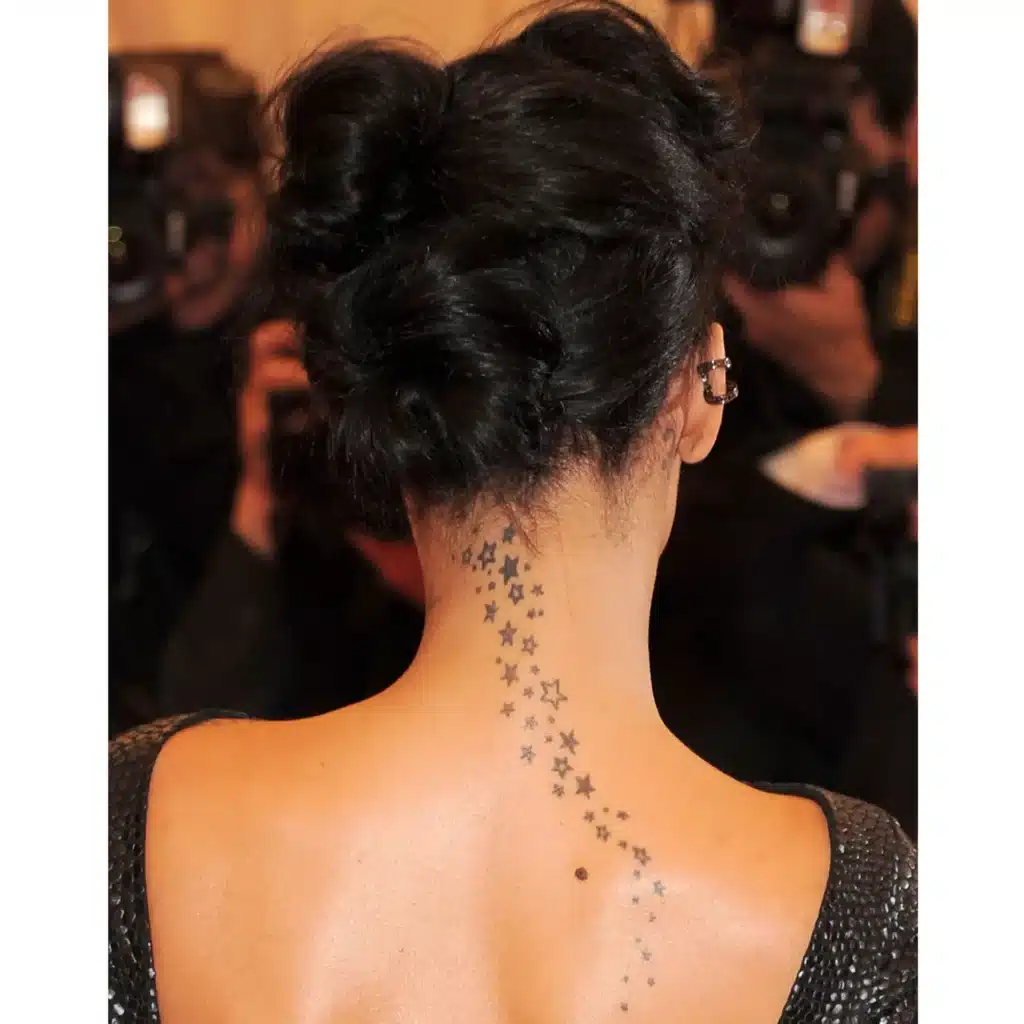 The singer and beauty mogul also has this magical trail of open and shaded stars winding down her neck to her upper back.
-Advertisement-

Justin Bieber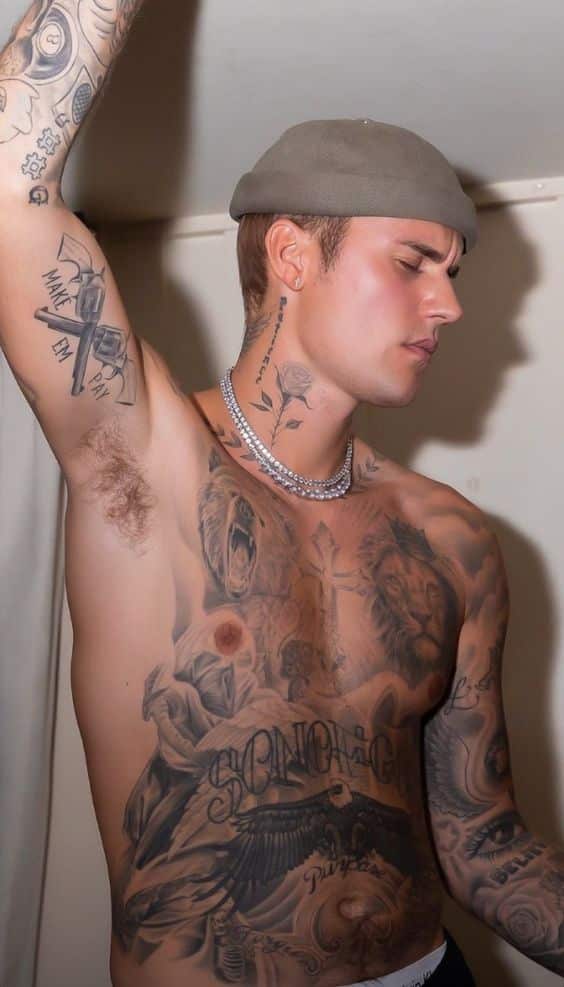 Justin Bieber is quickly running out of space on his body to cover in ink and now his neck is out of the question. The singer got a giant rose tatted on the left side of his neck by the famous tattoo artist Doctor Woo. It's unclear what the rose represents, but it is gorgeous .
Cara Delevingne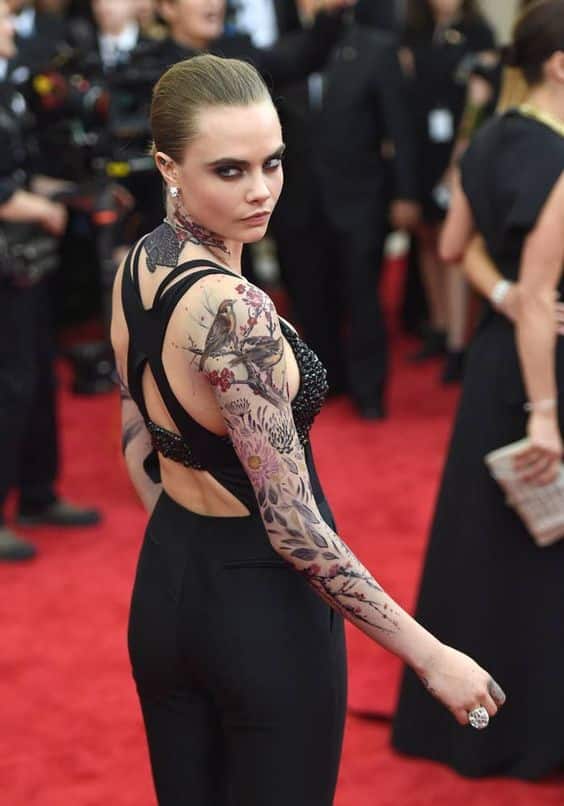 The supermodel is another A-lister known for massive body of tats, including but not limited to, her initials on her left hand.
-Advertisement-

The cast of Pretty Little Liars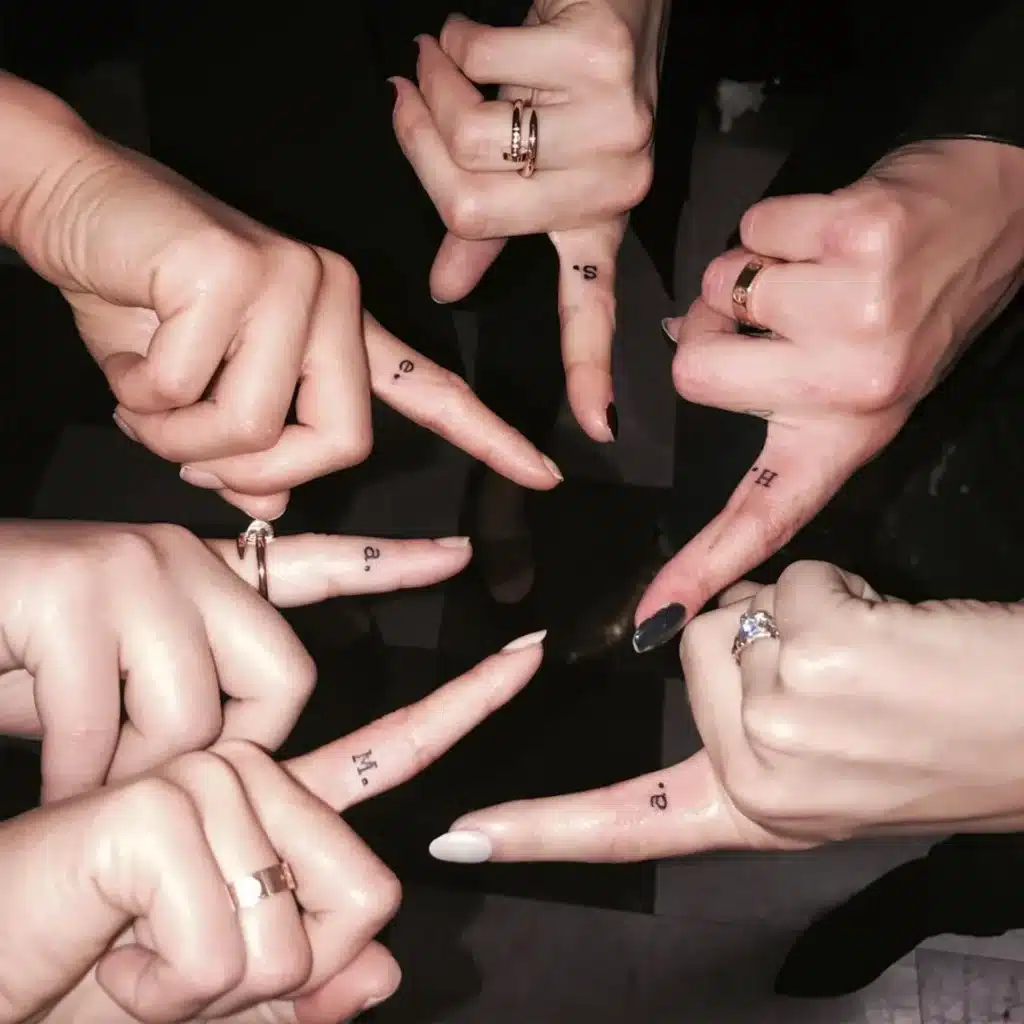 The main ladies of Pretty Little Liars—Lucy Hale, Shay Mitchell, Ashley Benson, Troian Bellisario, Sasha Pieterse, and Janel Parri the end of the series by getting matching, dainty tattoos: The first initial of their character's name on their "shh" finger.
Cara Delevingne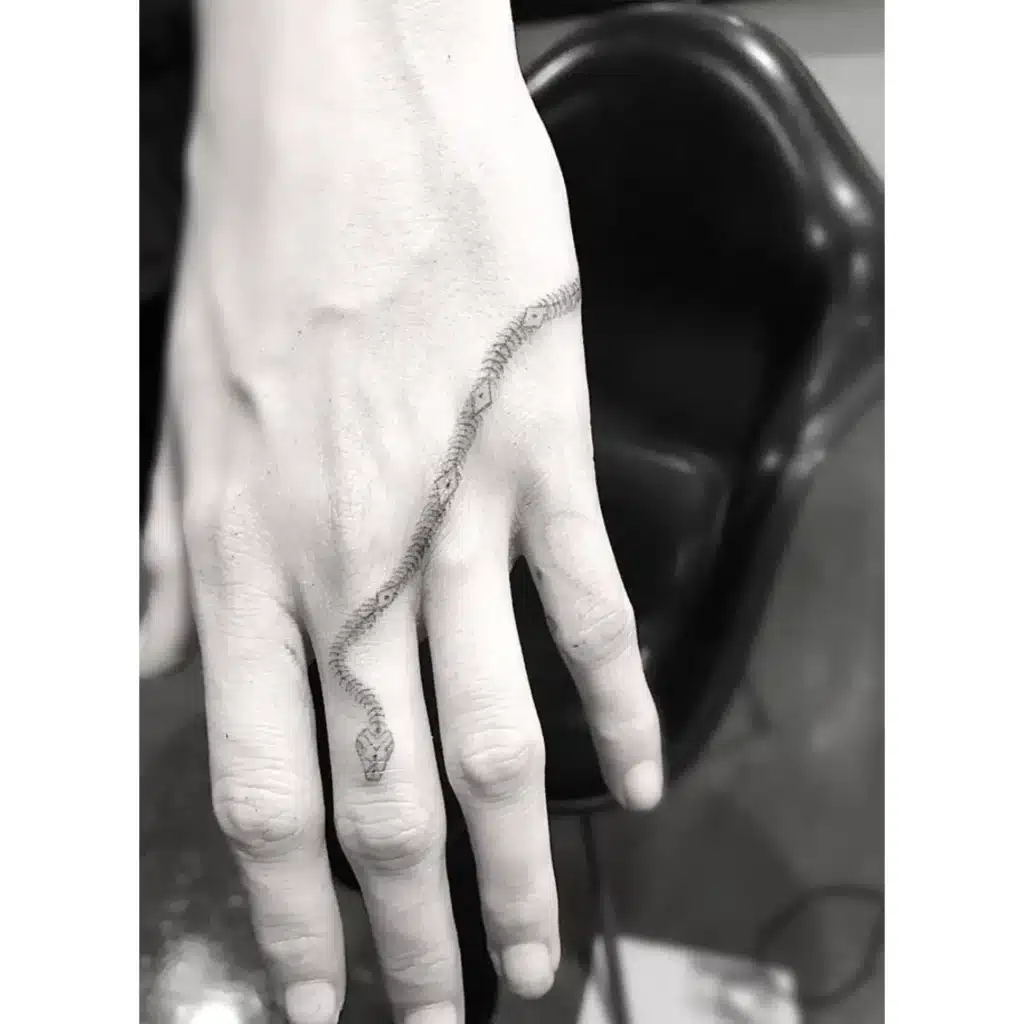 Delevingne has more than 15 tattoos, and her latest is perhaps the most intricate to date: It features a snake that starts at her palm and slithers down her middle finger, and the word "feral" spelled out at the very end. "It's about re-invention, shedding of old skin, new beginnings, new life," she told The Sun .
-Advertisement-

Shawn Mendes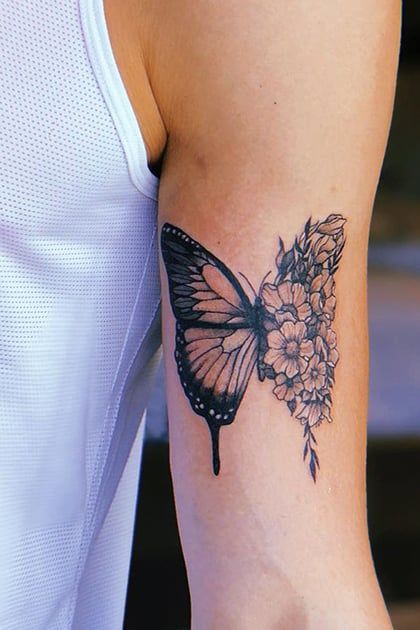 Shawn Mendes' newest tattoo is in honor of his little sis, Aliyah.
Kendall Jenner
Jenner later revealed at her Allure  cover shoot that she was also the proud new owner of a lip tattoo that reads "meow." As she later noted on her app, "There's no real meaning behind it, I just wanted to be able to say that I have a tattoo on my face!"
-Advertisement-

Hailey Baldwin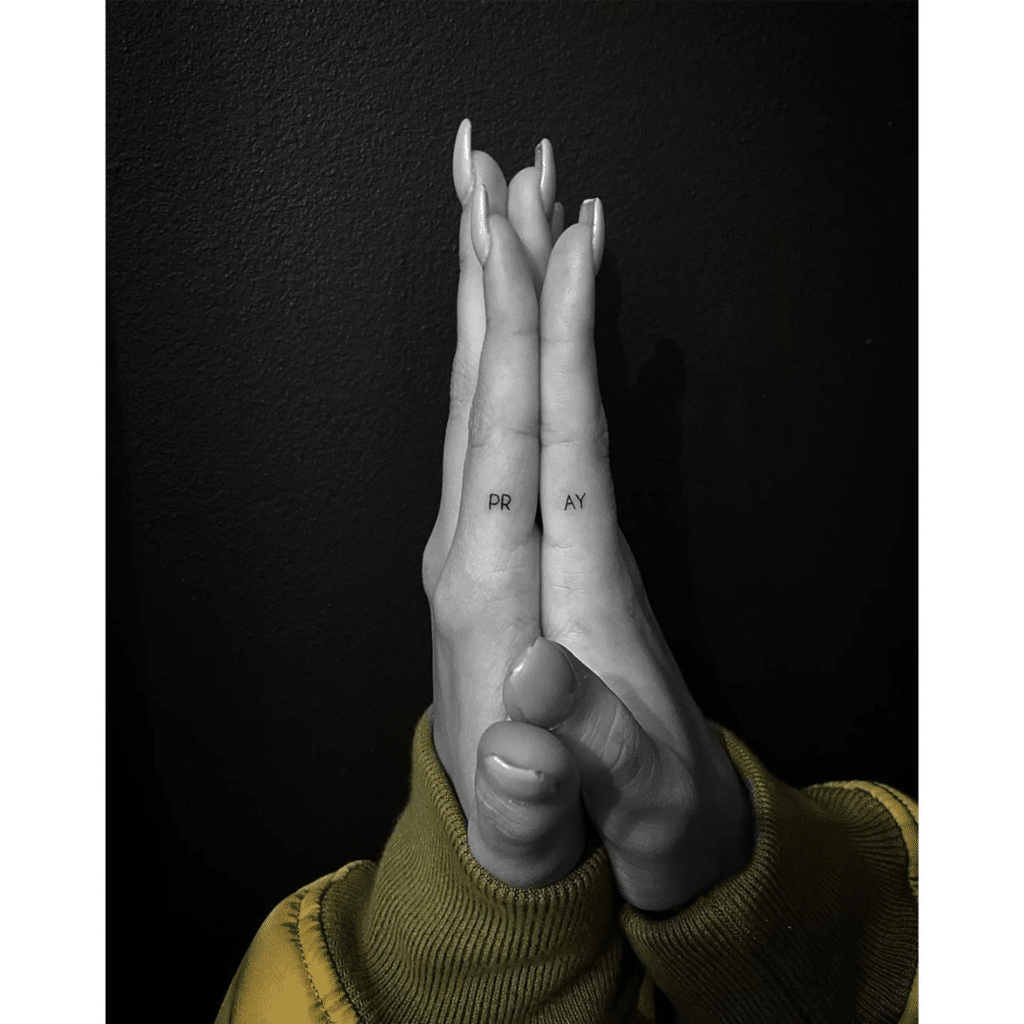 In addition to her broken-heart BFF tattoo with Kendall Jenner, Hailey Baldwin got this "PRAY" tattoo last summer summer—which Kendall designed for her.
-Advertisement-