Before anything else, a spooky basket is a special gift basket with nice Halloween things that you can give to your boyfriend, girlfriend, or friends.
You can put a Halloween-themed mug, their favorite candy, a cute picture of both of you, and maybe a movie or a fun game in the boo basket.
A spooky basket can be anything you like! Halloween is a cozy holiday that's always a good time to surprise your special someone.
Here's the list:
Favorite candy
Starbucks gift card
Halloween decorations like pumpkins or a cute stuffed bat
Cozy mug or travel cup
Socks and slippers
Scented candle
The contents of a spooky basket can vary depending on the person. However, starting with candy and chocolate is usually a good idea as most people enjoy them.
Despite the stereotype, guys can appreciate scented candles and comfortable slippers. For your girlfriend, you could include self-care items like a spa headband or a mud mask.
Incorporate plenty of orange into your basket to keep with the Halloween theme! Using a simple pumpkin bucket can be a great foundation for a spooky basket.
Spooky basket idea:
Include a picture in your spooky basket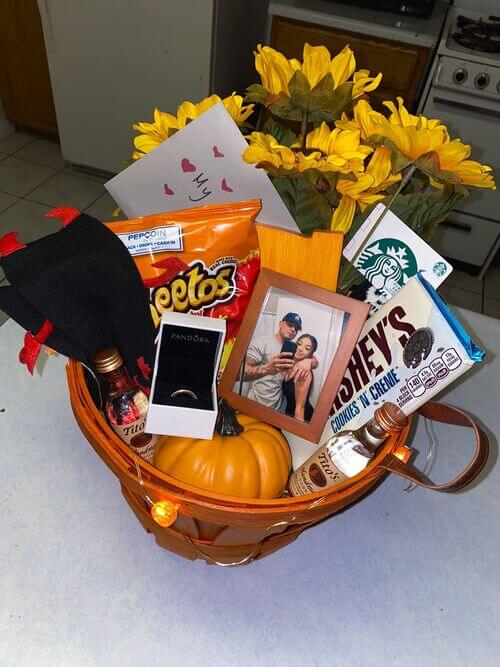 If you're giving a spooky basket to your sweetheart, make sure to include a cute picture of both of you! Other must-haves to consider are chocolate, Halloween candy, a sweet note, and perhaps the ingredients for their favorite drink.
Things to put in a spooky basket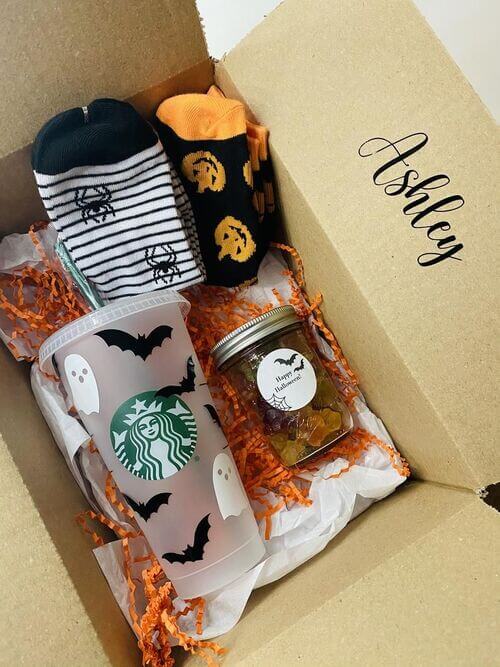 Two items that are always great to include in spooky baskets are socks and a travel cup. Use orange filling paper to add a more festive look to the box.
Add their name on top using letter stickers, and remember to include some delicious Halloween candy. Make the candy look adorable by storing them in a small mason jar.
Boo basket with Halloween crocs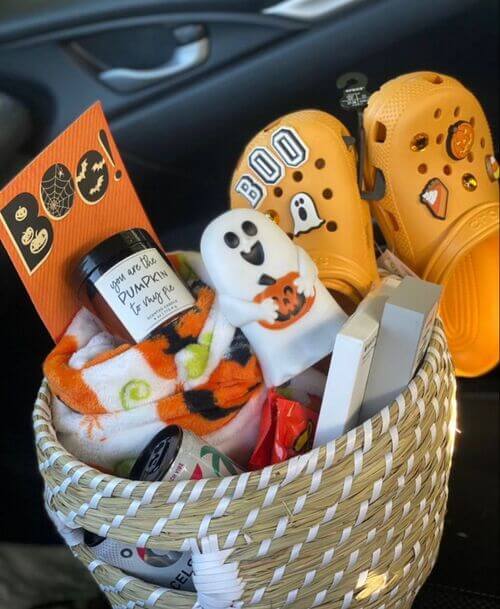 While exploring popular spooky basket ideas, I noticed that many of them include crocs as a gift! They might not be the most stylish choice, but they are undoubtedly comfortable. You can also add Halloween charms to decorate them.
A cozy Halloween-themed throw blanket and a candle are also excellent additions to a spooky basket.
Spooky basket with candy and Halloween gifts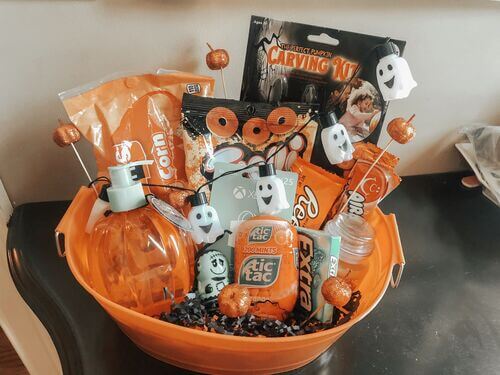 Some fun orange items to include in a spooky basket are pumpkin LED lights, a soap dispenser, and orange candies such as Tic Tacs or Reese's.
Tip: Use Halloween-themed cupcake toppers for decorating your spooky basket. You can also use black and orange shredded paper to arrange the gifts in the basket.
Spooky basket for boyfriend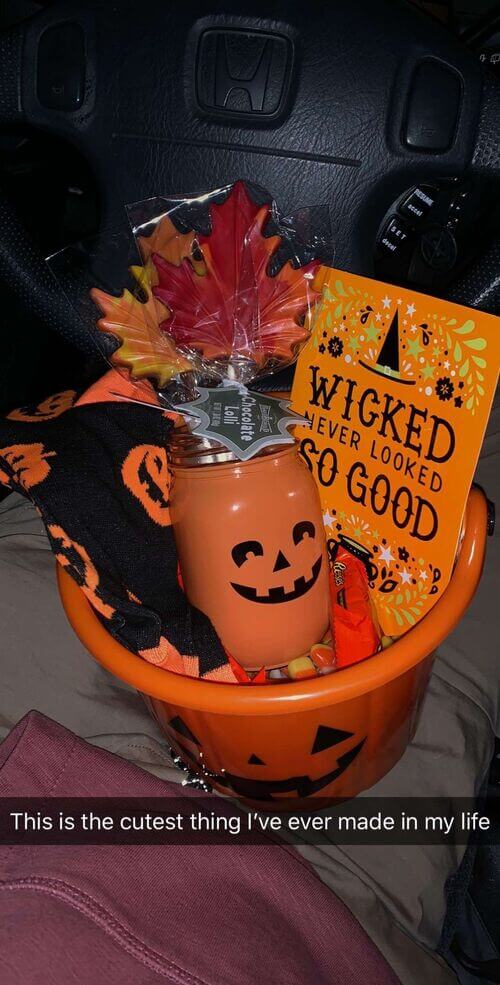 Adding a cute Halloween card can enhance the gift basket! Start by placing candy at the bottom, then stack items like socks, mugs, and other goodies on top.
This spooky basket is small but mighty! So easy to put together yet leaves a big impression on the receiver :).
Boo basket with cute quotes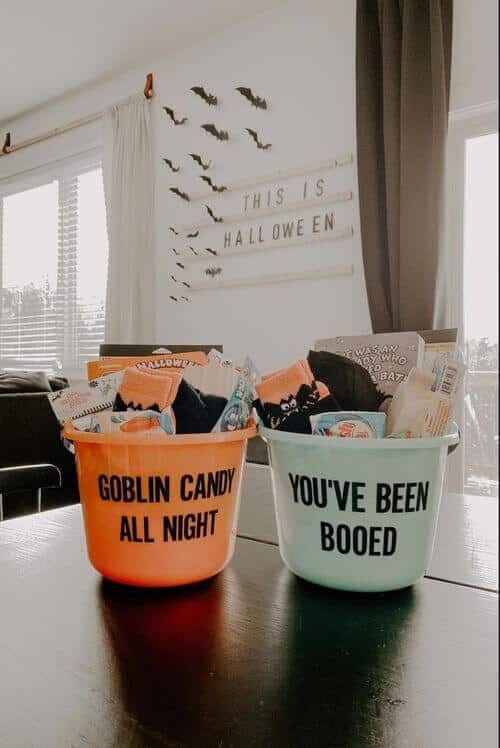 Personalise your spooky basket gift by using letter stickers to decorate the bucket or basket. Write a Halloween phrase or your partner's name for an extra special touch.
If you're unsure about what to include in a spooky basket, getting a pair of cute socks is always a reliable choice!
Spooky bucket with Halloween gifts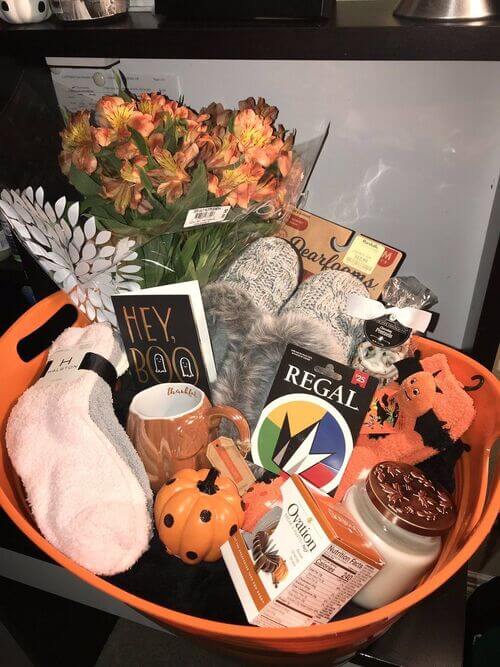 Wow, this spooky basket seems to have everything! If you really want to pamper someone, this is the way to go, haha. Include some flowers, socks, a scented candle, a pumpkin mug, and their favorite candy.
Tip: HU Kitchen offers the most delicious chocolate I've ever tasted. They now have a pumpkin spice flavour :). My personal favourite is the cashew butter.
Spooky basket ideas with candy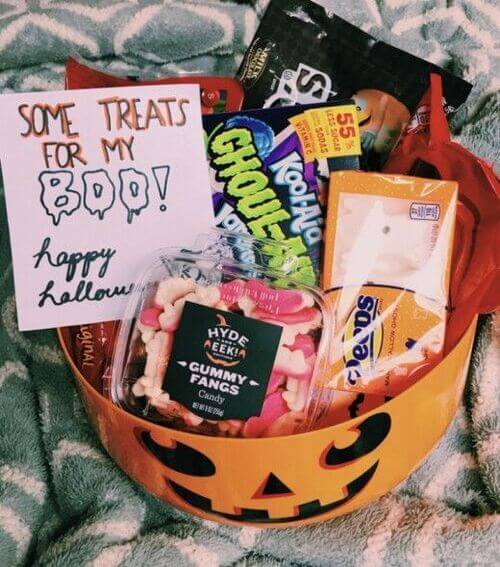 A spooky basket for your sweetheart can be as simple as assembling a bucket with all their favourite candy. Choose candies and chocolates that match the Halloween theme! Consider items like gummy teeth, Reese's Halloween edition, and any other fun and tasty treats.
Spooky basket for girlfriend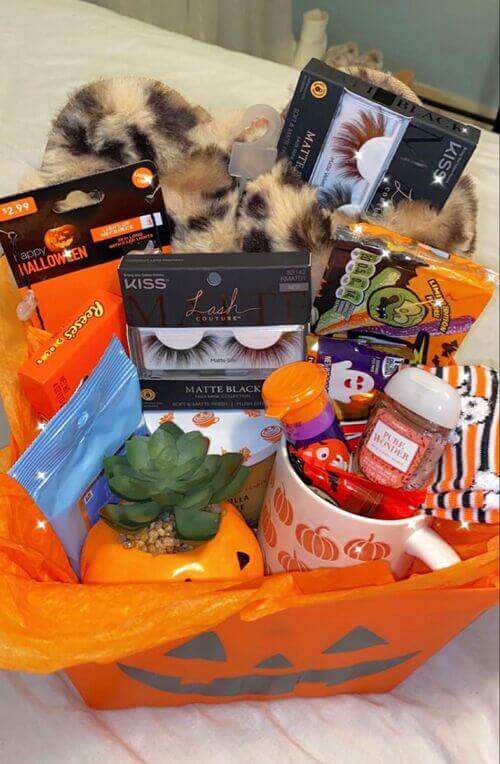 I'm glad you love this spooky basket! Girls will absolutely adore it. Two items that you can't go wrong with for a spooky basket for your girlfriend are fuzzy slippers and a cute mug.
If she's into a specific skincare brand (that you know of), you can also include some self-care items in the spooky basket.
Cute boo basket with treats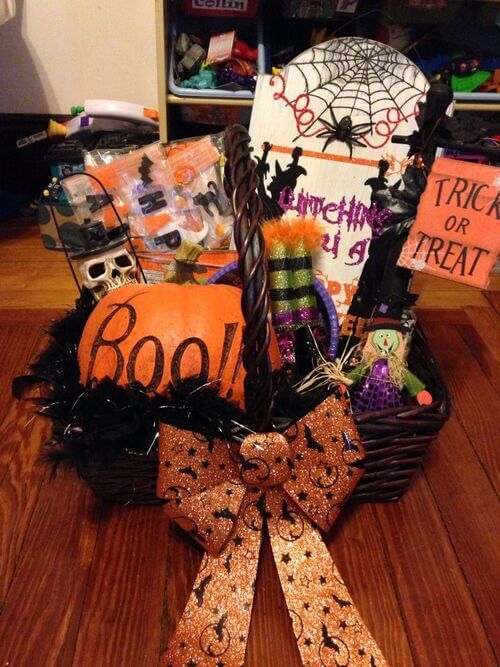 Make a spooky basket look elegant with Halloween ribbons. The way you present a gift is important, and this is one way to make it more personal.
I can't quite tell what's inside this basket, but it seems to contain some Halloween-themed figurines.
Happy Halloween basket with candy
Not sure what to include in a spooky basket? A Starbucks gift card is always a great idea. After all, they do make the best pumpkin spice latte on the planet.
Halloween-themed sugar cookies are also a wonderful addition to the basket! Even better, you can make them yourself :).
Cute spooky basket ideas for your boo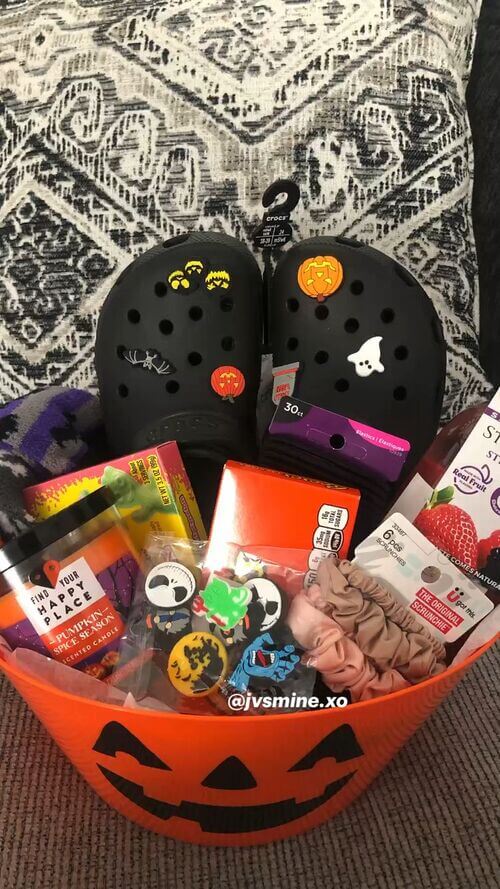 And here we have another spooky basket with crocs! Did I miss something, or are these suddenly trendy? Anyway, they look super cute with the indoor charms.