Some celebrities choose to invest their substantial wealth in an array of real estate ventures, while others opt for the exclusivity of a single, yet incredibly opulent, residence.
Among these prominent figures, Ellen DeGeneres, Oprah Winfrey, and Beyoncé stand out, each boasting estates that exemplify luxury living on an unparalleled scale.
Take a closer look at these opulent properties to grasp the extent to which these celebrities are willing to invest in a single, magnificent abode.
Bill Gates' house is currently worth at least $127 million in Medina, Washington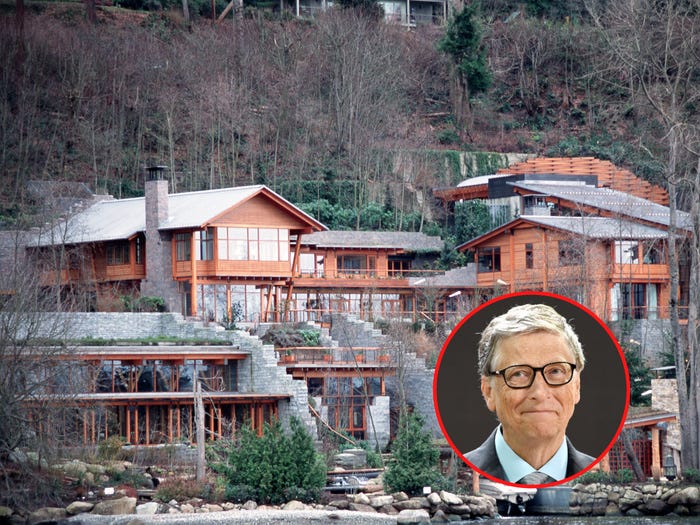 Back in 1988, Bill Gates acquired the property for a modest $2 million. Since then, substantial investment has been channeled into cutting-edge home technology.
Dubbed "Xanadu 2.0," the estate underwent a comprehensive 7-year transformation, with an astounding $63 million dedicated to its evolution. The lavish villa is said to boast 7 bedrooms and an impressive 18.75 baths. Its opulent amenities include a sprawling 60-foot swimming pool, a recreational trampoline lounge, a rejuvenating sauna, and a lavish steam room. Additionally, the estate features separate shower facilities designed for both male and female guests, underscoring its meticulous attention to detail and luxurious comfort.
Oprah Winfrey has a reported 65 acre property in California worth almost $100 million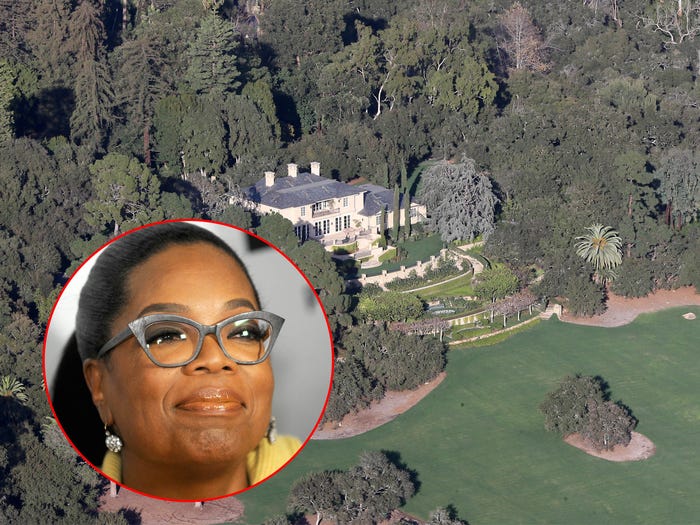 Nestled within the renowned "Promised Land" of Montecito, California, Oprah Winfrey's estate sprawls across an expansive 65 acres of picturesque land.
Having acquired the 23,000 square-foot manor house for $50 million in 2001, subsequent land acquisitions and extensive refurbishments have elevated the estate's value to nearly double its original worth.
The lavish mansion boasts an impressive layout, comprising six deluxe suites, 14 lavish baths, and a remarkable array of amenities including 10 ornate fireplaces, two state-of-the-art theatres, a wine-producing cellar, a spacious barn, multiple swimming pools, and a well-appointed tennis court. Additionally, the property features a serene lake, complemented by a generously sized guest house complete with its own swimming pool. A charming tea house adds a touch of tranquillity to this opulent oasis, making it a true haven of luxury and comfort.
The Playboy Mansion was sold for 100 million dollars in 2016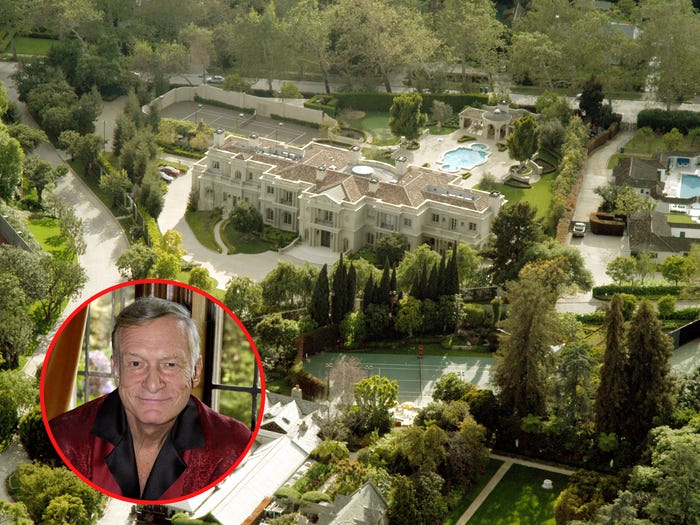 Undoubtedly one of the world's most renowned residences, Hugh Hefner's Playboy Mansion boasts a staggering 30 rooms, each exuding an aura of opulence and grandeur.
Among its many lavish features are a sprawling game room, an expansive zoo, an aviary, a serene grotto, a well-equipped basketball court, an extensive wine cellar, and a state-of-the-art screening room complete with a majestic pipe organ.
Acquired by Hefner in 1971 for a modest $1.1 million, the mansion, unfortunately, changed hands following his passing in 2017. In 2016, the property was sold for a staggering $100 million, marking a monumental residential real estate transaction in the history of Los Angeles, even though it was approximately half its initial estimated value.
Beyoncé and Jay-Z purchased a $88 million Los Angeles pad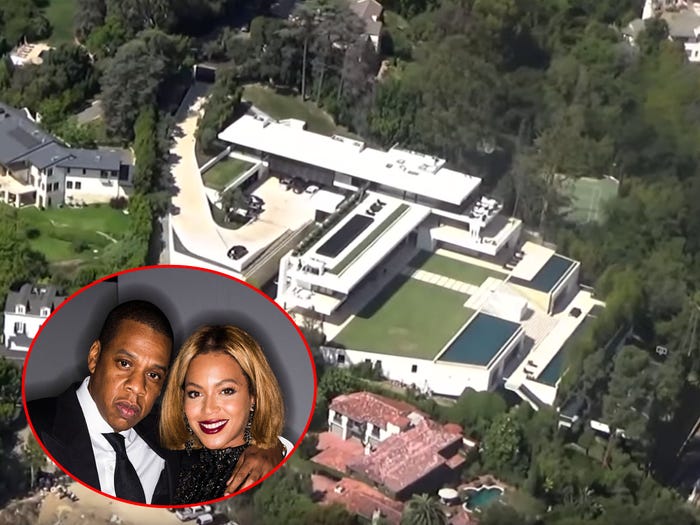 In 2019, the duo, whose combined Forbes net worth totaled $1.26 billion, invested in a lavish new residence situated in the affluent neighborhood of Bel Air. The opulent mansion, acquired for an approximate sum of $88 million, boasts an array of luxurious amenities, including a fully equipped gym, a state-of-the-art media center, and not one but four stunning outdoor pools.
The property further impresses with its inclusion of a spacious basketball court, a capacious 15-car garage, and a dedicated staff area, ensuring that every need is met with the utmost comfort and convenience.
For a chateau in the south of France, Brad Pitt and Angelina Jolie spent around $67 million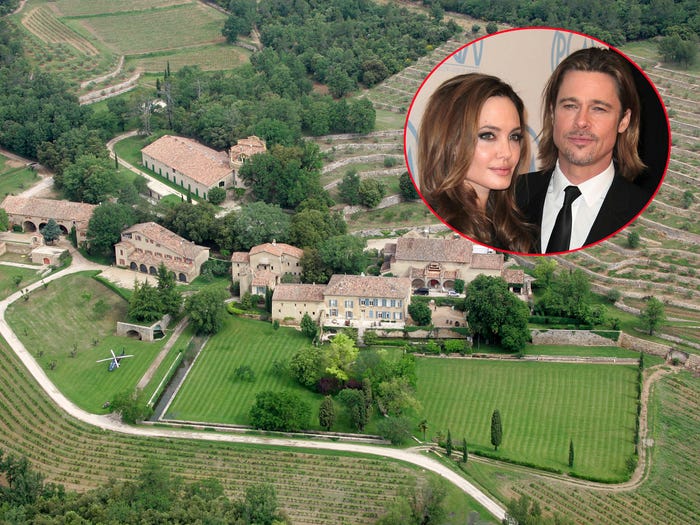 The renowned French estate known as Chateau Miraval was acquired by the couple for an estimated $67 million back in 2008. This exquisite property played a significant role in their lives, serving as the enchanting backdrop for their 2014 wedding ceremony, which took place amidst the captivating ruins of a Romanesque chapel nestled within the estate.
Sprawling across an impressive 1200 acres, the estate boasts a diverse landscape that includes lush forests, picturesque olive groves, a serene private lake, enchanting fountains, and even a dedicated wine-growing area, all surrounded by the classic charm of a traditional moat. The estate's historical significance is reflected in the 17th-century architecture of several buildings within its grounds, contributing to its timeless allure. Notably, the main house alone offers an extravagant 35 rooms, exemplifying the grandeur and opulence that define this prestigious property.
Following their public announcement of separation in 2016, the couple is currently embroiled in a dispute over the ownership of this illustrious estate, adding a layer of complexity to its storied history.
The manor house of Kim Kardashian and Kanye West is 20 million dollars, but now is 60 million dollars following substantial renovations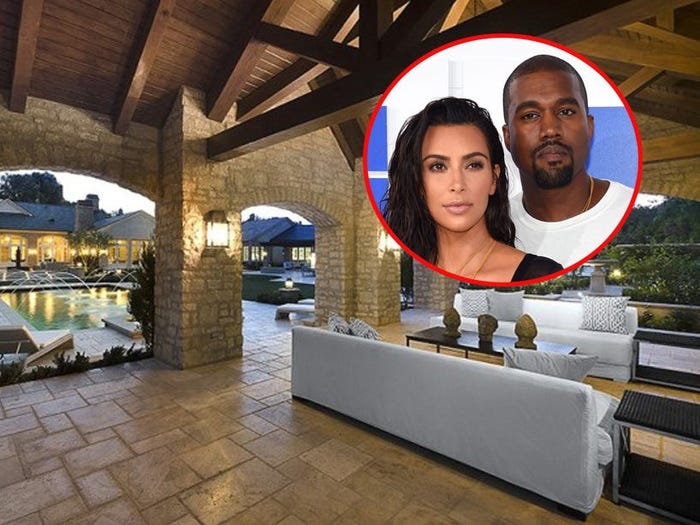 In 2014, Kanye West and Kim Kardashian West made a significant investment in their California residence, acquiring the Hidden Hills property for a staggering $20 million. Notably, reports from TMZ suggest that the couple has since poured an additional $20 million into various upgrades and renovations, further enhancing the grandeur of their abode.
Occupying a sprawling 3-acre expanse, this luxurious estate boasts an impressive 8 bedrooms and is adorned with eight elegant fireplaces, exuding a sense of warmth and sophistication throughout. The property's lavish amenities include not one, but two luxurious swimming pools, a meticulously curated winemaking garden, a fully equipped music studio, and an expansive wardrobe befitting their renowned status in the world of fashion and entertainment.
The house is celebrated for its understated yet elegant design, characterised by a minimalist, creamy aesthetic that Kanye West himself has attributed to the influences of a Belgian monastery. Owing to the relentless pursuit of perfection and the infusion of their unique design sensibilities, the estate's value has soared to an estimated $60 million, solidifying its status as a premier property within the illustrious Hidden Hills community.
Tom Cruise has a $59 million home in Telluride, Colorado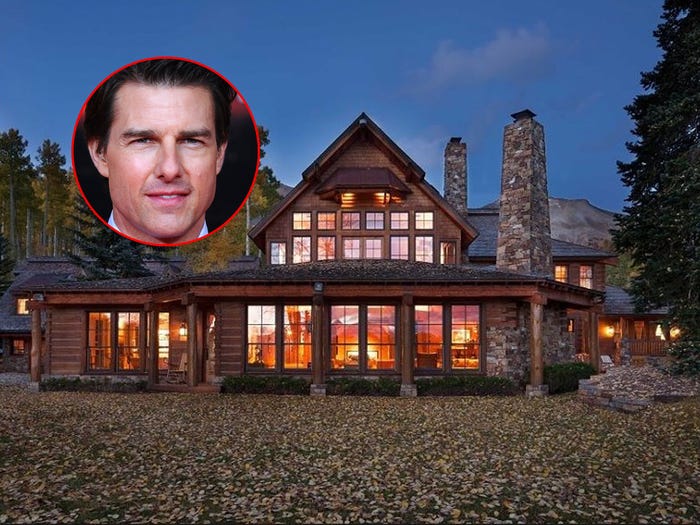 Situated in the picturesque landscapes of Telluride, Colorado, Tom Cruise's estate spans an impressive 298 acres, offering a breathtaking expanse of lush forests, sprawling hills, and even well-appointed horse stables. Notably, the property boasts its own private helicopter pad, an essential feature that allows Cruise convenient access to the expansive landscape surrounding his home.
The residence itself is a sprawling 10,000 square feet, comprising a total of 7 bedrooms and 9 baths, alongside a meticulously designed custom library, a welcoming reception area, and a separate guest house, providing ample space for visitors to enjoy their stay in unparalleled comfort and luxury.
Initially listed for an impressive $59 million in 2014, the property failed to find a suitable buyer, leading Cruise to retract the listing after two years. This exclusive estate stands as a testament to the actor's penchant for both luxury and privacy, offering a secluded haven within the breathtaking natural beauty of Colorado's rugged terrain.